Trinidad and Tobago National Senior Team head coach Dennis Lawrence has appointed former 2006 World Cup teammate Stern John and W Connection coach Stuart Charles-Fevrier to his backroom staff, which was finally released this morning by the TTFA.
John and Fevrier join former Arsenal legend and England captain Sol Campbell as Lawrence's three assistant coaches.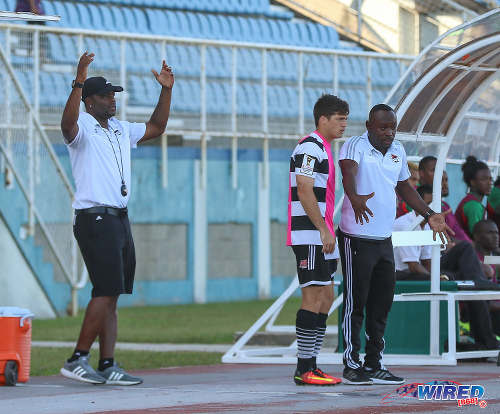 John, who is Trinidad and Tobago's all-time record goal scorer, is in his second season as assistant coach at Central FC, which just won their third successive Pro League title.
Fevrier, a St Lucian by birth, is one of the Pro League's most successful coaches and managed Lawrence during his own stint as national head coach, just over a decade ago.
Lawrence named Ma Pau Stars head coach Ross Russell as his goalkeeping coach. Russell played alongside Lawrence for Defence Force and, briefly, with the National Senior Team. Russell also serves as goalkeeping coach for the National Under-20 Team.

Israel Dowlat replaces Dr Terence Bawbah as team doctor although Dave Isaac keeps his place in the squad.
Babwah and Isaac were both embroiled in controversy after their perceived role in the dismissal of former head coach Stephen Hart and a letter from the Soca Warriors, which was delivered by national goalkeeper Jan-Michael Williams, called for both medical staff members to be removed.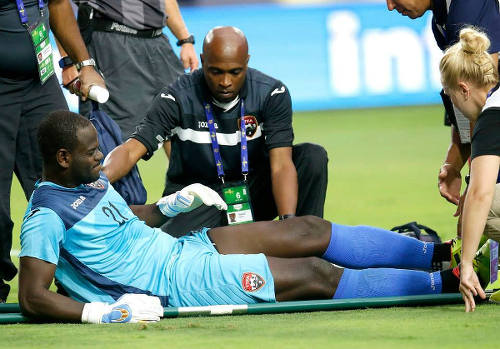 In another eye-raising appointment, the local football body has kept South Africa fitness conditioning coach Riedoh Berdien who worked under Belgian coach Tom Saintfiet.
Football Fitness Ltd, a South African fitness company closely associated with Berdien, mocked Trinidad and Tobago football's football—just three weeks ago—and spoke disparagingly of Hart.
"T&T will never play a WC again," tweeted Football Fitness. "Maybe qualify for the hockey WC [hysterical laughter emoticon]."
Berdien claimed the controversial tweets were not his own although the account regularly retweeted from the fitness trainer and displayed a close knowledge of Trinidad and Tobago football matters.
And now the South African is set to return to Trinidad for more employment, just days after national forward Cornell Glen blamed the pre-Gold Cup play off training under Saintfiet for a string of injuries in the camp.
Glen, Carlos Edwards, Hughtun Hector, Carlyle Mitchell and Maurice Ford all carried injuries into last month's Gold Cup play offs when the Warriors were eliminated after home defeats to Suriname and Haiti.
The rest of the technical staff comprises of: Saron Joseph (massage therapist), Stephen Bradley (evaluation science GPRS), Matthew Hawkes (match analyst), Michael Williams (equipment manager) and Shaun Fuentes (media officer).
Hawkes is believed to have worked with Lawrence at Everton while Bradley is a former Arsenal scout.
Trinidad and Tobago lost their two opening CONCACAF Hex matches against Costa Rica and Honduras and need a result at home to Panama and Mexico—on 24 and 28 March respectively—to revamp their chances of qualifying for the Russia 2018 World Cup.
Lawrence is believed to have a two and a half year deal with the TTFA, although neither the football body nor the new coach have revealed any details about their arrangement.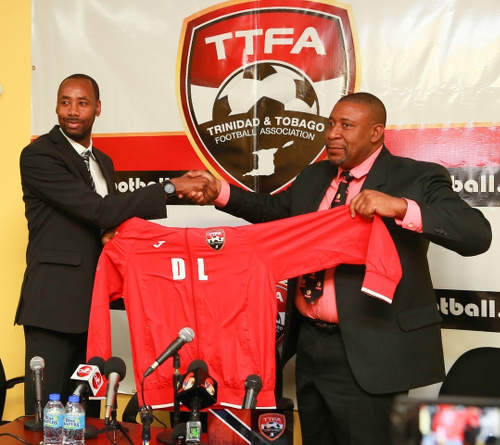 (Trinidad and Tobago National Senior Team staff)
Head Coach: Dennis Lawrence
Assistant Coaches: Sulzeer "Sol" Campbell, Stuart Charles-Fevrier, Stern John
Goalkeeper Coach: Ross Russell
Fitness Conditioning Coach: Riedoh Berdien
Team Doctor: Israel Dowlat
Paramedic: Dave Isaac
Massage Therapist: Saron Joseph
Evaluation Science GPRS: Stephen Bradley
Match Analyst: Matthew Hawkes
Media Officer: Shaun Fuentes
Equipment Manager: Michael Williams