"[…] At no point did Dr [Terence] Babwah or [Dave] Isaac tell me they didn't think I was fit to play the game [against Honduras].
"Here's what happened…"
Trinidad and Tobago National Senior Team goalkeeper Jan-Michael Williams gives his account of the lead up to his concussion against Honduras in San Pedro Sula on 15 November 2016, which sparked accusations of professional negligence by Soca Warriors coach Stephen Hart from team medic Dr Terence Babwah and paramedic Dave Isaac: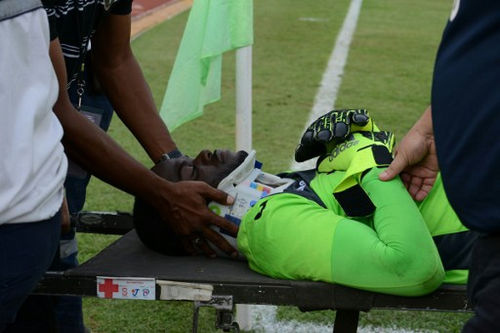 I had the opportunity to speak to [Trinidad Guardian reporter] Mr Walter Alibey this morning. I called and said to him that I am extending him the courtesy which he didn't extend to me when I picked up the newspaper, which is to let him know I am extremely upset with his article and completely disheartened with his level of journalism and professionalism or lack thereof.
I told him I don't know much about journalism but I know about life. And if there is a story that involves two or three people, you have to speak to all involved and get their side first. If he did, he would have gotten information completely opposite to what what was published [in the Guardian].

At no point did Dr [Terence] Babwah or [Dave] Isaac tell me they didn't think I was fit to play the game [against Honduras].
Here's what happened: While making a save in the warm-up before [kick off in] the Costa Rica game, I overstretched my left shoulder, which is not the shoulder I did my recent operation on.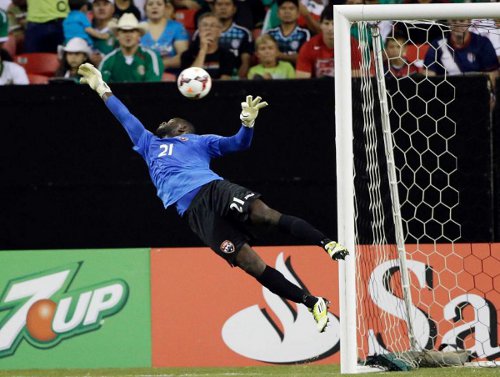 I immediately told [goalkeeper coach] Michael Maurice what happened but I felt no pain because the adrenalin was high. I just knew that I had overstretched, so I told him. I felt no pain before the game, at halftime or after the game. But when I woke up on the Saturday [morning], my shoulder was extremely sore.
I went to Dr Babwah and Isaac and told them; and Dr Babwah moved the shoulder a bit and said he thinks I had obtained the same injury that forced me to do surgery on my right shoulder [earlier in the year].
That was funny and strange to me because he initially misdiagnosed the injury I had on the right shoulder, which caused me to be out of football for six months rather than three.
I got the injury on the 13th of March, after I came back from [the Caribbean Club Championship in] Jamaica and, contrary to Central FC policy which is when you get injured with the club you have to do treatment with the club, I went to Dr Babwah and he did some tests by moving the shoulder around and an ultra-sound.
Then he said between 20 to 30 percent of the tendon in the shoulder was torn and it would not require surgery. And he recommended that I do a treatment called PRP, which is injecting platelets directly into the injured area.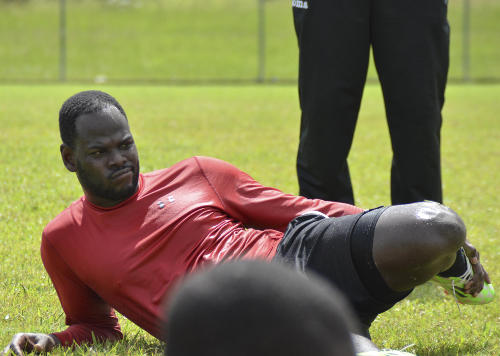 I did that for almost two and a half months and I did not get any progress in the shoulder.
I went back to Central FC and told them about it because Central FC paid the bill which was close to TT$3,000… Then, I went to see David Ceballo who works with the club and is attached to the Mount Hope hospital.
He asked me to do an x-ray, which he thought was standard procedure with those types of injuries, which showed an irregular space with the acromion bone and he immediately recommended a MRI. And when we did that, we found out that it was a 70 to 80 percent tear and not 30 percent. And they said the problem definitely required surgery.
If the basic standard was observed, we would have done the MRI and the surgery three months in advance and it would have been back on the field in May or June instead of September 9, which is when I played the Charity Shield game against Army!
So when Dr Babwah told me on [that] Saturday morning [after the Costa Rica game] that I had the same injury, I was a bit skeptical. Because it was impossible in my opinion, for him to make that diagnosis from just moving his hands, especially when he misdiagnosed the other shoulder initially.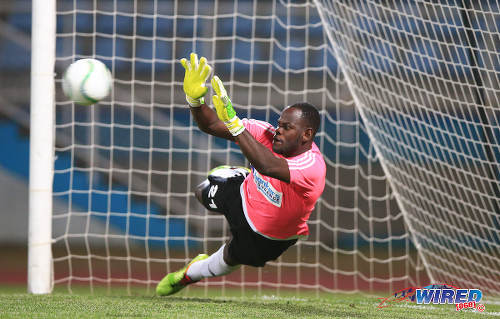 I asked: 'Do you think I should stay in Trinidad to do it?' And he said no. I said well we can go [to Honduras] and see how the muscle responds over the next two or three days and take it from there. I told him I think it would be alright and it was just muscle soreness.
We slept over in Panama on Saturday night and I did some icing and used the electronic tens machine and when I woke up on Sunday, I said: 'Doc, the shoulder is moving up and down, left and right, and feeling much better'.
When we arrived in Honduras, I trained on Sunday evening, normal. When I got in that night, I said: 'Doc, it is a little sore, so I will take some ice and Cataflam 50mg'.
I trained the next day normal with absolutely no pain. None. He asked me about it on Monday immediately after the training and I said: 'Doc, my shoulder is perfect. No pain'.
And that was the end of it. We never had a discussion after that.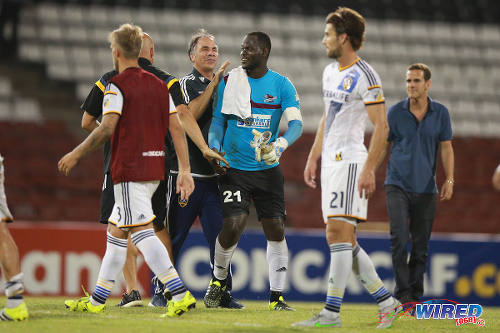 On the day of the game, which is the norm, players would take pain killing tablets if they so desire. I always take because I always have pain in some part of my body…
If you are a professional footballer and you have no pain before the game, then something is wrong with you. You must have a pain somewhere.
I looked over the tape [of the collision which led to my concussion] a million times and I would have done the same thing a million times…
I don't know if there is some underlying tension between the doctor and the coach but I am really upset that they are trying to involve me in it. I really can't understand why they are trying to tarnish the coach's reputation and mine to a lesser extent.
I am completely flabbergasted. I would never put my personal ambition, pride and ego in front of Trinidad getting a good chance of qualifying for the World Cup, especially now at this crucial point!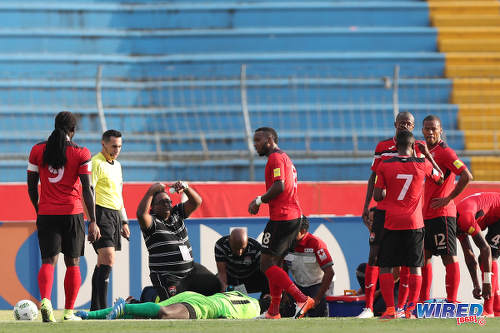 I am a complete professional and I understand that, with or without me, it is possible for the team to win or lose. And I always put team in front of myself.
Last night, Doc sent me a message on my phone which was: "How things? Any symptoms?" That was at quarter to nine last night. I found that very strange because we got back Thursday last week.
So why did it take him four days to ask that question, which was sent just before the article was published?
My response [to the message] was: No headaches, dizziness or anything at all. Shoulder is fine as well, no pain and/or soreness. And he never responded to that. 
My only regret is that Dr Babwah or David Isaac would have answered the phone or responded to my messages [today] before I made this statement, so I would have afforded them the same courtesy that they did not extend to me before they passed on the misinformation about me being injured and unable to play.
It is very unfortunate that at this crucial time where we all need everyone stick together, people are letting their personal agendas take the forefront.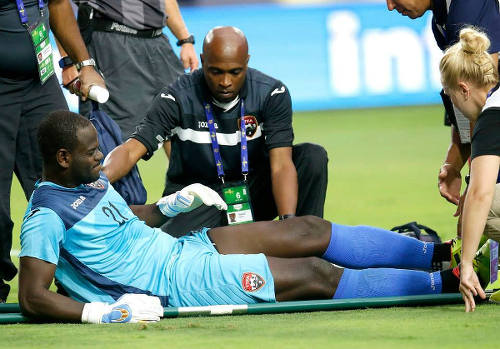 Response from Dr Terence Babwah to questions about his allegations:
"At this moment, I do not want to engage in a war of words with anyone, especially via the media. A report was sent to the Federation and that is why I am asking you to contact them."