Trinidad and Tobago National Senior Team head coach Stephen Hart, goalkeeper coach Michael Maurice and fitness trainer Tobias Ottley have strongly denied accusations—published in the Trinidad Guardian newspaper—that the coach played goalkeeper Jan-Michael Williams against medical advice by team doctor Dr Terence Babwah in their 3-1 World Cup qualifying loss to Honduras on 15 November.
The issue was raised initially by radio host Andre Baptiste on the i95.5FM station on Saturday 19 November. And, according to the Guardian article, that was the very day Babwah and paramedic Dave Isaac handed in their resignations to the Trinidad and Tobago Football Association (TTFA).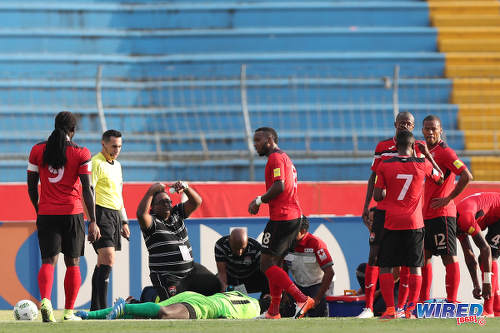 Babwah, who has been a member of the FIFA Medical Team for over a decade, confirmed his resignation but asked that all questions be directed to TTFA president David John-Williams.
"It is true that I resigned but anything more you will have to talk to John-Williams," Babwah told Wired868.
John-Williams confirmed the resignations of Babwah and Isaac, who are two of the Soca Warriors' three medical staff members, but promised to respond to their allegations at an unspecified time in the future. Isaac could not be reached by phone.

"Because of the current climate in football, I will have to make a full statement in due course," said John-Williams. "Matters like these have to be treated in a responsible manner by the office of the president of the TTFA."
(The TTFA subsequently released a press statement on both resignations, which is published below).
The 32-year-old Williams, who has 75 full international caps, was knocked unconscious and concussed after just six minutes of World Cup qualifying action in San Pedro Sula, as Honduras striker Alberth Ellis inadvertently smashed his knee into the temple of the Central FC custodian.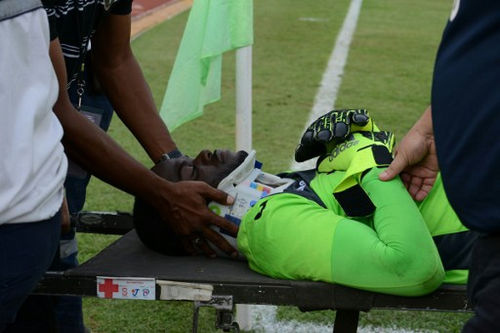 Guardian reporter Walter Alibey, who quoted an anonymous source, claimed that Babwah "strongly recommended" that Williams not play, since he was "medically unfit" due to "a severe shoulder injury" sustained against Costa Rica on 11 November which left him "unable to raise his left hand or dive on his left side."
"There was hardly any movement in Williams' left hand," stated the Guardian's source, "and he therefore it could not be extended it and furthermore, play in the game."
The TTFA release today claimed that Babwah quit because "his professional integrity and that of the Team's medical staff, had been compromised by decisions made leading up to the Honduras game."
However, claims about the severity of Williams' pre-existing injury were vehemently denied by the coaching staff and the goalkeeper.
"[Babwah] never told me it was not safe to play Jan," Hart told Wired868. "He never ever said that! He told me that Jan had an injury [while we were] in Trinidad. He said Jan hurt his shoulder and he was struggling with it.
"So I said let us see how it works out. We had a light training session in Trinidad but then we had two training sessions in Panama and Jan trained twice fully. He dived, he did everything.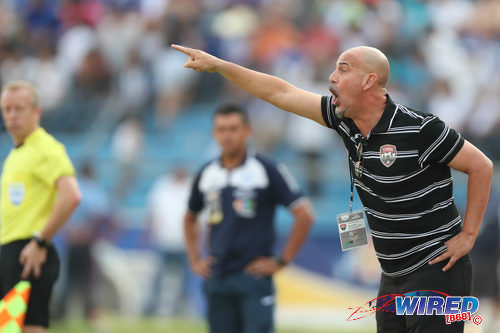 "Before the game, Doc never came to me and said 'I advise Jan-Michael Williams should not play'. Because he would then have had to [also] recommend that Jan not even train [in Honduras]. And Jan trained fully."
The first point of contention was when Williams picked up the knock that worried Babwah. The article claimed it happened during the Costa Rica match. But, according to the goalkeeper, he actually hurt his shoulder in the warm-up before the game.
It means that, despite some soreness, Williams was able to play with his hurt shoulder for a full 90 minutes against Costa Rica without incident. He was not at fault for either goal conceded in their 2-0 loss.
Hart said Babwah discussed Williams' sore shoulder with him before the team left for Honduras on Saturday afternoon. But he claimed that he never heard about it again until Baptiste's program on the weekend.
Ottley, who is the third member of the Warriors' medical staff, told Wired868 that neither Babwah nor Isaac raised any concerns with him about the goalkeeper during the four days before the Honduras qualifier or the week since then.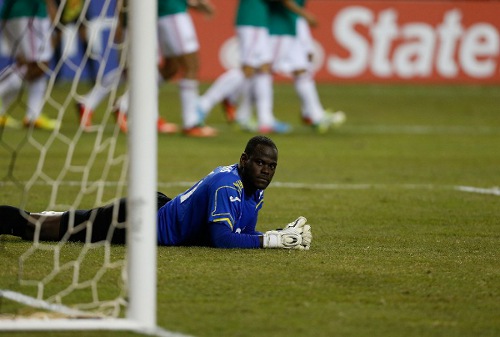 "Jan trained in the two sessions in Honduras and there were no red flags," said Ottley, who is a director at the Sport Company's Elite Development and Performance Unit (EDPU). "I definitely was not told [that Jan couldn't play] and I didn't see him receiving any unusual pre-game treatment or strapping that would make me wonder if there was a problem.
"From what I know of the coach since I came into this team, I don't think he will ignore a 'I am not fit to play' [report]. Remember there is a difference between 'fit to play' and 'he might not be 100 percent'."
Maurice, one of Trinidad and Tobago's most celebrated past goalkeepers and the TTFA's goalkeeper coach for over a decade, said that was he also stunned by the suggestion that Williams was declared unfit to face Honduras.
"I see this [Guardian] article and I don't know where that information came from," Maurice told Wired868. "They said as a result [of the injury] he did light training leading up to Honduras game. That is not true! Jan trained fully!
"I am a real professional and I played [professionally] all over the place including Costa Rica. Yes, sometimes players have slight injuries and can play with treatment. And, yes, Jan had a slight issue. But he trained just as he normally does [when he does not have] an injury.
"I found no sign of anything. I was surprised to see this article."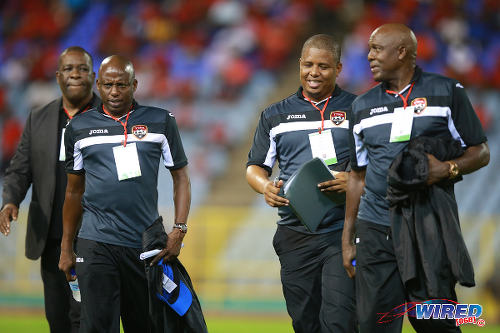 Hart referred to the allegations as bizarre for more reasons than one.
"Why would I risk a goalkeeper if he couldn't raise his arm?" asked Hart. "That doesn't make sense. Something is not reading right here at all. I have a picture right now with Jan's arm fully in the air, which is the same arm they said he couldn't raise. So I don't know what is going on at all.
"They also had a discussion with me that [back-up goalkeeper] Marvin [Phillip] made a save and he was a little stiff. But that is goalkeeping. That is playing [football]."
Ottley said he could not understand why Babwah and Isaac did not raise any possible issue with their colleagues on the technical staff, if their concern was genuine.
"I am actually stunned by this [and] I don't even understand what can be the motive to [submit their resignations] without a team meeting," said Ottley. "Nobody said 'I think we made a out' in playing Jan. There was nothing mentioned in our post-match meetings and it is the first time we had a day extra to sit down because of flight arrangements [from Honduras].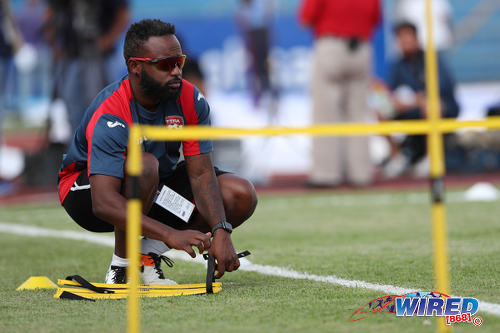 "Professionally, in my opinion, they should have voiced their concerns that with the staff and said 'myself and Dave felt we should have been listened to on a recommendation'. To come to Trinidad and hear this after the fact…"
Ottley said Williams' injury was totally unrelated to his sore shoulder and insisted that video evidence would confirm this.
"If you look at the save in slow motion, which we have done," said the Warriors trainer, "it was a great save with the right hand [and] the left arm went up because he was anticipating the guy may have tried a dink or chip.
"So there was nothing [to claims] about the player being able to defend himself."
Hart said he was hurt by the whole affair. He claimed Babwah and Isaac have not taken his calls since the Guardian article.
"I have always had a great working relationship with 'Zac' and Doc [so] I don't know what to think," said the Soca Warriors coach. "I don't know where this is coming from. I was there for two years and we never had any situation like this [and] I wasn't given any opportunity to respond.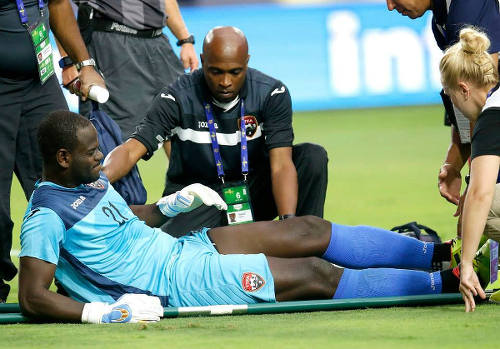 "I'm just in shock that this is happening with some people I have had a working relationship with for the three years I have been here without a single issue."
On Monday afternoon, the TTFA technical committee met to discuss the National Senior Team staff and, according to a source, they decided that change was necessary. The TTFA board of directors have a special meeting on Wednesday evening in which they will discuss the various allegations as well as the technical committee's ruling. Yet, Hart has so far not been given an opportunity to be heard.
"I never met with the technical committee," said Hart. "Yes, of course I would like the chance [to do so]. More so now as I find this situation [with Babwah and Isaac] very very shocking."
Ottley pointed out that timing of the two resignations, which were announced to the media this morning, could not have come at a more inopportune time.
"I don't believe in coincidences and I find the timing off considering the current environment," said Ottley. "It is widely known that the staff has been under the microscope for the longest while… It is disheartening."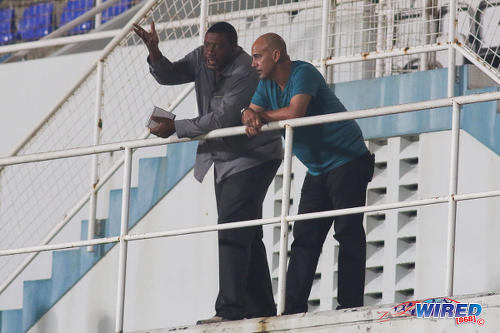 Maurice said he was especially surprised by the claim that Babwah felt disrespected after supposedly being overruled on Williams' condition. He gave an anecdote from their time together at the Germany 2006 World Cup under then head coach Leo Beenhakker and the famous last minute decision by goalkeeper Kelvin Jack to pull out of the opening game against Sweden in Dortmund.
"Jack got a slight injury before the first World Cup game and, because he was the number one, Beenhakker told him that 'we will give you the option up to the 99th hour [to decide on your own fitness] and rely on your professional judgment'.
"So he was told to warm up and depending on how he feels in the warm up, he will let the coach know. And when he was warming up, he said 'coach I can't make it'. So although the medical staff makes a report, the coach has the final say once it is not life threatening. So that is very strange what the doctor is saying because the doctor was on the staff then [at the Germany World Cup].
"So I don't know where all this stems from at all, at all, at all… I don't know what is going on and this sounds strange to me. But there is probably a lot going on behind the scenes that I don't know about."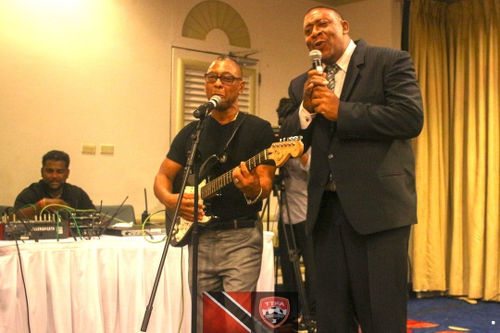 TTFA statement on the resignation of Dr Terence Babwah and Dave Isaac:
"The Trinidad & Tobago Football Association regrettably announces the resignation of two members of the clinical specialist team attached to the Senior Men's National Team—Dr Terence Babwah (team doctor) and Mr Dave Isaac (physiotherapist).
"Dr Babwah, a member of the FIFA Medical Committee for over 10 years, cited that his professional integrity and that of the Team's medical staff, had been compromised by decisions made leading up to the Honduras game. Mr Dave Isaac, another clinical person who has been with the team for the past four years also tendered his resignation, citing concerns about specialist advice being ignored.
"Despite its best efforts, the Association has been unable to avoid the loss of these two critical members of the clinical team. Their departure, and the loss of their accumulated knowledge of the players, individually and collectively, creates a significant gap in the clinical expertise, know-how and resources available to the team."