The Trinidad and Tobago National Senior Team was plunged into further disarray this morning as Tom Saintfiet quit his post as head coach, just before lunch—barely one month into his tenure with the Soca Warriors.
And, almost in keeping with the farcical business of the Trinidad and Tobago Football Association (TTFA), the announcement was made, not through a media release or press conference, but via a Facebook post.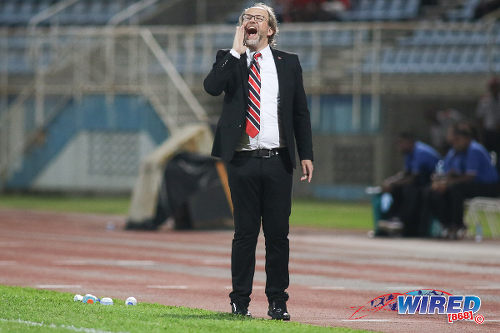 "I resign as National Team Coach of T&T!" posted Saintfiet, on the wall of his social media account.
The Belgian coach confirmed that his stance was genuine and said he already shared his feelings with the foreign media. He said he no comment to make to the Trinidad and Tobago media or public at the moment.
Saintfiet's last job was as coach of the Bangladesh football team, which is ranked 185th in the world by FIFA. His record as Warriors coach comprised of losses in both competitive matches against unheralded Suriname and Haiti, coupled with a win and a loss away to Central American minnows, Nicaragua.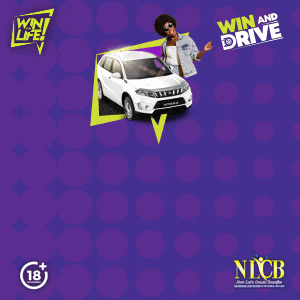 Off the field, he fell out or omitted a remarkable number of senior players including: captain Kenwyne Jones, leading scorer Joevin Jones, goalkeeper Jan-Michael Williams, ace midfielder Kevin Molino, winger Cordell Cato and defenders Daneil Cyrus and Triston Hodge—not to mention management at Pro League and Caribbean champions, Central FC.
However in a statement relayed to Wired868, which Saintfiet presumably sent to the foreign media, he claimed that the TTFA did not provide him with the right environment for success.
"I would like to inform you all that I have decided to resign, today Tuesday 10 January 2017, as National Team coach of Trinidad and Tobago. Given the mandate to guide the team past Panama and Mexico in the coming World Cup qualifiers of March 2017, I have come to the conclusion that I can't be successful in this environment."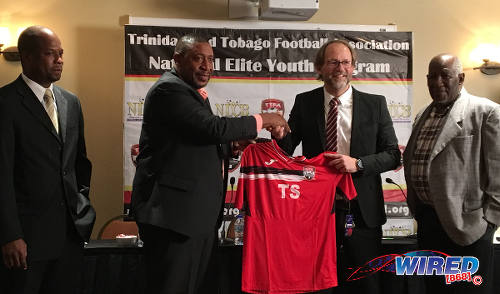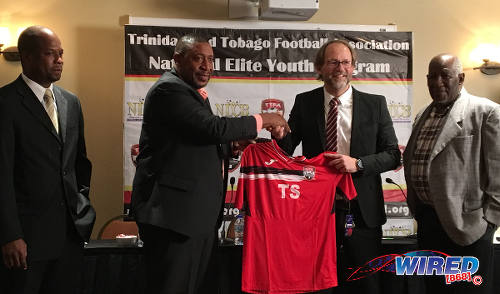 Perhaps unsurprisingly, Saintfiet revealed that he felt let down by TTFA president David John-Williams from his very unveiling on 7 December 2017.
John-Williams told the media that Saintfiet was not his first choice but was merely the most affordable person on the shortlist. And he promised to sack his new coach within three months if he did not deliver four points from two World Cup qualifying games against Panama and Mexico on 24 and 28 March 2017.
"[Saintfiet] was not our first choice—for sure," said John-Williams. "Our first choice was way out of what we could have afforded. And I make no apologies for saying that. And I can tell you who our first choice was as well. Philippe Troussier. And Tom knows that.
"I will also tell you this… if he doesn't get the job done on the 24 and 28 of March, he will be looking for a job. And I make no apologies for saying that. He is laughing but we're very serious.
"Because if we don't get the job done on the 24th and 28th of March, we might as well kiss our campaign goodbye."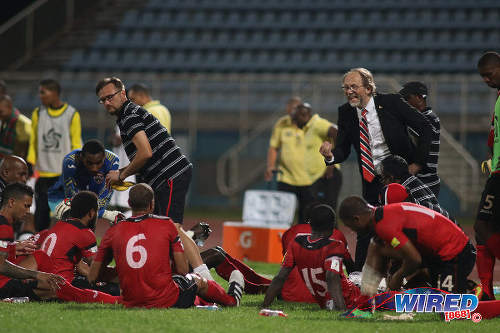 Saintfiet said his biggest regret was not leaving Trinidad there and then.
"From the first day of my unveiling, I did not get the support of the TTFA and its President," stated Saintfiet, "support which is needed to be able to do my job in a professional and successful way. I never got the chance to work with the players nor staff requested.
"Perhaps I should have taken this decision right from day one of my appointment, after the President openly second guessed his own choice of employing me. But I gave him at the TTFA the benefit of the doubt."
Wired868 asked John-Williams for comment on his sudden resignation, whether the football body now believes that it erred in hiring the obscure European in the first place and on his coach's suggestion that he did not feel supported by the football body. He had not responded up to the time of publication.
However, in a media release after Saintfiet publicised his departure, the TTFA claimed he resigned formally to John-Williams last night.
"The Trinidad and Tobago Football Association wishes to advise that Tom Saintfiet issued a letter of resignation as head coach of the National Men's Senior Team to TTFA President David John-Williams on Tuesday night.
"The TTFA President then referred this letter to the Technical Committee of the TTFA and the Committee recommended that Saintfiet's resignation be accepted and  be ratified by the TTFA board."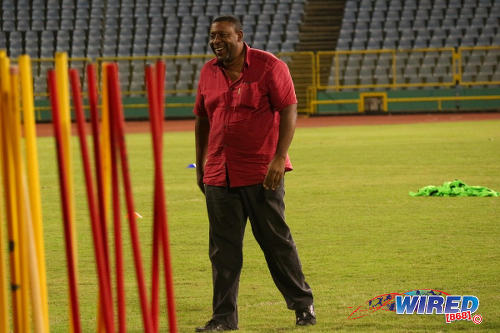 John-Williams appointed a stream of interim employees since he became president on 30 November 2015, which were perceived to be a means of creating instability for his employees so that he could dictate to them.
If so, it backfired spectacularly with Saintfiet, who publicly criticised players from John-Williams' W Connection football club before his dramatic walk-out—just hours before the technical committee was due to meet to discuss his start as coach.
At his first meeting with the media, Saintfiet bragged that he had never been fired as a coach. It seemed a bizarre claim for a man who has rarely lasted more than nine months at any job—most of which were in second and third tiers teams in Africa.
Today, Saintfiet arguably gave a demonstration of his ability to dodge the axe and leave on his own terms, with a plausible reason for his failures to boot, as he waved goodbye to the two island republic.
"It was an honour and privilege to work for a beautiful nation like Trinidad and Tobago," said Saintfiet, "and I wish the players, staff, TTFA, fans and the whole football family the very best."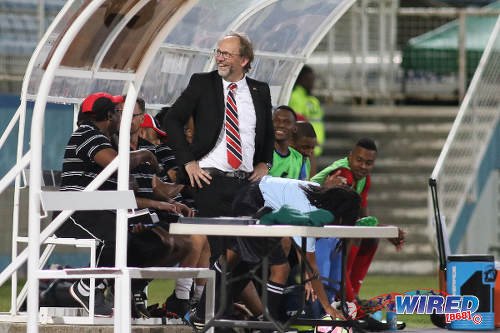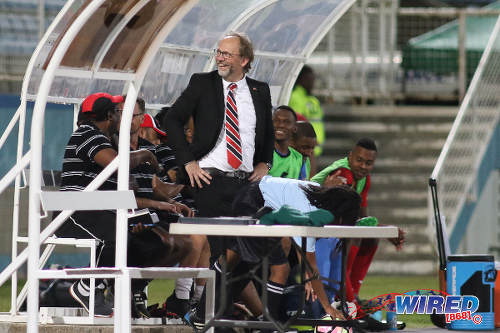 The TTFA promised to name Saintfiet's replacement "in the shortest possible time." Local coaches Russell Latapy and Jamaal Shabazz served as the Belgian's assistants in the recently concluded 2017 Gold Cup playoffs, in which Trinidad and Tobago finished bottom of a three-nation group that included Suriname and Haiti.
"The Technical Committee has advised that a replacement for the post of Men's Senior Team Head Coach will be found in the shortest possible time and the TTFA will make an announcement on this in due course.
"The TTFA wishes to thank Mr Saintfiet for his efforts over the period he served as head coach of our National Men's Senior Team and takes this opportunity to wish him well in his future endeavours."
Former Trinidad and Tobago World Cup 2006 and England Premier League goalkeeper Shaka Hislop, now an analyst at ESPN, commented on Saintfiet's resignation on his Twitter page:
"T&T football. I don't know if to laugh or cry."