If departing Belgian coach Tom Saintfiet is the punchline, then, surely, Trinidad and Tobago Football Association (TTFA) president David John-Williams is the joke.
This morning, Saintfiet gave John-Williams—and, by extension, the local football fraternity—the middle finger as he declared that a country that is, mathematically, eight matches away from the Russian 2018 World Cup are not worthy of his supposed talents.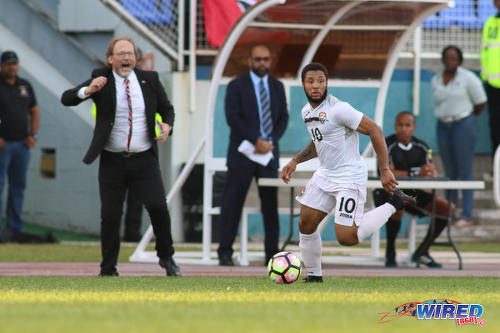 Or, to be more precise, that the TTFA President had created an un-winnable atmosphere for any professional coach.
"I have come to the conclusion that I can't be successful in this environment," said Saintfiet.
The Belgian coach—whose last employers, Bangladesh, are 103 spots lower down the FIFA rankings than T&T at 185—had only been in Trinidad for one month. And, in what might go down as one of the most unforgettable passages in a resignation letter, Saintfiet suggested he stayed here one month too long.
"From the first day of my unveiling, I did not get the support of the TTFA and its President, support which is needed to be able to do my job in a professional and successful way…
"Perhaps I should have taken this decision right from day one of my appointment, after the President openly second guessed his own choice of employing me."
Saintfiet was referring to John-Williams' assertion—on the public unveiling of his new coach on Wednesday 7 December 2016—that the Belgian was hired because he was more affordable than the other options. And that he would sack Saintfiet at the end of March if he did not deliver in World Cup qualifiers against Panama and Mexico.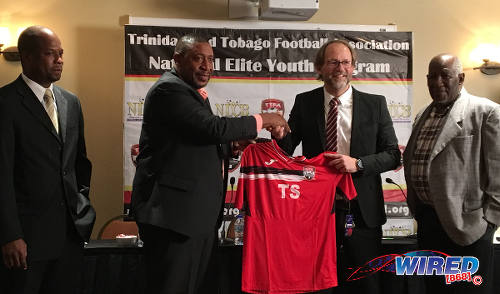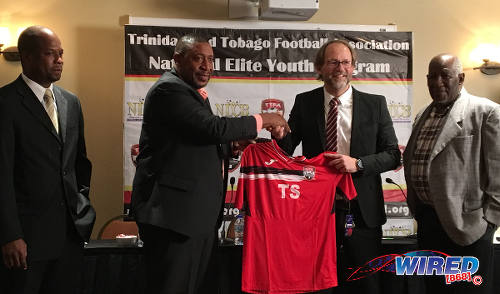 It might be the first time that a coach was hired and given notice on his impending firing on the same day. And it made Saintfiet a laughing stock before he held his first training session.
Notably, John-Williams does not have the constitutional power to deliver on his threat. Only the TTFA board of directors can hire or fire coaches, and there was no pre-arranged conclusion as to Saintfiet's supposed expiry date.
John-Williams disrespected not only his new coach but all football stakeholders at that moment. And it is hardly the first time either.
Former technical director Kendall Walkes told a similar story within the first three months of John-Williams' tenure, as the football president claimed to have legal advice that the former's contract was invalid and, without sharing his proof with the TTFA board, recommended he be replaced with Muhammad Isa.
"Without any provocation, he just decided to take this stance against me, almost from day one," Walkes told Wired868. "I would talk to my wife after (our) meetings and she is aware of the ridicule and cynicism I have had to deal with, as he tries to feed his narcissistic needs and ego.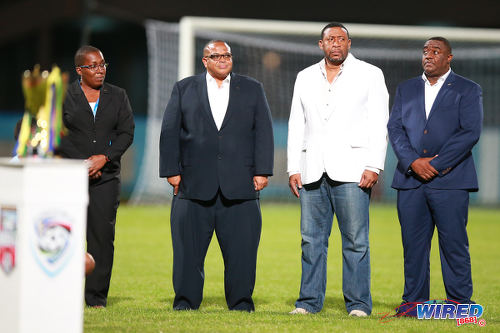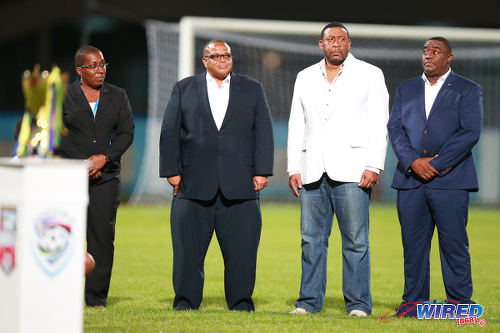 "He even ridiculed my decision to come here. He has brought the entire situation into something personal. I can't tell you how vindictive his actions were in a lot of instances."
John-Williams, who also broke his campaign promise to stay out of W Connection business while serving as local football president, set about running roughshod over the local football apparatus with startling zeal.
Before his election to the TTFA post—which is questionable in itself, as roughly one third of the electorate appeared to have been illegitimate—Trinidad and Tobago football was enjoying a revival at senior level while junior teams were still holding their own at Caribbean level, despite struggling at Concacaf.
Former TTFA president Raymond Tim Kee failed to raise money to fund the local game or to create the relevant standing committees to ensure that the football body operated smoothly. John-Williams talked a good game but did neither once elected—he has taken credit for restoring FIFA funding but, in truth, the audit that lead to the reopening of the financial tap started under his predecessor.
Instead, the W Connection co-owner, whether due to ego or darker reasons, took to interfering with national football teams—sometimes directly, sometimes indirectly.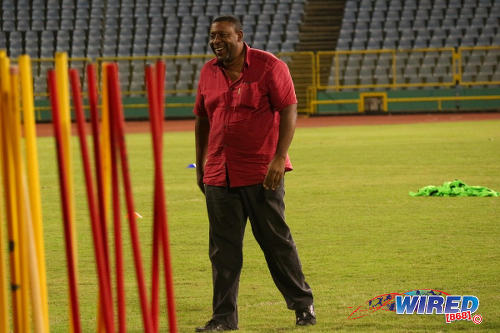 John-Williams gave Isa a short-term deal as technical director, for instance, that might arguably leave him vulnerable to pressure from the football boss. And the head of the technical committee, Dexter Skeene, is the Pro League CEO, who serves at the whim of the local top flight clubs of which Connection is an influential member.
The most startling known example of John-Williams' meddling came on 17 May 2016 when the football president allegedly walked into a training session at the Ato Boldon Stadium and asked players if they would agree to take a friendly match that then head coach Stephen Hart already declined.
John-Williams denied the incident ever took place and insisted that Hart would clear him. Notably, Hart never did.
As always, the players have been the pawns in this game.
Even as Saintfiet lambasted Kevin Molino, Joevin Jones and Cordell Cato for snubbing his Christmas camp in Nicaragua, the reality is that the players are yet to receive match fees from their time there. And, shamefully, the national players are yet to receive a cent of their promised US$200 per day stipends.
So, after agreeing to leave their friends and family for the Christmas holidays, they had to dip in their own pockets for spending money in Managua.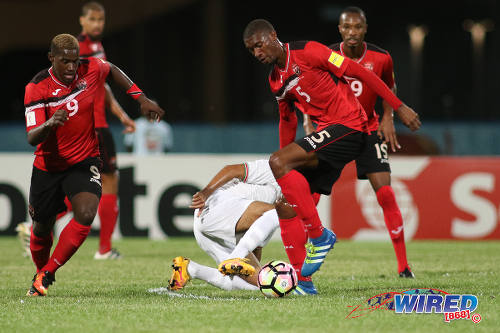 All the while, the players—who included former England Premier League player Carlos Edwards and his World Cup 2006 teammate Cornell Glen—were forced to implement bizarre tactical instructions by Saintfiet.
The Belgian, to his credit, was complimented for the sharp, professional nature of his training sessions as well as his attention to detail in matters such as nutrition and fitness.
But squad members—not limited only to players—found flaws in his playing philosophy. Saintfiet apparently preached a deep, compact backline but did little work on actually winning the ball, as was evident in opponent's ability to find shooting space even when Trinidad and Tobago had 10 players in their own half of the field.
Worse, Saintfiet was disinclined to amend his general plan to suit their opponents and viewed alternate suggestions with suspicion and, at times, aggression.
The Warriors tried to follow instructions during the Gold Cup playoffs, even as spectators abused them for using long balls at every opportunity. Fans failed to notice too that wingers Nathan Lewis and Tyrone Charles looked to always be running into trouble because their full backs were ordered not to push up to support them.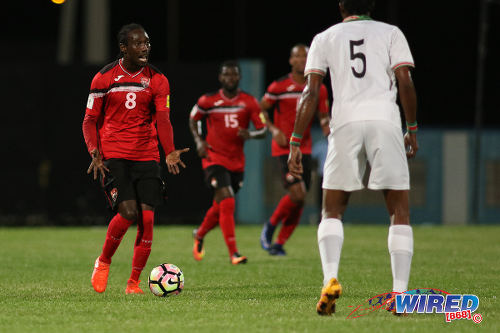 Almost from the beginning, Saintfiet was said to be paranoid about opinions in the media and the Soca Warriors and Wired868 forums while he appeared limited in his tactical strategies. And his charm would disappear quickly when asked to explain his methods.
Saintfiet is alleged to have warned assistant coach Russell Latapy, a former European Champions League player, against speaking directly to the players, even to offer simple tips. It seemed a bizarre decision from a coach who never played professional top flight football and perhaps spoke to his distrust of the environment.
If John-Williams assumed that the Belgian could be made more pliable by withholding job security from him, it proved to be a colossal mistake.
From his first competitive loss to Suriname, Saintfiet kept his nose close to the ground. And, according to insiders, he asked often: Do you think they are going to fire me?
At his first press conference, the Belgian insisted that he had never been fired as coach. It was a remarkable and, almost certainly, dishonest statement for any professional coach with over a decade's experience at a dozen different teams—let alone someone who lasted less than three months in at least three postings.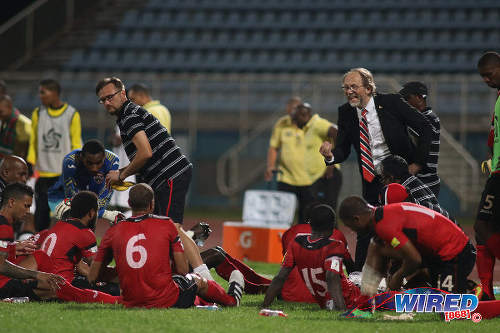 Some of the world's most famous coaches like Sir Alex Ferguson, Jose Mourinho and Carlo Ancelotti were sacked, after all.
But Trinidad and Tobago will not have the opportunity to scrutinise Saintfiet's insecurities.
The TTFA technical committee was asked to meet today on the new coach and there were allegations that John-Williams begun to look for a successor within hours of their loss to Haiti. It will be the Warrior's third head coach in just three months.
Saintfiet decided to cheat the axe and jump before he was pushed. Judging from the disgraceful manner in which he was hired, the Belgian could be forgiven for wondering if John-Williams might have set the dogs on him at his sacking.
So, with middle finger to the sky, Saintfiet dropped the mic and, presumably, booked a one-way ticket back to Europe.
The fact that Saintfiet's initial press statement on his departure was issued only to the foreign press spoke volumes. The two island republic is already in his rearview.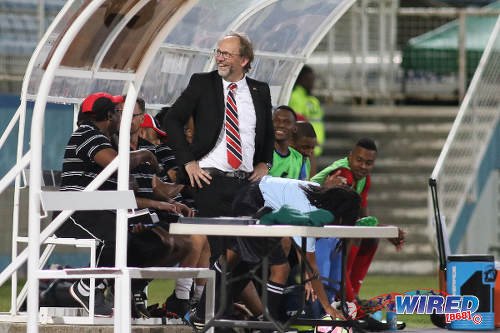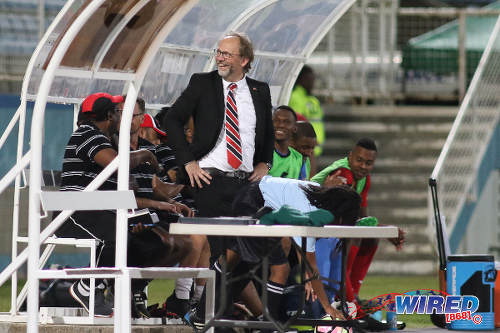 Saintfiet is known to have repeatedly muttered that the Bangladesh FA was more professional than its Trinidad and Tobago counterparts. No doubt, he will repeat that claim in whatever corner of the globe he ends up next.
A salesman with a coaching certificate, Saintfiet has no problem getting jobs. Keeping them has been a far trickier proposition.
But, with the "Rattans coach"—as some readers disparagingly coined the Belgian—sauntering off into the sunset, whatever are we to do with the engineer of this mess, TTFA president John-Williams, and his technical committee?
The TTFA technical committee consists of: Skeene (chairman), Dr Alvin Henderson (vice-chairman), Errol Lovell (former national goalkeeper), Jinelle James (ex-national player and current administrator) and Muhammad Isa (technical director).
Former 1991 World Youth Cup coach, Bertille St Clair, has not attended any technical committee meetings in months due to ill-health.
The current TTFA board of directors comprises: John-Williams (president), Joanne Salazar, Ewing Davis and Allan Warner (vice-presidents), Samuel Saunders (Central FA), Sherwyn Dyer (Eastern Counties Football Union), Karanjabari Williams (Northern FA), Richard Quan Chan (Southern FA), Anthony Moore (Tobago FA), Joseph Taylor (Trinidad and Tobago Football Referees Association), Sharon O'Brien (Women's League Football), Wayne Cunningham (Eastern FA) and Skeene (TT Pro League).
The results of the Trinidad and Tobago national teams before and after John-Williams are as follows: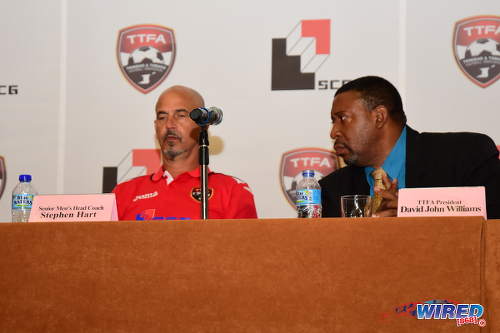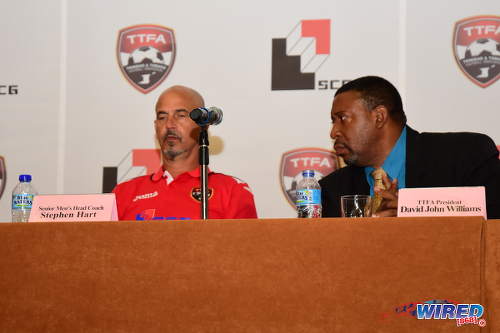 (Men's National Senior Team)
Before DJW: 2012 and 2014 Caribbean Cup runners-up, 2013 and 2015 Concacaf Gold Cup quarterfinalist;
After DJW: Failed to qualify for 2017 Caribbean Cup semifinals or 2017 Concacaf Gold;
(Men's National Under-20 Team)
Before DJW: 2014 Caribbean Cup champions, 2015 Concacaf group stage;
After DJW: 2016 Caribbean Cup fourth placed, qualified for 2017 Concacaf group stage;
(Men's National Under-17 Team)
Before DJW: 2015 CONCACAF group stage;
After DJW: Failed to qualify for 2016 Caribbean Cup semifinals, despite home advantage, or to advance to the 2017 Concacaf stage.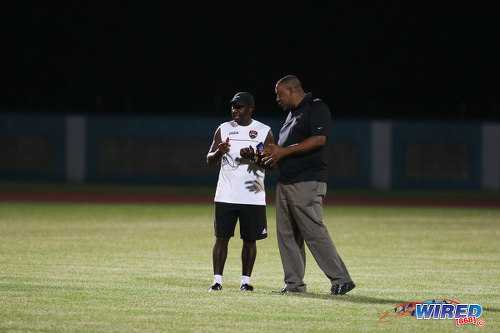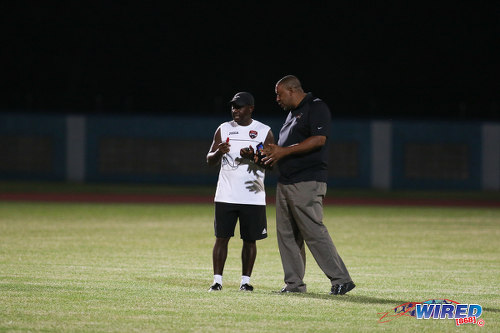 (Women's National Senior Team)
Before DJW: 2014 Concacaf semifinals;
After DJW: 2016 Concacaf semifinals;
(Women's National Under-20/Under-17 Teams)
Neither played qualifying matches since John-Williams was elected president.
(Women's National Under-15 Team)
Before DJW: Third in 2014 Concacaf championship after 1-0 semifinal loss to Canada;
After DJW: Eliminated in 2016 Concacaf group stage after 22-0 loss to USA and 11-0 loss to Mexico.