Dr Terence Babwah and Dave Isaac are back in the Trinidad and Tobago National Senior Team squad and they will have director of youth football, Russell Latapy, and technical programmes coordinator, Jamaal Shabazz, for company.
Former Trinidad and Tobago Football Association (TTFA) general secretary Azaad Khan, who is also the general secretary of the Secondary Schools Football League (SSFL), was also named as interim team manager until the end of the 2017 CONCACAF Gold Cup playoffs in January.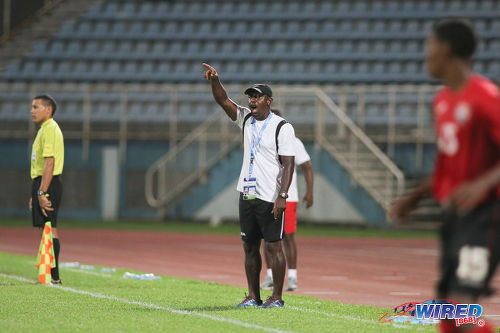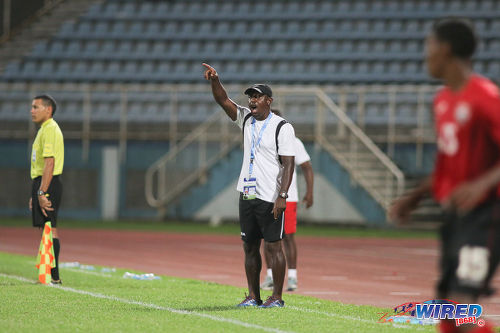 However, the return of Babwah and Isaac is sure to cause heated discussions in the dressing room after the controversial departure of the pair amidst accusations against former head coach Stephen Hart.
Babwah and Isaac claimed that Hart ignored their medical advice and jeopardised the health of goalkeeper Jan-Michael Williams by playing him in their last World Cup qualifier, which was away to Honduras on 15 November 2016.
Hart and Williams, as well as goalkeeper coach Michael Maurice and fitness trainer Tobias Ottley, all strenuously denied the accusation against the then coach.
New Soca Warriors coach Tom Saintfiet said he wanted to keep the experience of Babwah and Isaac around the squad.
"I decided to keep the persons who have been in that role in the last year, Dr Babwah and physio Isaac," Saintfiet told TTFA Media. "I think both have huge experience with the team and in this region and I will like to work in the coming months with them."
However, Saintfiet did not put a premium on the experience of Maurice and Ottley. Both were replaced by foreigners. German Jo Stock will now serve as goalkeeper coach while South African Riedoh Bierdien will operate as fitness trainer.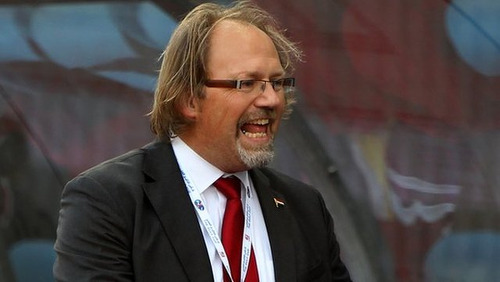 Stock, who holds a UEFA 'A' Goalkeeping Coaching License (2016) and Coaching License (2006), worked with Saintfiet in Yemen and last coached German Third Division team, FC Magdeburg, in 2015. Bierdien was a member of Saintfiet's staff in Togo and Bangladesh.
"[Riedoh Berdien] is a high profiled South African physical coach who worked in the past for Bolton Wanderers of England and also for the national teams of Togo, Botswana and Bangladesh," said Saintfiet, "and he was in the last months the national team physical coach for the South African Football Federation in the women's department…
"On the goalkeeper coach, I spoke with two local goalkeeper coaches. I had a very good feeling with the discussion with them. But in my observation in local football and my discussion with some other people, I decided for the short period of time to bring a foreign professional with high profile, with high education and with experience in European football. And he will be coming from Germany."
For Maurice, who worked alongside Leo Beenhakker at the 2006 World Cup, it will be his first time outside of the National Senior Team for well over a decade. He follows Hart, Ottley, ex-manager William Wallace and former assistant coaches Hutson "Barber" Charles and Derek King through the exit door.
Equipment manager Michael Williams and press officer Shaun Fuentes are the only survivors from Hart's technical staff.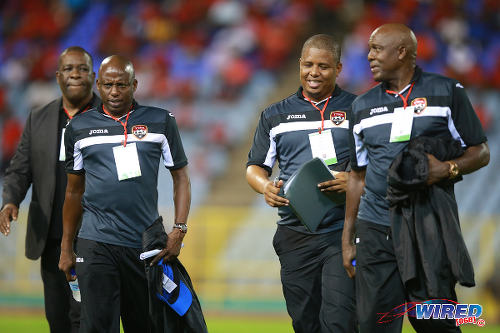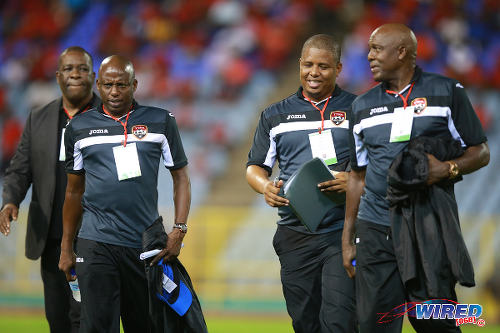 This morning, Saintfiet told Wired868 that there was no room in his 29-man squad for ex-captain Kenwyne Jones or Mexico-based defender Yohance Marshall.
It leaves the Central FC goalkeeper, Williams, as virtually the last influential figure from the Hart era. Williams is the second most capped player in the current squad with 75 full international appearances.
Ma Pau Stars full back and former World Cup 2006 player, Carlos Edwards, has 86 full international outings but has not played international football in three years.
On Monday, Williams made his first competitive appearance for Central FC since he was concussed in Trinidad and Tobago's last World Cup qualifier away to Honduras on 15 November.
Williams' injury turned into a political football as Babwah and Isaac accused Hart of ignoring their medical advice and jeopardising the goalkeeper's health by playing him with an injury. Both men resigned from the team without informing Hart, who found out about it on I95.5FM.
Their accusation was subsequently raised when the board met to discuss whether to remove the former national coach.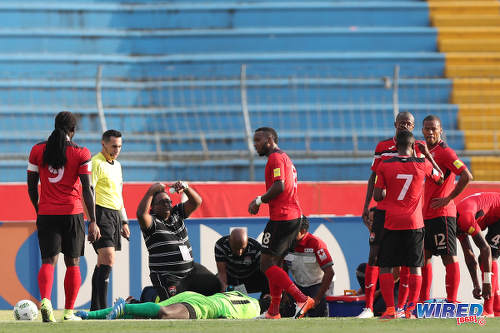 Williams denied Babwah's claims—and went further to claim that the doctor had previously misdiagnosed an injury, which cost him at least three months' playing time—while, in previous Wired868 interviews, Hart and several of his staff members also reacted incredulously to the assertion.
Williams: "At no point did Dr [Terence] Babwah or [Dave] Isaac tell me they didn't think I was fit to play the game [against Honduras]… It is very unfortunate that at this crucial time where we all need everyone stick together, people are letting their personal agendas take the forefront."
Hart: "[Babwah] never told me it was not safe to play Jan. He never ever said that! […] Why would I risk a goalkeeper if [according to Babwah] he couldn't raise his arm? That doesn't make sense. Something is not reading right here at all."
Tobias Ottley, fitness trainer: "I am actually stunned by this [and] I don't even understand what can be the motive to [submit their resignations] without a team meeting… I don't believe in coincidences and I find the timing off considering the current environment. It is widely known that the staff has been under the microscope for the longest while… It is disheartening.
Maurice: "That is not true! Jan trained fully [before the Honduras game]! […] I don't know where all this stems from at all, at all, at all… I don't know what is going on and this sounds strange to me. But there is probably a lot going on behind the scenes that I don't know about."
However, the Warriors will now continue on their Russia 2018 World Cup qualifying campaign without Maurice while Babwah and Isaac are back on deck. It could make for an awkward reunion with Williams.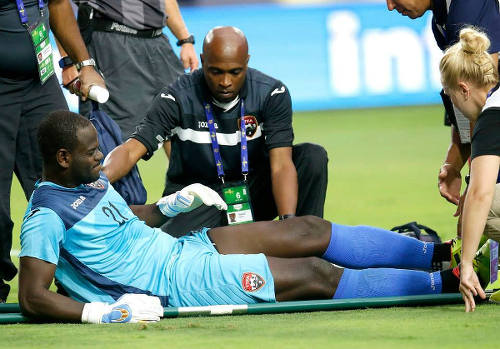 The appointments of Shabazz and Latapy are likely to also raise eyebrows, as both men were rumoured to be potential replacements for Hart although neither actually applied for the job.
Shabazz, who just left his job as Guyana head coach, campaigned for John-Williams during last year's TTFA presidential elections and in his unsuccessful push to be elected Caribbean Football Union (CFU) president.
Shabazz and Latapy should be cost-effective selections as both are already salaried employees of the local football body. Shabazz was named as an interim appointment and, although no timeline was suggested, he is believed to be unwilling to work beyond next month's Gold Cup playoffs.
Ironically, Shabazz quit as National Senior Team co-head coach, three years ago, when then football president Raymond Tim Kee hired Hart and offered him a chance to continue as an assistant. However, the veteran coach said he is ready to serve now.
"I have accepted the responsibilities of this temporary appointment as an extension of my current duties," Shabazz told Wired868. "I may have to fast for three days since I had previously vowed that my days on the field as part of a national team staff [were] over. As a soldier, I am ready to give my total effort towards the success of this project."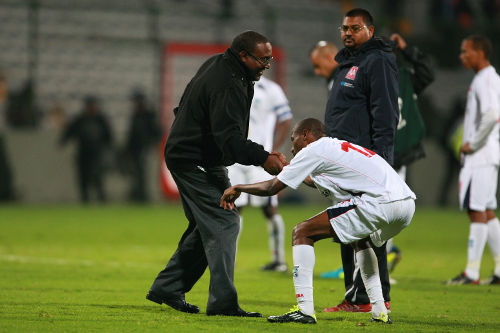 Latapy told the TTFA Media that his job with the youth team remains his focal point. But, like Shabazz, he will not turn down the request to serve his country.
"I was not expecting to be in this situation," said Latapy, who is one of Trinidad and Tobago's iconic former players. "The focus has to be on the new coach and his ideas and his philosophies and we need the players to pull together just like the nation. And we need to come together to do the best that we can to move forward and give the team the best possible chance.
"I have been asked to assist and I will never turn my back on Trinidad and Tobago. The new coach and the president of the association asked me to come in and I will go in and put my best foot forward.
"It is an opportunity for the new head coach to take the squad from where it is at this time and see how far he can take it forward. He will have my fullest support."
Latapy is in Portugal at present and is expected to join the squad later this year.
Saintfiet will have Shabazz for company at his first training session tomorrow at the Hasely Crawford Stadium from 7pm.
"I think we have a strong squad where we combine local experience, two former national team coaches, with international experience of top level specified coaches for that job," said Saintfiet.