Trinidad and Tobago National Senior Team head coach Stephen Hart and his technical staff appear to be in limbo after the local football association's technical committee met this afternoon to discuss the state of the Soca Warriors.
The meeting was called on the request of technical director Muhammad Isa. And, according to a well-placed source, the recommendation from the technical committee was: "changes have to be made."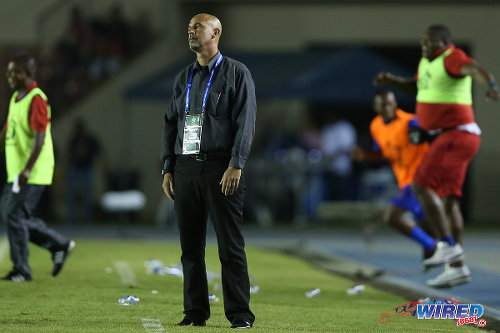 The source was tight-lipped as to exactly what change would satisfy the committee but, as head of the technical staff, Hart is believed to be in a precarious position.
Trinidad and Tobago have made a poor start to the CONCACAF Hex, as the Warriors lost 2-0 to Costa Rica in Port of Spain on 11 November and 3-1 to Honduras in San Pedro Sula on 15 November.
At present, Trinidad and Tobago are second from bottom in the six team standings with only United States below them on goal difference. The Warriors were also eliminated from the Caribbean Cup in the group stage, after losing to Martinique last month.
Incidentally, the TTFA technical committee, which is chaired by TT Pro League CEO Dexter Skeene, is yet to hold a formal meeting with Hart and appears to have been guided by reports submitted by the coach as well as their own impressions of the team. Hart has yet not handed in his technical report on the Honduras defeat while technical director, Isa, did not travel with the team.
Regardless, the technical committee arrived at a decision without hearing from the coach—in writing or in person.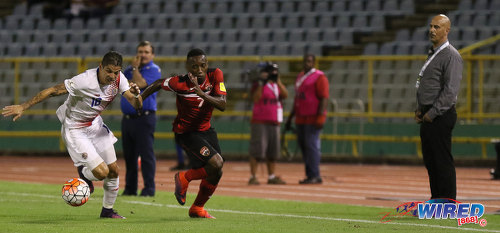 There are still eight games left in the Hex and the top three teams advance automatically to the Russia 2018 World Cup while the fourth placed team enter a play off with Asia's fifth placed nation. And the Warriors can still qualify for the 2017 CONCACAF Gold Cup via a play off series that starts with matches against Suriname and Haiti on 4 and 8 January respectively in Trinidad.
TTFA president David John-Williams denied rumours that he travelled to South America, almost immediately after the Costa Rica defeat, to sound out potential replacements for Hart or that Jamaica 1998 World Cup coach Rene Simoes— a Brazilian who also had a brief, unsuccessful stint with Trinidad and Tobago in 2001—is the preferred choice.
Instead, John-Williams insisted that he only left the country to attend a CONCACAF course in Miami.
Last weekend, John-Williams called a special general meeting for the football body's board of directors from 5.30pm on Wednesday 23 November in Port of Spain, although the TTFA's AGM was already carded for 9am on Saturday 26 November at Naparima College in San Fernando.
According to the TTFA's constitution, only the board of directors can hire or fire coaches and the 13-member body must now rule on whether to ratify the technical committee's decision or reject it.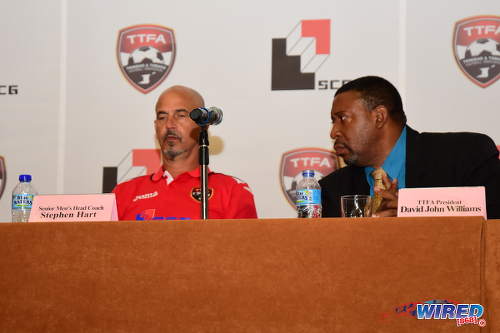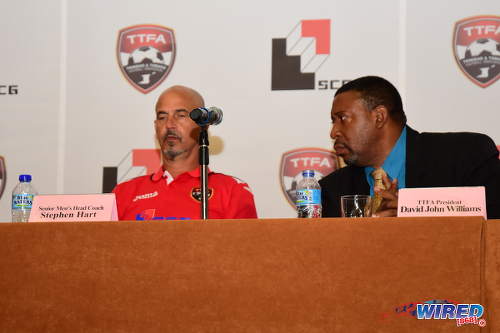 The current TTFA board of directors comprises: John-Williams (president), Joanne Salazar, Ewing Davis and Allan Warner (vice-presidents), Samuel Saunders (Central FA), Sherwyn Dyer (Eastern Counties Football Union), Karanjabari Williams (Northern FA), Richard Quan Chan (Southern FA), Anthony Moore (Tobago FA), Joseph Taylor (Trinidad and Tobago Football Referees Association), Sharon O'Brien (Women's League Football), Wayne Cunningham (Eastern FA) and Skeene (TT Pro League).
The TTFA technical committee consists of: Skeene (chairman), Dr Alvin Henderson (vice-chairman), Bertille St Clair (former World Youth Cup coach), Errol Lovell (former national goalkeeper), Jinelle James (ex-national player and current administrator) and Isa (technical director).
However, Henderson—who is abroad—and the Tobago-based St Clair were both absent from this afternoon's meeting.
W Connection coach Stuart Charles-Fevrier is no longer a member of the technical committee since, according to a member, he expressed an interest in applying for a coaching position. Fevrier, a former Trinidad and Tobago National Senior Team head coach, resigned from the technical committee roughly six months ago, although the public was not informed.
Ironically, just an hour after the technical committee's decision, United States Soccer Federation (USSF) president Sunil Gulati announced that their football body has sacked head coach Jürgen Klinsmann.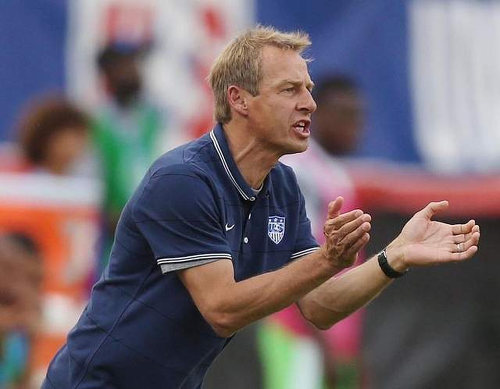 Klinsmann, a former Germany World Cup winner as player and 2006 semifinalist as coach, took over the US team in 2011 and led them to the 2013 Gold Cup title and the quarterfinals of the 2014 World Cup.
He had another two years to run on his contract and claimed to have the support of outgoing United States president and Nobel prize winner, Barack Obama, who, according to Klinsmann, knows "the dynamics of soccer as a global sport" and "understands that it's a long qualifying process."
"It's important to put this in the right perspective," Klinsmann told Reuters. "We lost the two opening games [after we] played the two best teams right away. We have eight more games to get the points needed to qualify…
"I'm 1,000 percent sure we'll qualify."
In Trinidad, Hart was not nearly as unpopular as Klinsmann became in North America—Obama notwithstanding. A recent i95.5FM poll revealed that 52 percent of callers will welcome a new man at the helm but roughly half of the respondents still felt Hart can turn things around.
But the football body's technical arm no longer appears to believe in the coach who was named on the CONCACAF Coach of the Year shortlist for two of his three and a half years in charge.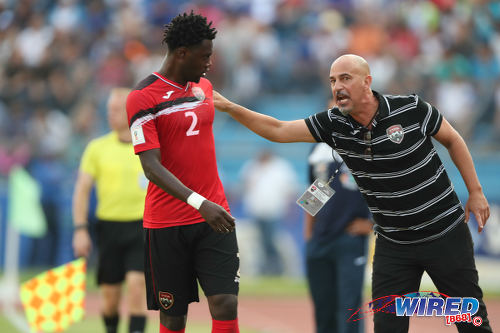 At present, Hart leads a technical staff which includes Hutson "Barber" Charles, Derek King (both assistant coaches), Michael "Brow" Maurice (goalkeeper coach), Dave Isaac (trainer), Tobias Ottley (trainer/conditioner), Dr Terence Babwah (doctor), Saron Joseph (massage therapist), William Wallace (team manager) and Shaun Fuentes (media officer).
Former UWI SPEC director and Tobago House of Assembly (THA) sporting director, Justin Latapy-George, is also expected to be formally unveiled as successor to interim general secretary Azaad Khan at either Wednesday's special general meeting or Saturday's AGM.
Latapy-George is the younger brother of former World Cup 2006 player and local sporting icon Russell Latapy, who is employed by the TTFA as a youth coach at present.
Incidentally, controversial former TTFA general secretary Richard Groden was part of John-Williams' screening committee for the general secretary post.
Groden was publicly warned by FIFA for his role in the infamous cash-for-votes scandal, which saw then vice-president Jack Warner banned for life, while he was intertwined in the World Cup 2006 bonus case between 12 players and the football body.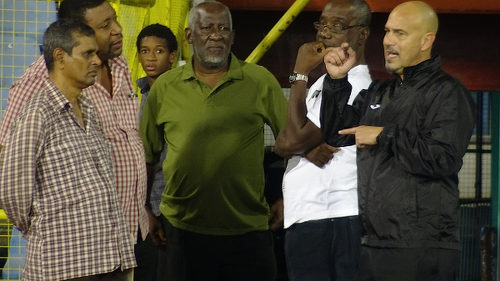 Despite a High Court order, Groden refused to reveal what money was banked by the TTFA during its Germany 2006 World Cup qualifying campaign—even under the threat of contempt for court—and the two parties eventually settled out of court.
However, Groden became a cooperative witness for FIFA against Warner and helped steady the football body at its lowest ebb after the departure of the Special Advisor in 2011. He was replaced as general secretary by Sheldon Phillips in May 2013.
Latapy-George, whose appointment is the call of the football president according to the constitution, seems set to become the body's fourth general secretary in 13 months, after Phillips and interim appointments Paula Chester-Cumberbatch and Khan.