Trinidad and Tobago National Senior Team coach Stephen Hart might have nightmares in French tonight, after the Soca Warriors were eliminated from the 2017 Caribbean Cup by virtue of a 2-0 extra time loss away to Martinique.
The Warriors can still sneak into the 2017 CONCACAF Gold Cup but that now means a minimum of three playoff matches—two against Caribbean opposition and one against a Central American nation.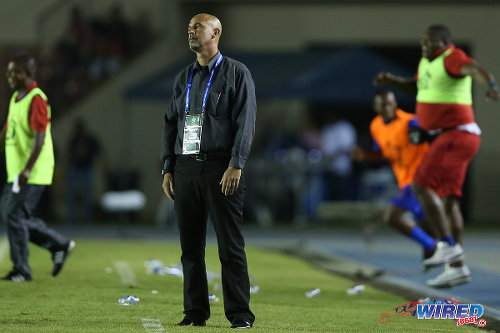 The dates for the Caribbean play off matches are 9, 12 and 15 November, which are obviously impossible for Trinidad and Tobago who face Costa Rica and Honduras in World Cup qualifying action on 11 and 15 November respectively.
The Caribbean Football Union (CFU), in drawing up dates for its play off rounds, clearly didn't anticipate that the Soca Warriors—the Caribbean's only team left in the Russia 2018 World Cup race—might be required to take part.
The late defeat to Martinique and uncertainty over the team's immediate future compound a miserable 24 hour spell for Hart and his squad.
On Monday night, the coach axed his best finisher and playmaker, Kevin Molino, after allegedly learning that the Orlando City midfielder broke team rules to party at the Vas Lounge nightclub, three days earlier. It would have been the second time Molino put his love of the nightlife ahead of his teammates and country within roughly a month, although, so far, Hart would only say he was excluded due to indiscipline.
Then, on Tuesday night, Hart found himself without his team captain as well, after Kenwyne Jones limped off the field in the first half after a firm but legal challenge from a Martinique opponent.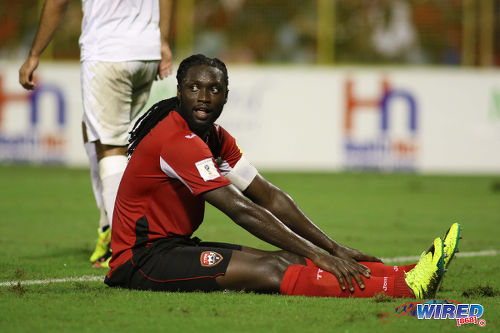 By the second half, Joevin Jones—whose double against Guatemala preserved the Warriors' World Cup dreams—was off too, after being replaced by the more workmanlike Andre Boucaud following a largely unsuccessful stint in Molino's vacated advanced central midfield role.
And, when Martinique struck in extra time through Kevin Parsemain and Steeven Langil, Trinidad and Tobago could not deliver a response.
"We weren't at our best clearly from the opening whistle," Hart told the TTFA Media. "We were sluggish and we couldn't seem to get the tempo of the game up.
"At the end of the day, too many of our so-called quality players were way below their best. Technically we didn't want the ball and when we did get it we didn't use it in a positive manner to try and penetrate and put them under any real threat."
The Warriors did have their moments, mind you. Teenaged winger Levi Garcia struck the bar in the first half, after one of his trademark twisting runs. And Joevin hit the post from a free kick before the interval too, which was awarded for a foul on Kenwyne's replacement, Trevin Caesar, who worried Martinique at times in the first half with his sprints down the channels.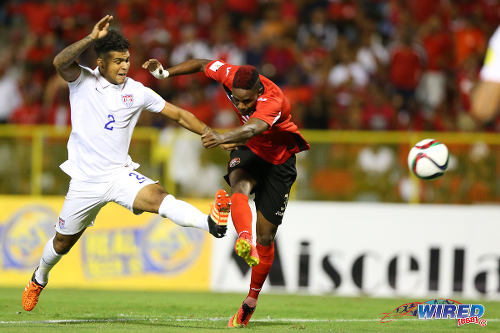 Kenwyne, Molino and Jones are the first, second and third highest scores of Hart's tenure respectively and have plundered a combined 34 of the 65 scored under the current coach. To lose all three at once and with little warning was always going to be  extremely difficult for the team.
And Martinique, who gathered momentum as the contest went on, took advantage of their toothless opponents.
Parsemain hit the bar with one header while it took a desperate and timely Aubrey David tackle to thwart another challenge before the opening goal came in the 105th minute. Warriors winger Cordell Cato hit a weak headed back pass, just inside the Trinidad and Tobago half of the field, and Parsemain, who is Martinique's record goal scorer, seized possession and finished with a fine strike into the corner from 20 yards.
And, in the last minute of extra time, Langil completed the job, as he ran in off the right flank and blasted past Warriors goalkeeper Jan-Michael Williams at his near post.
"Today where were a lot of players who didn't press the ball effectively and when we had it, we didn't play combinations," said Hart. "We have always struggled against teams that sit down and play with a lot of discipline and Martinique did that. When they got the ball they took the game down to a very slow level and just played for the mistake.
"And we made the mistake at a crucial time in the game and we paid for it."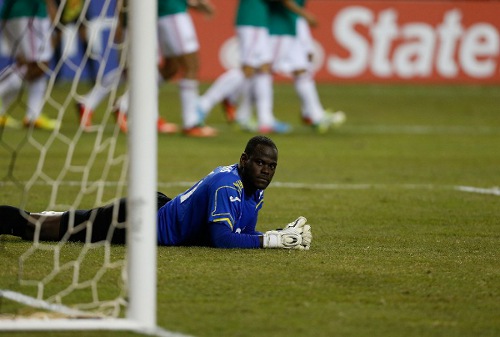 Trinidad and Tobago's upcoming schedule is complicated now. Arguably, the more pressing matter is to find a long term solution to the Molino dilemma, which is: if he should play again and under what circumstances; or whether Hart can replace him or be forced to alter his formation to compensate.
But Molino was not the only player to concern the national coach, as he lamented the failures of the squad to rise to the challenge—as was the case in their 1-0 Copa America Centenario play off loss to Haiti in January.
"Clearly some changes need to be made to shake up the team," said Hart. "The competitive element for places needs to be stepped up. For me the positive thing is we are in the hex and we start next month…
"Some players have to look at themselves and ask if they really want this and if they have the discipline to do this… For me, discipline is very important. Not just 'yes sir, no sir' but how you carry yourself, how you rest and how you recover."
Sleepless nights await. Hart's next move could have a profound effect on the Warriors' World Cup campaign in one way or the other.
(Team)
Trinidad and Tobago (4-2-3-1): 1.Jan-Michael Williams (GK); 5.Daneil Cyrus, 17.Mekeil Williams, 4.Sheldon Bateau, 2.Aubrey David; 19.Kevan George, 8.Khaleem Hyland; 7.Cordell Cato, 3.Joevin Jones (14.Andre Boucaud), 16.Levi Garcia; 9.Kenwyne Jones (captain) (12.Trevin Caesar [11.Shahdon Winchester]).
Unused substitutes: 20.Adrian Foncette (GK), 6.Radanfah Abu Bakr, 18.Tristan Hodge.
Coach: Stephen Hart