'Goals win matches', says the old adage. But Queen's Royal College (QRC) and St Augustine Secondary were short on supply today, as the two teams battled to a nil-nil draw in Secondary Schools Football League (SSFL) Premier Division action at QRC grounds.
Scrappy may be the best word to describe the affair, as both schools struggled to play sleek football on the damp QRC outfield. There were no shortage of tackles though, and either team's physio may have to work overtime to ensure that all players are available for the next round of matches.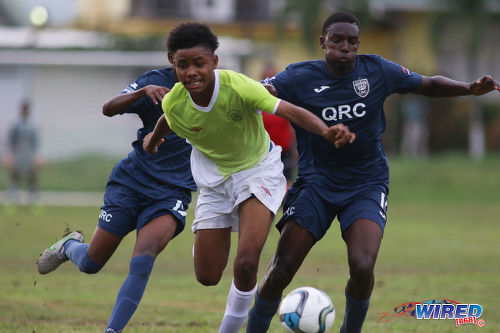 QRC were without influential playmaker and National Under-17 captain John-Paul Rochford, who is currently preparing for the Caribbean Football Union (CFU) Under-17 tournament, which begins in Trinidad on September 16.
The "Green Machine" were also short of experience as new head coach Adrain Romain started only six players from their 2015 season. St Augustine placed fifth in the Premier Division last season and were crowned East Zone Intercol champions. However, former no-nonsense skipper Joshua Marshall and dead ball specialist Jesse Joseph are among several players who moved on to supposed greener pastures—pardon the pun.
"We have a really young squad that is willing to work for the team and that's what impresses us most," Romain told Wired868. "We lost Jesse Joseph, Joshua Marshall, the skipper from last year. The only player we have lost to another school is Isaiah Lee, who has gone to Naparima College."

Romain, who was in charge of Trinity College East at the start of the 2015 season, acquired the top coaching position at St Augustine after the mysterious dismissal of Michael Grayson a few months ago, which the new coach insisted had nothing to do with him.
It appeared that Romain and his technical staff had done their homework on the "Royalians", though, as St Augustine frustrated their hosts by pressing high up the field.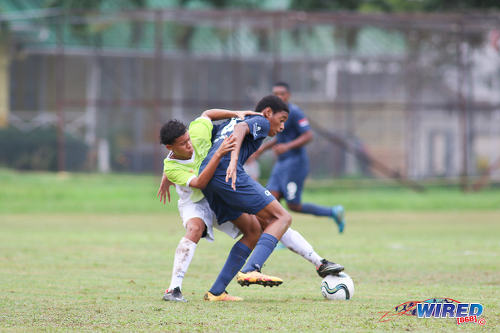 St Augustine nearly took the lead on the half-hour mark as the lively Kristian Spence ghosted into the opposing penalty area, after nice link-up play down the left flank. But, as Spence tried to cut inside on to his right foot, QRC skipper and central defender Anfernee Stokes managed an excellently-timed interception.
QRC were threading a fine line with their reluctance to simply punt the ball from the back and they almost paid the price in the 41st minute, as custodian Kern Thomas had to hastily evade two tackles, in front of his goalmouth, after a back pass by his defender Tevin Lessey.
Aaron Best did not go untroubled in the other goal, as he scrambled off his line to thwart a QRC raid in the 44th minute and then made a smart save to keep out striker Darius Dickson from the ensuing corner kick.
It's a mystery how the follow-up attempt from Dickson's effort did not find the back of the net and Lessey may have to answer to QRC coach Dexter Gill for that miss.
"My game plan was really to make QRC as uncomfortable as possible to get them out of their comfort zone, which we did superbly for the first forty minutes," said Romain. "But then [in the] second half, we decided that we wanted to go all out and attack and we didn't score the chances we were given."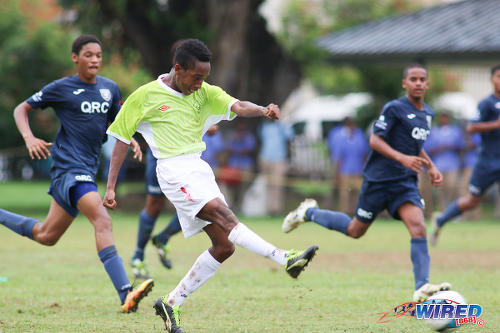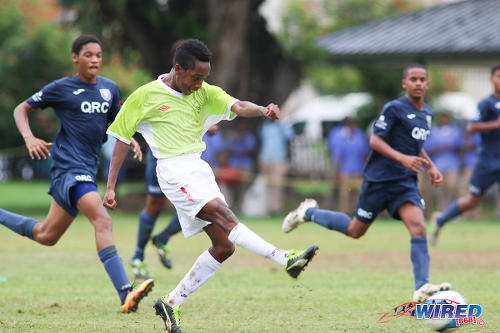 St Augustine did not only trouble the host team but match officials and spectators too with a kit—fluorescent green to the front and white to the back—that made its grey playing numbers almost impossible to decipher.
Spence, Rahim Gordon and captain Anthony Samuel were particularly lively for the Green Machine in the second half, but the visitors just could not apply the clinical touches at the crucial moments.
Samuel saw a free kick from the edge of the area pushed away by Thomas in the 63rd minute. And Gordon messed up a promising opportunity in the 76th minute after the QRC goalkeeper tipped a speculative long-range effort by Spence onto the crossbar.
Spence and Thomas were at it again in the 82nd minute as the QRC goalie made another smart save to deny the former player from a dangerous free kick.
Spence, who fought tooth and nail throughout, nearly paved the way for the Royalians to snatch all three points at the death, as he was robbed of possession in the final third by substitute Jabari Mickel. The hosts then relayed the ball smartly to midfielder Shomari Healy but he bent his right-footed effort just over Best's crossbar.
In the end, Spence and Romain might have breathed a sigh of relief as they shared the spoils with the North Zone team.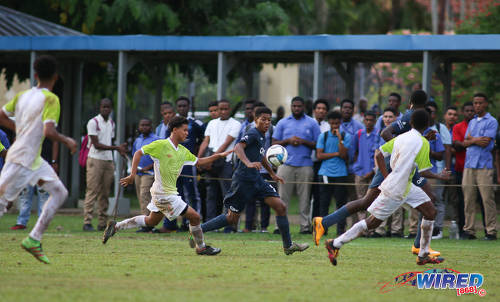 "I'm pleased with the result but I think that we had a lot of chances, especially in the second half, we should have gone on top several times," Romain said. "Our goal for the season is a top four finish. We really want to finish in the top four and defend our East Zone (Intercol) title."
(Teams)
QRC (4-1-2-3): Kern Thomas (GK); 3.Darlon Guppy, 4.Anfernee Stokes (captain), 5.Tevin Lessey, 2.T'Shad Selvon; 6.Keyshawn Villafana; 18.Shomari Healy, 8.Kalev Keil (7.Tyrese Pierre 65); 13.Rickson Hill (12.Jabari Mickel 80), 9.Shemar De Gannes (11.Miguel Williams 68), 10.Darius Dickson.
Unused Substitutes: 19.Rawle Felix, 20.Ayoba Moore, 21.Lewis Marquis, 22.Saif Farrag.
Coach: Dexter Gill
St Augustine: 22.Aaron Best (GK), 2.Nykoaba James, 3.Zion Holder (17.Tajh Devenish 75), 4.Rayhan Phillip, 5.Stephon Ealie, 8.Kristian Spence, 10.Rahim Gordon (7.Allan Hogan 79), 11.Akeem Hosten, 12.Rivaldo Coryat, 19.Kenton James (23.Kendel Hitlal 65), 9.Anthony Samuel.
Coach: Adrian Romain
Referee: Ishmael Mohammed
Man of the Match: Kristian Spence (St Augustine Secondary)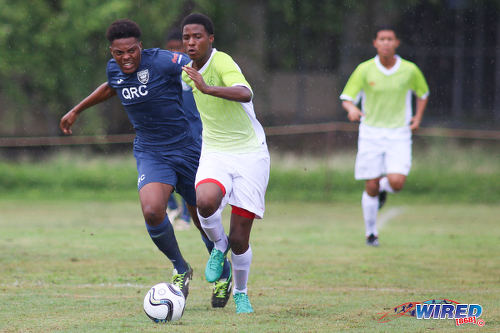 SSFL Premier Division
(Wednesday 7 September)
Shiva Boys HC 3 (Ronaldo Edwards 1, 38, Junior Assoon 25), Presentation College (San F'do) 1 (Kareem Riley 36 pen) at Irwin Park;
Naparima College 2 (Akinola Gregory 17, Renaldo Francois 20), San Juan North 2 (Renaldo Boyce 40, 52) at Irwin Park.
(Thursday 8 September)
Signal Hill 1, Pleasantville 1 at Signal Hill;
Fatima College 1, St Anthony's College 2 at Mucurapo Road;
QRC 0, St Augustine 0 at QRC;
St Benedict's College 0, Fyzabad Secondary 2 at Mahaica Oval;
St Mary's College 0, Trinity College Moka 0 at Serpentine Road;
East Mucurapo on a bye.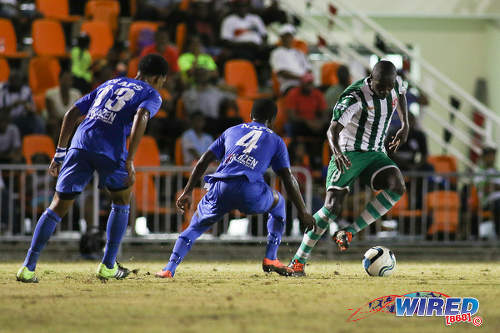 Upcoming fixtures [All games kick off at 3.40pm]
(Saturday 10 September)
Presentation (San F'do) vs Fatima College at Guaracara Park;
Signal Hill vs QRC at Signal Hill;
Fyzabad Secondary vs St Augustine at Fyzabad;
Shiva Boys HC vs St Benedict's College at Irwin Park;
St Anthony's College vs East Mucurapo at Westmoorings;
Trinity College Moka vs San Juan North at Moka;
St Mary's College vs Pleasantville at Serpentine Road;
Naparima College on a bye