New season, change of venue, fresh sponsor… And, unfortunately for the defending champions, there was little continuity for Naparima College either.
The Secondary Schools Football League (SSFL) has only had one champion since it launched the Premier Division, two seasons ago. But Naparima will have to chase the pack this year, as they squandered a two goal lead against San Juan North and were forced to settle for a 2-2 draw at Irwin Park, Siparia.
'Naps' had nine starters from last year's successful title defence but it was San Juan's Renaldo Boyce who made the biggest impression, as his impressive double ensured that the East Zone team did not leave south Trinidad empty handed.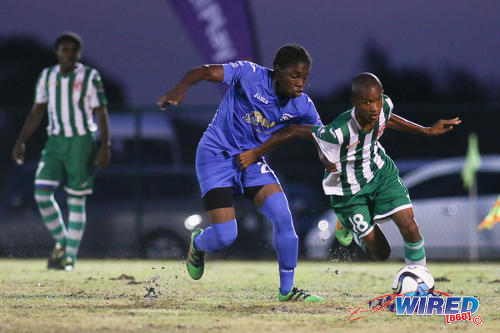 It was Shiva Boys Hindu College who set the ball rolling though, as they caught Presentation College (San Fernando) cold with a 3-1 whipping to kickstart the 2016 season at Irwin Park.
The presence of new sponsor, SportsMax, was unmissable from banners to announcers, giveaways and a small army of employees in branded tee-shirts. The game was also beamed live across the Caribbean.
And young Shiva winger Ronaldo Edwards was in a hurry to grab the spotlight.
The game was just 59 seconds old when Shiva forward Junior Assoon burst down the right flank and sent a low cross whistling across the penalty area for Edwards to apply a simple predatory finish.
And Edwards was not about to pass up the opportunity to introduce himself to the television cameras, as he celebrated with the hands wagging and head bobbing trademark of France star Antoine Griezmann.
Shiva repeated the trick in the 25th minute, only this time it was Quinn Rodney who produced the right side delivery while Assoon applied the finishing touch.
Disgusted Presentation coach Shawn Cooper ordered his entire substitutes bench to warm up immediately.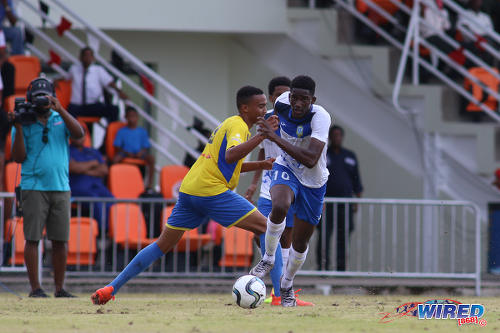 Cooper did get something to smile about in the 35th minute, as Shiva central defender and captain Jerome Samuel inexplicably barged over opposing forward Omari Baird in the penalty area and 'Pres' captain Kadeem Riley cooly converted the penalty to halve the deficit.
It proved to be merely a minor inconvenience for the Siparia-based team.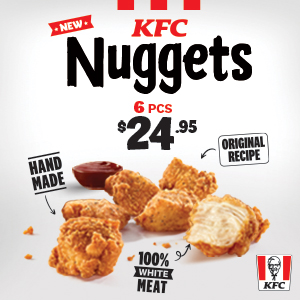 Two minutes, Shiva pegged Presentation back to the edge of their own penalty area before Edwards wriggled free from his marker to produce a neat low finish into the far corner. Shiva 3, Presentation 1.
In truth, the scoreline did not tell the entire story.
Shiva midfield general Tyrel "Pappy" Emmanuel was one of three National Under-20 Team players in his school's colours while National Under-17 midfielder Judah Garcia, who is the youngest from a family of footballers that includes Soca Warriors starlet Levi Garcia. None had more than a passing influence on the game.
Pappy was wasteful in possession, Rodney was rarely involved and Garcia, who was a second half substitute, could not bring order to the chaotic proceedings.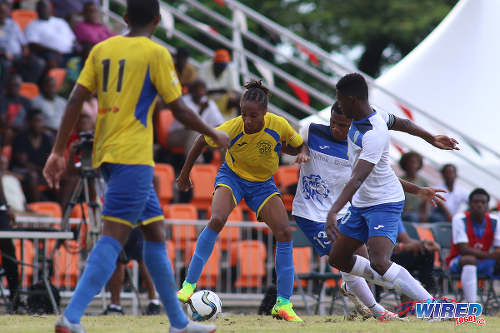 Taylor was named the SportsMax Player of the Match but that honour might have easily gone to Shiva goalkeeper Denzil Smith who made a series of inspired saves from Presentation attacking midfielder Jarod Gordon in the second half.
Smith capped off his evening's work with a brilliant stop off the match's second penalty kick, as he tipped Riley's effort on to his bar and over after referee Keilon Bacchus punished another clumsy tackle from Samuel inside the Shiva area.
It took a bit longer for the outstanding performer of the second game to show himself.
Naparima College, who kicked off with former midfield commando Shane Sandy wearing the armband but stationed in central defence, were first on the score sheet. Striker Akinola Gregory was the notary, as he finished from close range after opposing goalkeeper Shawndell Byer failed to hold on to a low shot.
And Renaldo Francois made it 2-0 to Naparima in the 20th minute with a finish from inside the area, after San Juan North failed to clear a right side free kick.
Done and dusted? Tell that to the boys from Bourg Mulatresse.
Whatever qualities coach Jerry Moe's San Juan students might have lacked over the years, fight and spirit were never amongst them. Sandy learned that the hard way, as he took his eye off the ball in the 40th minute and had to look on helplessly as Boyce enforced immediate punishment with a precise left footed finish into the far corner.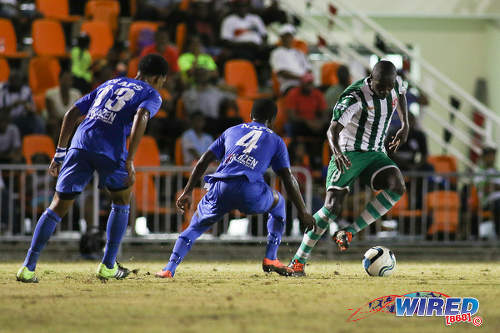 Boyce's second item again owed something to errant Naparima defending. But the finish was majestic.
His back to goal with a low, bouncing ball heading towards him in a congested penalty area, Boyce allowed the sphere to pass between his legs before striking it cleanly with a fierce back heel that Naparima custodian Levi Fernandez got a hand to but could not keep out.
The San Juan number 9 nearly produced an encore in the 75th minute, as he muscled opposing defender Jeron Pantor off the ball and again produced a sweetly timed, angled back heel.
Thankfully for Naps' supporters, Pantor anticipated the trick on that occasion and managed a block.
It was all Naparima for the closing 12 minutes though and the game might have had a totally different complexion if Shobal Celestine kept his composure in stoppage time.
Byer rushed off his line and totally mistimed the ball which bounced towards Celestine, just inside the penalty area. But, perhaps put off by the combination of a retreating defender and the weight of the moment, Celestine snatched at the ball and spliced his shot wide.
So Naparima's title defence starts with a solitary point. For Shiva Boys, there was no place like home.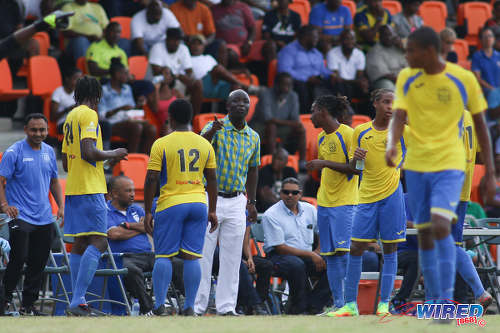 (Teams)
Naparima College (4-2-3-1): 1.Levi Fernandez (GK); 26.Sylon Sylvan, 11.Shane Sandy (captain), 13.Jeron Pantor, 3.Khris Stroud; 21.Justin Sadoo, 4.Aalon Minors; 9.Shobal Celestine, 23.Renaldo Francois (18.Ronaldo McIntosh 80), 8.Nikel Rawlins (10.Jeremiah Kesar 58); 7.Akinola Gregory (12.Isaiah Lee 68).
Unused substitutes: 30.Enrique Changiah (GK), 14.Seon Shippley, 15.Shadeon Arthur, 16.Decklan Marcelle.
Coach: Angus Eve
San Juan Secondary (3-5-2): 1.Shawndell Byer (GK); 21.Kyle Thomas, 8.Lukeman Brooks (captain), 17.Kareem John; 16.Obadele Dickson, 22.Nathaniel Perouse, 7.Josiah Baird, 20.Jerome Cyrus, 18.Tigana O'Brien (19.Adrian Duncan 81); 9.Renaldo Boyce, 11.Miguel Garraway (4.Kareem Grant 67).
Unused substitutes: 30.Joshua Wong, 5.Keon McPherson, 12.Jeremiah Scott, 13.Marcus Berot, 14.Darian Warner.
Coach: Jerry Moe
Referee: Cecile Hinds
Man of the Match: Renaldo Boyce (San Juan North)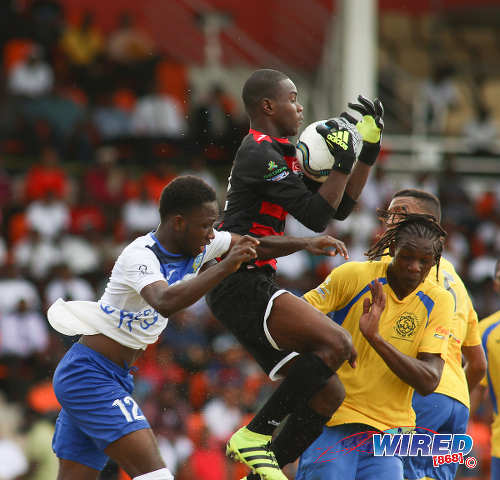 SSFL Premier Division
(Wednesday 7 September)
Shiva Boys HC 3 (Ronaldo Edwards 1, 38, Junior Assoon 25), Presentation College 1 (Kaeeem Riley 36 pen) at Irwin Park;
Naparima College 2 (Akinola Gregory 17, Renaldo Francois 20), San Juan North 2 (Renaldo Boyce 40, 52) at Irwin Park.
Upcoming fixtures 
(Thursday 8 September)
Signal Hill v Pleasantville at Signal Hill, 3.40pm;
Fatima College v St Anthony's College at Fatima, 3.40pm;
QRC v St Augustine at QRC, 3.40pm;
St Benedict's College v Fyzabad Secondary at Mahaica Oval, Point Fortin, 3.40pm;
St Mary's College v Trinity College Moka at St Mary's, 3.40pm;
East Mucurapo on a bye.