Trinidad and Tobago Football Association (TTFA) president David John-Williams and vice-president Joanne Salazar said yesterday that they, along with vice-president Ewing Davis, acted on more than one occasion without approval from the TTFA's board of directors and sought to justify their doing so in a radio interview on I95.5FM.
John-Williams was the driving force behind the interview as—in a departure from his usual low-keyed approached—he asked talk show host Andre Baptiste to invite myself, as Wired868 director, to debate Caribbean Football Union (CFU) and TTFA issues.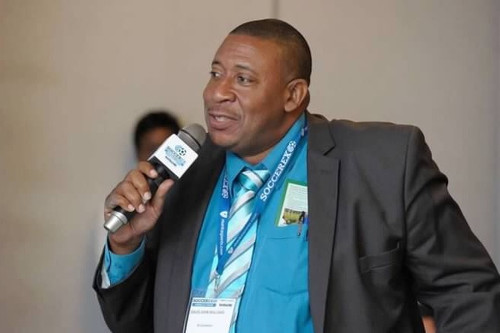 The TTFA president, who was frequently interrupted by Salazar, attempted to debunk statements from CFU president Gordon Derrick in two Wired868 articles, including one in which he accused John-Williams of breaking ranks to pledge early support to current FIFA president Gianni Infantino.
John-Williams claimed that as many as six from 31 CFU nations also voiced approval for one FIFA candidate or the other around the same time and accused Derrick and Wired868 of bias in the way the information was presented.
However, things got heated fairly early when I asked why John-Williams endorsed Infantino without discussing the matter with the TTFA board first.

Did John-Williams feel that the TTFA's vote belonged to him alone to do as he liked? And that he had the authority to make decisions for the local football body without consulting his board as mandated by the constitution?
John-Williams claimed that it was a personal endorsement of Infantino and not a TTFA one.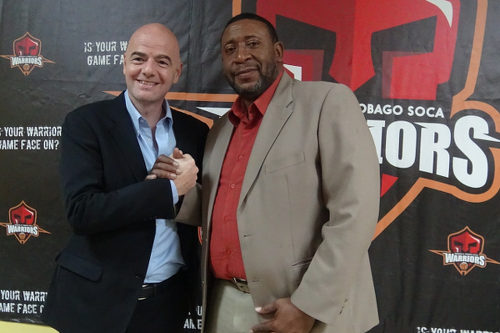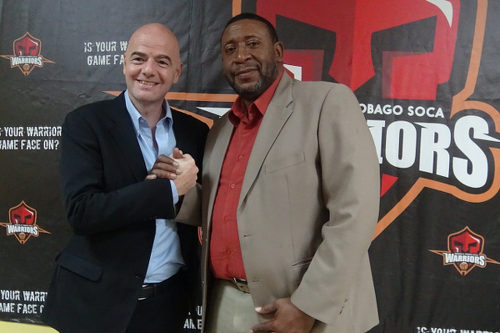 I pointed out that his endorsement on 27 January 2016—that was relayed to the public on a TTFA release, and shared on the local football body's website and media channels—opened with a shot of the TTFA logo and introduced him as "TTFA president."
How could John-Williams then claim that he was not acting on behalf of the TTFA?
Salazar interjected to say that the TTFA board of directors subsequently "ratified" John-Williams' decision.
So was the TTFA board, I asked, being used as a rubber stamp for the wishes of the current president?
Salazar, who is a vice-president at Phoenix Park Gas, retorted that John-Williams' executive committee, which included herself and fellow vice-presidents Ewing Davis and Allan Warner, had the power to make decisions without waiting on the board so as to avoid unnecessary delays.
I pointed out that it would have been another month before the 28 February 2016 FIFA elections and plenty of time for John-Williams to discuss Infantino's bid with his board and try to persuade them to support his choice.
But, more importantly, the Wired868 editor told Salazar that she was absolutely incorrect since the TTFA constitution does not recognise an executive committee of president and vice-presidents and gives it no special authority whatsoever.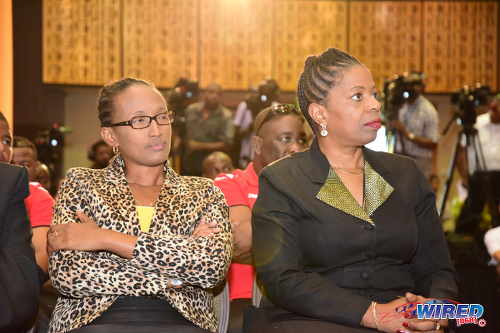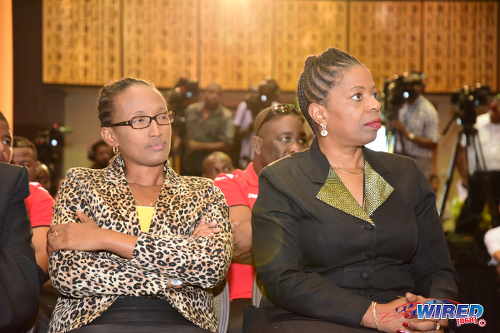 I directed Salazar to several excerpts in the TTFA constitution including Article 20.2: "The board of directors is the executive body."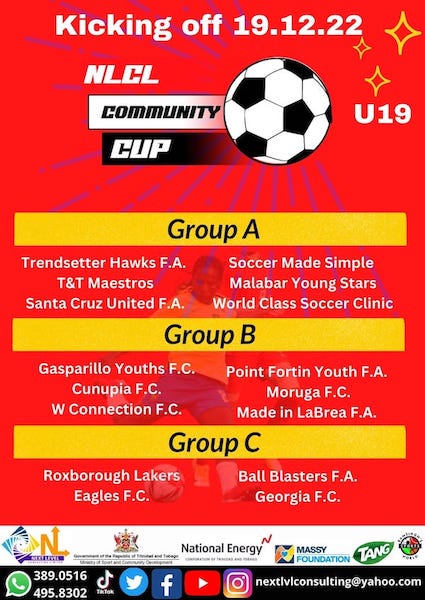 I asked her to find a single line in the constitution to support her statement and noted that the term "executive committee" no longer existed in local football's guiding document as the only authoritative body was the board of directors.
Salazar did not use the constitution to defend her stance but insisted that there were "gaps" that John-Williams and his vice-presidents hoped to address by altering the FIFA-approved document.
The current constitution was ratified in July 2015, after an almost two year process.
Baptiste suggested that John-Williams and his vice-presidents could create a sub-committee, with the board's approval, to effectively circumvent the constitutional strength of the board of directors.
However, the constitution has safeguards in place specifically to prevent a cabal seizing control of the board.
Article 20.3 says: "Standing and ad-hoc committees shall advise and assist the board of directors in fulfilling its duties." What it did not say was that any ad-hoc committee could make decisions without board approval.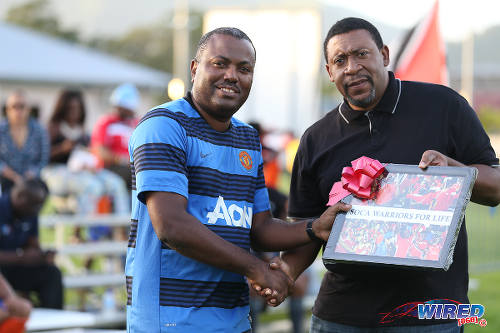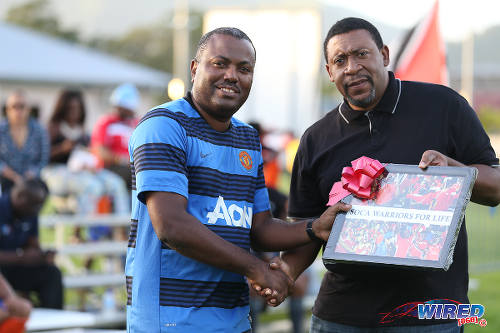 The current TTFA board of directors comprises: David John-Williams (president), Joanne Salazar, Ewing Davis and Allan Warner (vice-presidents),Samuel Saunders (Central FA), Sherwyn Dyer (Eastern Counties Football Union), Karanjabari Williams (Northern FA), Richard Quan Chan (Southern FA), Anthony Moore (Tobago FA), Joseph Taylor (Trinidad and Tobago Football Referees Association), Dexter Skeene (TT Pro League) and Sharon O'Brien (Women's League Football).
John-Williams and Salazar's belief that they could make decisions without board approval was, arguably, the central sticking point of the 90 minute show.
I noted that when John-Williams hosted 17 CFU members for his Caribbean Professional Football League (CPFL) pitch—he had invited all 31 members—at the Marriott Hotel in Port of Spain on 17 and 18 June, the invoices went to the TTFA. CONCACAF and UEFA promised to help with the bills but it is uncertain whether they will cover the costs entirely or if they both paid at all.
The CPFL meeting—and, according to Derrick, it is unprecedented for a member nation to host delegates from the entire Caribbean, except through the CFU—was held exactly one week before John-Williams put forward his nomination for Caribbean football president.
John-Williams claimed the meeting and his subsequent bid for presidency were unrelated.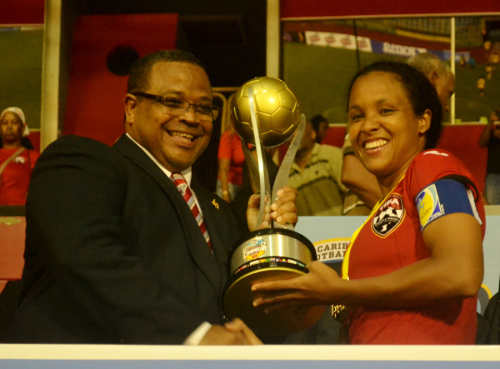 Regardless, I asked how John-Williams could have the TTFA pick up the tab for the meeting without informing—let alone receiving approval—from his board of directors.
The football president pointed to an agenda for a board meeting, which was emailed on 13 June, and had Caribbean Football Union/UEFA/CONCACAF as line items. But the subsequent board meeting was cancelled, so members were never informed.
I retorted that John-Williams sent out invitations to the CFU officials on June 3. Arguably, the football president's possible intention to inform his TTFA colleagues—almost two weeks after inviting Caribbean delegates and using local football money to book rooms, purchase airline tickets and hire translators and sound equipment—was another example of him using the board of directors as a rubber stamp, after the fact.
According to Article 36 (p), the board of directors "shall have the power to mortgage, pledge or otherwise create a security over any property of the TTFA, provided that: the security has been concluded in order to satisfy an urgent contractual obligation of the TTFA; the security does not surpass the amount of $1,000,000 (TTD)."
To date, the TTFA board of directors has not been informed as to the cost of the Caribbean meeting, which was not a contractual obligation of the local football body.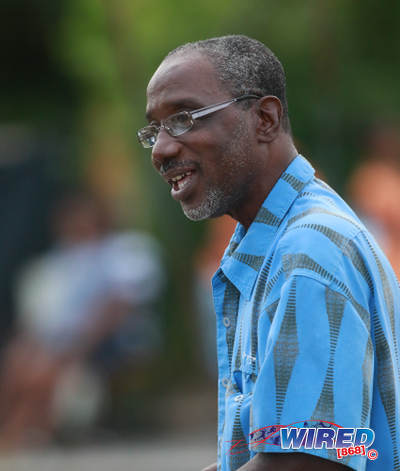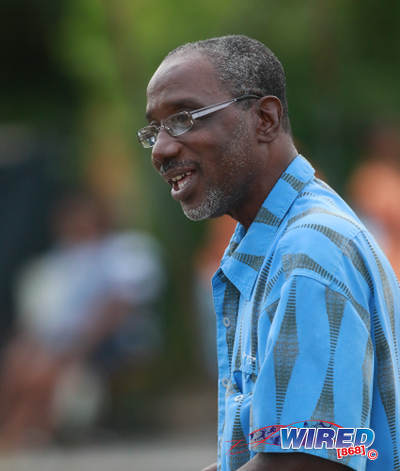 And, more to the point, John-Williams and Salazar acted outside of the constitution by using TTFA funds, without board approval, to pay for services provided at that meeting.
Salazar claimed that it was normal business practice.
Could a bank manager, I asked, take money out of the company's account to pay for his own swimming pool merely because he felt he had the capacity to repay?
Among other issues that came up was the: TTFA's decision to send John-Williams' daughter and W Connection chairperson, Renee John-Williams, to a FIFA TMS (Transfer Matching System) workshop in Costa Rica last month, hiring of W Connection Under-16 coach, Brian Williams, as Trinidad and Tobago National Under-20 coach, and the football body's intention to put all national coaching and managerial jobs—with the exception of Soca Warriors head coach Stephen Hart—up for tender.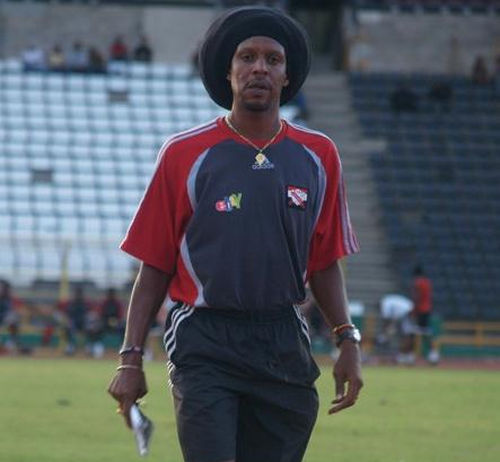 John-Williams claimed that CONCACAF personally asked for his daughter to attend its workshop last month and insisted there was no conflict of interest.
I asked why would the football confederation want a solitary club—and the daughter of the football association member—to attend a meeting meant to explain its transfer system to Trinidad and Tobago? Would it not be more beneficial if a Pro League administrator attended so the information could be subsequently relayed to all 10 top flight clubs?
In fact, Wired868 was reliably informed that Renee John-Williams was recommended for the TMS workshop by a TTFA board member. And neither the TTFA president nor vice-president could provide proof that the invitation came from CONCACAF, or explain why the TTFA press release, last month, only acknowledged that employee Sharon O'Brien attended the conference and failed to mention Renee's involvement.
John-Williams claimed too that the appointment of Williams (B) was on the recommendation of technical director Muhammad Isa, due to the body's inability to pay another coach.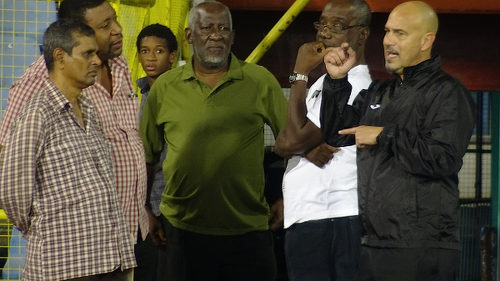 I asked why was the TTFA technical committee received a shortlist of one person. John-Williams said it was the choice of his technical director, Isa.
However, at the time of Williams' selection, Isa had not yet been appointed as technical director. Isa became interim technical director a month later.
And, as with Williams, Isa was the only name on the shortlist when the TTFA board of directors was asked to select a technical director after the controversial dismissal of Kendall Walkes.
John-Williams is yet to supply the TTFA board of directors with the legal advice used to fire Walkes although, according to the constitution, only the board could hire or dismiss the technical director.
John-Williams and Salazar confirmed that all coaches and managers must re-apply for their current positions, even in cases where they had letters of appointment. It could mean that Hart can have his technical staff altered against his wishes.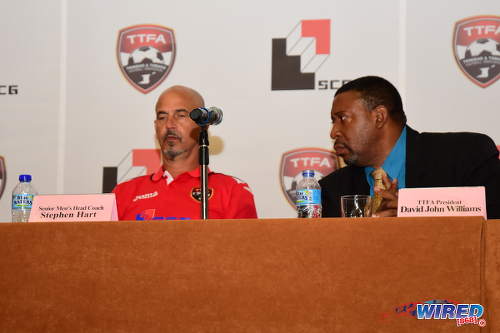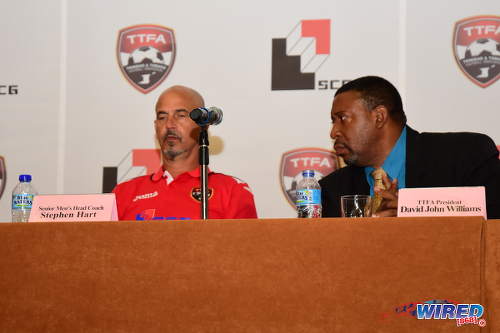 The TTFA president and vice-president refused to give a timeline for when they would act.
Already accused of personally interfering with national teams and the selection of coaches, John-Williams' intention to oversee a complete revamping of all positions—if allowed by the board of directors—could arguably see him mould the staff of every national squad to his whims.
The TTFA president also accused me of bias and failing to give sufficient time for him to respond to questions. But, arguably, he could not point to any errors of fact on the website.
I95.5FM has promised to make the full audio recording of the interview available to Wired868 and it will be posted online in the near future.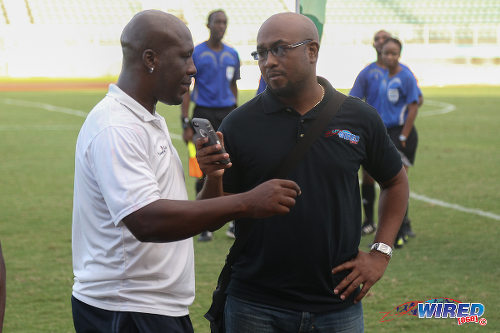 Editor's Note: Click HERE for the full audio of the I95.5 interview.