The Trinidad and Tobago National Futsal Team is deep into preparations for its crucial encounter against Honduras on the 4th and 5th May 2016, with a spot at the 2016 CONCACAF Futsal Championship in Costa Rica up for grabs.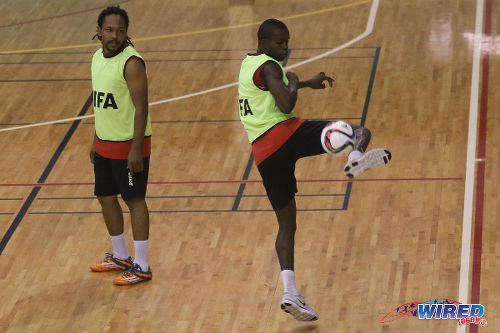 The top four teams at the CONCACAF tournament will qualify for the Colombia 2016 FIFA Futsal World Cup, later this year.
National Futsal Team Head coach and former "Strike Squad" captain Clayton Morris believes futsal is a sport that anyone can get involved in and also represents a realistic opportunity for the country to qualify for a FIFA World Cup.
That road, however, is paved with the usual healthy bundle of challenges, according to Morris.
Lack of funding, inadequate facilities, conflicting schedules and an under-appreciated staff. Haven't we heard this story before?

If only we had a shilling for every time this story was told, we may be able to support all national programmes and an economy that includes a stable TT$2 doubles price.
Morris though, will not allow himself and his committed charges to wallow.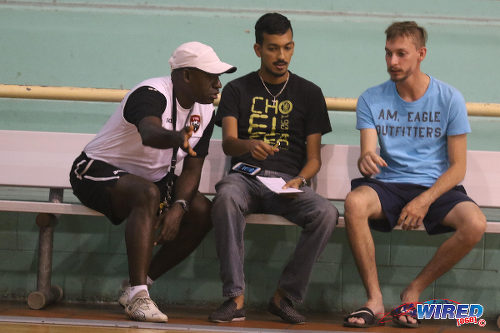 "We still don't feel like we have been given the support that we really should be given," Morris told Wired868. "Here it is we are trying to qualify for a World Cup just like the Senior National Team. In my experience and how I grew up, in order for you to notice me, I have to go and achieve. I have to open up your eyes.
"All I want you to do is give me the basic support as the governing body."
In fact, it was only through the intervention of the Minister of Sport, Darryl Smith, that the various indoor facilities across the country were made available for the team to train—albeit one day per week at each venue.
Morris was grateful for the intervention of the Minister. But he pointed out that his players are training on indoor fields that are smaller than the ones they will compete on at international level.
"When we play on the regular size, players have problems adjusting because of how high intensity (of) the games," said Morris. "If you make a mistake, you don't have time to recover. Tactical awareness and how familiar players are with the drills and plays are most important.
"Only UWI SPEC and the Centre of Excellence have the regular sized fields in T&T. You have to remember, this is not a sweat. This is not 'small goal'!"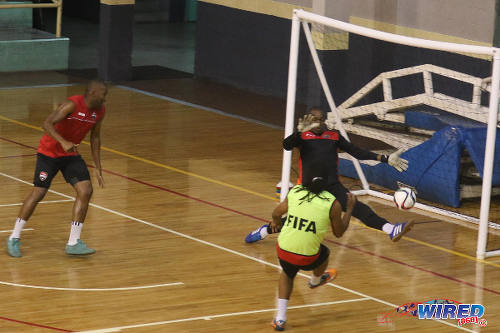 Morris sentiments were shared by his Futsal Team, which feature an array of present and former TT Pro League and Super League players such as Jameel Neptune (Morvant Caledonia United), Kevaughn Connell (UTT), Conrad Smith (formerly Barrackpore United), Ricardo Bennett (Real Maracas), Kevin Graham (Defence Force, Super League) and Kerry Joseph and Jerwyn Balthazar (both Defence Force, Pro League).
Balthazar, who is the National Futsal captain, won his first "Soca Warriors" call up for their senior friendly international against Grenada on 19 March. His has been met with a bitter sweet reaction by the staff of the National Futsal Team.
Balthazar, who was the top scorer with eight goals at the 2016 CFU Futsal Championship, will miss at least one week of futsal training, due to his selection on the Warriors team.
It will stretch to two and a half weeks if he impresses enough to be drafted into National Senior Team coach Stephen Hart's plans for upcoming 2018 FIFA World Cup qualifiers against St Vincent and the Grenadines on March 25 and 29.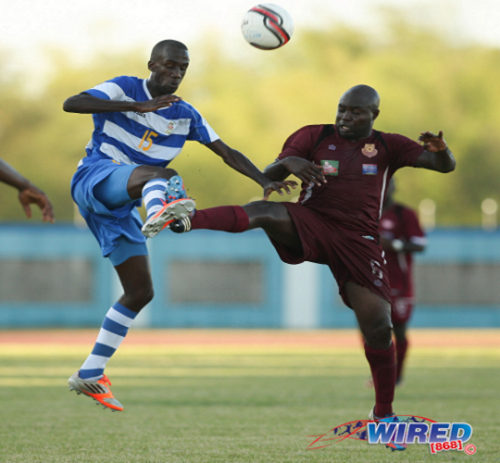 "It's a bitter sweet moment with (Balthazar)," said assistant National Futsal and assistant Defence Force (Super League) coach Sterling O' Brien. "Yes, he will go away, gain more experience and return to share that experience. But if he cements his spot with the Senior Team, they keep him.
"And if tournaments clash, then it will be a big loss for us as the Senior Team usually gets the preference.
"But, at the same time, we are proud. We are about developing players and opening  opportunities."
The youngest member of the team, Jameel Neptune, gushed with praise for his captain, Balthazar. Neptune considers Balthazar to be a mentor and someone who he looks up to in both the Futsal and Pro League arenas.
The skilful Neptune—nicknamed "Shooter"—is no slouch in the local futsal circuit either and his CV is already littered with game winning goals and stellar performances at the 2016 CFU Futsal Championship.
But, according to Morris, it could have all turned out differently for Neptune, who had some early difficulties in assimilating with the national programme.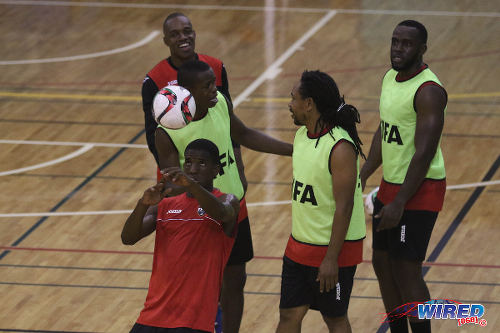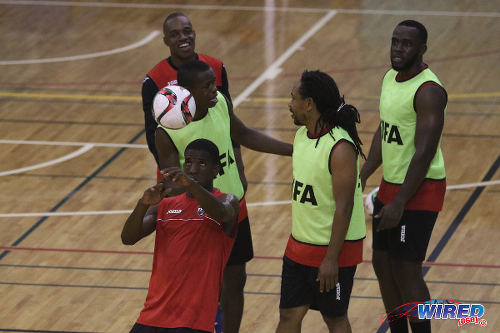 "I have to give Neptune credit," said Morris. "We had an incident with him in one of the games in Cuba. I allowed him to express his feelings but he did it in a way that was disappointing.
"I didn't blame him because I know that's the culture he came from. But after we went through our rationale for the tactical decision that got him upset, he understood.
"When we played the next game to qualify, he scored the winning  goal."
Today, Morris views him as one of their success stories.
"When you see him now, he is totally transformed," Morris told Wired868. "He understands the game now. It's really encouraging.
"He is really a plus to the Futsal community."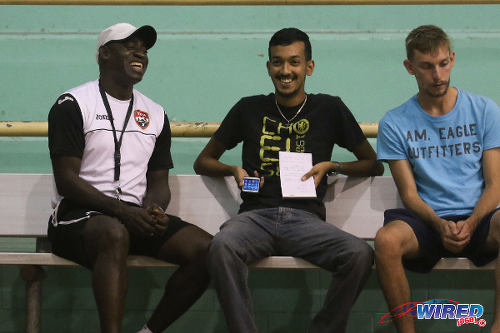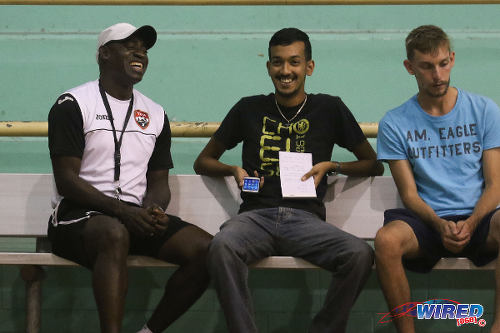 Neptune, who grew up playing 'small goal' in Cocorite, also believes that futsal is a lot more technical and tactical that many believe it is. He has seen many young players struggle to grasp the concept and the drills. But he is determined to excel and is proud to represent the "Red, White and Black."
"Adjusting to the tactical changes from 'small goal' to futsal has been hard," said Neptune. "Futsal isn't like 'small goal' really and truly. Futsal is a totally different game.
"It's not even like conventional 11 v 11. The closest thing to it is basketball actually."
Neptune admitted that he struggles with attending both National Futsal training and practice with his club team, Morvant Caledonia United. He credited the camaraderie and family spirit within the team for motivating him when he feels pressured to choose between the two.
"Everyone helps one another on and off the field," said Neptune. "Like if I miss a futsal session, someone would call me after the session and let me know what they did at training. What drills and plays they did and so on."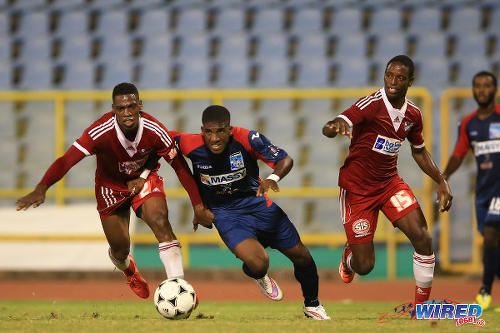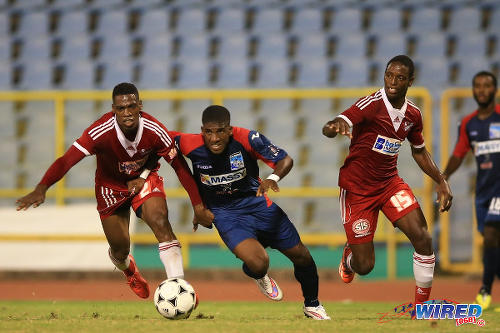 Unlike Neptune, though, many of the players on the team do not have time on their side. An untrained eye may view the composition of the squad as a rag tag bunch of players who are winding down in their careers.
Many of them are not shy to admit that they committed to futsal to fulfil their dream of representing Trinidad and Tobago, which was not always possible in other formats of the game.
New addition to the team, Conrad Smith, who represented Trinidad and Tobago at youth and senior level, said futsal represents a whole new horizon for local players and should not be taken lightly.
Smith, who is 34 years old, is focused on earning his seat on the plane to Costa Rica in May and is excited by the possibilities.
Morris hopes that other eyes are opened to the value of futsal too, as they seek out assistance.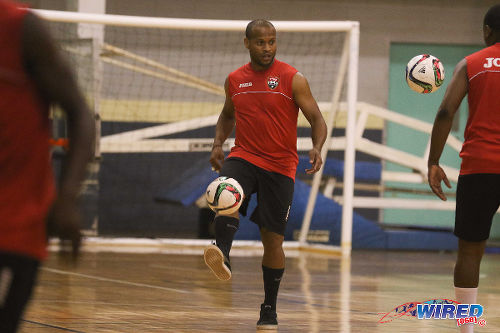 The winner of the playoff between Trinidad and Tobago and Honduras will join Group A of the 2016 CONCACAF Futsal Championship alongside Guatemala, Mexico and Panama.
Group B sees hosts Costa Rica face off against Cuba, Curacao and winner of the play-off between Canada and USA. The CONCACAF tournament runs from May 8 to 14.
The Futsal Warriors intend to be there.