If yesterday's Pro League clash between DIRECTV W Connection and Japs North East Stars was a boxing contest, then Stars coach Ross Russell would have been forgiven for tossing a towel into the ring within the opening 31 minutes at the Larry Gomes Stadium in Malabar.
That would have been the point when Connection's 19 year old right back Shannon Gomez strode deep into enemy territory and drilled a superb effort into the far corner, with the nonchalance of a man taking a letter from his own mailbox.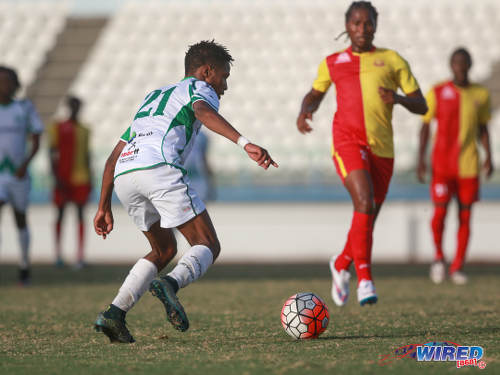 Gomez, incidentally, had never scored a league goal for Connection before in his year and a half stint with the "Savonetta Boys."
It was 3-0 at that stage and, by the final whistle, Connection had hit seven past Stars. Seven unanswered goals to boot.
The result saw third place Connection pull within three points of leaders Defence Force and two behind defending champions, Central FC. There is a a six point gap now between third and fourth where Play Whe San Juan Jabloteh, closely followed by North East and Police FC, who have drifted outside of the title frame.
Not that Russell, who joined Stars at the start of the year after being fired by Central, has given up on the 2015/16 League crown just yet.
"We are not far off and football is a game of today and tomorrow," said Russell. "Anything can happen, so we are not giving up on the league. It is a very hard fight because we have to beat the leaders at least twice and W once again…"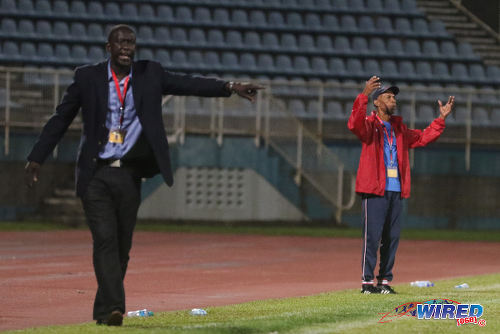 Perhaps yesterday's defeat would be a turning point for Stars.
Injuries and absentees meant that Russell had just 16 players available to face Connection.
"Soca Warriors" playmaker Keron Cummings won't play again this season, after being shot in the thigh, while midfielder Duane Muckette is poised to join a lower division Portuguese club, Jamaican winger Alanzo Adlam is injured, midfielder Chike Sullivan was sick and striker Gorean "Ratty" Highley was suspended.
Even midfielder Neveal Hackshaw, the club's sole Trinidad and Tobago international player at present, is expected to leave soon for a trial abroad.
"It is a rebuilding process right now," said Russell. "There are a lot of senior guys missing… Plenty of the leading guys were not available for the game."
And yet Connection were without captain Alvin Jones, attackers Shahdon Winchester and Neil Benjamin Jr—who are both vice captains at the club—and goalkeeper Julani Archibald.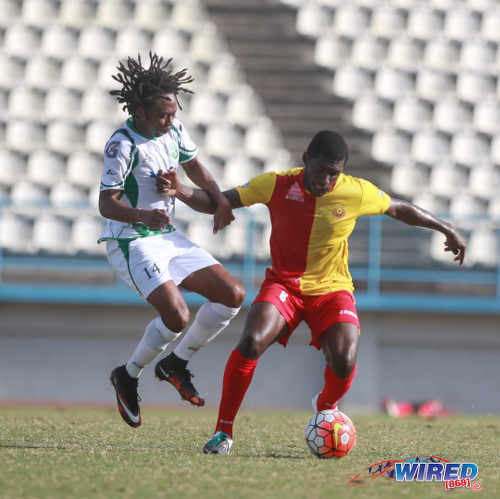 The former Stars coach, Roland Clarke, might out point out too that the Sangre Grande-based club had 10 players available who featured in their 1-0 win over Central, on December 17, which cost Russell his job.
Everything in football is about opinions. Except the final score.
Stars have now gone four matches without a win. And after two triumphs (over Police and Club Sando) and two draws (against Jabloteh and St Ann's Rangers) from his opening four games with Stars, Russell has to get his squad back to winning ways in quick time.
It was far too easy for Connection, whose overlapping full backs—a regular feature in coach Stuart Charles-Fevrier's team over the years—looked like a novel concept to Stars, as they ran riot.
Free scoring inverted winger, Jomal Williams, put Connection ahead with a finish from inside the penalty area in the 14th minute before Dimitrie Apai cut in off the other flank to convert a cross from marauding left back, Kurt Frederick, in the 18th minute.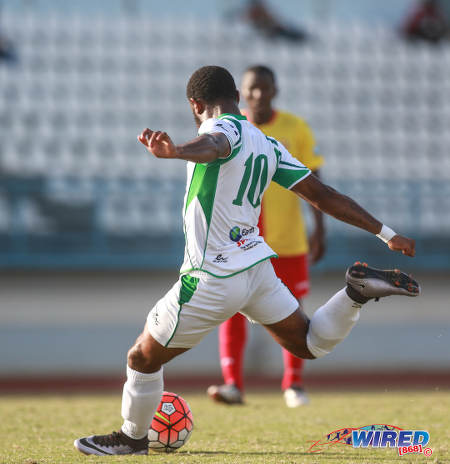 Gomez made it three in the 31st minute, as he ran on to a threaded pass by Andre Toussaint to score with a controlled drive into the far corner. It was the best goal of the afternoon.
Gomez returned the favour in the 37th minute with a perceptive right side cross that Toussaint delicately flicked over Stars goalkeeper Shane Mattis for a fourth item while the young full back got a fifth, seconds before halftime.
Stars wingers Brendon Figuera and Hakim Baird are both still cutting their teeth at this level—although Figuera made his Pro League debut in 2014 with Jabloteh—and Russell should ensure that both get DVDs of their performances yesterday. It was simply not good enough and their teammates could not cover for them, as they failed to effectively track Frederick and Gomez.
Predictably, Stars heads dropped.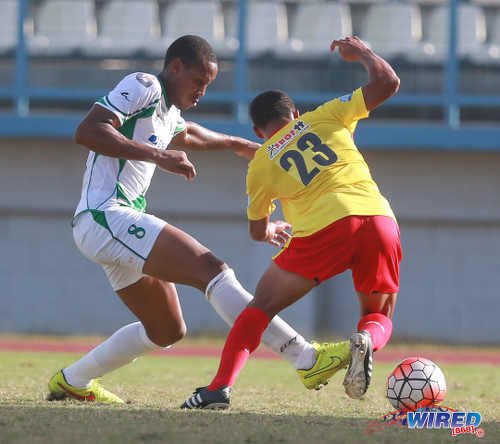 "I won't say I was disappointed about us conceding the goals as much as I was disappointed in our reaction to the goals," Russell told Wired868. "I think we didn't fight our hearts out. The lads came up short by going down (mentally) and we were lacking leaders to pick them up.
"It was only the skipper (Keryn Navarro) and (Glenton) Wolffe were there (as senior figures and) I guess their voices were not enough."
Five goals up at the interval, Connection's players might have started discussing their Carnival plans during the halftime break. But, instead, they did something fairly unusual by local standards in the second half.
They kept going.
"Local players in particular tend to measure themselves against the opposition," Real Maracas coach and ex-World Youth Cup goalkeeper Michael McComie told Wired868 last month. "So if the opposition is terrible, they play just less than terrible…"
The beauty in Connection's performance on a breezy Sunday afternoon was not in the emphatic scoreline against an outclassed team. Instead, it was the pride that Fevrier's men took in their own showing as well as their ambition throughout.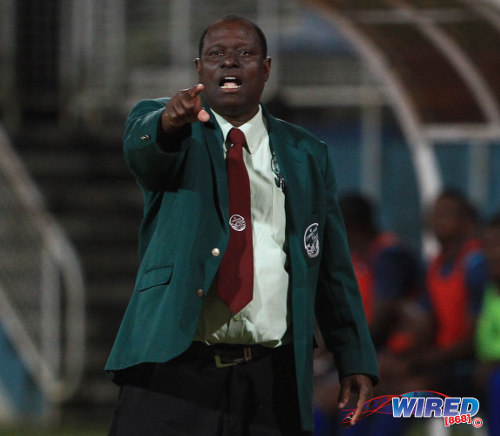 With Frederick and Gomez stationed like old fashioned wingers, Connection stretched Stars before taking advantage of their numerical advantage in the centre of the pitch.
And, most of all, they were patient in possession and barely gave Stars a whiff of a chance on the ball.
Mattis fended away an effort from Williams in the 59th minute. But, predictably, the diminutive playmaker would not be denied his double, as he met a brilliant left side Frederick cross with a composed headed finish in the 64th minute.
Substitute Aikim Andrews rounded off the score summary in the 67th minute with a close ranged finish, after a slick passing move that involved Frederick, Williams and Gomez.
Andrews didn't even celebrate.
Mattis used his legs to deny Charles a double. But Connection had already put their marker down.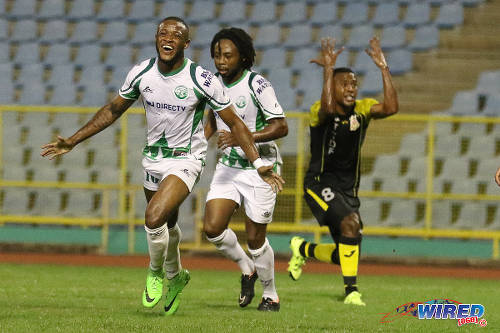 Russell hopes to bring in as many as six players in the transfer window, which opened last Thursday, with utility player Dwane James likely to be the first recruit.
James, a former Stars employee, represented Trinidad and Tobago at the July 2015 CONCACAF Gold and trialled with top Costa Rican outfit, Deportivo Saprissa, before some strange circumstances led to him representing Barrackpore United in the second tier of the CNG National Super League (NSL).
"We need about six bodies inside," said Russell, who confirmed that promising younger winger Jomaul Francois was released. "Our midfield needs to get a bit more healthy and we need two out and out wingers. We need another striker too because Gorean Highley has been doing it all on his own…
"I don't know how heavy we will go in (the transfer market) because that is up to the owner and how much they want to spend. I am only the coach so I can just request."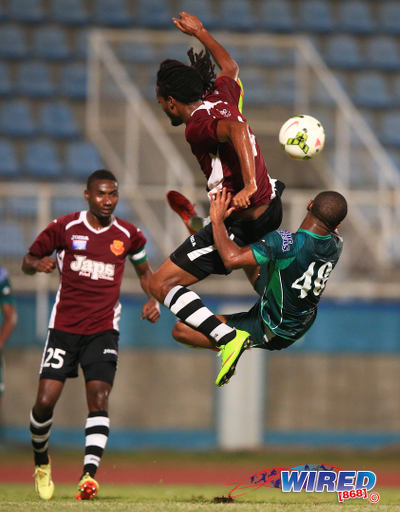 Stars have a date with Central after the Carnival break, which will bring Russell face to face with his former employers.
Russell, who was a two-time Pro League champion with Defence Force, spoke for the first time his departure from the "Couva Sharks." And he blamed his exit on his failure to get on top of senior players at the club rather than issues with the management duo of Brent Sancho and Kevin Harrison.
"At Central, there were a lot of senior guys and I think I was trying to keep the senior guys happy by playing them and sometimes it goes wrong," Russell told Wired868. "That is life as a coach. You win, you stay on; you lose, you go…
"Central might have gone in a different direction to what I had in mind but I am still a Central fan and any advice they need, I will give them.
"I am not a guy to tote feelings. I have just moved on. I am at North East and I am trying to do my best here right now."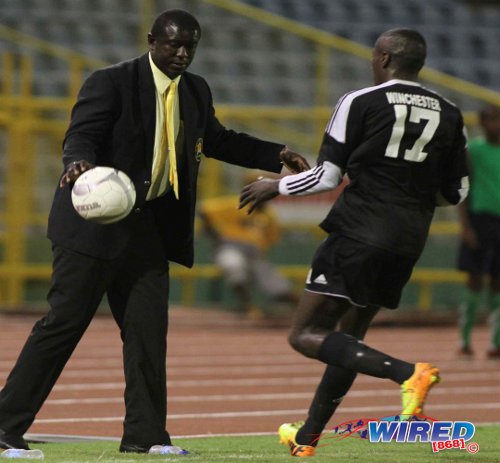 Russell needs to stabilise the temperature at Stars quickly. There will be a lot riding on their productivity this Carnival, as they try to learn from the emphatic lesson delivered by Williams and company in Malabar.
(Teams)
W Connection (4-2-3-1): 1.Terrence Lewis (GK); 21.Shannon Gomez, 3.Gerard Williams (captain), 5.Triston Hodge, 2.Kurt Frederick; 23.Kevon Goddard, 8.Briel Thomas; 12.Dimitrie Apai (17.Aikim Andrews 61), 10.Andre Toussaint (46.Anfernee Frederick 79), 10.Jomal Williams; 19.Dwight Quintero (20.Jamal Charles 65).
Unused substitutes: 22.Aquelius Sylvester (GK), 4.Maurice Ford, 34.Jabari Mitchell, 35.Keston Julien.
Coach: Stuart Charles-Fevrier
North East Stars (4-2-3-1): 1.Shane Mattis (GK); 24.Adrian Noel, 25.Keryn Navarro (captain), 19.Glenton Wolffe, 4.Jesus Perez; 8.Neveal Hackshaw, 21.Neil Mitchell; 23.Brendon Figuera, 39.Taryk Sampson (41.Renaldo Francois 59), 29.Hakim Baird (27.Quincy Charles 52); 28.Dillon Jagasar (2.Reon Moore 46).
Unused substitutes: 22.Cleon John (GK), 26.Carey Brown.
Coach: Ross Russell
Referee: Rodphin Harris
Man of the match: Shannon Gomez (W Connection)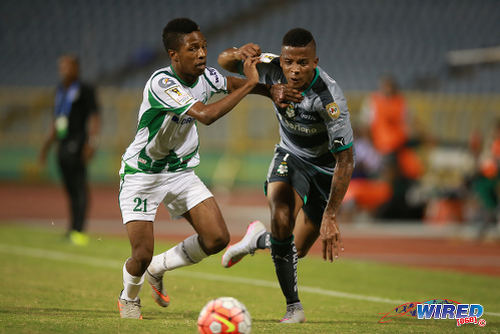 Pro League results
(Sunday January 31)
North East Stars 0, W Connection 7 (Jomal Williams 14, 64, Dimitrie Apai 18, Shannon Gomez 31, 45, Andre Toussaint 37, Aikim Andrews 67) at Larry Gomes Stadium.