"A win in Matura is a big, big, big win for us because we have a personal (rivalry) since in the ECFU (Eastern Counties Football Union) days," said Guaya United captain Ryan "Fry" Stewart, after the final whistle on Sunday. "Back then, it was either Guaya or Matura (to advance) and we beat them to get into the Champion of Champions and from there (we qualified for) the Super League.
"So we have a lot of history."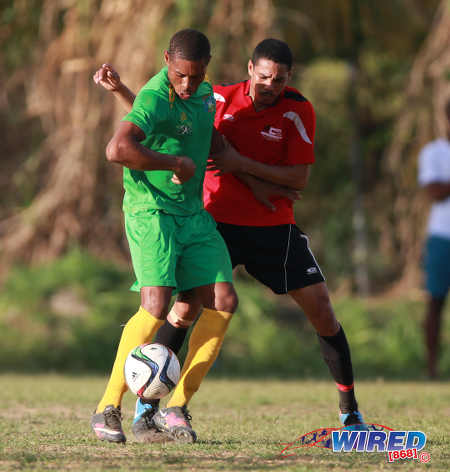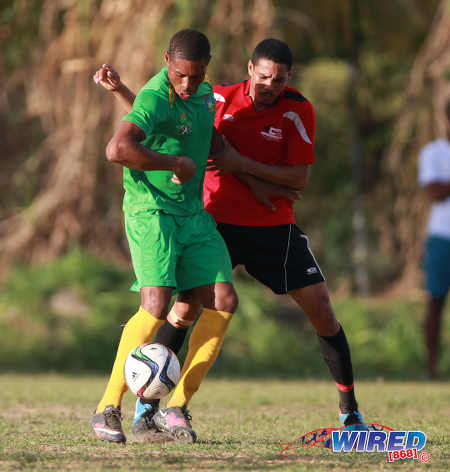 One way to gauge the gravitas of a derby is when the result matters for reasons other than the league standings.
On Sunday evening, Guaya United gave themselves a fighting chance to retain the CNG National Super League (NSL) Premiership Division title with a narrow 2-1 win away to east coast rivals, Matura ReUnited.
Second placed Guaya are four points behind leaders Defence Force but have one game in hand. The Army/Coast Guard combination face mid table outfit, WASA, on February 14 before closing their campaign away to bottom placed Stokely Vale FC.

Stewart might feel Guaya have passed their toughest remaining test this season, though.
Matura, who are fourth, were unbeaten at home before Sunday and had not lost a NSL match in four months.
But Stewart, one of the country's finest midfielders, was a spectator for most of his team's victory, as he was ejected in the 16th minute, along with Matura's midfield ace Zavion "Dragon" Navarro, after an altercation between the two men.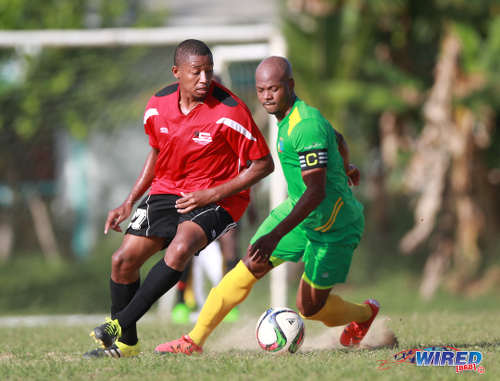 Trailing by one goal, without their most influential player and on hostile territory, Guaya clawed their way back to take three points thanks, in no small part, to a dreadlocked stalwart, Leroy Jones, who probably should not have been on the field at the time due to a tattered jersey without proper numbering.
"I am very, very happy," Guaya coach Akeno Morgan told Wired868. "The team showed character and heart… No derby is easy and we have something with them since the ECFU when we beat them to come into the League.
"Whenever we play Matura, it is always a hard fight; no matter what position each team is (in the standings)."
A Matura triumph would have been curtains for Guaya's title ambitions. And it looked to be on the cards too when attacker Dorian Robinson struck for the hosts in the 11th minute with a controlled finish off a right side cross.
Five minutes later, both teams lost their playmakers, Stewart and Navarro, to a heated exchange.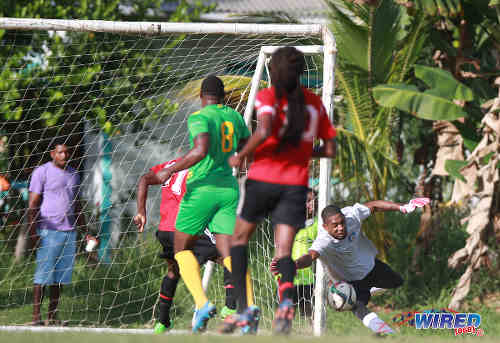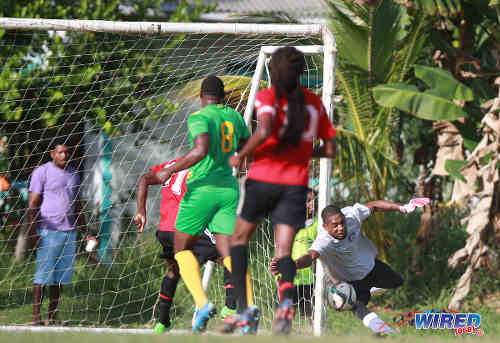 Navarro, who is employed by North East Stars, represented Guaya last season on loan while he lives a stone's throw away from Stewart in Sangre Grande.
"He was supposed to come back and play with us this season too," said Morgan, who is a Jamaican national and former Guaya player. "I'm not sure what happened. At the last minute, there was some mix-up with management."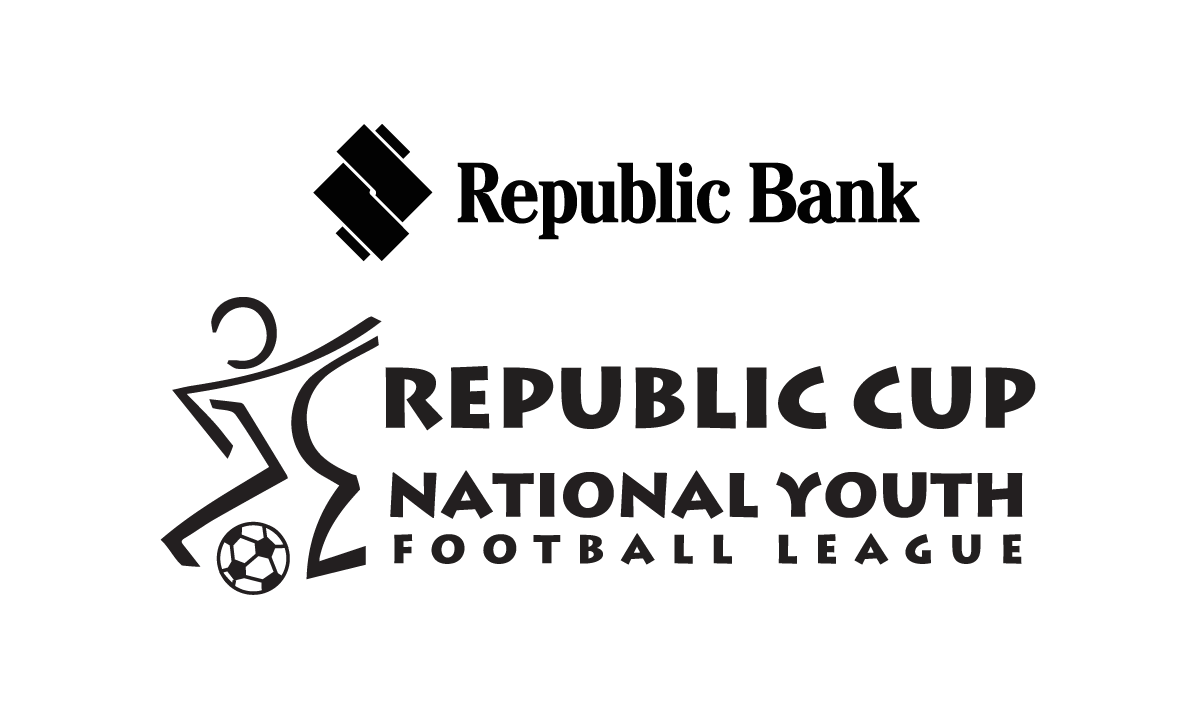 The young Dragon was determined to get the better of his neighbour on Sunday and, after a tangle with the ball, Navarro swung a fist in Stewart's direction. The veteran retaliated and it took some swift action from players and referee Hasely Collette to avoid an ugly incident.
"I am still in shock," said Stewart. "This is a guy I know personally and who played with us… If you play me hard, I come back at you hard. But I don't take it outside of that.
"Even if there is a foul, the referee is there to take charge. But the guy was coming to hit me and I'm not going to stand up and let him hit me.
"I have to defend myself."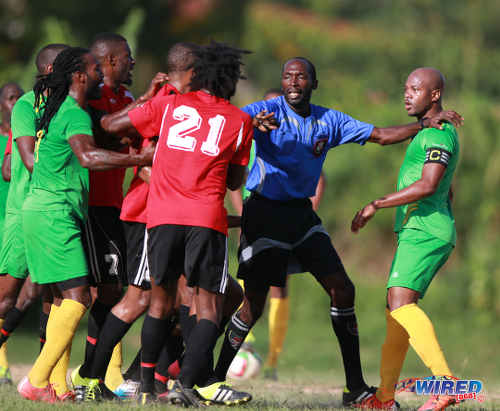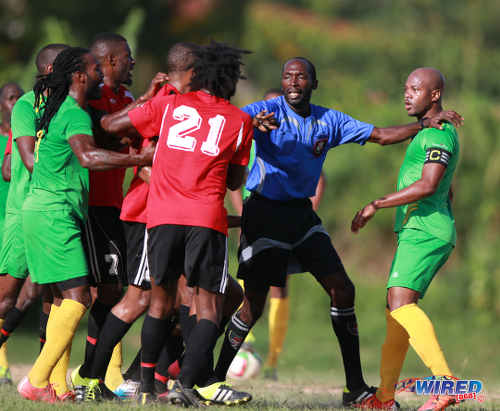 Matura coach Devon Bobb blamed the occasion and the referee for the flash point.
"The game was of a high intensity and the referee let it get out of hand," said Bobb. "He wasn't in control of the game from the start."
At halftime, Matura led 1-0 and it could easily have been worse for the visitors.
Guaya goalkeeper Erskine Johnson made a fine flying save to deny a Kerin Vincent header in the 44th minute while Johnson acted quickly to scramble away a stray headed pass from stopper Sherlon Campbell, which almost led to an own goal in stoppage time.
Vincent was humming and so was tricky winger and captain Shervin Charles, as the Matura attackers tested the opposing backline constantly.
At the other end, Guaya striker Carlon "Judgment" Hughes was a handful as always. But winger Kheelon Mitchell was off his game while young midfielder Reon Moore, another loan deal from Stars, failed to make much impact in the attacking third.
Still, Guaya had one trick up their sleeves. And that was their set pieces.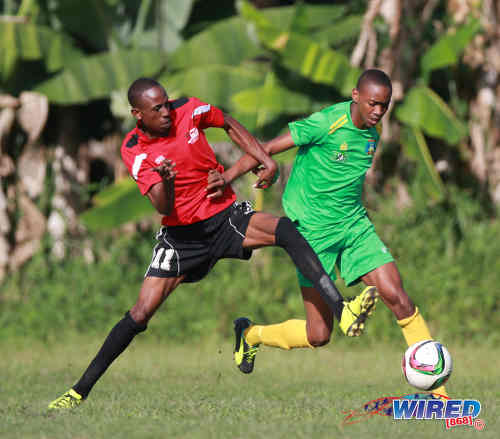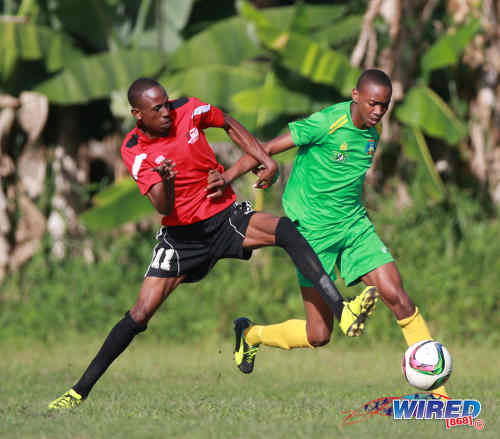 Jones deputised for the ejected Stewart at the task and his inswinging corner kick brought Guaya's equaliser in the 50th minute, as Campbell bravely clattered into an upright to head home.
The pendulum never really swung in the visitors' favour, though. Once the ball was rolling, Charles and Vincent looked more likely to get the breakthrough.
When it stopped, Guaya's corners and free kicks from Jones and midfielder Jody Allsop worried Matura custodian and former Trinidad and Tobago World Youth Cup player, Glenroy Samuel.
Jones was having trouble staying on the field though. His jersey, which has been embarrassingly tattered for weeks, had given way at last, as the two "number 1s" on his back fell off.
Collette ordered him off the field twice to get it sorted out. The Guaya technical staff created "11" with two strips of masking tape. But, on each occasion, the strips fell off within minutes.
At one point, the Guaya substitutes allowed themselves a giggle at their fuming comrade as he stomped over to the technical area for some more tape.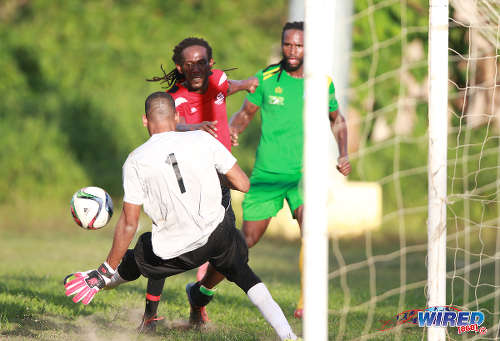 "I fed up of allyuh with that f***ing jersey man!" Jones snapped at the Guaya technical staff. "I fed up!"
In the 76th minute, Guaya midfielder Jody Allsop almost produced a spectacular winner from a direct free kick, only to see his left footed effort crash against the underside of the bar and bounce to safety.
But Jones, the right back-cum-attacking winger whose style is more tenacious than technical, was destined to play a major role in the final result.
Matura still felt they could win the match and continued to flood forward at every opportunity. It was their undoing.
In the 86th minute, Guaya substitute Earlon Thomas collected the ball on the break with acres of space around him and released Jones with a clever threaded pass.
Jones, with only Samuel to beat, responded with a tame left footer that the goalkeeper deflected around the post.
"This dutty man nah boy!" Morgan shouted, as he hopped on the sidelines with his head in hands.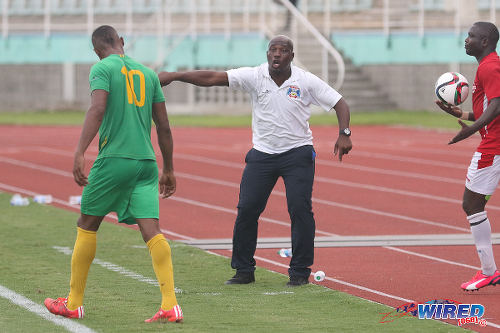 Jones' masking tape had disappeared again, as he trotted over to take the corner kick with no number on his back.
On this occasion, the referee and eagle-eyed fourth official both missed it.
Bobb was focused on his team's defensive organisation and was shouting at his own players rather than the referee.
"I had just called on my wingback, (Andron) Casanova, to mark the Guaya player," said Bobb, "and by the time he reacted the corner was inside and it was too late…"
Allsop stooped to meet Jones' corner kick with a firm header, which Samuel could not keep out. And Guaya's title dream was alive again.
"We are optimistic about our chances," said Stewart. "The onus is on us to secure three points in each game and let the rest take care of itself."
Collette spotted Jones' bare jersey after the goal and again temporarily reduced Guaya to nine players, as he ordered the frustrated Rasta to get some more tape. But Matura lost their appetite for the contest after Allsop's goal and Hughes had two presentable opportunities to widen the advantage in stoppage time.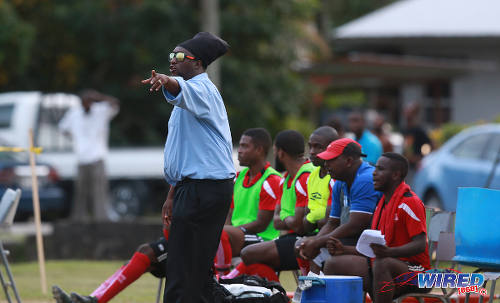 "Tough luck to the guys," said Bobb. "Our aim was a fourth placed finish and that is still my aim as a first time team in the Super League."
Morgan has loftier ambitions and he was a relieved man on Sunday evening
"Since (Guaya's 2-1 loss to Tobago FC Phoenix 1976 last) Thursday, I haven't rested," said Morgan. "But I think I can sleep tonight."
Once refreshed, Morgan was clear about his next priority. And that will be taking care of his number 11.
"The next game for certain, we will see about (Jones' numbers)," said Morgan, with a chuckle. "I am taking responsibility for that. I took the jersey (from him) one time to get it printed."
Guaya can only hope that their number is not up on Valentine's Day, when they host Petrotrin Palo Seco from 4 pm while Defence Force tackle WASA in St Joseph.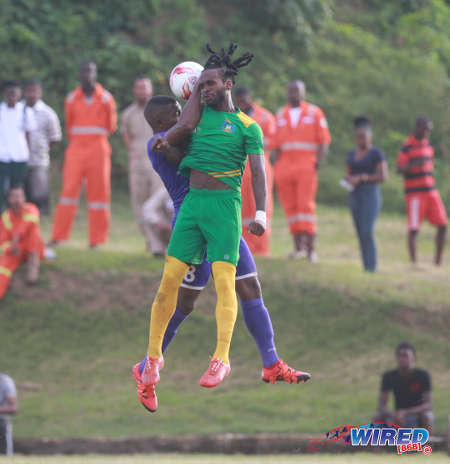 (Teams)
Guaya United (4-5-1): Erskine Johnson (GK); 8.Kerdell Alfred, 14.Sherlon Campbell, 25.Keston Jordan, 24.Kendell Campbell; 11.Leroy Jones, 6.Reon Moore (5.Russell Alfred 72), 17.Ryan Stewart (captain), 7.Jody Allsop, 27.Kheelon Mitchell (9.Earlon Thomas 83); 10.Carlon Hughes.
Unused substitutes: 30.Daniel Hagley (GK), 18.Keylon Thomas, 19.Beville Joseph, 23.Cio Morris, 29.Franklyn Romain.
Coach: Akeno Morgan
Matura ReUnited (4-2-3-1): 30.Glenroy Samuel (GK); 6.Andron Casanova, 2.Deon Capriata (4.Stephen Bobb 63), 21.Timothy John, 7.Stephon Joseph; 12.Kitwana Abosi (13.Keish Charles 70), 27.Zavion Navarro; 11.Joel Hoyte (8.Kelsa Matthew 88), 31.Dorian Robinson, 10.Shervin Charles (captain); 9.Kerin Vincent.
Unused substitutes: 5.Shivon Chrarles, 28.Jason Beckles.
Coach: Devon Bobb
Referee: Hasely Collette
Man of the Match: Erskine Johnson (Guaya United)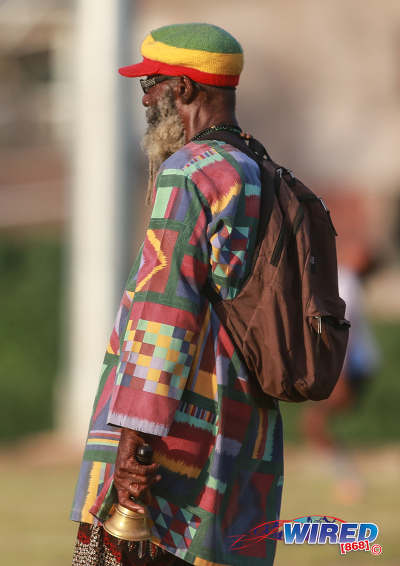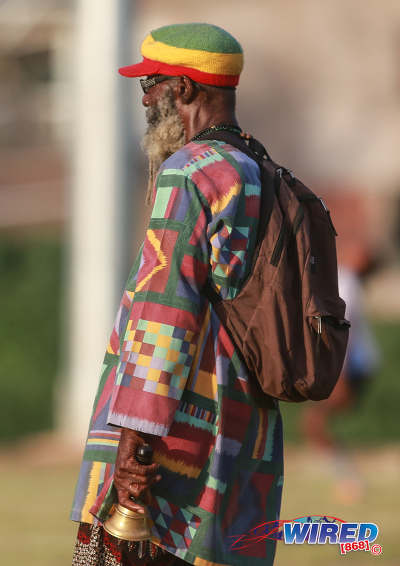 CNG National Super League Premiership results
(Sunday January 24)
La Horquetta SA 1 (Kern Roberts 69), Stokely Vale FC 1 (Shannon Sandy 25) at Larry Gomes Stadium;
Marabella Family CC 2 (Dwayne Edwards 79, Renefor Martin 89), Petrotrin Palo Seco 1 (Akeems Grant 51) at Mannie Ramjohn Stadium;
Matura ReUnited 1 (Dorian Robinson 11), Guaya United 2 (Sherlon Campbell 50, Jody Allsop 86) at Matura Recreation Ground;
Bethel Utd 0, Siparia Spurs 2 (Daniel Diaz 56, Jamal John 72) at Montgomery Recreation Ground;
Tobago FC Phoenix 2 (Nigel Thomas 52, LeJandro Williams 80), Police FC 0 at Canaan Recreation Ground.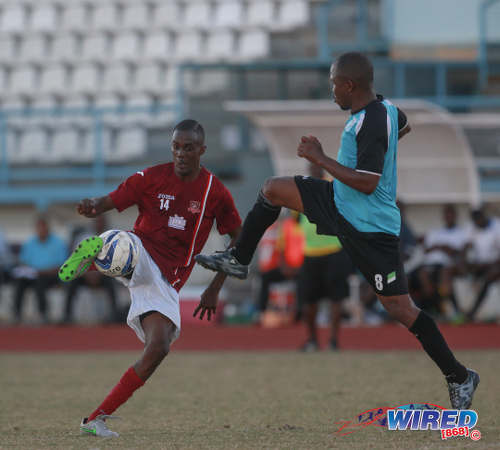 Upcoming fixtures
(Sunday February 14)
La Horquetta SA v Bethel United, 4 pm, Larry Gomes Stadium;
Matura ReUnited v Siparia Spurs, 4 pm, Matura Recreation Ground;
Guaya United v Petrotrin Palo Seco, 4 pm, Guaya Recreation Ground;
Club Sando Moruga v Real Maracas, 4 pm, Grand Chemin Recreation Ground;
WASA FC v Defence Force, 4 pm, WASA Ground, St Joseph.
Standings (Played-Won-Drawn-Lost-Goals For-Goals Against-Points)
Defence Force  26-19-3-4-64-29-60
Guaya United   25-18-2-5-66-39-56
T'go Phoenix    27-16-5-7-53-34-52
Matura ReUtd 26-13-5-8-46-47-44
Siparia Spurs   26-11-8-7-57-55-41
Santa Rosa        27-11-7-9-44-37-40
Marabella          28-10-9-9-58-54-39
WASA FC           25-11-4-10-36-27-37
Police FC            27-10-5-12-54-47-35 
Sando/Moruga 26-10-5-11-45-48-35
Petrotrin P/S    26-7-6-13-45-52-27
Bethel United   26-7-2-17-31-51-23
La Horquetta   26-6-5-15-42-67-23
Real Maracas   25-6-3-16-31-50-21
Stokely Vale      26-3-8-15-25-60-17