St Benedict's College moved within five points of SSFL Premier Division leaders, Naparima College, yesterday after a 1-1 draw with Fatima College in an intriguing fixture at the Fatima College grounds on Mucurapo Road.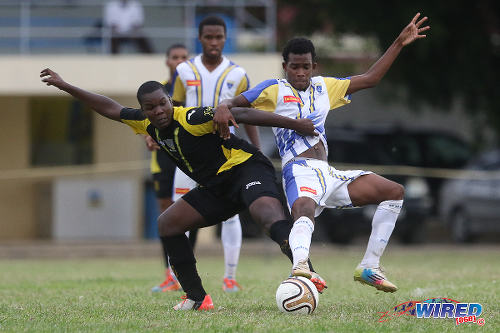 Naparima, who are the defending champions, tasted defeat for the first time yesterday as they lost 1-0 at home to St Anthony's College.
At the other end of the table, Fatima leapfrogged Carapichaima East Secondary to 13th spot on the 15-team table.
There was not much difference between Fatima and their visitors yesterday though and the relegation threatened team showed that they have a lot of fight left.
Fatima and Benedict's treated the healthy Mucurapo Road crowd to some neat and fluent football in the first 45 minutes, but there was hardly a shot on target.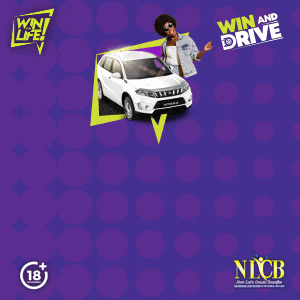 "We are not creating and taking enough chances," newly appointed Fatima coach Hayden Martin told Wired868. "We need now to create a little more and convert what we create."
Judging by those words, Martin would have been far from pleased with winger Jonathan Casimire's misplaced effort from inside the penalty area in the sixth minute.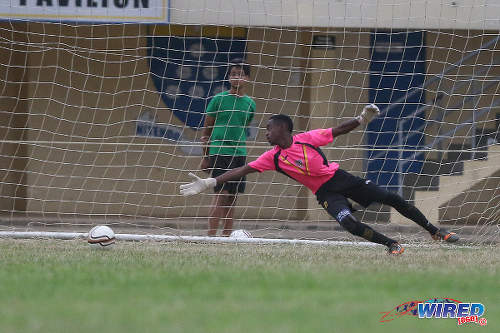 In fairness, it was the only blemish of the lively winger's first half as he routinely tormented Benedict's left-back Mickel Ravello.
Fatima moved the ball with style and confidence during that period and made good use of Casimire's pace on the right flank.
Fatima right back Joshua Gooding linked up particularly well with Casimire and the pair's cohesive play nearly brought dividends in the 38th minute. But alert St Benedict's midfielder Shakille Williams was able to snuff out Casimire's penetrative run.
Williams had a busy time in the middle of the park as he and central midfield partner Kadeem Gittens battled for ascendancy with Fatima's feisty duo of Kyon Williams and captain Jahreed Murray.
Meanwhile, Fatima's crafty attacker Sebastien Camacho, who was alone on top, had a difficult time coping with Benedict's central defensive pairing of skipper Taryll Coutou and Tevin De Boulet.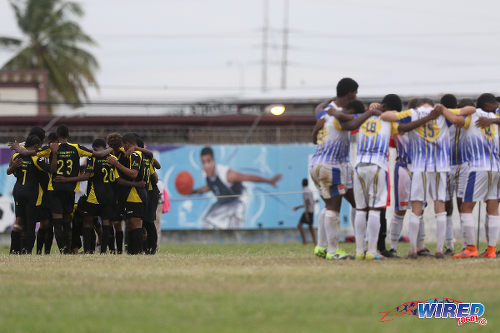 After an hour of little goalmouth activity, the game got two goals in very quick succession.

In the 63rd minute, St Benedict's attacker Shemar Ravello bundled an effort past opposing custodian Akil Guerra, despite a suspicion of offside, after Fatima failed to deal with a Jeron Pantor corner.
The home side quickly shrugged off its disappointment, two minutes later, as midfielder Liam De Verteuil tapped in a rebound after Benedict's custodian Jabari Gray spilled a precise Camacho shot.
Benedict's coach Dexter Cyrus was not pleased.
"We hardly ever give up goals and we hardly give up chances," said Cyrus.
Cyrus may have smiled in the 72nd minute when Gray redeemed himself with a fantastic diving save to stop a well-placed John Michael Herrera free kick.
Although Gray was a spectator for the subsequent corner as Camacho curled a left-footed shot just wide of the goalie's right-hand upright.
The game was anybody's for the taking in the final 15 minutes and both teams had a fair go.
Benedict's lively midfielder Kerwin Mitchell tricked his way past Fatima substitute Joshua Araujo-Wilson and Mosiah Griffith in the 78th minute but his final shot was a mere powder puff.
"After all that beat that is what he do?!" exclaimed a Fatima fan.
Fatima's Williams had a penetrative run of his own down the right flank in the third minute of second half stoppage time but his final pass was loose and almost disastrous. A Benedict's player picked it up and executed a swift counter, as attacker Marlon Phillip, who replaced goal scorer Ravello (S), ran through the heart of the opposing defence before he unselfishly played in Pantor.
But Pantor opted for power over placement and flashed his shot wide of Guerra's goal.
Fatima coach Martin was relatively pleased despite the 1-1 stalemate.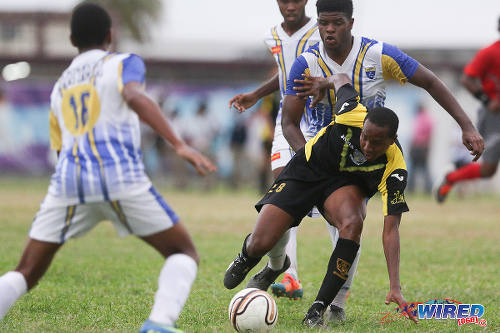 "I think the boys were impressive," said Martin, who was once a SSFL champion coach with St Mary's College. "We came with a game plan and the players stuck to the plan as much as they could."
"We were satisfied with today's performance because what is happening is that we are still building towards playing a game worthy of playing at this level."
"This is the last game we could play and not take full points from."
(Teams)
Fatima College (4-1-4-1): 21.Akil Guerra (GK); 24.Joshua Gooding, 5.Tyreke Moore, 23.Mosiah Griffith, 13.Rivaldo Prince (16.Joshua Araujo-Wilson 73); 8.Jahreed Murray (captain); 7.Jonathan Casimire (20.Stephon Marcano 63), 18.Kyon Williams, 12.John Michael Herrera, 15.Liam De Verteuil (2.Yohance Sealy 78); 10.Sebastien Camacho.
Unused Substitutes: 1.Kareem Fermin (GK), 17.Krishan Spence, 28.Sky Pouchet-Benoit, 9.Jireh James.
Coach: Hayden Martin
St Benedict's College (4-2-2-2): 12.Jabari Gray (GK); 13.Jeron Pantor, 27.Tevin De Boulet, 3.Taryll Coutou (captain), 15.Mickel Ravello; 8.Kadeem Gittens, 7.Shakille Williams; 20.Kerwin Mitchell, 17.Tarik Eastman (14.Shaquille Du Boulet 46); 23.Jevaughn Humphrey (2.Levi Crawford 57), 10.Shemar Ravello (28.Marlon Phillip 69).
Unused Substitutes: 1.Jaspar Mcleod (GK), 6.Matthew Joseph, 16.Vishal Gunness, 22.Caleb Gaspar.
Coach: Dexter Cyrus
Referee: Kevon Nancoo
Man of the Match: Jonathan Casimire (Fatima College)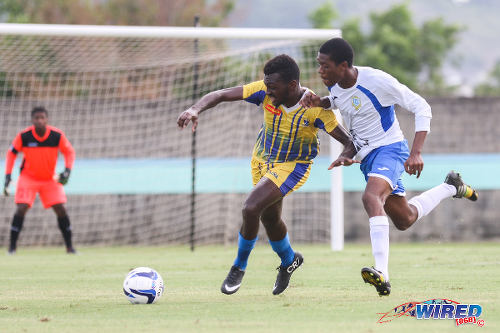 SSFL Premier Division results
(Wednesday 30 September)
Shiva Boys HC 1, Presentation S'do 1;
Naparima College 0, St Anthony's 1 (Haile Beckles 88);
Speyside High 0, QRC 2;
Fatima College 1 (Liam De Verteuil 65), St Benedict's College 1 (Shemar Ravello 63);
Fyzabad Secondary 0, St Mary's College 2 (OG Jamal Emmanuel, Chinua Bernard);
St Augustine 2, Trinity College Moka 1;
Carapichaima East 0, San Juan North 3.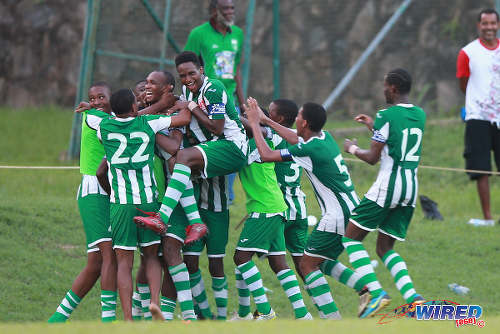 Standings (Tabulated as Played-Won-Drew-Lost-Goals For-Goals Against-Points)
Naparima College 7-5-1-1-10-3-16
Presentation SF     7-5-1-1-16-10-16
San Juan North     7-5-0-2-13-6-15
St Mary's College  7-4-1-2-14-5-13
Shiva Boys HC       6-4-1-1-8-3-13
St Benedict's          6-3-2-1-7-7-11
St Augustine Sec    7-3-1-3-8-8-10
St Anthony's          6-3-1-2-8-9-10
QRC                           6-2-3-1-7-5-9
Fyzabad Sec           5-2-0-3-6-10-6
Trinity Moka         6-1-2-3-12-14-5
Speyside High        6-1-1-4-9-14-4
Fatima College      7-0-3-4-9-14-3
Carapichaima E    7-0-3-4-5-13-3
Trinity East            6-0-0-6-4–14-0