Defending champions, Central FC, and Defence Force both advanced to the First Citizens Cup quarterfinal round yesterday after triumphs over North East Stars and San Juan Jabloteh respectively at the Hasely Crawford Stadium in Port of Spain.
And, judging from the quality of the goals yesterday, there will be more than a little incentive for supporters to follow the next round of matches.
Three contenders for goal of the season scored in one night? Bawh.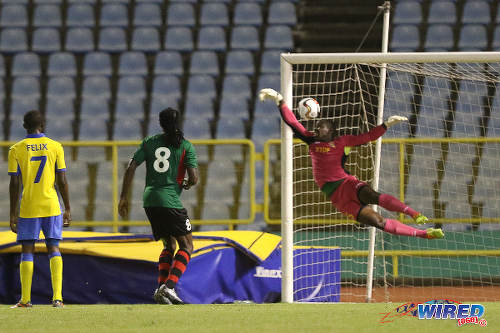 North East Stars playmaker Keron "Ball Pest" Cummings probably shades the individual highlight reel competition for now, though.
In the 40th minute, and with Stars already two goals behind, Cummings chased a ball to the edge of the opposing penalty box and used one touch to flick it over the head of Central defender Jamal Jack before catching the ball—on the other side of the defender—with a smashing left volley that Trinidad and Tobago international goalkeeper Jan-Michael Williams might only have glimpsed as it flew past him and into the corner.
It was not enough to save Stars from an early elimination but it was surely worth the price of admission.
Trinidad and Tobago National Senior Team coach Stephen Hart must have jumped off his seat in the covered stands.
The 2015/16 Pro League season is barely under way and rust was inevitable yesterday. But the lure of the first trophy of the season and the overall winner's cash prize of $110,000 prompted positive play from all four teams.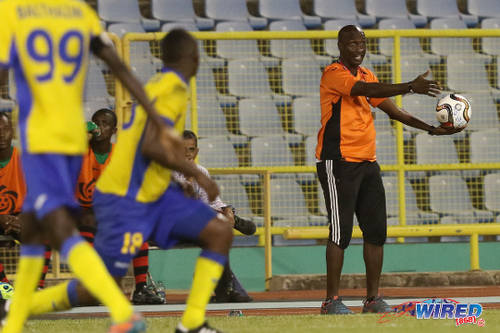 The tournament's catchphrase, "No room for losers" was self-explanatory. And, by the end of the night, Jabloteh and Stars had been ushered through the exits.
It would be unfair to say that Stars went meekly but, Cummings apart, the Sangre Grande-based team just did not have the tools for the job against the defending champions and Pro League title holders.
Almost from the kick off, the "Couva Sharks" asserted their superiority in the contest.
Sean De Silva whipped a deep free kick into the Stars' 18-yard box and Jack headed across goal for the evergreen Marvin Oliver to nod home.
Stars, who are now coached by former assistant Roland Clarke, turned up at the Hasely Crawford with a ridiculous outfit that married a yellow shirt with similar coloured numbers. It made it almost impossible for anyone in the stands—including the media—to read jersey numbers and, had it been a CONCACAF contest, the Grande team would have been promptly ordered to track down a replacement.
So there was a case for anonymity from the Stars defence when De Silva worked a one-two with Oliver, took the ball on his chest and sauntered into the opposing area to prod the second goal past goalkeeper Cleon John.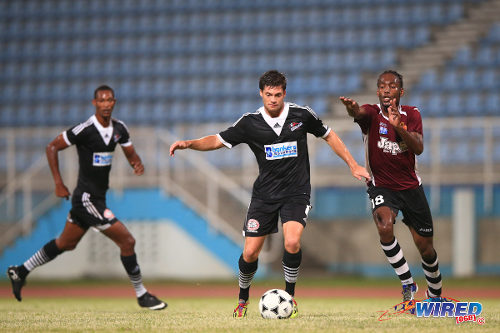 It was De Silva's third goal of the domestic season while he assisted on Central's other two items. If that is not a hot streak then it will do until one gets here.
Cummings upstaged the Central midfielder and everyone else on the field with two touches of the ball in the 40th minute. The first flicked it over Jack's head and the second crashed the sphere beyond Williams.
Ball Pest doesn't need an easily identifiable shirt number. His left foot is like a fingerprint.
It was not enough to bridge the gulf in class between the two teams yesterday though.
"Soca Warrior" Willis Plaza scored his third goal in successive matches for Central in the 68th minute after he ran on to a diagonal, lofted pass to convert from close range. Somehow, Plaza managed to leave Stars central defender Carey Brown in a heap on the ground and then fake John out of the boots before he had even laid a boot on the ball.
Either Plaza is studying Jedi mind tricks now or opposing defenders and goalkeepers have decided that resistance is futile.
In stoppage time, Plaza got his double as he spun between two defenders—in that typically breezy manner of his—before tucking past John.
Young strikers should be at every Central game with pen and paper. Plaza's movement off the ball should be a CSEC subject for Secondary Schools Football League (SSFL) players.
The earlier outing between Jabloteh and Defence Force was more competitive. And, although there was no obvious stand-out player, there were some spectacular goals.
Defence Force coach Marvin Gordon might have felt especially proud of his team's opener, which came right off their training ground in Carenage.
One soldier ran over a dead ball and another passed it diagonally for Aklie Edwards who crossed for towering "Army" central defender Glen Franklin to head past Jabloteh goalkeeper Shemel Louison for the opening goal.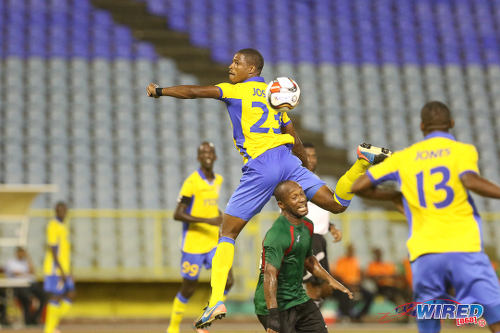 But Jabloteh's equaliser, five minutes later, was something else.
Tyrone Charles is a bonafide set piece specialist and has scored a couple of beauties in his time. But it would be hard to top his strike last night, as his curling effort from the edge of the area hit the sweet spot between the post and upright before going in.
Even if Italian icon Andrea Pirlo was allowed to use his hand, walk right up to the frame of the goal and toss it in, he could not place it more accurately into the corner.
Franklin struck again for Defence Force in the 66th minute but this time it was a case of criminal defending. Kerry Joseph swung a free kick into the opposing box and it beat two Jabloteh defenders before popping in off Franklin's shin at the far post.
Some guys have all the luck. Defence Force captain Jerwyn Balthazar did things the hard way as he collected the ball in space, 35 yards out, and beat Jabloteh custodian Shemel Louison with a thumping strike into the far corner.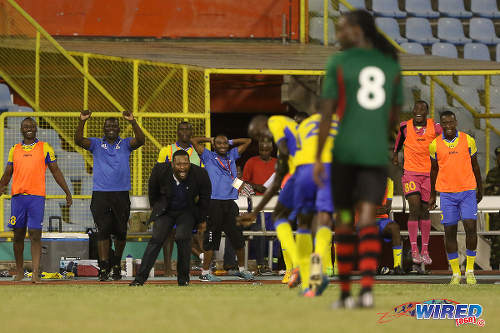 On any other night, Balthazar's goal would have been the topic of conversation as spectators headed home. But the bar was set quite high yesterday.
Jabloteh, who played some neat football but ultimately lacked leadership and cutting edge, did create a heated finish to the game with a last gasp goal.
Jamaican substitute Fabian Reid hit a bicycle kick towards the far corner that Defence Force custodian Sheldon Clarke clawed away, only for Reid's compatriot, Ricardo Harriott, to stab home the loose ball.
It was not enough to rescue Jabloteh's cup run, though, as Defence Force advanced to the quarterfinal round.
Defence Force will face Morvant Caledonia United on October 16 while Central challenges Police on the same day. In two other fixtures on that day, St Ann's Rangers  and Club Sando will do battle while DIRECTV W Connection tackles Point Fortin Civic in the final quarterfinal clash.
(Teams)
Defence Force (4-2-3-1): 25.Sheldon Clarke (GK); 13.Marvin Jones, 8.Curtis Gonzales (captain), 2.Glen Franklin, 21.Aklie Edwards; 4.Dave Long (52.Stephan Campbell 86), 18.Sean Narcis (12.Jemel Sebro 64); 23.Kerry Joseph, 99.Jerwyn Balthazar, 7.Jelani Felix; 9.Devorn Jorsling (26.Richard Roy 46).
Unused substitutes: 80.Aaron Enil (GK), 6.Rodell Elcock, 17.Ross Russell Jr, 30.Kishun Seecharan.
Coach: Marvin Gordon
San Juan Jabloteh (4-2-3-1): 30.Shemel Louison (GK); 11.Damian Williams (captain), 24.Adrian Reid (5.Ricardo Harriott), 21.Aquil Selby, 22.Caleb Sturge; 18.Jevon Morris (13.Fabian Reid 70), 8.Keyon Edwards; 27.Nathan Lewis, 10.Tyrone Charles, 23.Kennedy Hinkson; 7.Jamal Gay (12.Jordan Devonish).
Unused substitutes: 36.Raheem Belgrave (GK), 6.Ramone McGregor, 15.Isaiah McIntyre, 16.Kaashif Thomas.
Coach: Keith Jeffrey
Referee: Dave Daniel
Man of the Match: Jerwyn Balthazar (Defence Force)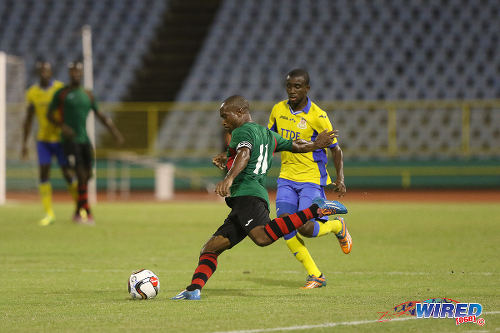 First Citizen Cup qualifying round
(Wednesday October 30)
Defence Force 3 (Glen Franklin 53, 66, Jerwyn Balthazar 79), San Juan Jabloteh 2 (Tyrone Charles 58, Ricardo Harriott 90) at Hasely Crawford Stadium;
Central FC 4 (Marvin Oliver 2, Sean De Silva 18, Willis Plaza 69, 90), North East Stars 1 (Keron Cummings 40) at Hasely Crawford Stadium.