Central FC midfielder Sean De Silva notched an opening day double at Mahaica Oval yesterday as the defending Pro League champion club got its 2015/16 season off to a flawless start with a 3-0 win over Point Fortin Civic.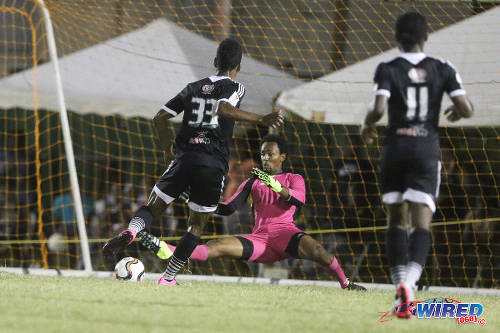 "I think coming off the CONCACAF performance this was a little bit lower," Central coach Ross Russell told Wired868. "Our opponents did well and made things difficult, so this wasn't as smooth as we wanted it to be. But it is a win."
Difficult is clearly relative. Apart from keeping a leash on his enthusiastic and talkative right back, Kaydion "Drogba" Gabriel, Russell surely enjoyed his calmest day in charge at the "Couva Sharks" to date.
Point Fortin did not roll over. But it is too early in the cycle of coach Leroy De Leon's young team for them to pose much threat to a Central team that is already a month and a half into its competitive season.
"I am still mixing and matching to see who can do what," said De Leon. "But we will get there."

De Leon got no sympathy from the Central club that poached his most potent attacker, Marcus "Lobo" Joseph, and his captain and defensive lynchpin, Andre Ettienne.
And, if you believe the champion club was too sophisticated to taunt its struggling rival, think again.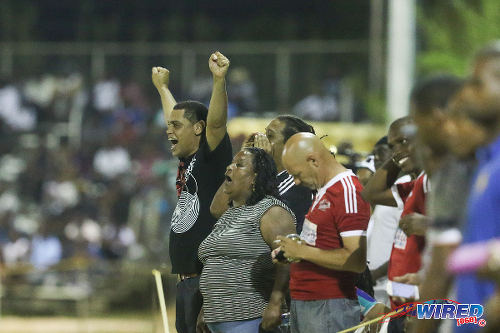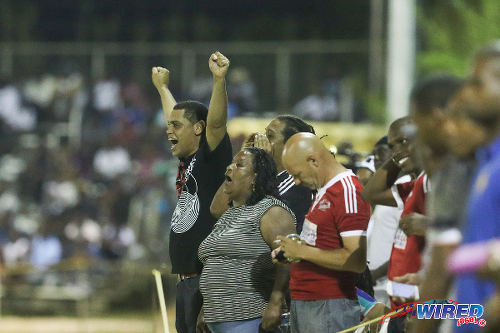 "Ross Russell went down south, in an army van," sang the "Central Choir", "came back with a defender, Andre Ettienne."
Ettienne, as it turned out, was absent through injury while playmaker Ataulla Guerra and tricky winger Jason Marcano were also missing from Russell's 18-man squad. But the Sharks still had ample firepower to handle their host team.
There were over 800 supporters at the fixture in Mahaica Oval, which is sizeable by Pro League standards but tame compared to when Joseph and Andre Toussaint, now at DIRECTV W Connection, were in Point Fortin's first team.
De Leon, an all-time Trinidad and Tobago legend, still has talent within the team's ranks although, by his own admission, he is still in the experimental phase.
Yesterday, Shackiel Henry, who starred as an inverted winged attacker for the Trinidad and Tobago National Under-23 Team at the July 2015 Pan American Games, was used as a fairly orthodox right side midfielder with the inventive Akeem Redhead on the other flank.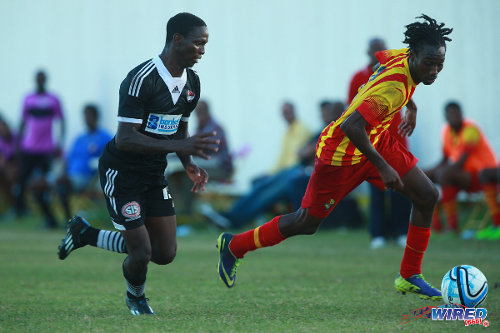 De Leon said he asked both players to stay wide. But, at a glance, their movement seemed far too predictable for the Central defence and surely Civic would need them to be much more involved if the proud but financially-strapped club is to have any joy this season.
Henry's and Redhead's tame performances yesterday made the result inevitable. Although the main problem was the centre of the park, where Central veteran Marvin Oliver was imperious and his partner, Elton John, was tidy and efficient.
Civic's central midfielders, Kelvin "Supers" Modeste and Jayson "Mouse" Joseph, snapped and snarled but could not throw them off their game.
Oliver won a free kick in the seventh minute, 25 yards from the opposing goal, and Lobo just missed the far corner with a low, stinging drive.
Three minutes later, Oliver lofted a ball into Joseph's run behind the Point defence but the latter's angle shot clipped the far post and bounced away to safety.
In the 12th minute, Joseph placed a precise cross on De Silva's head, only for the midfielder to head wastefully wide.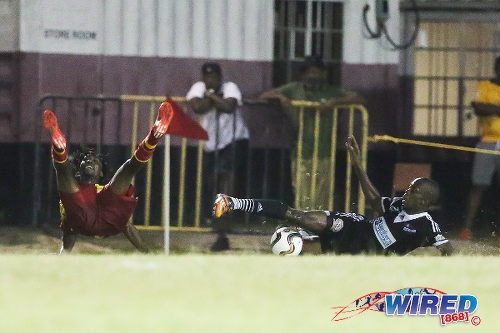 "Good cross, Lobo," Russell told his troops. "It's coming guys, it's coming. Let's believe in it."
The only surprise, when it did come in the 28th minute, was that Lobo was not directly involved. The other Joseph, lost possession just inside Point Fortin's half of the field, and Central quickly exchanged passes before De Silva slipped to Plaza inside the opposing box.
And Plaza stroked past new Civic custodian Miles Goodman for his first goal of the new Pro League season.
By then, Central's main concern seemed to be referee Cecile Hinds. And perhaps with some justification too.
In the 37th minute, Oliver took a long ball on his chest near the touchline with virtually no space to operate. As Modeste closed in, the dreadlocked maestro brilliantly flicked the ball over his opponent's head and spun away into space.
Modeste, with the ball now out of his vision, flattened Oliver with his forearm.
Hinds gave a free kick but not a caution. Surely, there could not be a more blatant opportunity for a referee to protect a skilful player from brute force than that one.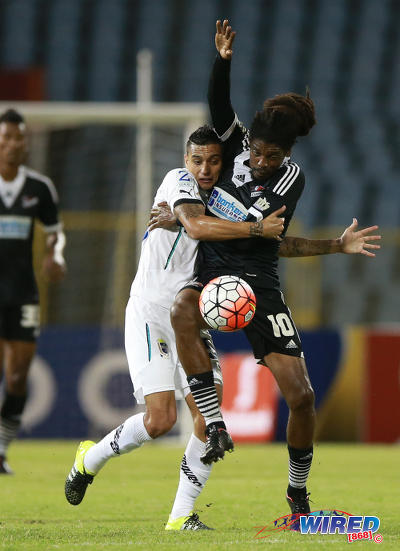 And, incidentally, it came just five minutes after Hinds booked De Silva for a clumsy boot into Modeste, when the Central player was clearly reaching for the ball although he caught the player instead.
Oliver, who has never been guilty of sweet-talking officials, did not hide his disgust.
"She's doing that because of me," Oliver shouted to his teammates. "She ent good at all!"
Civic did not present such problems and an inventive free kick routine, which saw Henry drive inches over bar after an Andrei Pacheco pass, was all the Mahaica Oval crowd had to cheer in the first half.
Plaza should have had a hattrick in the first hour but wasted another Lobo cross in the 41st minute and then headed against an upright from a De Silva free kick in the 60th minute.
The gifted striker made amends in another way, as he slipped a clever pass to De Silva in the 63rd minute and the midfielder, who had moved to the right flank, ran clear to place around Goodman.
Joseph then got his assist, as De Silva took his cross on the chest before finishing with a left footed volley into the far corner.
"I think Sean was fantastic," said Russell. "He was in the middle and I think he was overworking himself. So I put him on the line and he got his reward."
Gabriel, as chatty as he is quick, was providing a running commentary to anyone who would listen at that point. And, as far as Russell was concerned, the Central right back crossed the line when he promised substitute Akeem "Battery" Benjamin to stick in the next goal for him.
"Don't get f***ing cocky!" Russell shouted. "Because you could come right here (on the bench)."
Henry got a good chance at goal in the 75th minute but dragged his shot disappointingly wide while Civic substitute Kerwin Stafford hit the bar with a cross-cum-shot from an unlikely angle in the 88th minute.
But Central custodian and captain Jan-Michael Williams preserved his clean sheet without too much fuss.
"(Point Fortin) did a lot to close us down and unsettle us," said Russell, "but we dealt it with in the end."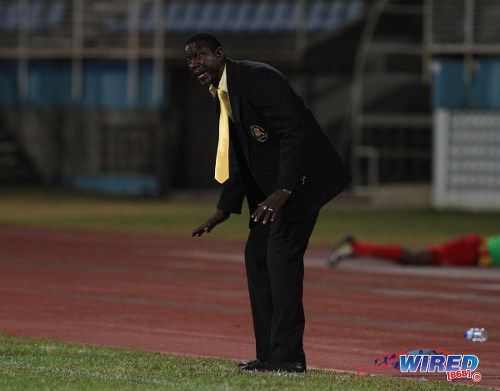 De Leon bemoaned his team's failure to impose itself in central midfield, which he blamed on a lack of confidence and match sharpness. But he assured Point Fortin that Civic intends to thrill this season.
"Central has been playing almost year-round and they are a team," De Leon told Wired868. "We just put this team together, so we are not there yet. But the energy levels and effort I saw (from Civic) in the last 15 minutes? I loved it…
"Remember the average age of this team is about 23. We will make some noise this season."
(Teams)
Central FC (4-2-3-1): 21.Jan-Michael Williams (GK) (captain); 15.Kaydion Gabriel, 17.Marcelle Francois (25.Elijah Manners 65), 12.Jamal Jack, 24.Kevon Villaroel; 2.Elton John, 10.Marvin Oliver (19.Nathaniel Garcia 81); 99.Marcus Joseph, 8.Sean De Silva, 11.Darren Mitchell; 33.Willis Plaza (6.Kerry Baptiste 76).
Unused substitutes: 30.Akel Clarke (GK), 5.Akeem Benjamin, 14.Nicholas Dillon, 26.Jem Gordon.
Coach: Ross Russell
Point Fortin Civic (4-4-1-1): 1.Miles Goodman (GK); 11.Tigana Sparks (10.Bevon Bass 71), 27.Kern Peters, 15.Nedeon Noel, 19.Andrei Pacheco; 9.Shackiel Henry (25.Troy Moses 78), 16.Kelvin Modeste (captain), 6.Jayson Joseph, 8.Akeem Redhead; 99.Corey Cyrus (14.Kerwin Stafford 67); 20.Jamille Boatswain.
Unused substitutes: 52.Akini Adams (GK), 21.Ronell Paul, 12.Glenn Sutton, 17.Kestwin Goolie, 23.Mickell Charles, 28.Jared Bennett.
Coach: Leroy De Leon
Referee: Cecile Hinds
Man of the Match: Sean De Silva (Central FC)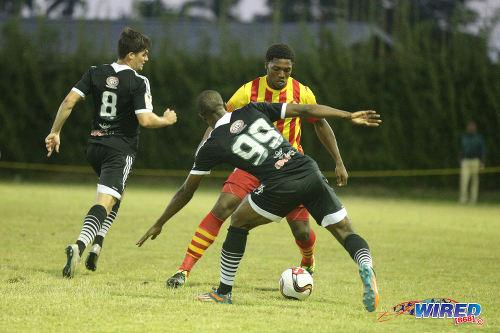 Pro League results
(Saturday September 26)
Point Fortin Civic 0, Central FC 3 (Willis Plaza 28, Sean De Silva 63, 70) at Mahaica Oval;
W Connection 1 (Andre Toussaint 83), Police FC 1 (Makesi Lewis 84) at Mannie Ramjohn Stadium;
North East Stars 2 (Alanzo Adlam 17, Adrian Noel 59), Club Sando 0 at Larry Gomes Stadium;
(Friday September 25)
Defence Force 1 (Jerwyn Balthazar 45+2), St Ann's Rangers 1 (Miguel Romeo 45) at Hasely Crawford Stadium;
Upcoming fixture
(Sunday September 26)
M'vt/Caledonia Utd v San Juan Jabloteh, 4 pm, Hasely Crawford Stadium.