Second half strikes by Shane Sandy and substitute Shobal Celestin ensured that reigning SSFL Premier Division champions Naparima College defeated 10-man San Juan North 3-1 and kept with pace with front runners St Mary's College and Shiva Boys Hindu College.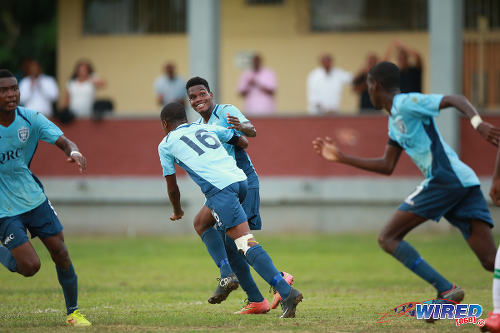 All three schools have a maximum of nine points from their three outings thus far, although the "Saints", who edged Fatima College 2-1 today, lead the pack on goal difference.
Shiva Boys, who downed neighbours Fyzabad Secondary 2-0 in Penal, are third.
In Bourg Mulatresse, "Naps" endured a bumpy surface and the towering figure of San Juan star striker Brent Sam to remain perfect in the competition. Sam, who scored twice against St Benedict's College on Saturday in Mahaica Oval, is yet to get his first home goal this season.
Naparima coach Angus Eve told Wired868 that his team had done its homework.

"Of course we had a plan for Sam," said Eve. "I instructed one of my stoppers stay tight to him while the other dropped off. And if he did take it on the chest, the instruction was to double team him with one of the defensive midfielders to prevent any lay off."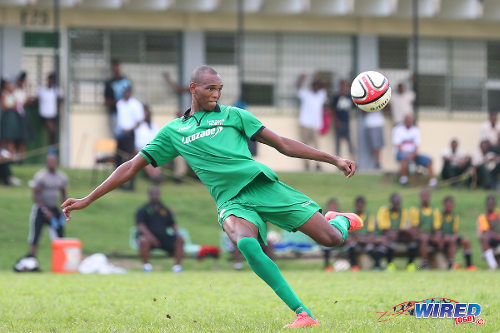 It was mission accomplished for Naparima as central defenders Anderson Toussaint and Stephon Smith barely allowed the San Juan sharpshooter a swing of his feared left boot. And defensive midfielder Judah St Louis was always within an arms-length when Sam tried to go on a solo run.
There was no mistaking San Juan's first half approach either as left-back Brandon Semper often tried to release Sam with long, raking diagonal passes.
At the other end, Naps were more subtle as skipper Michael Basdeo and St Louis tried to link up with the nifty Shane Sandy in the middle of the park. However, the bumpy Bourg turf made smooth passing difficult and the southern visitors were also forced to use a more direct route.
San Juan winger Oneel Jarvis was lively down the right hand flank in the early going and, in the 14th minute, he floated an inviting cross after jinxing past Naps left-back Rondell Payne but a leaping Sam was unable to direct his header on frame.
Sam got another chance to bulge the Naparima net in the 26th minute when he uncharacteristically shifted the ball onto his right foot before unleashing a low mid-range drive but goalkeeper Levi Fernandez was sharp enough to keep the effort out.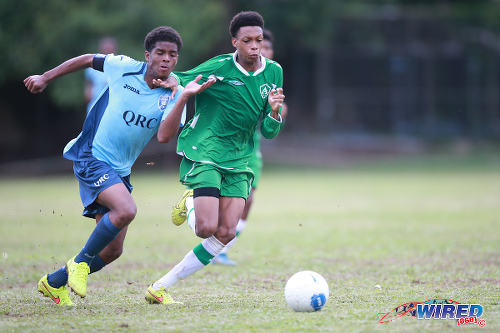 Naps had chances of their own too but attackers Sandy and Jarred Dass wasted golden opportunities, although Sandy did receive a nasty bubble just before his effort in the 27th minute.
Five minutes later, Naparima broke the deadlock with a sweeping counter attack after St Louis won possession in the midfield. Dass applied the decisive touch after a goal mouth scramble in which a Sandy effort was blocked.
The "Bourg Boys" responded quickly as, in the 41st minute, Sam drifted out to the right flank and picked out teammate Joshua Leach, who applied a sweet one-time finish past Fernandez.
The composed Sandy was determined to get on the scoresheet today and he did so in spectacular fashion. In the 54th minute, he curled a left-footed shot beyond the reach of San Juan captain D'Andre Villoroel to put his team back in the ascendancy.
The goal was a fitting end to a move which saw some slick passing by Dass and Renaldo Francois just outside the area.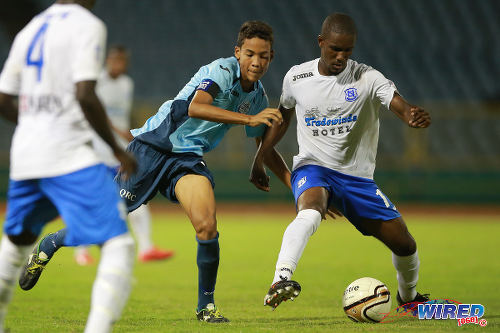 The game looked like it was now heating up and referee Keilon Bacchus cooled down the temperature in quick time, as he showed San Juan midfielder Jermelle Britto a straight red for a late challenge on Payne near the half line in the 57th minute.
"It was a bit harsh to be fair and I thought the player honestly went for the ball but he just mistimed his tackle," said Eve. "There was nothing malicious or sinister in it."
The home crowd was far from pleased with the decision and became more incensed with referee Bacchus in the 63rd minute as Naps' St Louis only received a yellow card after lunging in on San Juan defender Warren Chase.
The 10 men of San Juan buckled down and enjoyed some good possession. Naps goalkeeper, Fernandez, even received a scare in the 69th minute, as he backpedalled to deal with a dipping Semper free kick.
But the Naps result was becoming increasingly inevitable and the lively substitute, Celestin, put the matter to bed in the 87th minute with a cool finish off a Justin Sadoo through ball.
Three wins out of three, Naps stay perfect.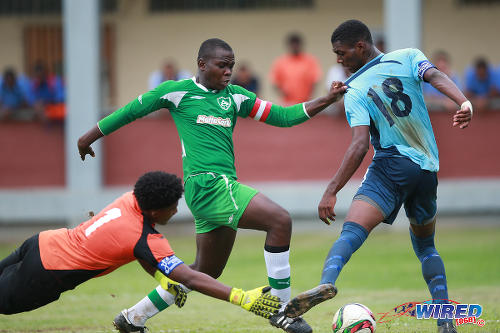 (Teams)
San Juan North (4-2-3-1): 1.D'Andre Villoroel (GK); 12.Warren Chase, 3.Kerdell Sween, 14.Shrikel Diamond, 6.Brandon Semper; 5.Rhondel Gibson (15.Myles Oliver 77), 16.Kyle Williams; 7.Oneel Jarvis (11.Joshua Jerome 46), 19.Joshua Leach, 22.Jermelle Britto (red card 57); 9.Brent Sam.
Unused Substitutes: 4.Kenyan Huggins, 17.Kareem John, 20.Jerome Cyrus, 26.Obadelle Dickson.
Coach: Jerry Moe
Naparima College (4-2-3-1): 22.Levi Fernandez (GK); 4.Nicholas Thomas, 16.Anderson Toussaint, 19.Stephon Smith, 20.Rondell Payne; 6.Judah St Louis, 8.Michael Basdeo (captain) (10.Jeremiah Kesar 81); 23.Renaldo Francois (9.Shobal Celestin 70), 11.Shane Sandy, 21.Justin Sadoo; 12.Jarred Dass (7.Akinola Gregory 70).
Unused Substitutes: Darriel Kurjah (GK), 2.Tyrike Andrews, Khris Stroud, 14.Aalon Minors.
Coach: Angus Eve
Referee: Keilon Bacchus
Man of the Match: Shane Sandy (Naparima College)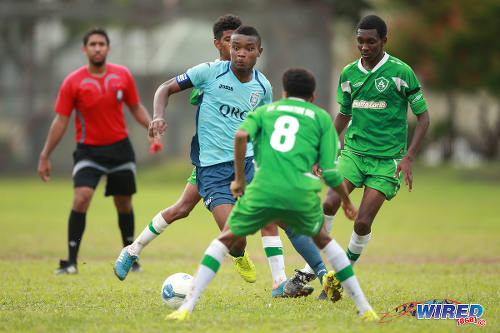 SSFL Premier Division results
(Wednesday September 16)
Presentation San F'do 2 (Kyle Moodie 7, Nate Brooks 15), Carapichaima East 0, Guaracara Park;
St Benedict's College 2 (Taryll Coutou 69, Shemar Ravello 86), St Anthony's College 1 (Simon Joseph 90), Mahaica Oval;
Trinity College Moka 4, Trinity College East 3, Moka;
Shiva Boys HC 2 (Quinn Rodney 61, Kyle Sylvester 90 pen), Fyzabad Secondary 0, Penal;
San Juan North 1 (Joshua Leach 41), Naparima College 3 (Jarred Dass 32, Shane Sandy 54, Shobal Celestin 87), San Juan.
QRC 1 (Demetri Dunkley 79), St Augustine 1 (Isaiah Lee 53), QRC;
St Mary's College 2 (Ethan Shim, Aaron Skeene), Fatima College 1, St Mary's;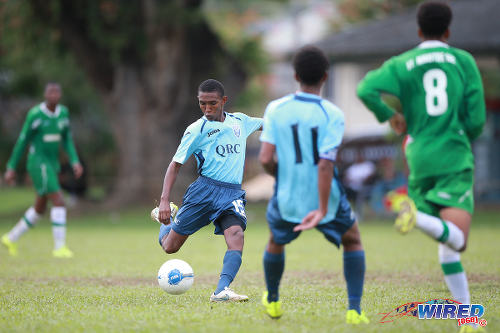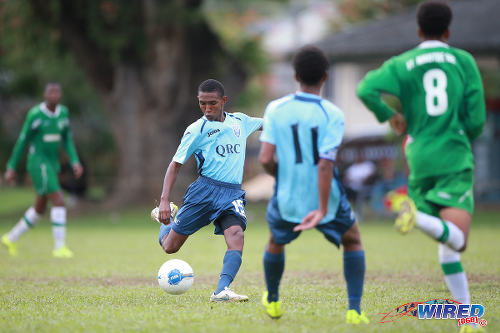 Upcoming SSFL fixtures
(Saturday September 19)
St Anthony's College v Trinity College Moka, 3.45 pm, St Anthony's;
Carapichaima East v Shiva Boys HC, 3.45 pm, Carapichaima;
St Augustine v Presentation San F'do, 3.45 pm, St Augustine;
Trinity College East v San Juan North, 3.45 pm, Trincity;
Naparima College v St Mary's College, 3.45 pm, Lewis Street, San Fernando;
Fyzabad Secondary v Speyside High, 3.45 pm, Fyzabad;
Fatima College v QRC, 3.45 pm, Fatima;