Former Trinidad and Tobago National Under-23 Team captain Alvin Jones cracked home a brilliant free kick last night as Pro League outfit, DIRECTV W Connection, stunned Costa Rican club, Deportivo Saprissa, 2-1 in a memorable CONCACAF Champions League affair at the Hasely Crawford Stadium in Port of Spain.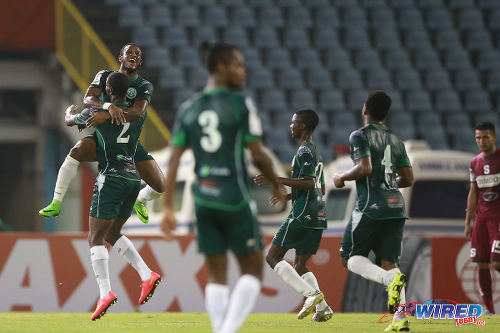 It was Connection's first win at CONCACAF level in almost six years and altered the dynamics of Group A, although it might be too late for the "Savonetta Boys" to save their Champions League campaign.
Connection has one remaining game and, to grab the solitary qualifying berth at stake, coach Stuart Charles-Fevrier must mastermind a win by at least eight clear goals against Mexican champs, Santos Laguna, and then pray for Santos to defeat Saprissa by exactly four goals in the final group match.
Former Prime Minister Kamla Persad-Bissessar probably has a better chance than that with her petition to annul the 2015 general election results.
Yet, it was a great boost for the reputation of the Pro League and, hopefully, would encourage supporters to pay more courtesy to their home-based players.
Jones' 81st minute rocket, which flew, bent and dipped, would have brought fans to their feet in any competition on the planet. And it capped off a fine Connection performance against a full-strength Central American team that has won the CONCACAF competition on three occasions.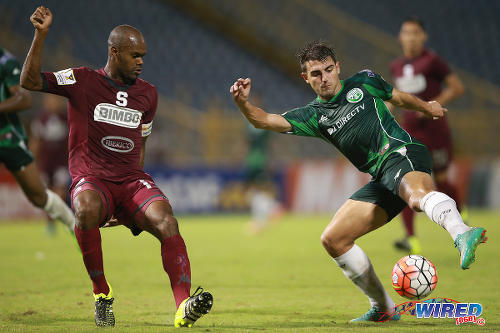 In Costa Rica, football scribes refer to Saprissa as "The Purple Monster." Jones' bullet might not be fatal to Saprissa's CONCACAF campaign but the visitors left badly wounded.
"We expected to win here but we didn't obviously," said Saprissa coach Justin Campos. "It is a shame because I think it was a good game for Saprissa but we didn't get the score we needed.
"We just have to wait to see what happens in the next game… I am very disappointed."
Last month, Saprissa routed Connection 4-0 in Costa Rica and the stats were eye-opening. The Central American club managed 39 shots and 211 correct passes with 60 percent ball possession while the "Savonetta Boys" had 40 percent ball possession with just seven shots and 97 correct passes.
Neither team did any radical alterations since and there were just three changes in the Connection starting line-up yesterday. There were no detailed statistics available at Port of Spain yesterday but the CONCACAF website credited the Pro League team with 53 percent ball possession.
The ball ratio seemed generous but, regardless, Connection did have more time on the ball than usually occurs when a Trinidad and Tobago outfit—whether a club or international team—tackles a Costa Rican side.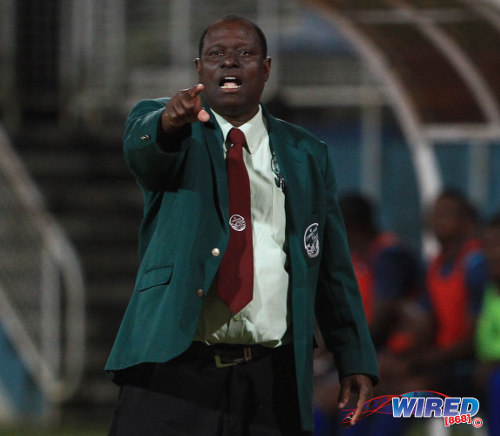 "Our coach, Stuart Charles-Fevrier, is a genius," said a beaming Connection assistant coach Earl Jean, at the post-game press conference. "I think he watched a tape of Saprissa playing about 50 times before the match… At the team talk, he told the players to relax and enjoy themselves and play with confidence.
"He said 'you are representing Trinidad and Tobago today, so go and show people what you can do'."
None of Connection's current players represented the "Soca Warriors" at the 2015 CONCACAF Gold Cup but, if they maintain this standard, there will be a few in red, black and white strip very soon.
All five players with Trinidad and Tobago passports, who started last night, are less than 22 years old while Jones and the lively Jomal Williams are both 21.
But there was more than a hint of the quality available in the region too.
St Kitts and Nevis international goalkeeper Julani Archibald was, arguably, Connection's best performer while his compatriot Gerard Williams was his usual efficient self as he did the less glamorous chores in central midfield and St Lucian wing back Kurt Frederick scored the opening goal.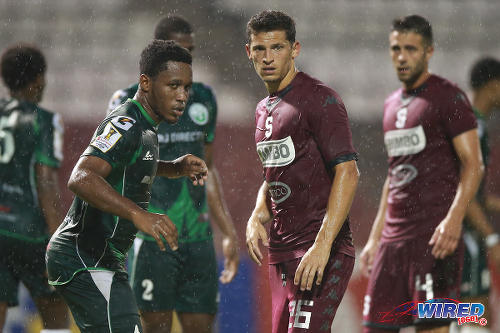 Briel Thomas, a 20-year-old Dominican midfielder, was the real scoop, though. Tall, powerful and composed, Thomas did not look out of place against a Saprissa team that sent nearly half its squad to the recently concluded Gold Cup tournament.
Perhaps Pro League teams should start shopping around in the Caribbean again.
It was Jones, younger brother of Trinidad and Tobago Gold Cup stand-out Joevin Jones and son of "Strike Squad" defender Kelvin Jones, who made the first impression on the match with a powerful 30-yard free kick that Saprissa custodian and Costa Rica international Danny Carvajal unconvincingly fended away in the ninth minute.
And Carvajal had no answer for the next threatening Connection set piece, in the 34th minute, as Frederick charged the box to meet Williams' corner kick with a downward header. Connection attacker Dimitrie Apai, a Suriname international, flicked a boot at the ball and missed.
And, distracted, Carvajal palmed Frederick's header into his own goal.
No matter. Saprissa equalised within four minutes. Striker Ariel Rodriguez dropped deep to collect the ball and released teammate Daniel Colindres with a precise threaded pass beyond Connection right back Shannon Gomez.
Colindres, a Costa Rican international, gave Archibald no chance with a powerful finish into the far corner.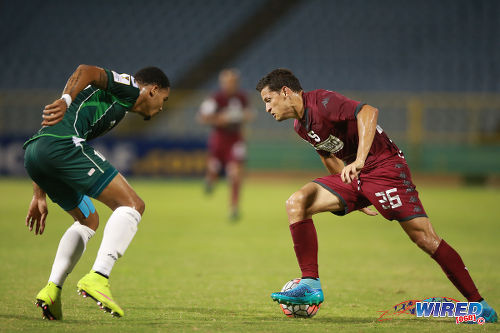 "The coach had a go at Alvin for the goal that we conceded," said Jean, "because he was supposed to press the attacking player and he didn't.
"So we had a go in the dressing room (at halftime)."
Archibald made three valuable saves late in the first half to keep Connection level. And the 24-year-old goalkeeper was busy in the second half too, as Colindres threatened constantly, aided and abetted by the perceptive midfield pair of Nestor Monge  and David Guzman.
A Saprissa goal seemed a matter of 'when' and not 'if.'
Fevrier responded by swapping Apai and Brazilian Jonathan Gerhardt for pacey Neil Benjamin Jr and returning veteran Andre Toussaint.
The 34-year-old Toussaint, who rejoined Connection after spells with Joe Public FC, T&TEC FC and Point Fortin Civic, was on Fevrier's squad back in 2009 when the Savonetta Boys won their last CONCACAF group stage match against Honduran club, Real Espana, at the Mannie Ramjohn Stadium in Marabella.
And the dreadlocked maestro had the chance to create a storybook entrance.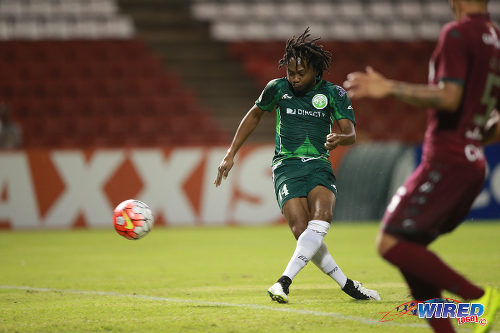 Just four minutes after his introduction, in the 73rd minute, Benjamin tore down the left flank and produced a brilliant, low far post cross for Toussaint. The veteran, with the goal at his mercy, steered wide.
In stoppage time, another golden opportunity presented itself, as Toussaint sent Gomez clear down the right flank and then ran on to his return pass, just inside the Saprissa penalty area.
But, once again, Toussaint failed to hit the target.
By then, Jones had already taken charge of the script, though.
In the 80th minute, Williams (J) took possession on the counter-attack and danced past Argentine defender Andres Imperiale with an imperious step-over. The Saprissa defender tripped him and Connection had another free kick opportunity for Jones.
"Let's go W, let's go!" chanted Connection supporters, whose expectations from set pieces grew with every swing of Jones' right boot.
Twice, Carvajal had flailed after the young man's free kicks with all the certainty of a five-year-old child chasing bubbles. But, on the third occasion, he barely had time to blink, let alone stretch his arm.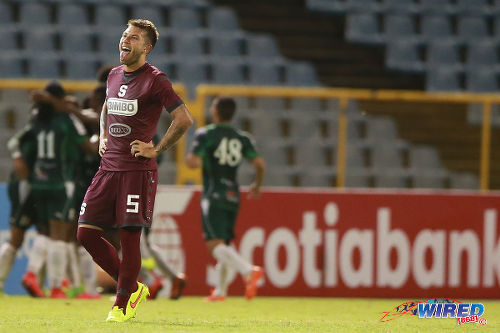 Jones' effort whistled around the head of the last defender in the Saprissa wall and dipped considerably to kiss the ground once before nestling into the far corner.
Jean praised the talent and attitude of Connection's young captain and urged Trinidad and Tobago National Senior Team coach Stephen Hart to take another look at him.
Jones gave a tentative showing last year, at right back, when he made his first and only senior international appearance to date for the Warriors against St Lucia in the Caribbean Cup qualifiers.
This season, though, Fevrier has used Jones in his preferred role in central defence and he has performed creditably. And, of course, there is always the added bonus of his blistering free kicks.
"You don't get a lot of players with that quality in shooting," said Jean. "I think that is a massive boost for Trinidad and Tobago. Because when you have a specialist like that you can always get a goal from him."
Even a late red card for Williams (G), for a second bookable offence, failed to spoil Connection's mood last night.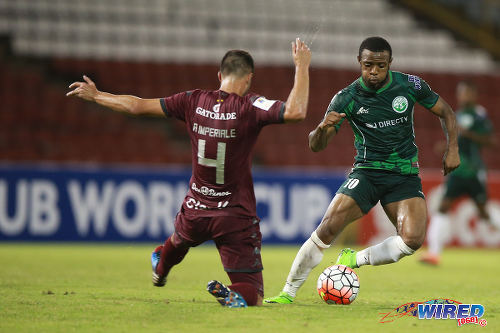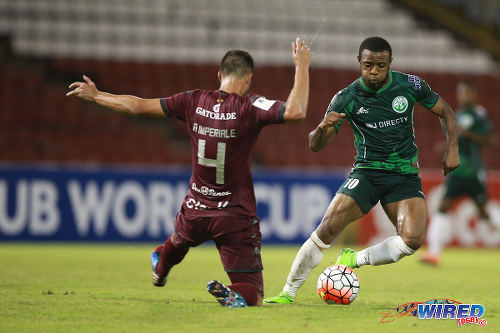 Central FC, which has struggled with off-field incidents over the past three months, will hope to build on Connection's strong showing when the "Couva Sharks" face Guatemalan outfit, Comunicaciones, from 8 pm tonight at the same venue.
(Teams)
W Connection (3-4-3): 18.Julani Archibald (GK); 16.Alvin Jones (captain), 4.Maurice Ford, 5.Triston Hodge, 21.Shannon Gomez, 26.Briel Thomas (48.Stiven Lopez 78), 3.Gerard Williams, 2.Kurt Frederick, 12.Dimitrie Apai (11.Neil Benjamin Jr 70), 27.Jhonatan Gerhardt (14.Andre Toussaint 69), 10.Jomal Williams.
Unused substitutes: 1.Terrence Lewis (GK), 13.Kion Joseph, 34.Jabari Mitchell, 35.Keston Julien.
Coach: Stuart Charles-Fevrier
Deportivo Saprissa (4-2-3-1): 1.Danny Carvajal (GK); 13.Adolfo Machado (captain), 4.Andres Imperiale, 5.Francisco Calvo, 19.Irving Calderon (27.Dylan Flores 80), 15.Deyver Vega, 20.Nestor Monge (7.Myner Escoe 84), 8.David Guzman, 11.Marvin Angulo (30.Uluses Segura 70), 26.Daniel Colindres, 14.Ariel Rodriguez.
Unused substitutes: 22.Donny Grant (GK), 3.Gabriel Badilla, 16.Sergio Cordoba, 29.Luis Flores.
Coach: Jeaustin Campos
Referee: Hector Rodriguez (Honduras)
Man of the Match: Julani Archibald (W Connection)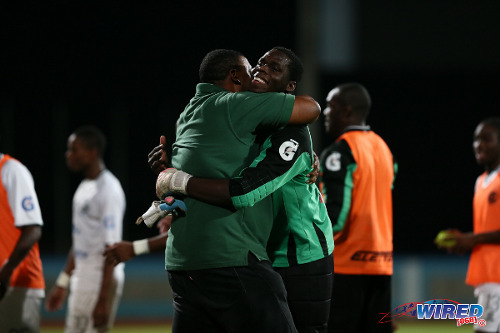 CONCACAF Champions League result
Group A
(Wednesday September 16)
W Connection 2 (Kurt Frederick 34, Alvin Jones 81), Deportivo Saprissa 1 (Daniel Colindres 38) at Hasely Crawford Stadium;
Today's Champions League fixture
Group D
(Thursday September 17)
Central FC v Comunicaciones, 8 pm, Hasely Crawford Stadium;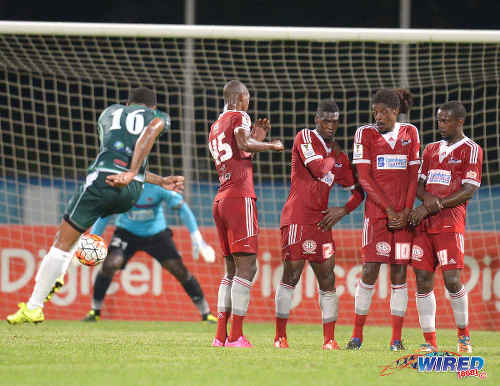 Group A
(Tuesday September 22)
W Connection v Santos Laguna, 8 pm, Hasely Crawford Stadium;
Group D
(Wednesday September 23)
Central FC v LA Galaxy, 8 pm, Hasely Crawford Stadium.