Former Sport Minister Brent Sancho and his advisor Kevin Harrison were subjected to a new low today, as 24 of Central FC's 29 football players signed a petition that urged their board of directors not to allow them back to the Pro League club.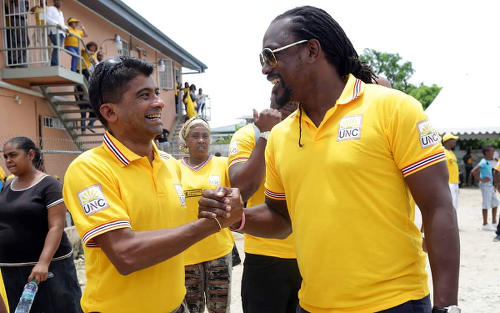 The petition, which was addressed to "the management of Central FC", stated that: "We, the players of Central FC, are not in favour of the former management team of Brent Sancho and Kevin Harrison returning to the club with so many allegations outstanding against them."
The letter was signed by the majority of the squad including: Trinidad and Tobago international senior players Jan-Michael Williams, Willis Plaza, Marcus Joseph and Ataulla Guerra, national youth team players Nicholas Dillon, Nathaniel Garcia and Javon Sample and stand-outs Marvin Oliver, Jamal Jack, Elton John and Jason Marcano.
Sancho and Harrison were founding members of Central FC, three years ago, and continued to be involved in the club's affairs over the past eight months, despite also working for the People's Partnership Government as Sport Minister and Advisor to the Sport Minister respectively.
However, a series of exclusive articles on Wired868 showed suspicious behaviour by the pair, which was directly related to their stewardship at the "Couva Sharks."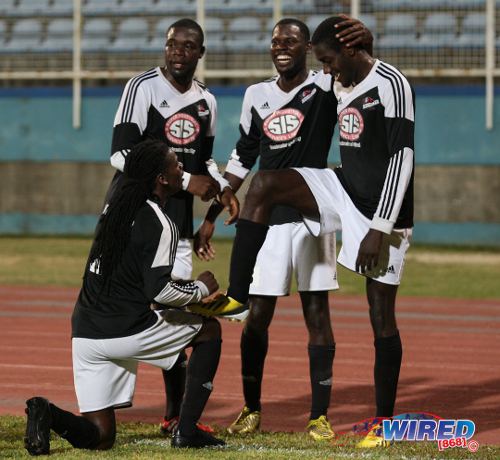 In one email from Harrison on 27 August 2014, the Englishman asked British football agent Steve Davies to "slip in a personal payment" related to the transfer of Trinidad and Tobago international forward Rundell Winchester to Belgium lower division club, CS Visé, which was to be split between Harrison and Sancho.
Davies rebuffed the request.
CONCACAF also confirmed to Wired868 that, on 16 June 2015, Harrison asked the football confederation to wire money due to the Sharks to Sancho's personal bank account. CONCACAF's statement directly contradicted assertions by Sancho, Harrison and Central that the request was made before his appointment as Sport Minister.
The Trinidad and Tobago Football Association (TTFA) has opened a probe into both matters and also asked Sancho and Harrison to explain their behaviour in the signing of then 16 year old attacker Levi Garcia and the alleged non-payment of promised bonuses to Central players.
Sancho and Harrison were given a deadline of Friday September 18 to respond to the local football body.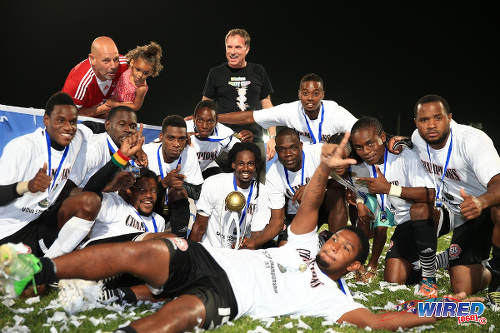 "(The players) don't want Sancho and Harrison back for the reasons that they are unscrupulous and dishonest," a Central source told Wired868, on the condition of anonymity. "We are hearing that even potential sponsors are concerned about them being involved with the club. The players definitely want no part of them."
In their petition this morning, the Sharks also hinted at a concern over contracts as they vowed not to be pressured into replacing their existing deals: "The players of Central FC are not prepared to sign new amended contracts to replace our existing agreements with the club."
A well-placed anonymous source explained that Central players have been asked  by club management to sign new contracts, which make them responsible for paying tax on their income. Thus far, the players have refused.
Central FC is owned by SIS officials Daren Mohamdally and Ronald Ramlogan and Wired868 was reliably informed that they have been trying to sell the club for the past month.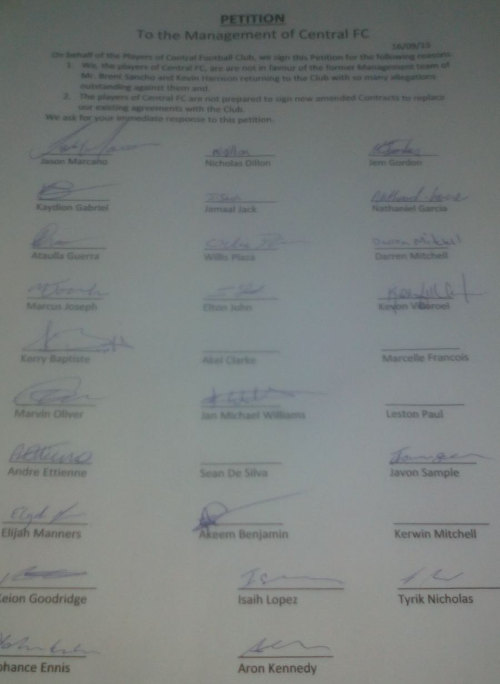 It is uncertain whether SIS' apparent haste to abandon the Sharks is due to the September 7 election results—SIS is a major financier of the United National Congress (UNC)—or the recent revelations about the conduct of the club chairman, Sancho. Or a combination of the two.
But Sancho, who was said to be in a precarious personal financial situation at the start of the year, is now believed to have put together a bid for the club. Central officials remain tightlipped on the matter.
Central manager Kevin Jeffrey said he could not comment on the possible return of Sancho and Harrison or the sale of the football club. He did not know about the players' petition either.
"I've been busy with our (CONCACAF) Champions League business whole day," Jeffrey told Wired868. "I don't know anything about a petition signed by the players. But I will definitely call now to find out."
Jeffrey asked Wired868 to ring him back in 10 minutes. However, he did not answer subsequent phone calls or return our calls.
Wired868 also tried unsuccessfully to reach Mohamdally.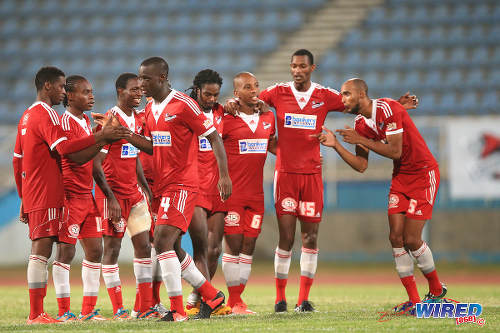 The Sharks, who are the reigning Caribbean and Pro League champions, will face Guatemalan outfit, Comunicaciones, from 8 pm tomorrow in a decisive CONCACAF Champions League fixture at the Hasely Crawford Stadium, Port of Spain.
Fellow Pro League outfit, DIRECTV W Connection, hosts Costa Rican champion, Deportivo Saprissa, from 8 pm today at the Hasely Crawford Stadium.
Central FC, in an unusual move for the club, did not put its players in a live-in camp before the Champions League fixture. And there is internal suspicion that SIS is trimming its budget, as Mohamdally and Ramlogan prepare exit strategies.
Sancho and Harrison always maintained their intention to return to Central if defeated at the polls and the former Sport Minister said as much in a phone-in to Andre Baptiste's sport programme on I95.5 FM on Saturday 12 September 2015.
Harrison watched Central FC edge W Connection 1-0 last Friday to win the Charity Shield at the Ato Boldon Stadium in Couva. But it is now clear that the players do not wish to see much more of them.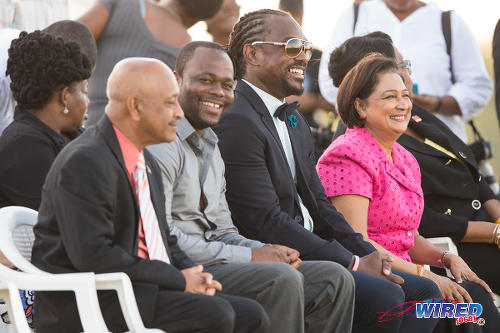 The Central players' show of disgust continues a remarkable fall from grace for Sancho and Harrison, who were key figures behind the now defunct Football Players Association of Trinidad and Tobago (FPATT). Sancho was a founding member of FPATT while Harrison, a former voluntary member of Britain's Professional Footballers' Association (PFA), was its "special advisor."
It is uncertain if either administrator will watch the Sharks play Comunicaciones tomorrow, although Harrison rarely misses games.
Arguably, the TTFA probe might be of more concern to Sancho and Harrison. If the two men are found guilty of improper conduct, the local football body can impose a range of disciplinary measures, which range from warnings to being banned from entering any football stadium and taking part in football-related activities.
Wired868 understands that the pair's response—or non-response—to the TTFA's questions will be forwarded by general secretary Sheldon Phillips to his executive committee for consideration.
The TTFA executive committee could then choose to send the case to its Disciplinary Committee, which is chaired by Newton George. Or it can put the issue before its Ethics or Player Status Committees, which are to be implemented soon under the new constitution.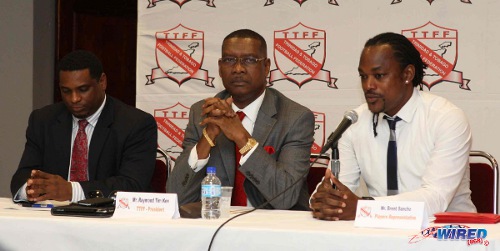 Sancho is a former litigant against the TTFA and, as Sport Minister, repeatedly criticised the football body for a lack of transparency and empathy for its football players.
Editor's Note: Brent Sancho and Kevin Harrison have both written blogs for Wired868 and participated in Wired868's annual football festival.
However, Wired868 will not waver in its goal to provide honest and pertinent news to its readers, regardless of the personalities involved.