Trinidad and Tobago national under-20 footballers Levi Garcia, Kadeem Corbin, Neveal Hackshaw, Jesus Perez and Kishun Seecharan were awarded European entry visas yesterday and are expected to travel to the Netherlands within the coming week en route to trials with undisclosed clubs in Europe.
The parent clubs for 18-year-old Corbin, 19-year-old Hackshaw and 19-year-old Perez agreed verbally to the valuation of the players by Dutch agent Humphry Nijman while 18-year-old Seecharan, who is registered with Defence Force, will be allowed to move on without a transfer fee.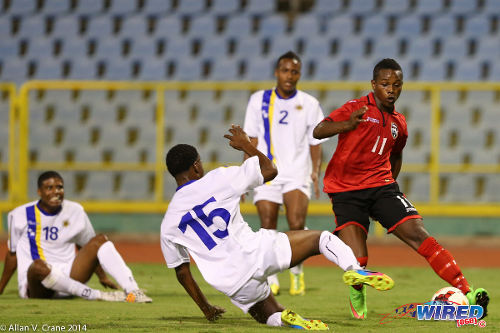 But the football future of 16-year-old Garcia is less certain with Nijman and the teenager's employer, Central FC, at loggerheads over a deal for the talented winger. Central has so far refused Nijman's offer for the teenaged "Soca Warrior" while the agent, for now, is not prepared to make a new one as the fight seems destined for the courts.
Garcia, who is a Form Five student at Shiva Boys Hindu College, has never represented Central in a competitive match and only joined the club in March on a two-year deal. The national under-20 player supposedly indicated his intention to quit school and turn professional with the "Couva Sharks" in July.
However, Garcia's sparkling performances at the Under-20 Caribbean Cup tournament and an approach from Nijman and his local assistant, Dion Sosa, during the competition, changed his flight path considerably.

Sosa and Nijman were responsible for moving Sheldon Bateau, Robert Primus and the now deceased Akeem Adams to Europe where they settled at top flight clubs in Belgium, Kazakhstan and Hungary respectively.
Sosa told Wired868 their plan for the five players.
"They are going to meet with their agent (Njiman) who is based in Amsterdam," said Sosa. "From there, they will branch off to various clubs for three week trials. We will be looking for an academy for Levi because he is under age (to turn pro as a foreigner in Europe); but we are looking at first team football for the rest.
"We are opening a door for them now and their lives can change. It can be good for them, their families and Trinidad football; because the environment they will be exposed to and the teams they will be training with they can only get better."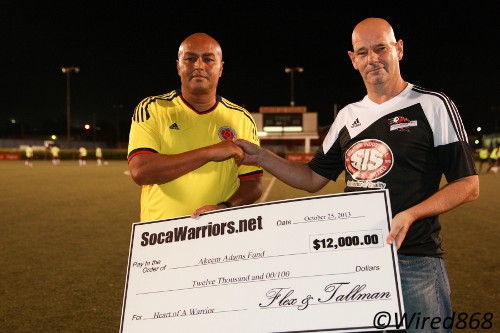 However, Central FC managing director Brent Sancho, a 2006 World Cup player with Trinidad and Tobago, insists that the Sharks do not need help in developing their players or finding them foreign opportunities.
Sancho said that Central signed Yugoslav-born coach Zoran Vranes—to replace the departed Englishman Terry Fenwick—specifically because of his experience in working with youngsters. Vranes was head coach when the national under-20 team booked its place at the 2009 World Youth Cup, which was the last FIFA time that the two island republic qualified for a FIFA competition.
"One of the reasons we went for Vranes as our coach is because we saw we had good young talent coming through," said Sancho, "and Vranes is renowned for not only developing young players but also playing them… But they are filling up the boy's head with all kind of things.
"I have a trial lined up for Levi with Racing Genk (Belgium) and with Toronto (Canada). So it is not as if we are trying to hold him back… But the little boy doesn't train with us anymore so obviously they turned his head and put his family against the club."
Fellow Pro League clubs St Ann's Rangers and North East Stars took a different view to Central with regards to Nijman's offer.
Sancho claimed that Rangers accepted US$15,000 for Corbin, which was supposedly much less than the offer for Garcia. However, neither Rangers club chairman Fakoory nor Sosa confirmed that figure.
Fakoory told Wired868 that he did not want to stand in the way of his talented striker, who was named as the MVP of the Under-20 Caribbean Cup.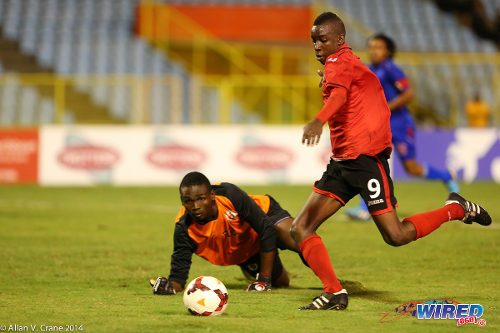 "They talked to me and made me an offer," said Fakoory. "And since the under-20 tournament, Kadeem hasn't showed up at practice once. So what could I do?
"Yes, I came to an agreement to send him on a trial. I had no choice but to let him go for the betterment of the club and to give him an opportunity to further himself."
Stars coach Angus Eve was reluctant to say much on his club's deal with Nijman, which will see Hackshaw and Perez move to Europe for trials.
"I just want the boys to get an opportunity," Eve told Wired868. "I had experience dealing with these agents before with (Sheldon) Bateau while I was at Jabloteh, so I knew what to expect."
But Sancho insisted that Central would not budge and he accused Nijman of underhand tactics and a contradictory approach to FIFA's current efforts to outlaw third party ownership.
Sancho said that he is happy for Nijman to take Garcia on trial and be paid for his work in negotiating personal terms. However, he is adamant that the matter of a transfer fee must only be discussed between the buying and selling clubs while he also insisted a sell-on clause would be inserted into any agreed deal.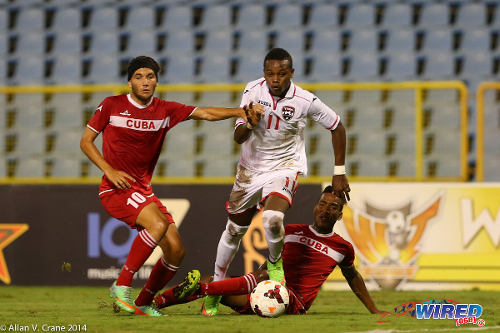 "I find it strange that the agents are trying to buy-out the player and I am not indulging in that kind of practice of selling a player to an agent," said Sancho. "Their problem is that, whatever deal is happening, we want a sell-on clause just like there was for Kenwyne Jones and Khaleem Hyland and the agent said he is not doing it. They want everything for themselves."
His stance was supported by DIRECTV W Connection president David John Williams, who pocketed well over $1 million when Kenwyne Jones moved from Southampton to Premiership club Sunderland due to a sell-on clause.
"If the player is under contract, why do you want to buy out the contract to move them?" asked Williams. "So the (Pro League) club doesn't make any money? When they buy out the contract, they get a big signing-on bonus and they make the money or get their own clauses in the deal."
But Sosa called Sancho's demand ridiculous, particularly as Garcia never played a game for Central and spent less than three months training at the club
"Why should a (European) club pay, house, develop and take care of Levi and, three years down the line, be forced to give Central money for doing absolutely nothing?" asked Sosa. "That is unfair to the (new) club because they are taking all the risk… Why should (Central) get 10 percent for a player they never developed in the first place?
"We made them an offer that is way beyond the player's market value. But Central's demands were not reasonable and we have decided not to give into those demands."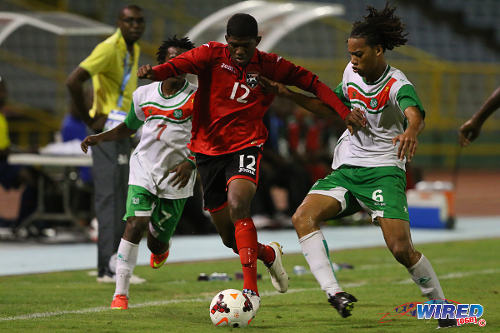 Sosa warned that Central could lose Garcia for nothing as the agents are set to challenge the validity of its contract with the player. Garcia's elder brother, Daniel, accompanied the young man when he signed his professional contract with Central and not his parents.
In a previous interview with the TTFA Media, Garcia credited his brother, Daniel, for being a key motivator in his career
"He's always there for me," said Garcia. "If I have to go training or to a game he will get the taxi or rent a car for me to get there. He pushes me all the time to do better."
But Sosa is certain that Daniel is no position to sign as his younger brother's guardian.
"It is an agreement which was entered into without the consent of his parent and that by itself is illegal," said Sosa. "No minor anywhere in the free world can enter into a contract without the written consent of his parent; and neither his mother nor his father's names are on the contract.
"They took Daniel and had him sign as a legal guardian when both (Levi's) parents are alive. And then they want to turn around and play wrong and strong."
Garcia's mother, Judith Garcia, confirmed that she did not sign an agreement with Central.
"My big son, Daniel, signed it," she said. "I do not want to get into any confusion… But I spoke to Brent Sancho and I told him that I want Levi to go to Europe."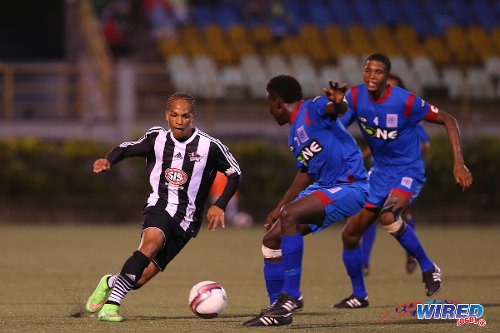 Central director of operations, Kevin Harrison, acknowledged that Garcia's parents did not sign their son's contract but explained why he felt the Sharks still had a claim on the boy's future.
"(Levi) brought an adult to meet us who wasn't a minor and who understood everything (about the contract)," said Harrison. "His parents sat in our office several times after that and they never said they didn't want him to play with us. So if they are trying to say they didn't give us permission they would be lying.
"In fact, everything was great until Humphrey showed up… I have already told (the parents) that no matter what he promises you, Levi isn't going anywhere until we make an arrangement with that (buying) club."
But Sosa believes Central's attitude can only harm the player and is ultimately counter-productive.
"Between his parents and ourselves, we are trying to sort it out in a cordial manner," he said. "And, if not, we will do what we have to. Levi does not want to play with Central.
"These boys—all five of them—are going to a first class, professional environment for the first time, which can only help their development."
Garcia's present teammates at Shiva would be happy to win the Secondary Schools Football League (SSL) Premier title while his classmates are preparing themselves for CXC examinations next May.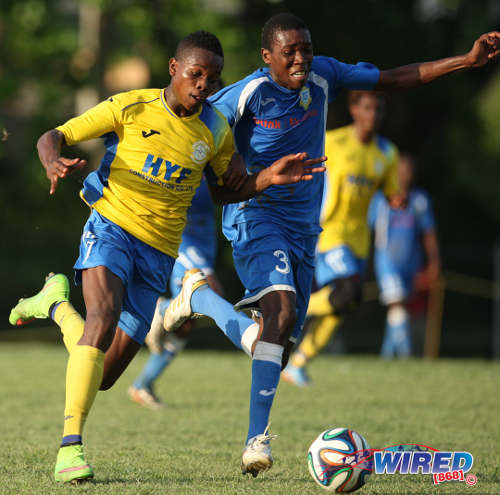 Meanwhile, Garcia is enduring a tumultuous start to his life as a professional sportsman. It is not the sort of tug of war that most footballers are exposed to at the age of 16.
Almost certainly, Garcia's impasse with Central has already cost him the chance of an international senior debut during next week's Caribbean Cup qualifiers as head coach Stephen Hart was unimpressed by his decision to represent Shiva in the SSFL rather than Central in the Pro League.
Garcia will hope to make up for that in Europe; providing that Sancho and Nijman come to an agreement.