The Chancellor Angels moved to within 90 minutes of the inaugural 2015 Women's Premier League title last night with a 2-1 win over CNGC Rush at the Orange Grove Savannah in Tacarigua.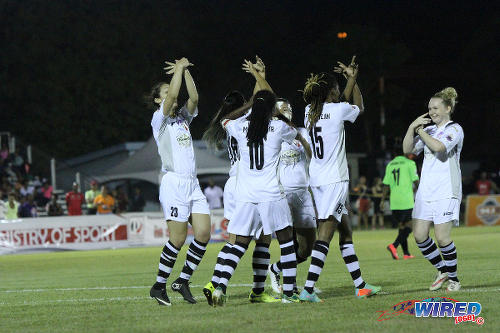 Angels are three points clear of Boom Champions Fuego and, although Fuego has a game in hand, the latter team must play two games in as many days against Petrotrin Oilers (tonight at 7 pm on the Maracas Recreation ground) and Rush (tomorrow at 7 pm on the St James Barracks) as the WPL comes to a frantic close.
Angels were without Trinidad and Tobago captain Maylee Attin-Johnson last night and will not have her services on Thursday either, as she picked up an injury at the Toronto 2015 Pan American Games.
But Jamaican midfielder Jodi-Ann McGregor came good with a brace while their backline, superbly marshalled by American defender Jaclyn Poucel, kept Rush's attacking trio of Ahkeela Mollon, Mariah Shade and Crisbelis Abraham at bay for much of the contest.
Mollon capped off the night with a sublime inventive volley on the stroke of full time but it was not enough for a point or to keep Rush in the title race.

Rush are now second from bottom in the six-team table with four points from as many games and only Thursday's clash with Fuego to go.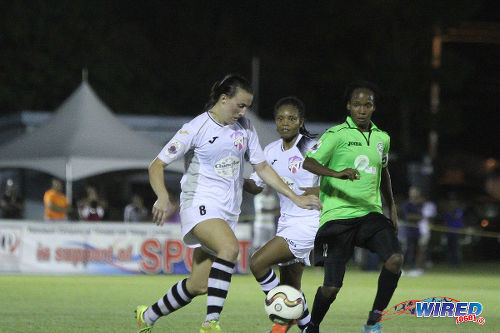 In the opening game of yesterday's double header, pre-tournament favourites, Wave FC, also gave up their title ambitions after a 2-1 defeat to Dragons, who moved off the foot of the table and moved to fourth place.
The Dragons, led by the WPL draft's opening pick Arin King, still have a mathematical chance of winning the competition. But they would need to crush Angels by at least three goals on Thursday while also relying on Fuego to lose both of their remaining matches.
It is a tall order but at least King and company got a result to savour yesterday.
The small crowd that got to Tacarigua in time to see Dragons and Wave kick off was treated to some entertaining football as both teams threatened the goal in the opening moments.
Wave's clinical Jamaican striker Shakira Duncan made her presence felt after just five minutes as she calmly tucked home from close range after being found by a lovely through ball.
It was the Jamaican's third goal in WPL play, which brought her level with Brazilian strike partner Camila Germano and ex-Trinidad and Tobago World Youth Cup player and Petrotrin Oilers attacker Kayla Taylor on the top of the scoring charts.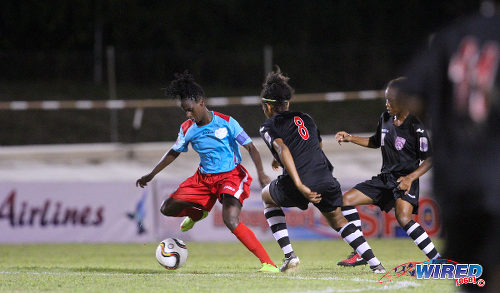 Wave looked the sharper team in the early going, despite the absence of another injured "Women Soca Warriors" star Kennya "Yaya" Cordner, while the Dragons, without King, struggled to deal with the fluent movement of Duncan and Germano.
The pair mesmerised the Dragons defence in the 17th minute with a beautiful 'one-two' but Duncan was unable to repeat her earlier finish as she shot straight at custodian Quezia Proenca.
The Dragons seemed to be struggling to stay in formation as 3-4-2-1 often changed to 3-3-1-3, which left ample midfield space for Wave to control proceedings. If anything, Wave were lax in taking full advantage.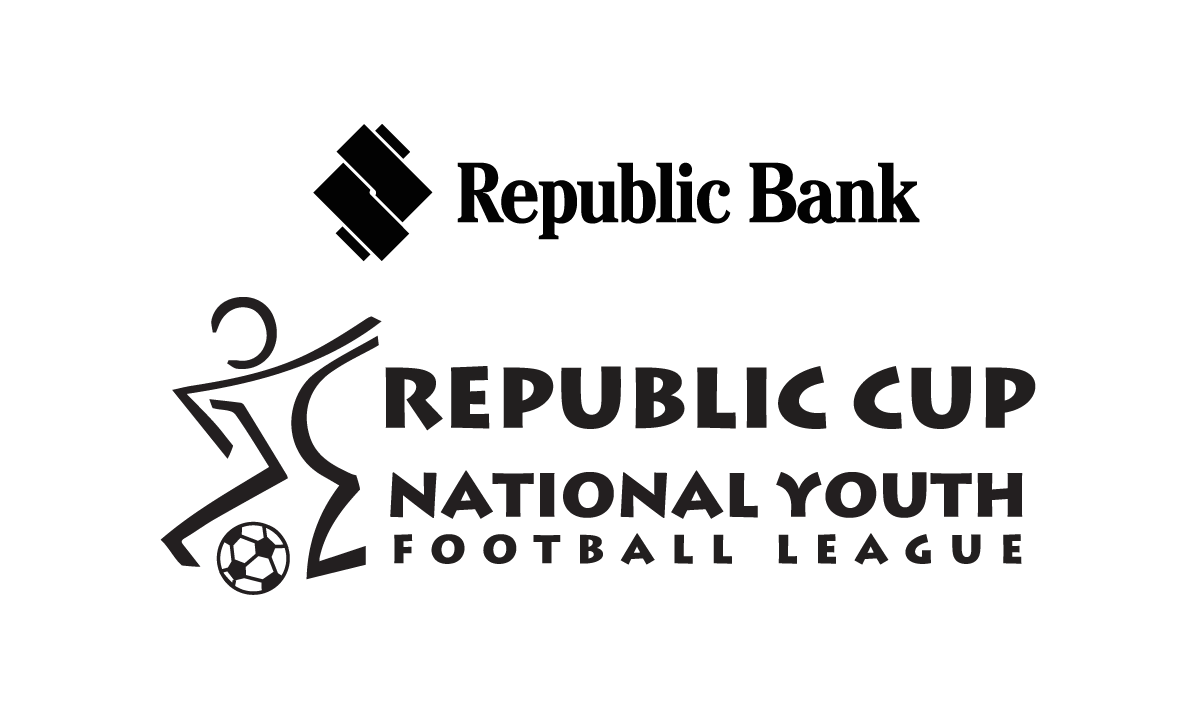 The Dragons finally worked up some momentum just past the half-hour mark as midfielder Jazmin Elizondo threatened Wave custodian Kimika Forbes with two venomous left-footed efforts from distance while British striker Isabella Hayes lobbed an effort off the crossbar in the 39th minute.
Wave seemed to be losing their composure then and Brazilian utility player Joseane "Lulu" Azevedo was lucky not to be cautioned for kicking the ball towards opponent, Thais Amorim, after some aggressive marking.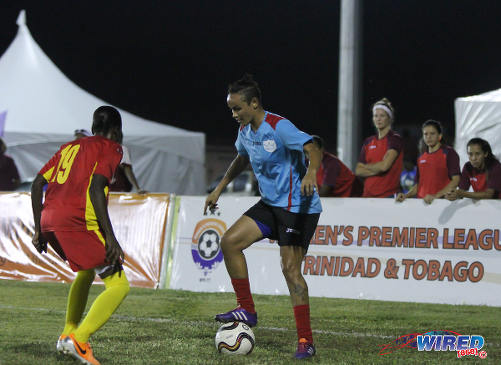 Dragons' Costa Rican coach Karla Aleman probably sensed the turning of the tides and introduced King at the start of the second half.
"Arin was not 100 percent so she did not start," Aleman told Wired868, "but at halftime she warmed up and said she was willing to go for the second half."
King duly inserted herself in central midfield.
The second half started more frantically than the first and Germano could have had a double inside the first ten minutes of the resumption, after two teasing set pieces from Lulu. But Proenca was alert in goal for the Dragons.
Forbes was unable to rest on her laurels at the opposite end either as Dragons attacker Jessica Adams skimmed a curling effort off her upright in the 55th minute.
Wave goal scorer Duncan nearly put the match to bed all on her own in the 63rd minute. She danced and bedazzled the entire Dragons defence—King included—to the delight of the now boisterous crowd, only for Proenca to keep her out with a smart save at her near post.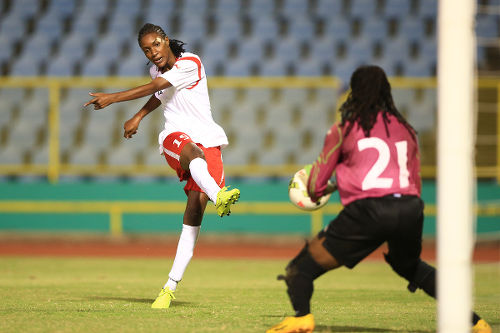 Cue two moments of madness for Wave.
Lulu was cautioned for a rough tackle in her defensive third in the 66th minute and then, almost immediately after, defender Jenelle Cunningham was booked for throwing the ball away. Lulu's yellow was not costly but Cunningham's was. It was her second booking of the contest and Wave had to finish the match with 10 players.
Perhaps this was the lifeline Dragons were waiting on.
Five minutes later, Dragons were awarded a penalty after some rough play by Wave defender Patrice Vincent. Forbes thought otherwise and was booked for remonstrating with the referee.
But Elizondo was not to be distracted by the Trinidad and Tobago international goalkeeper's antics as she pumped home a powerful left-footer. One-all after 74 minutes.
Three minutes later, Elizondo was on cue again as she buried a rebound after a gallant save from Forbes. And Dragons, with King now dictating the play in the middle of the park, were on top.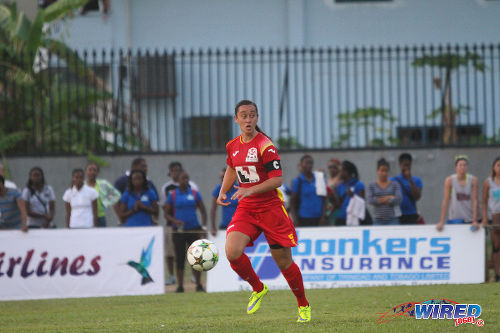 In the dying minutes, Wave had a chance to pull level only for Colombian Laura "Laura" Beccera to drag her penalty kick horribly wide.
"I'm very grateful for the result because it's not just about winning it's about the team getting better with each game," said Aleman. "We've had a big problem with the language barriers with players from all over Central and South America but now we have overcome that and I'm just so happy to be here."
Dragons will have another chance to show their progress against the Angels on Thursday.
Fuego's outing against the Oilers this evening in St Joseph will determine whether the Dragons/Angels match-up would be a title decider.
(Teams)
Dragons (3-4-2-1): 20.Quezia Proenca (GK); 19.Dadie-Va Neise, 2.Kendra Chavarria, 6.Rafaela "Rafa" da Silva; 10.Marissol Moreira, 16.Keyla Moreno (5.Arin King 46), 23.Jazmin Elizondo, 17.Thais Amdrim; 13.Anabel Arevaloz, 3.Jessica Adams; 9.Isabella Hayes.
Unused Substitutes: 1.Maleika Pacheco (GK), 11.Stacy Paul, 8.Alania Burgin, 14.Ashley Mark, 4.Kareem Jordan.
Coach: Karla Aleman
Wave (4-4-2): 1.Kimika Forbes (GK); 2.Samantha Kissoon, 4.Jenelle Cunningham [Red card 68], 10.Laura "Laura" Becerra, 17.Patrice Vincent; 5.Joseane "Lulu" Azevedo (14.Stephanie Beam 83), 7.Shanice Stevenson, 6.Natasha St Louis, 8.Afiyah Matthias; 20.Camila Germano, 9.Shakira Duncan.
Unused Substitutes: 3.Tenesha Cobham, 11.Walida Muhammad, 16.Charissa Delzin.
Coach: Derek Arneaud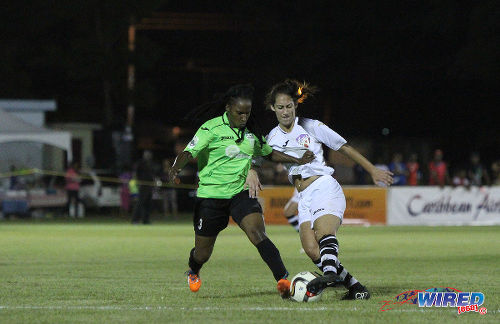 WPL results
(Tue July 28)
SGC Dragons 2 (Jazmin Elizondo 74 pen, 77), Wave FC 1 (Shakira Duncan 5) at Tacarigua
Player of the Match: Shakira Duncan (Wave)
CNGC Rush 1 (Ahkeela Mollon 90+3), Chancellor Angels 2 (Jodi-Ann McGregor 3 pen, 63) at Tacarigua
Player of the Match: Kandace Franklyn (Angels)
Upcoming fixtures
(Wed July 29)
Petrotrin Oilers v Boom Champions Fuego, 5 pm, Maracas Recreation ground, St Joseph;
(Thu July 30)
Chancellor Angels v SCG Dragons, 5 pm, St James Barracks;
Boom Champions Fuego v CNGC Rush, 7 pm, St James Barracks.