"Football was found right here in Palo Seco," a jovial and boisterous Petrotrin Oilers supporter informed guests. "They find football and oil right here. Google it!"
It has been six years since the Palo Seco Velodrome hosted top flight domestic football. Last night, it returned with a bang. And a ponytail.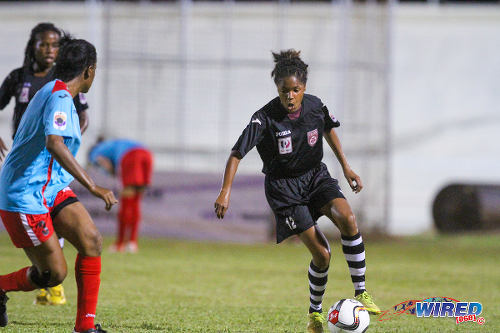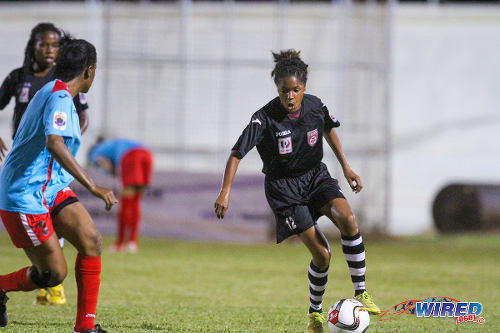 Former Trinidad and Tobago 2010 Under-17 World Cup striker Kayla Taylor was inspired and two swishes of her boot helped the Oilers to a 3-2 win over Wave FC in a WPL double header at Palo Seco.
The result means that Oilers remain unbeaten after two matches while the luckless Wave outfit are yet to register their first point.
And, even more surprisingly, Trinidad and Tobago star Kennya "Yaya" Cordner and pacy Jamaica striker Shakira Duncan—the WPL's most menacing strike force on paper—are yet to score.

"Everybody knows what they can do and everyone is putting players on them and marking them up," Wave coach Derek Arneaud told Wired868. "They are taking a bit too many touches sometimes… But give them the ball into space and they can finish you."
If Arneaud is perplexed at the offensive failure of his extravagant attacking team thus far, spare a thought for Dragons coach Karla Aleman.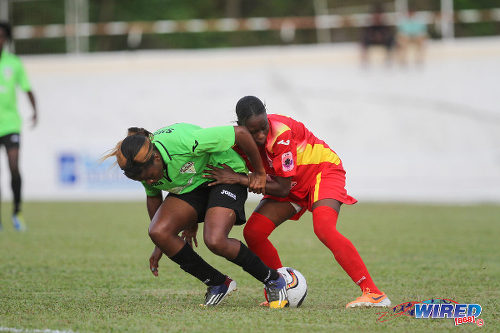 Aleman, a former Costa Rica National Women's Team coach, made solid "Women Soca Warriors" defender Arin King the first pick of the draft and paired her with international teammate Lauryn Hutchinson in central defence. Yet, the Dragons have now conceded eight times in two matches.
Yesterday, CNGC Rush were the ones delivering the punishment as they spanked the Dragons 3-0 in the opening WPL fixture.
"Definitely the wing back (area) was their weakness and we recognised that from their last game," Rush coach Marlon Charles told Wired868. "It was the same players who played (yesterday), so we tried to take advantage of that."
Last year, Trinidad and Tobago Football Association (TTFA) general secretary Sheldon Phillips' haste to replace Charles as National Women's Team head coach with American Randy Waldrum was one of the early talking points of the W/Warriors' exciting but unsuccessful World Cup campaign.
Well, the WPL has offered local coaches equal footing with foreign or overseas-based ones and maybe we will see their worth for ourselves by the final standings. For now, Charles is unbeaten from two games and doing quite well with players that speak three different languages and come from a handful of nations.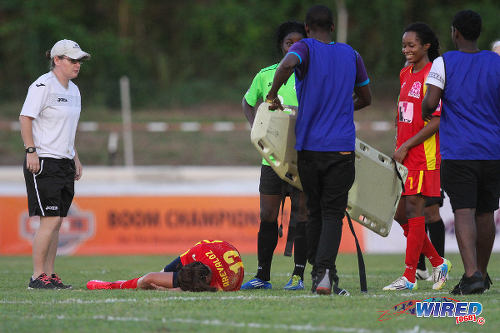 After a tame opening in last week's draw with Oilers, Charles' South American contingent stood up in Palo Seco, as Venezuelan Chrisbelis Abraham opened the scoring with a calm finish after being sent clear in the 37th minute. Brazilian midfielder, Pri, doubled their advantage two minutes later with a thumping finish at the near post.
And Rush never looked back.
"I think the organisation in the front six was much better because we have some foreign players and the understanding wasn't there," said Charles. "We try to play simple out of the back and attack as quickly as possible and the key is (controlling) the middle of the field. We played well but we still can improve on it."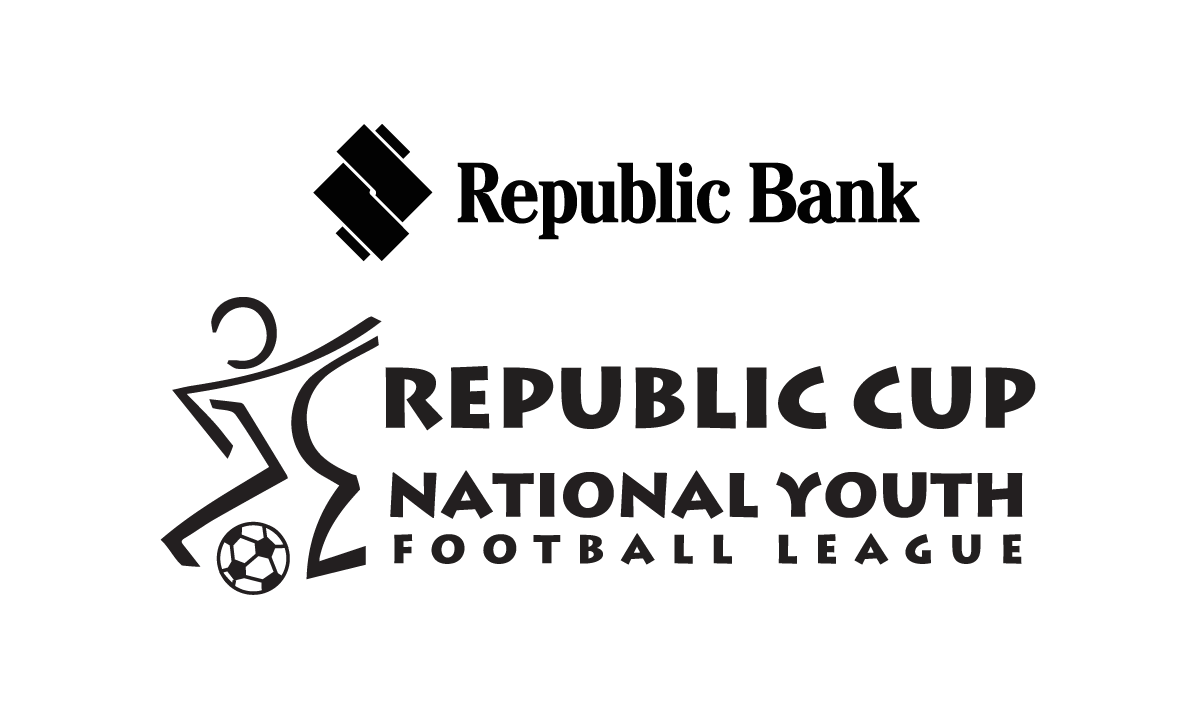 Rush captain Ahkeela Mollon, Trinidad and Tobago's sole female export to the European professional circuit, was more productive from open play yesterday. And her crossing caused no end of worry for the Dragons.
In the 85th minute, Hutchinson tried another of her improvised backheeled clearances, while facing her own goalkeeper, and inadvertently flicked it into her own net for Rush's third item.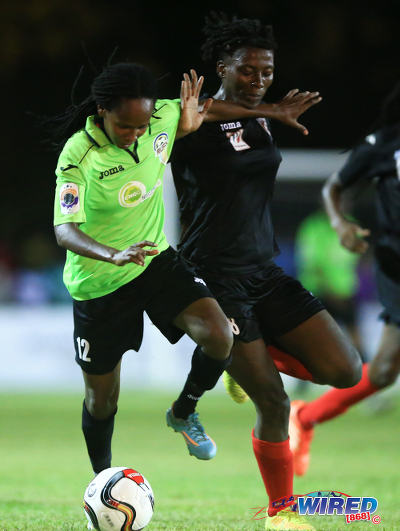 "I still think Darcelle (Mollon) could have been a little bit more controlled," said Charles, who suggested his captain is only getting warmed up. "It is not every time you will try to take on (your opponent). You have to look at your angles and, if the angles are not right, you cannot run past your wingback no matter how quick you are."
Oilers coach Rajesh Latchoo, who is the current boss of the Trinidad and Tobago National Under-17 Team, is also relishing the chance to showcase the abilities of not just local players but local coaches as well.
"We have to prove something because many times we always think outside is better," said Latchoo. "But we do believe in ourselves and as long as these girls continue to play with desire, it will help to show that we are good enough to compete with them.
"We just need the resources and the opportunity."
Oilers are the only WPL outfit with a fully local starting team. Their players comprise of local and United States-based students who have chosen to retain their amateur status, so as to be eligible for or maintain scholarships in North America.
The Oilers might be unpaid but they did not lack for heart. They were not short of love either.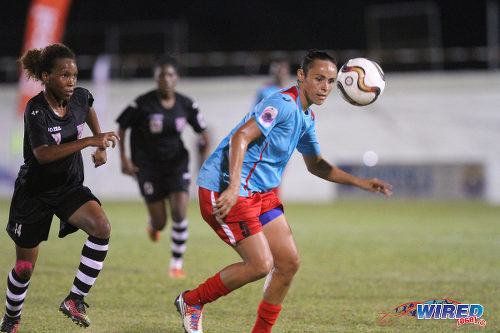 "Kayla for prime minister!" shouted one exuberant supporter, in support of the slender, nippy striker.
God knows if Taylor will ever wander into politics. But she did make the most of a dodgy decision from the authorities yesterday.
Wave defender Lulu brought down Taylor, just outside the penalty area in the eighth minute. Referee Keilon Bacchus pointed to the penalty spot.
It was not just that Bacchus was wrong. But it seems inconceivable that he could not have realised it.
Lulu did not move from the point of contact. And she was at least a yard outside the Wave penalty area. Everyone in a blue shirt pointed to Lulu and the spot of the infringement.
But Bacchus refused to acknowledge his mistake and Taylor smashed in the penalty before turning to salute the crowd.
"The first goal was a very iffy goal," said Arneuad, who has already proven himself to be a master of understatement.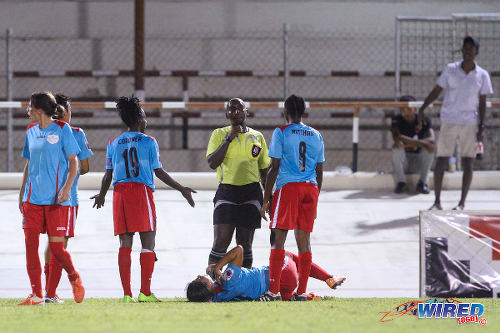 Six minutes later, Lulu's night got worse as she inadvertently deflected a Karyn Forbes free kick past her own goalkeeper for the Oilers' second item.
Waves got a penalty themselves in the 38th minute and, guess who, Lulu stepped up to thump it past Oilers custodian Shalette Alexander to halve the deficit.
But there was no stopping Taylor who got her double with style in the 43rd minute. This time, she controlled a Shenelle Henry cross with her back to goal and, before you could blink, she flicked the ball in the opposite direction past a startled defender and then belted past Wave goalkeeper Teneisha Palmer.
"She reminds me of (former Trinidad and Tobago and St Benedict's College icon) Leo "Twinkle Toes" Brewster," said Charles.
That is high praise in south Trinidad.
"I am from Santa Flora so that is right up the street," said "Twinkle Toes" Taylor. "The home crowd here is always the best. It was an advantage for us and we used it to the best of our ability."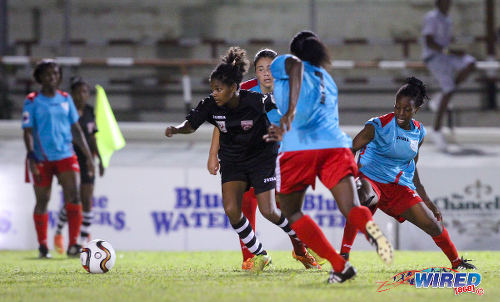 Arneaud had seen enough.
"In the second half, we did what we should have done in the first half," said Arneaud. "We put a man to mark her and stay on her all the time."
Latchoo did not wait for Cordner to do damage before he sought to shut her down.
"We had to sacrifice pressuring their left back to double up on 'Yaya'," said Latchoo. "Chevonne (John) might might win seven out of ten tackles. But those three might cost us against a player of Yaya's quality. So we had Henry drop back to help."
Wave pulled a goal back with a looping Patrice Vincent header off a Shanice Stephenson free kick in the 54th minute. By then, Cordner had drifted infield and was becoming more involved, as Oilers midfielder bouncer, Victoria Swift, started to wane.
Jenelle Cunningham appeared to have found a way to contain Taylor too, as the 20-year-old attacker looked increasingly isolated. But the damage was already done and the Oilers held on for the win.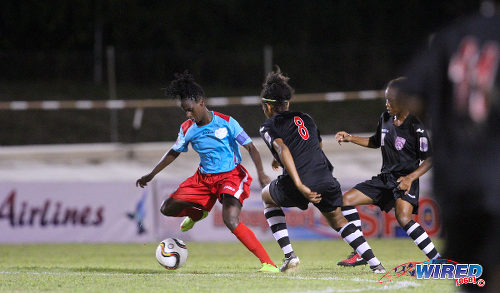 "I have to attribute the success to the girls' effort and their will to win," said Latchoo. "At halftime, we told them that if you want to win you have to go out and fight and win every tackle and survive.
"Yes, we got broken down at times and we dropped our performance in the second half because the girls have difficult schedules. But they put the effort out and our captain (Forbes) was amazing."
It is back to the drawing board for Arneaud, whose talented Wave squad will surely whip an opponent sooner rather than later.
"It was a well played game by both teams," said Arneaud. "I felt we had the better game in the second half and I am unhappy that we lost. But I'm happy that we played well.
"We gave the crowd something to see."
Taylor credited the Oilers' early form to chemistry. Unlike their WPL opponents, the majority of the Latchoo and Arnold Murray-led squad knew each other before the hastily arranged tournament.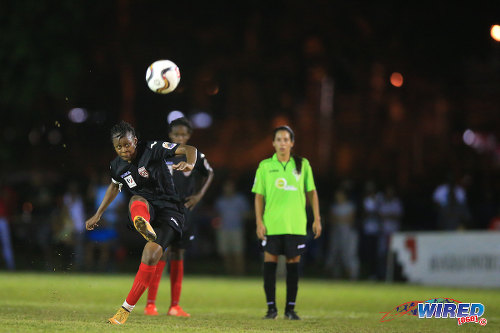 "We have an advantage because we know how each other play," said Taylor. "We already have that talent too so it is just about executing."
They will not be easy opponents, especially in Palo Seco.
(Teams)
Petrotrin Oilers (4-1-4-1): 21.Shalette Alexander (GK); 14.Chevonne John, 5.Karyn Forbes (captain), 6.Khadisha Debesette, 18.Rinelle Findley; 10.Naomie Guerra (9.Stephanie Bonilla 80 [2.Tamara Johnson 90]); 13.Shenelle Henry, 3.Shenelle Arjoon, 8.Victoria Swift, 11.Khadidra Debeette (7.Denecia Prince 70); 12.Kayla Taylor.
Unused substitutes: 1.Keri Meyers (GK), 4.Shanicar Diamond, 19.Della Joseph, 24.Collette Morgan.
Coach: Rajesh Latchoo
Wave FC (4-3-3): 21.Teneisa Palmer (GK); 3.Teneisha Cobham, 5.Joseane "Lulu" Azevedo (2.Samantha Kissoon 88), 4.Jenelle Cunningham, 17.Patrice Vincent, 8.Afiyah Matthias (16.Charissa Delzin 81), 7.Shanice Stephenson, 10.Laura "Laura" Becerra, 9.Shakira Duncan, 20.Camilla Germano (6.Natasha St Louis 68), 19.Kennya Cordner,
Unused substitutes: 13.Tisha Lee Spicer, 14.Stephanie Beam.
Coach: Derek Arneaud
Referee: Keilon Bacchus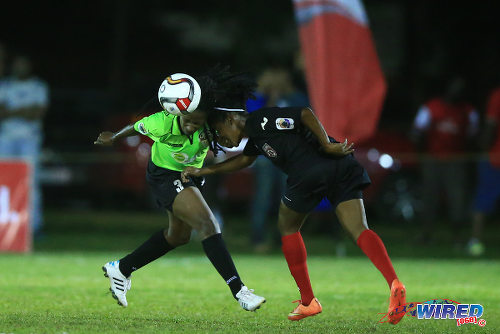 WPL Results
(Sat Jun 27)
CNGC Rush 3 (Chrisbelis Abraham 37, Pri 39 Lauryn Hutchinson OG 85), Dragons 0 at Palo Seco;
Player of the match: Pri (Rush);
Petrotrin Oilers 3 (Kayla Taylor 9 pen, 43, Lulu OG 15), Wave FC 2 (Lulu 39 pen, Patrice Vincent 54) at Palo Seco;
Player of the match: Kayla Taylor (Petrotrin Oilers).