Central FC are dusting the trophy cabinet now. On Tuesday night, Trinidad and Tobago will have a brand new football champion as the "Couva Sharks" all but sewed up the 2014/15 Pro League crown with a 5-2 win over Point Fortin Civic that was nowhere near as straightforward as the score summary suggests.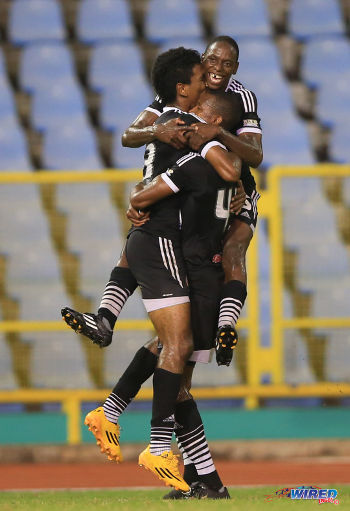 Defending champions DIRECTV W Connection face Police FC from 6 pm on Tuesday at the Ato Boldon Stadium with only an implausible mathematical chance of retaining their title.
Connection must defeat Police and, in their final match, San Juan Jabloteh while hoping that Central loses against Stars from 8 pm on Tuesday night at the same venue. Even then, Connection must claw back a whopping 16 goal differential between them and their cross-town rivals.
The "Savonetta Boys" have pulled off dramatic final day triumphs before; but surely even Walt Disney could not sell a great escape of this magnitude.
There was no champagne at the Hasely Crawford Stadium last night but the smiles said it all as the men in black punched the air, hugged supporters and screamed for joy after the final whistle.

The mood was probably more sober at the Mannie Ramjohn Stadium in Marabella yesterday afternoon where Connection kept their faint hopes alive with a 2-1 win over Caledonia AIA. Jomal Williams and the free scoring Jerrel Britto scored on either side of the halftime whistle for Connection while Conrad Smith got a consolation goal for the "Eastern Stallions."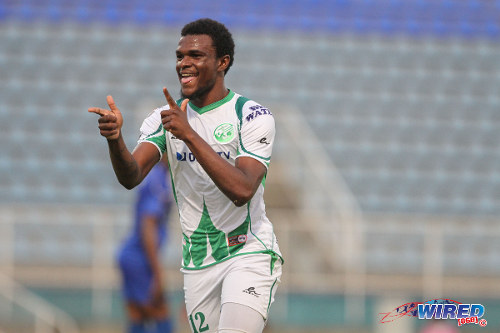 It was hardly enough to give the Sharks the shakes. Connection needed a miracle. But then it was shaping up to be an odd Friday evening in Port of Spain.
For starters, St Ann's Rangers got a point. Do not adjust your computer screen.
After five months and 18 successive defeats—17 in the Pro League and one in the TTFA FA Trophy competition—Rangers finally managed a draw for only their second point of the season as they held an uninspiring North East Stars to a 1-1 tie.
Keron Cummings ran on to a deflected shot to put Stars ahead in the 26th minute. But, one minute before the halftime whistle, Rangers drew level as former club captain Jelani Peters crossed for a simple tap in to the current skipper Sayid Freitas.
And Rangers goalkeeper Christopher Biggette spent the closing minutes ushering the ball to the far corners of his penalty area to waste time as his team and new coach Ron La Forest finally snapped an embarrassing losing streak.
There was much more than pride at stake for Central in the second match of the double header, though, as the Sharks looked to the history books.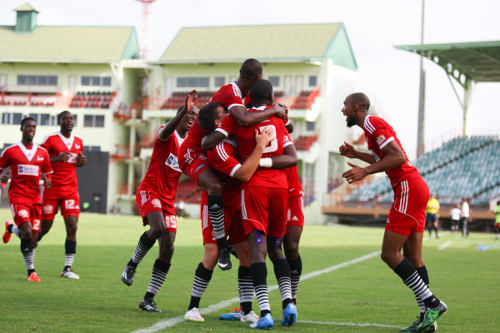 It was probably shocking and fitting simultaneously that Terry Fenwick was on the bench for the occasion. Most people who leave their vehicle and head off to distant lands for 11 months return to find their car without tyres or an engine.
Fenwick reclaimed Central sitting atop the standings with just three league matches left in the season. Perhaps the fourth official should search the Englishman's pockets to see if he is hiding a Leprechaun.
God knows what former Central head coach Zoran Vranes might be concealing after he somehow lost his job despite being in first place at the time.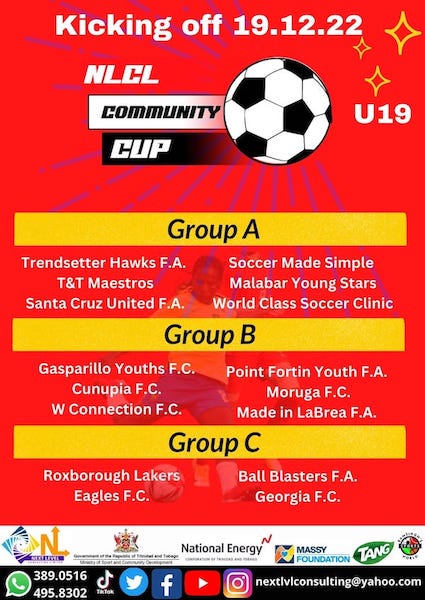 Statistics would sure that Fenwick's return coincided with a 3-0 win over Jabloteh and last night's 5-2 triumph over Civic. But it was not nearly so simple.
Against Jabloteh, the Sharks finished the match playing just eight opponents and, yesterday, it was not until the 80th minute that Central finally looked secure. Although the teams did not always look so evenly matched.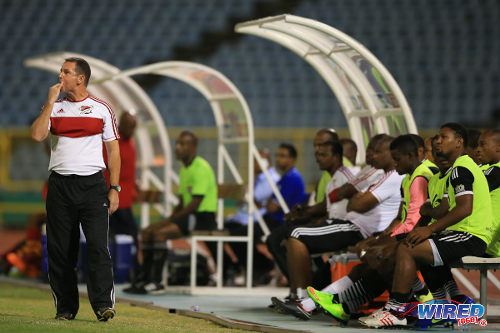 Just 10 minutes into the affair, Central were a goal and a player ahead as Jamal Jack expertly headed home a well-worked Sean De Silva free kick after two minutes and 43 seconds. While, in the ninth minute, Civic captain and central defender Andre Ettienne was shown a straight red card for a late, wild lunge at Central playmaker Ataulla Guerra.
Up in the stands, the "Central Choir" celebrated Willis Plaza's sly flick through the legs of opposing defender Weslie John.
"You got a nutmeg," they sang mischievously, "go home and make a punch."
Ettienne apart, Civic had no intention of taking this sort of thing lying down, though.
In the 18th minute, you could hear a pin drop as Andre Toussaint collected from teammate Marcus Joseph and picked out Shackiel Henry with a precise far post cross that the latter player converted for the equaliser.
On paper, Civic had 10 players. But it would be a long time before Central defender Akeem Benjamin stops hearing Joseph's galloping footsteps. While every time Plaza so much as glanced at the opposing goal, John hopped in the way.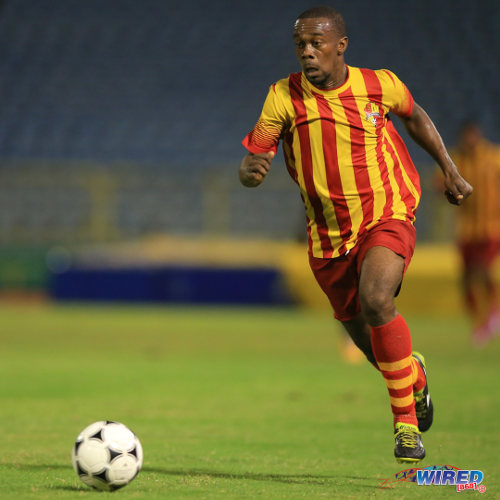 It was the shorthanded team that enjoyed some momentum at the interval and it was little surprise that Central emerged from the tunnel last for the second half.
Whatever Fenwick said during his lengthy halftime chat seemed to have made little immediate impression as, within three minutes of the restart, Joseph put Point Fortin ahead with a deflected shot past Central goalkeeper Jan-Michael Williams.
Civic's lead lasted just three minutes before Central right back Kaydion Gabriel pulled the Sharks level with a fine angled drive after interplay on the edge of the opposing area by De Silva, Plaza and Guerra.
But, thereafter, Central stalled; unable to find a way past the perceptive and athletic John who seemed to be putting in a double shift to cover for his absent and temporarily disgraced captain.
Fenwick sent on speed merchant Darren Mitchell and striker Dwight Quintero and then former World Youth Cup captain Leston Paul. But it seemed that nothing could break Civic's resolve.
In the end, maybe it was fatigue that undid the men from deep south. Joseph was not holding up the ball quite as well or running at his opponents as often while, with Quintero's introduction, John was now chasing two strikers instead of one.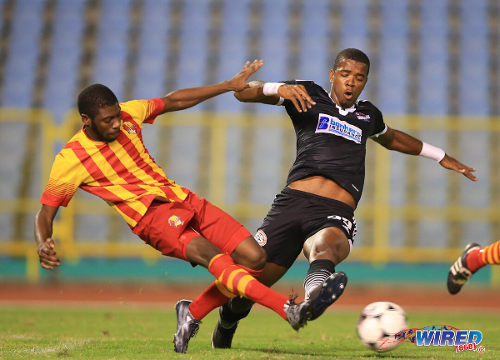 When the killer blow came, though, Guerra was the one standing over the body, even if he was last on the score sheet.
In the 80th minute, the "Soca Warriors" released his international teammate, Plaza, in the Civic box and, for once, John could not get in the path of the shot. Bang! The ball whistled past goalkeeper Marvin Phillip at his near post.
Five minutes later, Guerra led Central's charge on the counter and threaded his pass into the run of Quintero who stepped inside Glen Sutton to drive emphatically to Phillip's left.
And, on the stroke of regulation time, Guerra conjured up a cruel fifth as he collected on the edge of the area, after a flurry of passes, and stroked a low curling effort past Phillip's despairing grasp to complete the flattering score summary.
Perhaps Marvin Oliver was Central's most influential player when the entire season is taken into account. But Guerra, the playmaker whose tally of 14 goals is the third best in the league, decided more fixtures than any other player this season.
This was the season that everyone has been waiting for from John John's rough diamond.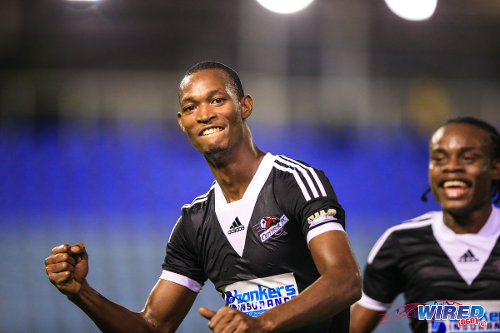 And Fenwick?
If you're shipwrecked, forget about a lifeboat. Just make sure you're close to the unsinkable Englishman.
(Teams)
Central FC (4-2-3-1): 21.Jan-Michael Williams (GK); 15.Kaydion Gabriel, 2.Elton John, 5.Akeem Benjamin, 3.Keion Goodridge; 10.Marvin Oliver, 12.Jamal Jack (6.Leston Paul 65); 7.Jason Marcano (11.Darren Mitchell 57), 45.Ataulla Guerra, 8.Sean De Silva (99.Dwight Quintero 57); 33.Willis Plaza.
Unused substitutes: 1.Javon Sample (GK), 14.Jean-Luc Rochford, 17.Marcelle Francois, 19.Nathaniel Garcia.
Coach: Terry Fenwick
Point Fortin Civic (4-2-3-1): 1.Marvin Phillip (GK); 15.Ronell Paul (23.Kevin Rouse 75), 5.Andre Ettienne (captain) [Red card], 4.Weslie John, 19.Andrei Pacheco; 12.Glen Sutton, 7.Kelvin Modeste; 6.Akeem Redhead (3.Steven Joseph 62), 11.Andre Toussaint (vice-captain), 99.Shackiel Henry; 10.Marcus Joseph.
Unused substitutes: 52.Akini Adams (GK), 9.Matthew Bartholomew, 13.Tevin Belfour, 20.Jamille Boatswain, 27.Bevon Bass.
Coach: Leroy De Leon
Referee: Rodphin Harris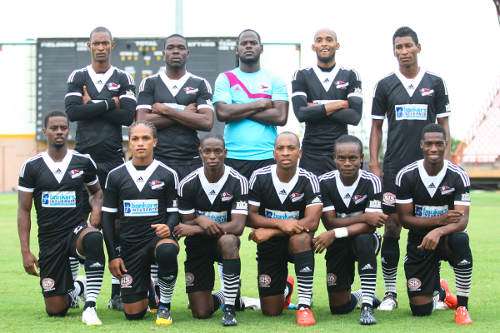 Pro League results
(Fri Apr 24)
W Connection 2 (Jomal Williams 14, Jerrel Britto 55), Caledonia AIA 1 (Conrad Smith 59) at Marabella;
North East Stars 1 (Keron Cummings 26), St Ann's Rangers 1 (Sayid Freitas 44) at Port of Spain;
Central FC 5 (Jamal Jack 3, Kaydion Gabriel 51, Willis Plaza 80, Dwight Quintero 85, Ataulla Guerra 90), Point Fortin Civic 2 (Shackiel Henry 18, Marcus Joseph 48) at Port of Spain;
Upcoming fixtures
(Sun Apr 26)
San Juan Jabloteh v Defence Force at Malabar;
(Tue Apr 28)
W Connection v Police FC, 6 pm, Ato Boldon Stadium;
Central FC v North East Stars, 8 pm, Ato Boldon Stadium.