"Obviously it is at the Prime Minister's will to deliver what he or she sees as a just reward (for Olympic athletes)," Sport Minister Brent Sancho told Wired868. "As much as I would like to standardise it, it will always come down to what they want and the emotions of the country at that point in time… But it is something that I think needs to be visited to see if we can have a common approach to it."
Just one month into the job, Sport Minister Brent Sancho sat down to discuss his vision for the ministry and respond to questions from Wired868. The following is the second instalment in our chat with the former Central FC chairman and 2006 World Cup defender: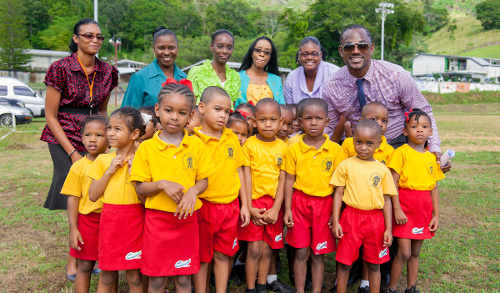 Wired868: The 4×100 relay team was rewarded by the Government for finishing third at the 2012 Olympic Games. They hope to be moved up to silver due to disqualification by doping of US sprinter Tyson Gay and they feel their reward should reflect a second placed finish.
What do you think of their case? And should their be standardised rewards for athletes based on performances in international meets?
(The Trinidad and Tobago 4×100 metre team of Richard Thompson, Keston Bledman, Emmanuel Callender and Marc Burns are uncertain as to whether they will receive silver medals from the IOC although Gay returned his medal in May 2014).
Brent Sancho: My answer to that is two-fold. We should have a policy in place. One of the things I think we should have is a buffer between the Ministry and the sporting bodies like a board or committee that can take these different ideas and wants and be able to give recommendations to the Ministry.
For example, I am not moving away from the 4×100 team, but if I am given a proposal from a hockey team because I am not an expert I will need a committee who can say this is justifiable and recommend that they should be given and so on…
Wired868: And what about rewards for athletes?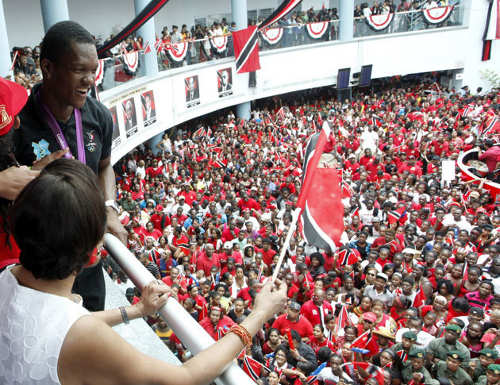 Sancho: They can help with that too. I think one of the problems we see in this Ministry is that people have done things based on their emotions and feelings and in sport you can't do that. Obviously it is at the Prime Minister's will to deliver what he or she sees as a just reward. As much as I would like to standardise it, it will always come down to what they want and the emotions of the country at that point in time.
So there is always a challenge to say we can standardise it because circumstances vary. But it is something that I think needs to be visited to see if we can have a common approach to it.
Wired868: We have the 2016 Olympic Games coming up now. If we get four gold medals and seven bronze, the bronze medalists may not get anything whereas if we get two bronze alone, then the two bronze medalists may get huge awards. 
With that in mind, should we push to have something in place now to reward based on merit and not emotion?
Sancho: Yes. I think we should have something standardised but we should also have provisions in place for if the Prime Minister believes it should be merited extra or merited less.
Some may argue if another team were to qualify for the (FIFA) World Cup, obviously it would not have the same impact as the 2006 team. So we need to take all those things into consideration and give it some flexibility so that, if the Prime Minister of the day wants to add or decrease, they should be able to do so.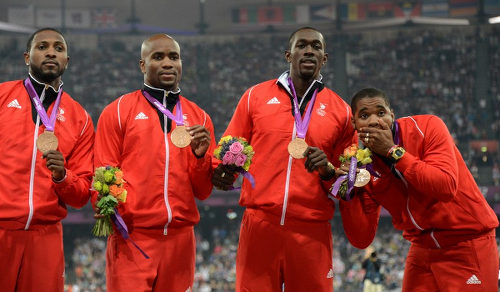 Wired868: Any word for the 4×100 team?
Sancho: It is something I will have to look into. I am only guided by what has happened and transpired in the past and obviously I will have to talk to the Permanent Secretary and deputy Permanent Secretary on how they see fit (to deal with it). Money will always be an issue here because a lot of money has been… As much as I want my ministry to be athlete-based and I want to give athletes incentive to do well, I also have to be cognisant of the fact that I am dealing with taxpayers dollars and I cannot spend it frivolously and willy-nilly. But at the same time, I believe rewards should be given to those who deserve to be rewarded.
Wired868: Do you think, in this specific case, their suggestion that they got a third place prize and should rightly be given a second place one has merit?
Sancho: I need to examine the entire scope of it. It is difficult to say from a layman's point of view. I was an athlete once and they will always want. (Smiles)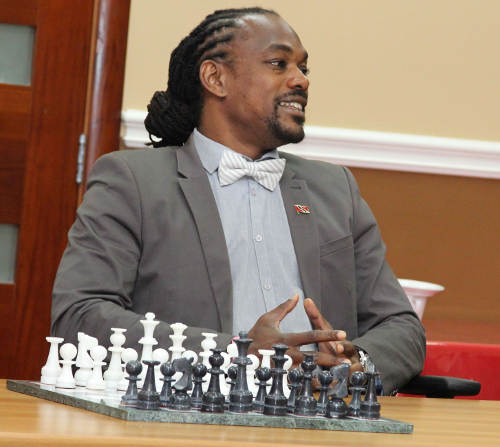 Wired868: What about the elite athlete funding that has been shrouded behind a veil of secrecy (under former Sport Minister Anil Roberts)? Should the public know every cent that is spent and to whom?
Sancho: Once you're spending taxpayers dollars, the taxpayer needs to know. That is my bottom line… In terms of the elite funding, what I have found out is that it was done on a person's feeling at the time and it did not seem to have followed any guidelines. And we also have to take into consideration that some sports will need a bit more. So it is very challenging to standardise. We also have to be realistic about a person's achievable goals… It is a very contentious subject because of the discrepancies of the past and it is something that has taken up a lot of my time.
Wired868: As you mentioned discrepancies, can you tell us anything about the LifeSport probe?
Sancho: That does not fall under me. That has gone over to the police and to the Ministry of National Security. They are looking into it.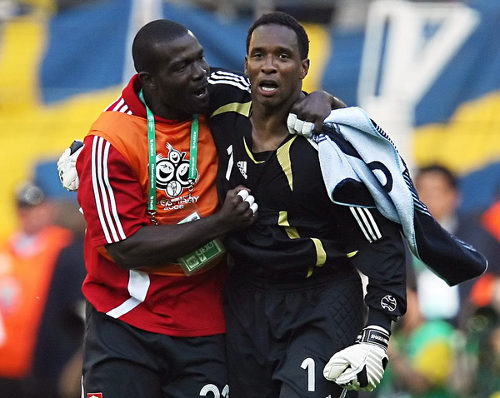 Wired868: Can you update me on your role with the World Cup 2006 bonus case?
(Sancho is one of 13 World Cup players who successfully sued the TTFA for unpaid bonuses although the judgment is yet to be satisfied).
Sancho: I've obviously had to recuse myself from being part of it because of it possibly being deemed a conflict of interest. So I have recused myself.
Wired868: But you are still party to the case?
Sancho: I would say even 'no' in the sense that I haven't had any knowledge of what is transpiring. I know before I took the post that there was a lot of talk about the next step and I believe that will be soon. I don't believe it has stalled. I believe it is in a planning process before moving forward and that is the last I've heard of it.
Everyone knows how I feel about my 13 comrades who are involved in it. But I have taken up a post to represent the people of Trinidad and Tobago so I will have to respect that post and obviously recused myself from being part and parcel of anything to do with the court case.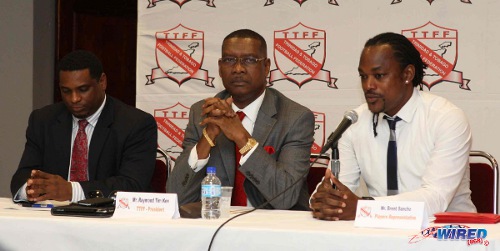 Wired868: Have you met (TTFA president) Raymond Tim Kee in an official capacity as Sport Minister yet?
Sancho: I have met (TTFA officials) Sheldon Phillips and William Wallace but not Tim Kee. He must be a busy man. (Laughs) I've met all the (sport) presidents except for Tim Kee. But I think I've been most generous to football as we are now working feverishly to get them that parcel of land so they can get their Goal project. And we are also now trying to assist them for both the Gold Cup and the World Cup.
And I even went in my capacity to add the women's team (to an international fixture on March 27) so they can get games coming up and I'm also looking at having the first women's professional league soon.
Wired868: Considering the issues that the (male) Pro League is having now, do you think that is feasible and realistic?
Sancho: I think the Pro League is a lesson and a blueprint to start something on a smaller basis using the MLS model. Meaning that this league I am looking at is the brainchild of the ministry and the business side of it will make sure that the club survival is based on the sole entity concept.
I feel quite confident and there has been encouraging feedback from corporate Trinidad… The women are high in the memory of corporate Trinidad at the moment. I think it is a tragedy that these girls have not kicked a ball since the (FIFA World Cup play off against) Ecuador…
There is a massive gap from school and league football to national football (at present).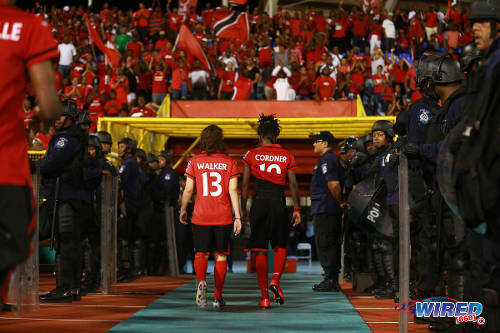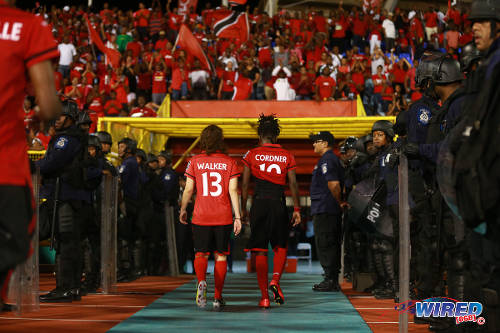 Wired868: You've said sponsors are responding well. How advanced are these talks then?
(The Sport Minister held a symposium on the prospective women's professional league after this interview. The operating cost of the women's league was given at roughly TT$3 million per season).
Sancho: There has been a lot of planning… One of the things we want to do in the next two or three weeks is have a symposium with corporate Trinidad and all of the sporting bodies, clubs and athletes to discuss corporate involvement and what it takes to stimulate the corporate dollars. I think a lot of organisations and athletes don't understand what they need to do and I think some companies don't understand how they can help…
Wired868: How soon do you plan for that league to kick off?
Sancho: I am looking for an end of May start.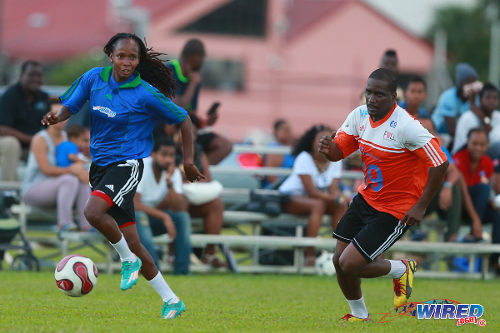 Wired868: Will this be about the current women's league getting a cash injection or are we talking about a totally different league?
Sancho: It will probably be a new three month league but we have discussions with the management of WOLF and it will be something that will raise the bar of women's football in the country. We are also talking about bring women from overseas to participate and having higher training regimes and exposing our players to a more concentrated effort in terms of women's football.
Wired868: What will the minimum wage be?
Sancho: There will be a provision for school players to have a stipend. So we are still toying with the idea of what a minimum wage will be. But this league isn't designed to make anyone a millionaire or to be able to live off it in year one. But what it does is give women players the capacity to play football for three months of the year, coupled with international friendlies around it.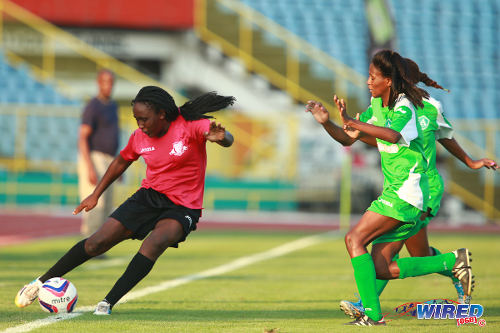 Wired868: What is the most surprising thing you have found since you took over this post?
Sancho: A lot of people like to talk about wastage and squandering in different governments but a lot of what I've seen is wasted within the middle order, which is the public service…
(This is) where procurement and procedures went out the window and people just felt they could go and do what they want. And this dates back 10 or 15 years… I feel aggrieved being a former athlete because I know some of the funds I've seen wasted would have produced many world champions for this country.
Wired868: What do you think is your biggest challenge?
Sancho: The biggest challenge I feel is getting the sporting boards and bodies to stop thinking that the ministry of sport owes them money or is compelled to pay for everything. And also to get the sporting organisations to realise they have to run their own affairs and show the ability to raise their own funds…
Sport is big business and they have to run it as such.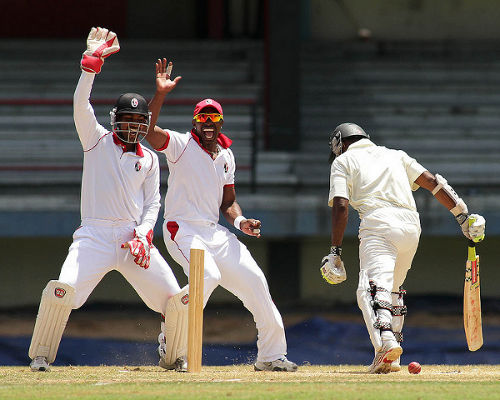 Wired868: How will we get more accountability for taxpayers money from the TTFA and other sport bodies?
Sancho: We have given the football federation a March deadline to bring in their accounts… Once we put the policies and procedures in place, it will be very clear. There will be certain things they have to adhere to and, if they don't, they wont get the funding. It is cut and dry as that…
We expect all sporting bodies to follow suit or they will not be funded. The days of happy-go-lucky spending of taxpayers dollars are done… Transparency, accountability and proper procurement will now be a main part of how we do things.
Wired868: If the TTFA doesn't raise a cent for its World Cup campaign, what happens then? Does the government come in and underwrite everything?
Sancho: No. I think that is one of the things that we are looking at. We need to see a comprehensive business plan. They need to start helping themselves. We have met with some sporting organisations that have done a tremendous job in raising their own funds.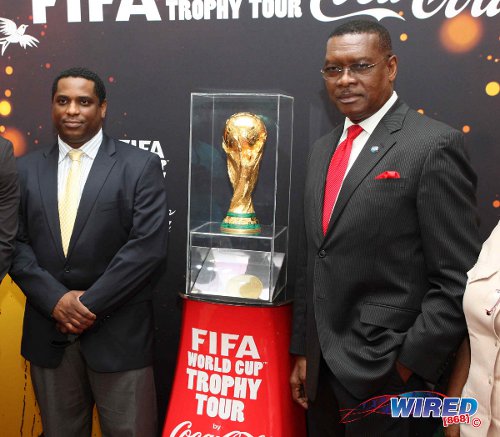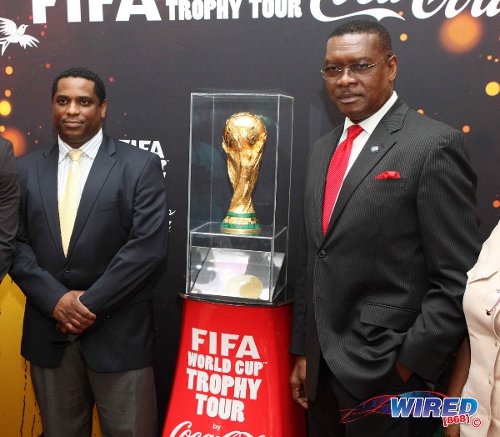 Wired868: Can you give me an example?
Sancho: We have just met with the Trinidad and Tobago wrestling association who are about to become an official sport body… and also cricket and the automobile industry. The others are just not resonating in my head right now.
Wired868: So the TTFA is backward among local sporting bodies?
Sancho: Well, they are one out of several who are backward and need to come up to speed… but they've assured me that they are working on getting up to scratch and they've started by saying they will present accounts by the end of March and that is a good start. Everyone is innocent until proven guilty.
Match contracts (for international football games) will have to be part and parcel of our agreements (going forward). We are mindful of the fact that we are spending lots of taxpayers dollars and we have to account for it…
We are looking into the possibility of gate sharing where half of the gates will go back to players' stipends and coaches' stipends and players' match fees and coaches' match fees. They haven't said they accept it yet but it is a sponsorship agreement and this is what we want.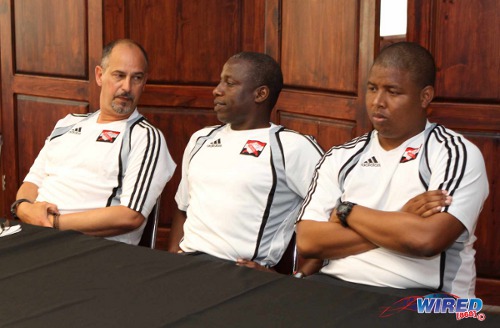 Wired868: What can the Sport Ministry ask for without being deemed to be interfering by FIFA?
Sancho: I think that is a question for the TTFA. But we want to see their full detailed accounts and we are aware of the funding given to them by FIFA and maybe Concacaf as well. So we expect to see that as a line item in their accounts and we want to know what they have planned for it.
We are not going to tell them how to spend their money. That's for sure. That is not my business. But as long as they show a certain amount of transparency and accountability, like every other sporting organisation, they will have no problem with me.
Wired868: Is there a potential conflict of interest with you demanding audited statements from the TTFA while simultaneously being involved in a financial matter against them?
Sancho: I won't say it is a conflict of interest. I think it just gives me a better understanding, than any other Sport Minister who sat in this chair, of accounts and financing as it relates to football because obviously that is the sport that I have come from.
The reason we are asking for the accounts is because it is part of of our policy for all sporting bodies. So I have an obligation to the Ministry and the general public to do my job. I won't be passing information on to anybody but I am not going to hand out funds without disclosure.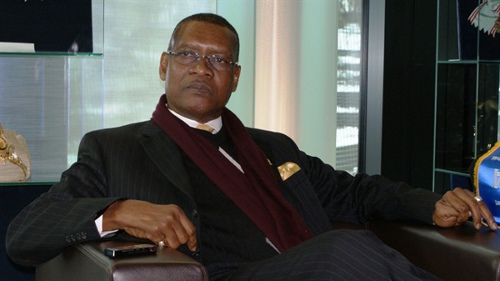 Wired868: What about the TTFA's debts to players, coaches and former coaches? Does the Ministry of Sport involve itself in that?
Sancho: We have heard a presentation from (TTFA general secretary) Sheldon Phillips that he has plans to put the debts to bed and to see how they can move things forward. This responsibility resonates and lies with the TTFA and they will have to figure out how to pay their debts.
And it is not just them. I have the same problem with other sporting associations who seem to rack up bills and, as the old people say, they have champagne taste and beer money.
Editor's Note: Click HERE to read Part One in which Brent Sancho discusses his suitability for the role of Sport Minister, vision for State sport grounds and relationship with Central FC and the Pro League.
Wired868 will publish the third and final instalment of this interview in which Sancho gives his view on the negative image of the present Government and why he chose to join the People's Partnership.