Trinidad and Tobago will send its largest ever contingent for a Caribbean Cup finals tournament next week when the regional competition kicks off in Montego Bay, Jamaica.
The Caribbean Football Union (CFU) allowed "Soca Warriors" head coach Stephen Hart to select a 23-man squad for the 2014 Caribbean Cup after the Trinidad and Tobago Football Association (TTFA) lobbied on his behalf.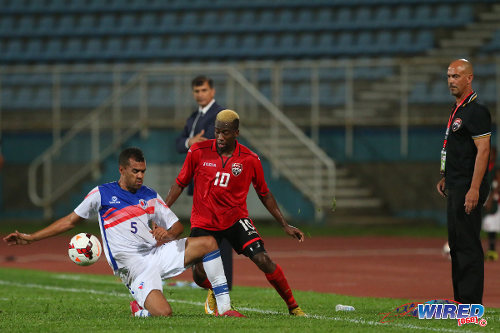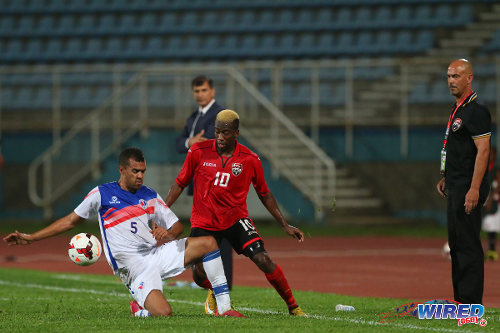 Wired868 understands that the CFU competitions flouts FIFA's medical rules regarding the number of games allowed within an international match window.
According to the FIFA Regulations on the Status and Transfers of Players: "During any international window a maximum of two matches may be played by each representative team, irrespective of whether these matches are qualifying matches for an international tournament or friendlies."
A FIFA spokesman confirmed to Wired868 that the world governing body permits players to feature in two international games in the upcoming nine-day international window.

However, the Caribbean tournament features three group matches plus a final or third place play off within that time frame.
This leaves all the member associations involved in the competition open to sanction should any club complain to the FIFA Players' Status Committee. Penalties could range from a reduction in release time for subsequent internationals to fines and a ban on the association's right to call the player(s) for international duty.
The Caribbean football competitions have always followed the present format; however, the CFU's effort to include the region's more high-profile players has opened the tournament up to scrutiny by foreign clubs that might be less tolerant of the health risk to their employees.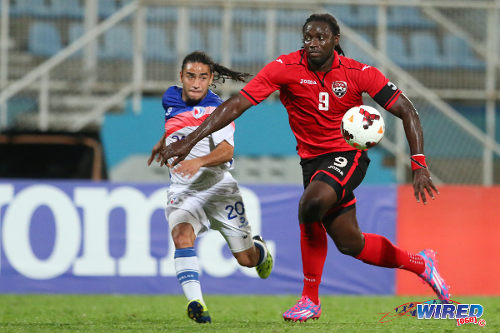 The CFU will not take up the tab for the extra players, though, and will continue to meet the expenses for just 20 players and five technical staff members. Any additional personnel must be funded by the member association.
The Soca Warriors will be captained by Cardiff City forward Kenwyne Jones, who plays in the England Championship Division, while there are 16 foreign-based players in Hart's squad including midfielder Khaleem Hyland (Racing Genk—Belgium) and Kevin Molino (Orlando City—USA) who both excelled in the Caribbean Cup qualifying round.
The Finland-based pair of FF Jaro players Aubrey David and Shahdon Winchester both earned recalls to the squad along with Radanfah Abu Bakr (Kruoja Pakruojis—Lithuania) and Jamal Gay (RoPS—Finland). Gay, a powerhouse striker cum midfielder, has not worn national colours since the 2013 CONCACAF Gold Cup.
There was a debut call-up for another Scandinavia-based player as 27-year-old former St Anthony's College attacker Jonathan Glenn received a call-up after impressing with video footage of his exploits with Iceland top flight club, IBV.
The rest of the squad comprises five Pro League players and unattached defender Yohance Marshall, who last represented Central FC.
Central midfielders Leston Paul and Ataulla Guerra, who are the only Pro League outfield players in Hart's team, both kept their place from the qualifying round as did Central goalkeeper Jan-Michael Williams and Point Fortin Civic custodian Marvin Phillips.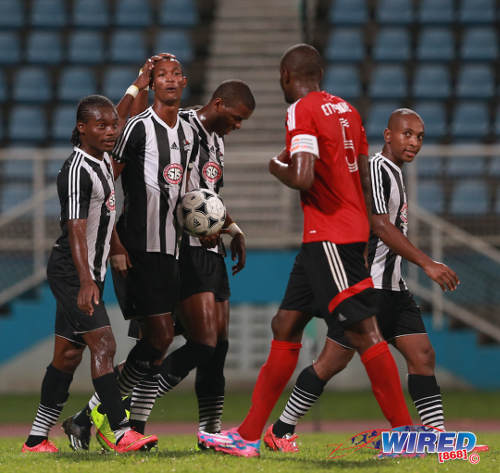 Police FC goalkeeper Adrian Foncette is the third goalkeeper selected for the Jamaica trip.
"The squad is a balanced one with a couple new faces," Hart told the TTFA Media, "which gives me and the coaching staff the chance to have an extra look with the future in mind and moreso the qualification for the 2018 World Cup.
"We had three decent matches in the semi finals last month in which the team performed creditably and now these finals present additional opportunities to see what is available for our general player pool."
Three players from the qualifying round who will miss out are versatile defender Sheldon Bateau (KV Mechelen—Belgium), right back Alvin Jones (W Connection) and striker Trevin Caesar (San Antonio Scorpions—USA).
Wired868 understands that Bateau remained in Trinidad since the earlier Caribbean Cup round due an expired ID card and he will only return to Belgium later this week. Under the circumstances, the technical staff decided not to recall him for the Caribbean finals.
In the earlier round, Hart also had to do without Winchester, David and England-based right back Justin Hoyte. Hoyte had an issue with his passport while the Finland-based David and Winchester suffered due to an issue between club and country.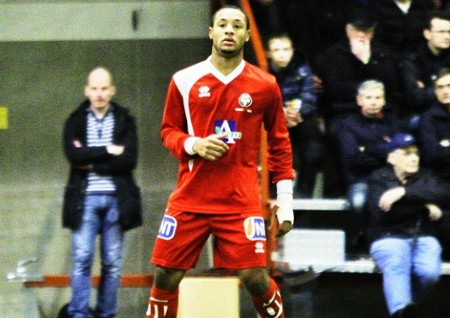 Jaro general manager Nicklas Storbacka told Wired868 that the TTFA had failed to settle a lingering debt to the club for airline tickets. However, despite his disappointment with the conduct of the local football body, Storbacka said he would not keep the players from representing their country and both were recalled.
The TTFA's inability to settle its debts was an issue again on Sunday when the Carlton Savannah Hotel refused to accept bookings for the Warriors due to an unpaid sum. TTFA general secretary Sheldon Phillips, who handles the business affairs of the local body, was abroad at the time.
The Warriors technical staff was forced to call its players and ask them not to report for their live-in camp until the matter was rectified, 24 hours later.
Hart said his team is focused on winning the Caribbean title for the first time in 13 years. At present, the Warriors are ranked 49th in the world by FIFA, which is Trinidad and Tobago's highest international ranking since 2006.
However, the national coach said his main priority is to qualify for the 2015 CONCACAF Gold Cup and prepare for the Russia 2018 World Cup qualifying campaign.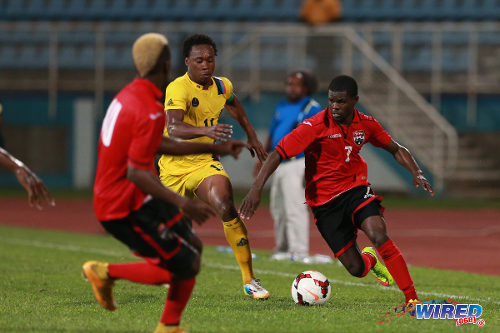 "These games will also give us valuable experience playing away from home in a tournament format, which is good for our preparations for the qualifiers on the road," said Hart. "I know the players are all very committed to the doing well and representing their country. They missed out on winning the last Caribbean Cup in 2012, losing in the final and they believe it's time to go one step better.
"In saying that, I don't think there is going to be unwarranted pressure but of course taking the title is always one of the aims. But if we can get in some decent performances and secure our qualification for the Gold Cup as well as utilize these matches and the time together as a squad to prepare for the future engagements then I think in the end it would be a satisfactory undertaking in Jamaica."
The top two teams from each group will qualify for the 2015 Gold Cup while the overall Caribbean champion will also be invited to the 2016 Centennial Copa America tournament, which will be staged in the United States.
The Warriors are grouped with defending champion team, Cuba, French Guiana and Curacao. Cuba edged Trinidad and Tobago 1-0 in extra time to win the 2012 Caribbean competition.
Trinidad and Tobago kicks off its campaign against Curaçao on Monday November 10, which is the day that clubs are mandated to release players for international duty.
Hart has tried to mitigate any possible issues with player availability for the opener and the duration of the competition by summoning extra players.
(Trinidad and Tobago's 2014 Caribbean Cup finals team)
Goalkeepers: Jan-Michael Williams (Central FC), Marvin Phillips (Point Fortin Civic), Adrian Foncette (Police);
Defenders: Justin Hoyte (Millwall—England), Daneil Cyrus (Ha Noi T&T—Vietnam), Joevin Jones (HJK Helsinki—Finland), Aubrey David (FF Jaro—Finland), Radanfah Abu Bakr (Kruoja Pakruojis—Lithuania), Yohance Marshall (Unattached), Carlyle Mitchell (Vancouver Whitecaps—Canada);
Midfielders: Andre Boucaud (Dagenham & Redbridge—England), Khaleem Hyland (Racing Genk—Belgium), Kevan George (Columbus Crew—USA), Jamal Gay (RoPS—Finland), Leston Paul (Central FC);
Attacking midfielders: Lester Peltier (Slovan Bratislava—Slovakia), Cordell Cato (San Jose Earthquakes—USA), Hughtun Hector (Hanoi T&T—Vietnam), Kevin Molino (Orlando City—USA), Ataulla Guerra (Central FC);
Forwards: Kenwyne Jones (Cardiff City—England), Jonathan Glenn (IBV—Iceland), Shahdon Winchester (FF Jaro—Finland).
2014 Caribbean Cup schedule
Group A
(Mon Nov 10)
Trinidad and Tobago v Curaçao, 5.30 pm, Montego Bay Sports Complex, Montego Bay;
(Wed Nov 12)
Trinidad and Tobago v French Guiana, 5.30 pm, Montego Bay Sports Complex, Montego Bay;
(Fri Nov 14)
Trinidad and Tobago v Cuba, 8 pm, Montego Bay Sports Complex, Montego Bay;
The 2014 Caribbean Cup final and third place play off will be held on Monday November 17.
Editor's Note: Click HERE to see Trinidad and Tobago's newest Soca Warrior and former St Anthony's College attacker and Maloney Gardens resident Jonathan Glenn in action for his Icelandic club.