The BG T&T/First Citizens SSFL Big Four champion will be crowned at the Mannie Ramjohn Stadium in Marabella on Saturday evening.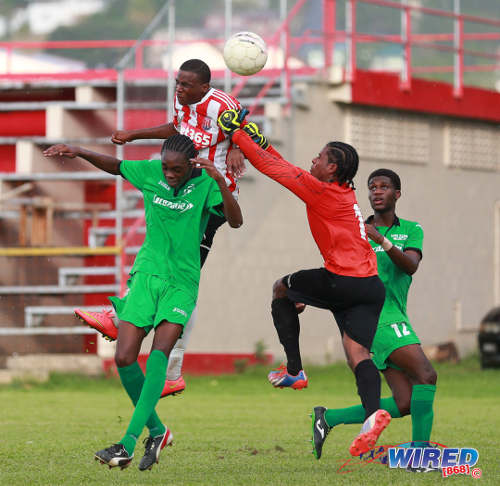 Will it be worth the price of admission?
Does Carnival come after Christmas? Is Tim Tam the most talked about snack in the country?
Naparima College, the reigning Premier Division champion school, and St Anthony's College set themselves on a collision course yesterday afternoon with wins over Speyside Secondary and San Juan North Secondary respectively in Big Four action. Only one of them can win the crown now.
The last time "Naps" and the "Westmoorings Tigers" met was five weeks ago and it sent shudders through the schools competition. The Tigers were at home and unbeaten. Naparima showed up and tore them apart 5-1.

St Anthony's never recovered and the inaugural Premier Division title went south.
Naps' last game in south Trinidad, mind you, was a 6-0 dismantling of Shiva Boys Hindu College on their Lewis Street home ground, which secured their crown. So they can be harsh on pretenders in San Fernando.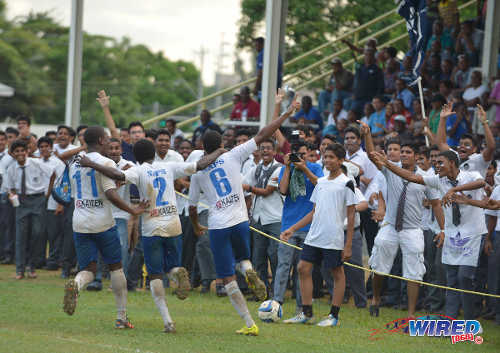 But revenge, as the saying goes, is best served cold. And what better place for Tigers captain Mawasi Charles and his men to exorcise the demons of that Premier Division loss than at the home of their southern rival?
If Saturday represents the climax of this abbreviated competition, yesterday was not bad either.
Speyside Secondary, who was brushed aside 3-0 by St Anthony's on Saturday in St Clair, predictably proved to be a more stubborn opponent at home on the "Sister Isle."
Twice, Speyside's schoolboys clawed themselves back level as striker Brandon Benjamin and captain Sampson Caesar nullified first half strikes by Naparima's national under-20 players Jabari Mitchell and Nicholas Dillon. But when a third teenaged national player, Martieon Watson, put Naps ahead for a third time, there was nothing left in the tank for the boys from east Tobago. And further goals from Akinola Gregory and Mitchell lent a lopsided feel to the final result.
If Speyside intends to participate in the 2015 SSFL Premier Division, coach Dwayne Jack now has an excellent idea of what will be required to be competitive.
At Westmoorings, there was a lot more tension in the air as St Anthony's tried to hold off a San Juan team that surprised the Tigers 3-2 on this same venue a month ago.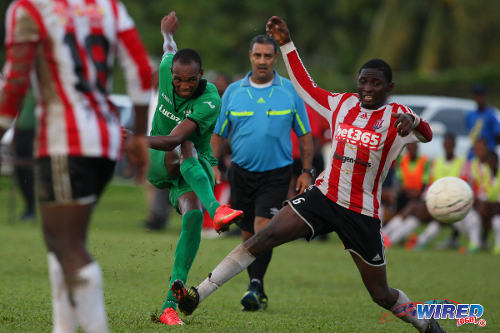 "Isaiah (McIntyre) and Mawasi (Charles), I don't want no stupidness in the back eh?!" St Anthony's coach Nigel Grovesnor barked. "We want this!"
Let us just say that Grosvenor is not one to beat about the bush. But he had good reason to be worried today.
Within 18 minutes, San Juan North was ahead through talismanic centre forward and captain Brent Sam; the 17-year-old boy who is as tall as a giraffe and as nimble as a ballerina.
It is a good thing that Grosvenor was sitting down for the next 20 minutes as four more goals flew in. Better still for the hosts, only one of those items was scored by San Juan.
Matthew Woo Ling equalized from the penalty spot in the 20th minute only for the hulking figure of Josiah Trimmingham to restore San Juan's lead a minute later.
Trimmingham, Woo Ling and Sam, just like Mitchell, Dillon and Watson, are all training with the national under-20 squad. National youth team coach Derek King had urged his players to abandon the school game for more testing assignments at senior club level.
If it is any consolation, King's boys are certainly living up to their billing among their peers; and they are not exactly short of responsibility at this level either.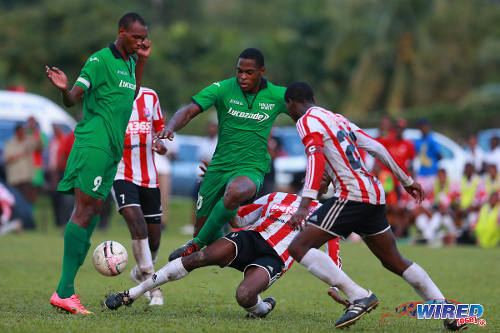 Kwesi "Jep" Allen, the Premier Division's most prolific marksman, then added to his blossoming reputation with a double in the 30th and 37th minutes off his head and preferred left boot. It was the fifth successive match that the versatile, mobile attacker found the back of the net.
But Sam gave Grosvenor more palpitations in the second half when, five minutes after the interval, he muscled off St Anthony's defender Isaiah McIntyre and sped into the box before arrowing a left footed effort into the far corner.
"Nobody even went to help the man," said Grosvenor, who looked as if he just tasted some bad yogurt.
But for a sharp save from St Anthony's goalkeeper Carlton Alfonso, the grandson of Brigadier Carl Alfonso, it might have been worse; as the alert custodian palmed away a backward header from Trimmingham off a set piece in the 53rd minute.
The Tigers gradually regained their poise, though.
The last time these schools met San Juan won the game in midfield by using Trimmingham to nullify the influential Woo Ling. But Woo Ling got his own back in more ways than one.
Today, Woo Ling worked harder, moved about more and got his passes off quicker. And there was one two-footed lunge at Trimmingham that had the San Juan hulk yelping in pain and earned the Tigers maestro a deserved booking.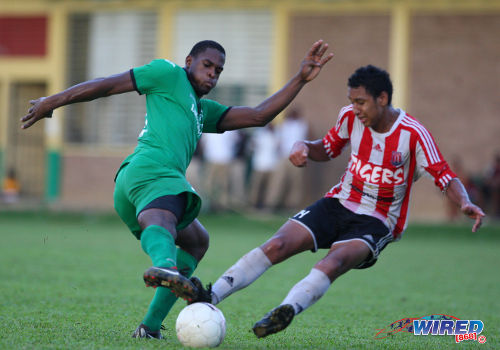 If the sight of Woo Ling flying into tackles did not psyche the Tigers up, then nothing would. But Grosvenor kept shouting instructions just in case.
"Don't let him shoot! Don't let him shoot!" Grosvenor yelled, as Sam searched in vain for a sight of goal.
The San Juan captain missed the far corner by inches with a header off a Jamal Roach cross in the 78th minute. But it was not their day.
Instead, Allen, who had been denied minutes earlier by a brilliant block from San Juan goalie D'Eandre Villaroel, completed his hattrick with an elegant flying volley in the 84th minute off a deep cross from left back Simon Joseph.
Poor Roach, the San Juan left back, had switched off and allowed the SSFL's most dangerous marksman a free shot on goal. And that was the end of San Juan's Big Four hopes.
The Tigers are one game away from the trophy now. But standing in their way is the Naparima team that thoroughly embarrassed them last month.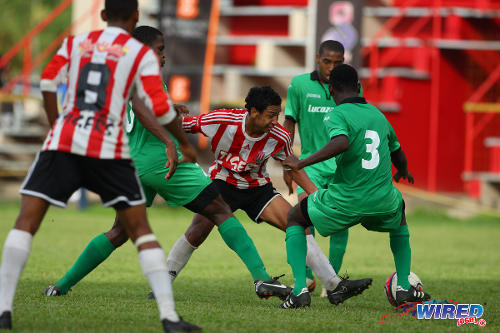 The atmosphere at Marabella should be electric when they clash from 3.30 pm on Saturday.
(Teams)
St Anthony's College (4-2-3-1): 1.Carlton Alfonso (GK); 2.Jared Flament, 23.Mawasi Charles (captain), 4.Isaiah McIntyre, 18.Simon Joseph; 6.Leon Whyle, 7.Denzel Woods (11.Adriel Kerr 89); 25.Shakeem Patrick (19.Andrew Rullow 46), 14.Matthew Woo Ling, 8.Jules Lee (9.Darius Olliveira 80); 10.Kwesi Allen.
Unused substitutes: 22.Oba Augustin (GK), 5.Keston Herrera, 15.Shem Clauzel, 17.Raheem Borde.
Coach: Nigel Grosvenor
San Juan North (4-4-2): 1.D'Eandre Villaroel (GK); 12.Warren Chase, 24.Levi O'Brien, 3.Hakeem Wilson, 6.Jamal Roach; 22.Jermell Britto, 20.Josiah Trimmingham, 5.Shayon Eustache, 16.Brandon Semper (17.Oneil Jarvis 57); 19.Joshua Leach (18.Marcus Rosales 77), 9.Brent Sam (captain).
Unused substitutes: 26.Sterling Sween (GK), 4.Kenyan Huggins, 21.Kyle Mack, 23.Benjamin Magloure, 25.Kyle Williams.
Coach: Jerry Moe
Referee: Larry Lalchan
BG T&T/First Citizens Premier Division Big Four results
(Wed Oct 29)
Speyside Secondary 2 (Brandon Benjamin, Sampson Caesar), Naparima College 5 (Jabari Mitchell [2], Nicholas Dillon, Martieon Watson, Akinola Gregory) at Roxborough;
St Anthony's College 4 (Matthew Woo Ling 20 pen, Kwesi Allen 30, 37, 84), San Juan North 3 (Brent Sam 18, 50, Josiah Trimmingham 21) at Westmoorings;
(Sat Oct 25)
St Anthony's College 3 (Kwesi Allen 44, Shem Clauzel 73, Andrew Rullow 79), Speyside 0 at Serpentine Road, St Clair;
San Juan North 0, Naparima College 2 (Shane Sandy 49, Akinola Gregory 81) at San Juan;
Upcoming fixture
(Sat Nov 1)
San Juan North Secondary vs Speyside Secondary, 3.30 pm, San Juan;
Naparima College vs St Anthony's College, 3.30 pm, Lewis St, San Fernando.
Editor's Note: Naparima College will host St Anthony's College at the Mannie Ramjohn Stadium in Marabella and not Lewis Street as initially stated. Wired868 regrets the mix-up which was caused by the SSFL's late change in venue that was not communicated to this website.