Anyone who believes you shouldn't kick someone when they are down should look away now.
A 5-1 hammering from Naparima College on Saturday became two defeats in a row today as St Anthony's College again surrendered home advantage with a 3-2 loss against San Juan North in Westmoorings.
On Wednesday, the "Westmoorings Tigers" will play their third match in five days—due to today's rescheduled fixture—and there is no time for self-pity. A loss to St Mary's College on Serpentine Road would almost certainly see a change in leadership at the top of the SSFL Premier League with second place Naparima College primed to pounce.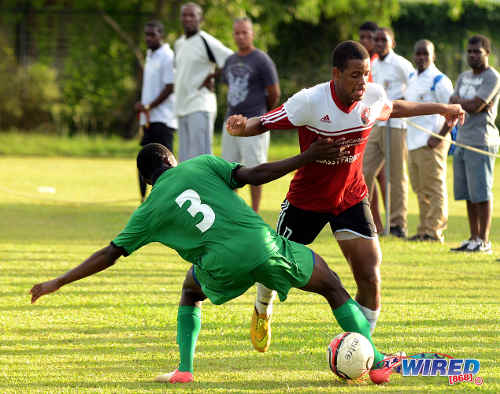 San Juan North, Trinity College East and St Benedict's College, who all trail St Anthony's by three points, might be smelling blood too. Although St Benedict's might regret dropping two points this afternoon in another rescheduled fixture after being held goalless by Chaguanas North in La Romaine.
The aura of invincibility has left Westmoorings for now. But it would be a mistake to think the Tigers have imploded.
It is not that St Anthony's played badly this afternoon. Rather, San Juan was just too disciplined and stubborn and made maximum effect of its main assets in ex-Trinidad and Tobago national under-17 striker Brent Sam and national under-20 defender Josiah Trimmingham.
Sam, a beanpole striker who stands well over six feet, came to international prominence two years ago when he scored seven goals on his competitive debut for the national under-17s in a CONCACAF record 23-0 thrashing of the British Virgin Islands. But he failed to advance to the national under-20 team which used St Ann's Rangers attacker Kadeem Corbin upfront instead.
It might not impress under-20 coach Derek King that Sam's performances are at schoolboy level, particularly as the lanky striker made his Pro League debut earlier this year for San Juan Jabloteh. Like Levi Garcia (Shiva Boys HC), Nicholas Dillon (Naparima) and his club and school teammate Trimmingham, Sam is not ready to leave the SSFL behind just yet.
Say what you like about the arena Sam chooses to compete in; but, for more reasons than one, it is impossible to miss his gifts.
Sam towered over everyone else on the field. When he leapt for the ball, St Anthony's captain Mawasi Charles would have needed a ladder to compete and CAL aircrafts probably had to adjust their flight patterns.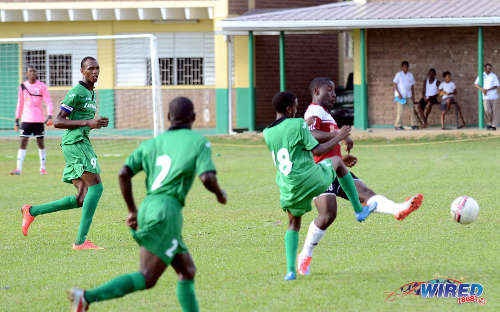 But there was more to the San Juan captain than aerial presence. The ball stuck to his chest like a magnet to a fridge and, on the ground, his balance and nimbleness were at odds with his improbably height.
One sensed St Anthony's was always going to have its hands full with this green-shirted giant.
But the Tigers had a trump card as well with playmaker Matthew Woo Ling, yet another national under-20 player, in an artistic mood.
And so the game took shape with San Juan forced back on its heels as Woo Ling led his gang of Tigers forward; only for the boys from Bourg Mulattrasse to respond with long punts out from the back that Sam plucked from the sky and turned into counter attacks.
St Anthony's might have opened the scoring through a Woo Ling free kick that missed the top corner in the 12th minute. Then, 13 minutes later, Trimmingham was inches away with a header off a Kyle Mack corner kick as the game see-sawed between St Anthony's probing attacks from open play and San Juan's set piece threats.
In a match that featured two of school football's most lethal finishers, San Juan's Sam and St Anthony's Kwesi "Jep" Allen, defensive concentration was key.
St Anthony's defender Nicholas Moyou failed to spot Sam's run in the 33rd minute, though, and the latter player clinically dispatched the ball low and hard into the far corner to open the scoring.
But San Juan could not hold on.
"You do that one more time and you will be on the bench doing it!" San Juan coach Jerry Moe shouted at defender Hakeem Wilson, who was taking too many liberties at the back.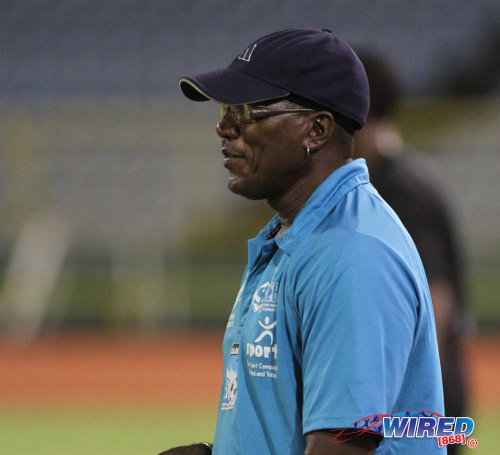 A minute later, though, St Anthony's conjured its equaliser from that same flank as Adriel Kerr whipped in a cross which Allen deftly deflected past San Juan custodian Sterling Sween from close range.
Moe looked as if he was watching a hoodlum key his car.
The San Juan schoolboys bent; but they did not break.
Woo Ling released Allen, in the 55th minute, and Jep's stinging, angled left footed effort knocked Sween flat on his back. Somehow, the custodian still managed to turn the shot around his near post for a corner.
And, in the 62nd minute, Allen could not reproduce such alertness in his defensive duties as San Juan went ahead off a set piece that defender Levi O'Brien headed in off the underside of the bar.
Now it was St Anthony's coach Nigel Grosvenor's time to moan.
"That was your man, Jep!" shouted Grosvenor, with a pained expression.
By then, San Juan midfielders were following Woo Ling around in the same diligent manner that security guards shadow a Head of State. And, without fever-stricken attacker Darius Olliviera, St Anthony's lacked the extra quality upfront to dismantle its stubborn visitors.
Trimmingham rubbed salt in the Tigers' wounds in the 76th minute as he met a weak, headed clearance from an opposing defender with a dipping 40-yard volley that doubled San Juan's advantage.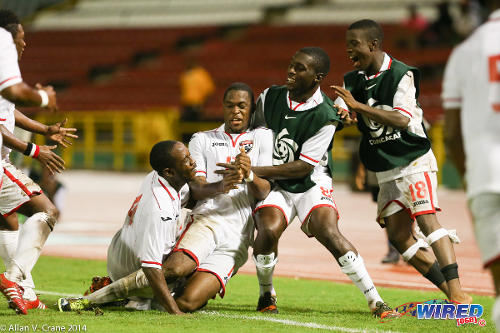 Grosvenor gave 14-year-old goalkeeper Oba Augustin a rare start between the uprights today and there were glimpses of potential. But Augustin might need counselling after conceding from that distance.
Trimmingham probably could not repeat that strike if he tried a dozen times.
St Anthony's pulled a goal back in the 80th minute as substitute Andrew Rullow headed home from a Woo Ling corner. But San Juan killed the game off effectively with time wasting near either corner flag.
It wrapped up a miserable three day spell for the Tigers. And it could get even worse on Wednesday afternoon if St Mary's has its way.
(Teams)
San Juan North (4-1-3-2): 26.Sterling Sween (GK); 2.Dexter McDowell (12.Warren Chase), 3.Hakeem Wilson, 24.Levi O'Brien, 6.Jamal Roach; 20.Josiah Trimmingham; 21.Kyle Mack (26.Romario Rochard 38), 25.Kyle Williams, 18.Marcus Rosales; 22.Jermell Britto (5.Shayon Eustace 80), 9.Brent Sam (captain).
Unused substitutes: 1.D'Eandre Villaroel (GK), 4.Kenyan Huggins, 11.Jeankeon Alexander, 17.Oneel Jarvis.
Coach: Jerry Moe
St Anthony's College (4-2-3-1): 22.Oba Augustin (GK); 2.Jared Flament, 15.Nicholas Moyou, 23.Mawasi Charles, 18.Simon Joseph; 6.Leon Whyle, 14.Matthew Woo Ling; 11.Adriel Kerr (19.Andrew Rullow 57), 25.Shakeen Patrick, 17.Raheem Borde; 10.Kwesi Allen.
Unused substitutes: 1.Carlton Alfonso (GK), 3.Shaquille Sandy, 5.Keston Herrera, 8.Jules Lee, 12.Matthaeus Granger, 21.Brent Joel.
Coach: Nigel Grosvenor
Referee: Eustace Benjamin
SSFL Premier Division rescheduled fixtures
(Mon Sep 29)
San Juan North 3 (Brent Sam 33, Levi O'Brien 62, Josiah Trimmingham 76), St Anthony's College 2 (Kwesi Allen 42, Andrew Rullow 80) at Westmoorings;
St Benedict's College 0, Chaguanas North 0 at La Romaine;
Upcoming fixtures
(Wed Oct 1)
St Mary's College v St Anthony's College, 3.45 pm, St Mary's;
Naparima College v Fatima College, 3.45 pm, Lewis St, San F'do;
San Juan North v Presentation (San F'do), 3.45 pm, San Juan;
St Augustine v Chaguanas North, 3.45 pm, St Augustine;
Shiva Boys HC v East Mucurapo, 3.45 pm, Guaracara Park;
Arima North v Trinity College East, 3.45 pm, Arima;
Carapichaima East v St Benedict's, 3.45 pm, Carapichaima.