…Then was caught by a 'Useless' journalist '
CONGRATULATIONS JACK, MAUREEN, all of my Trinidadian family that I love for these many years.' Chuck was blogging after Trinidad held Sweden to a 0-0 draw in Dortmund in June 2006.
The love for Warner and his wife lasted another five years. Then The Belly launched himself from a great height on to Jack and with one horrible, squelching noise, blew him out of football.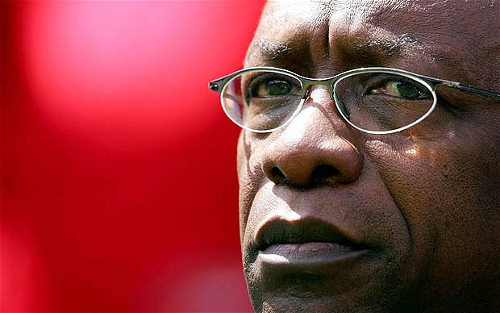 Warner had become too confident. He knew that Blatter hated the endless scandals involving him and World Cup tickets and would love to evict him from FIFA but surely, he wouldn't dare.
And Blatter had left it too late. Jack was changing sides. The man from Qatar wanted the 35 votes Jack controlled and he had unbelievable quantities of cash to buy them.

Jack had stolen all he could using the Centre of Excellence pretence and it was time to find a new source of endless riches. Mohamed Bin Hammam had provided the money to buy votes to elect Blatter in 1998 and again in 2002.
Mo believed they had an understanding that after one more term Blatter would stand down and hand over football's imperial throne. But Blatter refused to depart – so he had to be pushed. Mo manipulated Blatter to make him head of FIFA's Goal Bureau, distributing huge grants to national associations.
Mo had spent years buying support in Asia and Africa. If Concacaf's votes could be acquired, Blatter would not risk a fight and the humiliation of losing. A doctor's certificate would be produced, Blatter would retire to the Swiss Alps and, without the need of an election, Mo would be crowned at another FIFA coronation.
Warner summoned a meeting of the 25 members of his Caribbean Football Union members. They would obey Warner's orders in the presidential election and the other nine members in Concacaf – including USA and Canada – would have to follow.
Mo paid Jack's family travel firm Simpaul to ship the officials in from their islands for a meeting in the Hyatt Regency Hotel in Port of Spain on May 10, 2011. After Mo spoke, each delegation was given a big brown envelope containing US$40,000 in cash, 'to spend any way they wanted.'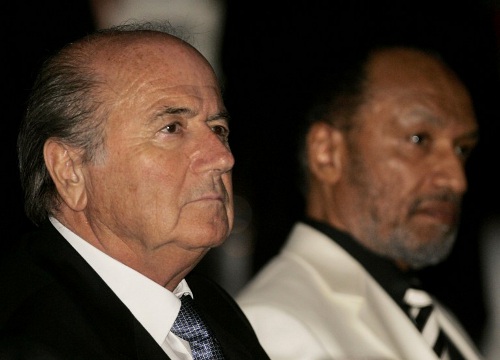 Jack and Chuck had stood back to back against the world for more than 20 years, both stealing, both protecting each other. Not any more. Chuck guessed why Mo was visiting Trinidad and that well stuffed envelopes would be on offer.
He talked with his closest associates who would be at the meeting. A plan was made. Photographs of the bags of money were sent to Trump Tower. A video was shot surreptitiously on a cell phone.
When The Belly had gathered enough evidence, he turned it over to a lawyer with the instruction to obtain testimony and draft a report. Before the end of May, Blazer had filed a complaint to FIFA accusing Warner of corruption.
A few weeks earlier I had encountered Mohamed Bin Hammam, a guest at the UEFA congress in Paris. I was filming for the BBC and asked him about FIFA corruption allegations.
Mo replied, 'We are not transparent enough' as if that was the answer.
I asked him about Warner, notorious for his corruption.
Mo answered, 'Your cause is not my cause. Your information is not my information. We are having different sources of…'
I interrupted, 'So Jack is alright?'
That was a question that Mo was not going to answer.
'As far as I am concerned all the people in the executive committee did a very good job, we have to support them until we put in rules and regulations, tell the people clearly what is the black and what is the white and then we have to make them accountable to this.'
June 20, 2011; Zurich. Jack has gone!
He made a noise for a few weeks but the proof was enormous. Having won what he wanted, Blatter was too smart to put the boot in.
His 'regret' statement at Warner's departure was calculated not to inflame Warner into disclosing his vast knowledge of Blatter's corruption. Jack, deputy chair of the Finance Committee, was one of the few in the world who knew how much Blatter paid himself in salary, expenses and bonuses.
Blatter's farewell kisses began, 'Mr Warner is leaving FIFA by his own volition after nearly 30 years of service, having chosen to focus on his important work on behalf of the people and government of Trinidad and Tobago as a Cabinet Minister and as the Chairman of the United National Congress, the major party in his country's coalition government.'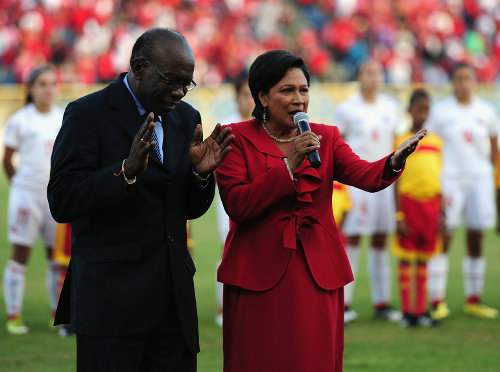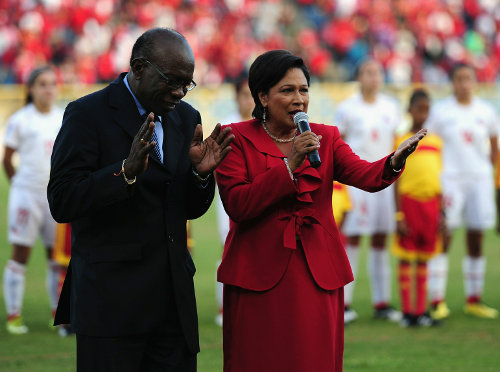 This slimy press release maintained the fiction that Warner had 'served' football. Blatter knew about the vast World Cup tickets rackets and Havelange would have told him that the Centre of Excellence was a multi-million theft by Warner that should deliver vital votes for both of them, forever.
This embarrassing tribute to Warner, from one gangster to another, continued: 'The FIFA Executive Committee, the FIFA President and the FIFA management thank Mr Warner for his services to Caribbean, CONCACAF and international football over his many years devoted to football at both regional and international level, and wish him well for the future.'
And then Blatter went too far. 'As a consequence of Mr Warner's self-determined resignation, all Ethics Committee procedures against him have been closed and the presumption of innocence is maintained.'
Innocence?
The world laughed — and raged — at Blatter for letting Warner go free. But why should he care? The embarrassing Warner was dumped. More importantly for Sepp's survival, the man from Qatar who was almost certainly going to beat him for the FIFA presidency was also gone, banished.
The Belly had won. AMERICA HAD A NEW HERO!
'Chuck Blazer is witty, gregarious and a whistleblower' said the Associated Press. He was a White Knight! 'Blazer's personality and accessibility make him one of FIFA's more popular members,' gurgled the AP writer.
There was more; 'The only American on FIFA's powerful executive committee has spent 30 years promoting football and has shown before that he will step in when he feels the game is being shortchanged.'
This AP suckjob noted that Blazer lived in Trump Tower but did not ask how he could afford the high rent. Unchallenged, Blazer was allowed to praise himself, 'If you look at the accomplishments of FIFA, I'm very satisfied when I look back at the 16 years that I've been there our accomplishments have been very positive.'
There was no reference to the embarrassing Belly. Much of the AP homage had been lifted from a profile of Blazer in an American sports business magazine the previous year.
At that stage Chuck and Jack were still a double act. Chuck had dismissed allegations against Warner. The thousands of extra tickets sold in 1989 for the USA-Trinidad game?
The Belly rejected the allegation with, 'It made for a lot of noise and press but it had very little credibility.' Chuck rearranged the truth about the 2006 scandal when Warner was caught selling thousands of tickets to the Black Market. There was no scandal.
It was 'the result of changes to FIFA's ticketing policies. The whole nature of ticketing was in flux around that time,' Blazer said. 'He addressed it and made corrections to the business practice. It sounds worse than it was. It was a censure and not an expulsion.'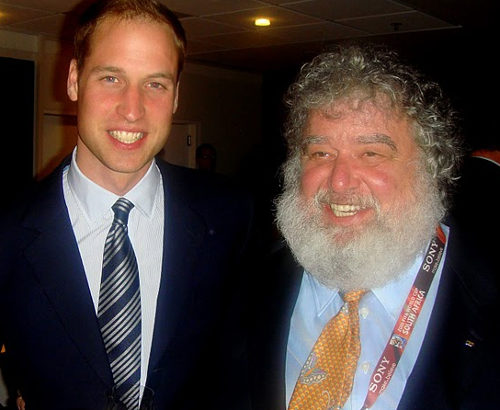 Photo: Prince Willam (left) and former CONCACAF general secretary Chuck Blazer
Courtesy transparencyinsport.org
The American press had a new hero and facts were not going to get in the way of their good news story. The New York Times looked at The Belly's blog and announced, 'Chuck Blazer takes fans with him on his many travels in the service of soccer.'
Service? Oh dear.
America's football officials were no better. 'We lead by example at U.S. Soccer, and most people say we are a very moral, ethical organization', said Dr Robert Contiguglia, US Soccer Federation President, before the new scandal. 'We did support Jack Warner and Chuck Blazer for Jack's election and we supported (Sepp) Blatter for the contributions he made to the game. We have a very good working relationship with them.' He added, 'Blatter is an icon of humanitarianism.'
Nastier was Concacaf vice-president Alan Rothenberg, famous for paying himself a US$7 million bonus for helping organise the 1994 World Cup in America. Back in 2002, when I first smelled corruption in Concacaf I emailed Rothenberg, hoping to talk.
He responded, 'I have no interest in talking to a biased hatchet man. If you had a shred of impartiality you would recognize the incredible contribution made to the enormous growth of soccer on and off the field that has been made worldwide by Sepp Blatter, both as President and before that General Secretary, and regionally by Concacaf's President Jack Warner and General Secretary Chuck Blazer.'
His rude response demonstrated the power of Warner, Blazer and Blatter over this multi-millionaire American lawyer and banker. Rothenberg had hoped to join the FIFA ExCo in 1995 but Warner kicked him aside and installed his crooked partner Blazer.
Did Rothenberg scream 'stinking fish'? No, he dropped to his knees.
'YOU ARE USELESS as a journalist,' Chuck Blazer howled at me in an email a month after Warner's hurried resignation from FIFA. Two months later — in October 2011 — Blazer announced that he was resigning as Concacaf General Secretary. He was following Warner out of football's door.
This is how it happened. I had been astonished by his uncritical press in America. Why had these dimwit reporters not realised that if Jack was a crook – The Belly must be one as well?
For two decades they were inseparable brothers in looting football.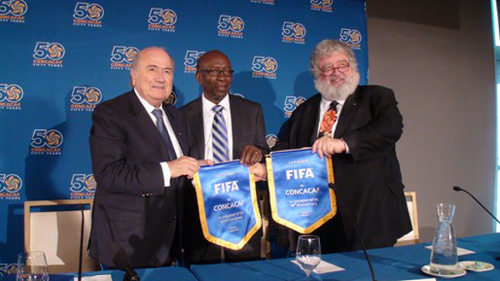 It was time to dig. I had been aware for years of rumours that The Belly helped himself to 10% of Concacaf TV and marketing revenues but there were so many other corruption stories to investigate.
Now it was time to find out how all that fat got inside The Belly. I knew that Chuck and Jack kept Concacaf's financial reports secret. Only a small circle of deferential officials saw copies.
I emailed a contact. Could they help?
A few days later I had a bundle of confidential Concacaf reports on my screen. The Belly was greedier – and more slippery – than I had guessed. I began looking at the most recent, for 2010. I read that the accounts had been audited.
Chuck said so on page 38. On page 41 Trinidad accountant Kenny Rampersad presented what he claimed was an 'Independent Auditor's Report.'
This was not true. Rampersad was not an auditor and should not have claimed the title. The Belly and Warner knew he wasn't. But none of the deferential elected officers of Concacaf would ever dare check that Kenny was no more than a simple bookkeeper.
The thieving was on page 50. The top half of the page was headed 'Administrative & General.' In the list of Stationary and Supplies, Automobile Expenses and Property Maintenance were Salaries and Employees benefits, totalling US$1,077,944.
You might presume that Chuck's pay packet was in there. You would be wrong. But you would not know.
The lower half of the page was headed 'Marketing, Sales and Public Relations.' Buried in the midst of Printing (US$21,373) Gifts and Awards (US$21,670) was Commissions & Fees.
That was it. No indication who got them. For 2010 it totalled an amazing US$1,919,671. For the previous year it was even better, $2,622,714. Over the period of the previous five years the anonymous Blazer paid himself US$9.6 million in commissions on top of his 'fee' as general secretary.
Another source gave me documents showing that Blazer arranged to have his commissions paid to his offshore accounts in Cayman and the Bahamas. It was unlikely the IRS knew he was being paid this money.
I emailed Blazer, asking him to explain this novel way to be paid and asked him to respond by the reasonable newspaper deadline I gave him. His reply came late and I knew immediately that he knew he was in trouble.
Why? It was too long. Two pages of polite and convoluted sentences. Blazer had no choice but to confirm the 10%. But he claimed that this is 'consistent with industry standards.' He did not disclose what these standards were.
It was bullshit. There was more of this smelly stuff. How would he answer my question about his failure to reveal that it was him who was getting these commissions?
Blazer uses language as a weapon to confuse and obfuscate. You have met this kind of crook before. They gamble that if they deploy words you have never heard of, they will intimidate you.
So here, now, deep from The Belly was 'everything has been reported fully to Concacaf's members consistent with the level of granularity of other items in the financial reports.'
'Level of granularity'? Granular, granulated, granules – what the (Expletive deleted!) was The Belly gibbering about? Translated into normal language he was saying that it is not important to tell his employers that he was ripping them off for millions of dollars a year.
Blazer confirmed that he employed his son Jason as Concacaf's US$7,000 a month medical officer. But now The Belly was starting to quiver. He was getting rattled and stooped to insults.
'Your question about my son is completely inappropriate,' he wrote. 'I am a public person and recognize that harassment from people like yourself with agendas to sell books and papers and who have little regard for the truth, comes with the territory.'
I published the story on my blog under the headline 'Lucky Chuckie! Blazer takes secret 10% on sponsor deals.' There was another story screaming to be investigated.
On his blog The Belly had published a sequence of photos of an antique Mercedes car he owned that was being renovated in Zurich. Belly posed in Zurich with this lovely car and painted out the number plate before uploading. He forgot that it could be seen in another shot of Mary Lynn with the car by Lake Zurich.
I checked that number plate – ZH 627 187 – with the Canton of Zurich registration office and discovered the registered owner was FIFA and that the car was stored in FIFA's underground garage!
It was obvious that Blazer was hiding this asset offshore from America's tax authorities. A FIFA spokesman told me, through tight lips, that FIFA charged Blazer fees to park his car on their property.
The last Big Belch from The Belly, 'You are useless as a journalist' was fired off from Trump Tower at 16:57:21 on July 17, 2011. The clock was ticking down on the Blazer family exploiting football.
WARNER AND THE BELLY were dumped in the dustbin of football history. Blatter promised there would be a new clean leadership in the Caribbean. Then he selected reliable members of the old Warner-Blazer group to be put in place.
It seemed the quality he most desired was an inability to look back and see who allowed the Deadly Duo to get away with two decades of thieving. His choice for President of Concacaf was Cayman Islands football boss Jeffrey Webb who had proved his reliability in the ten years he was a member of FIFA's Internal Audit Committee.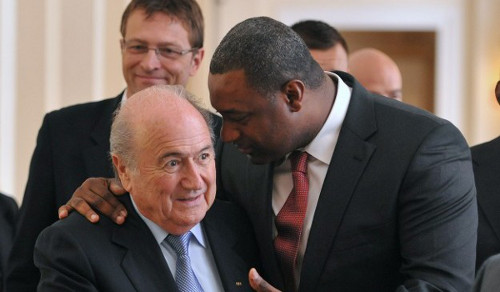 Webb was elected by Concacaf at FIFA's congress in Budapest in May 2012, all paid for by Blatter. Alongside as a vice-president was longtime Warner ally 'Captain' Horace Burrell from Jamaica. There were two free FIFA ExCo seats to fill. Webb took one and New York's Sunil Gulati, a longtime ally of Blazer, took the other.
Digging into my archives I have found a private email in 2002 from Jeffrey Webb to Warner, copied to Blatter. At the time Blatter was facing a challenge from African football boss, Issa Hayatou, backed by some of UEFA's members. Hayatou's election team toured the Caribbean, looking for votes.
They went to Cayman. On April 4, 2002 Webb reported on his visitors. He was very proud of his interrogation of the delegation. Webb was enthusiastically supporting Warner's demand for a reduction in European places in the World Cup finals.
This was television suicide for FIFA and marketing the tournament but if Warner could extract another place for Concacaf, there would be more money to steal. Webb, like Warner, was keen to find any way possible to extract more cash from FIFA.
Why couldn't the grants from the FIFA Goal Project be US$1 million a time instead of the current level of a maximum of US$400,000?
How did Webb intend to spend this money on some of the smaller Caribbean islands? Gold-plated goal posts on Anguilla, population 16,000?
What did Montserrat, population 5,000, need? Or Webb's homeland of Cayman, population 53,000?
Under the headline, 'Issa Team in Cayman Islands' Webb emailed to Jack Warner, 'Dear President . . . After realizing that the meeting was not going the way they had hoped, the amount of knowledge that I possessed on certain topics, and my unwavering loyalty to Jack, certain allegations were made about the President of FIFA and the President of Concacaf,' reported Webb. 'I then said to them that unless someone has been convicted of something, I am not interested in hearing it, and the meeting ended.'
Warner was ecstatic. The next day he emailed back to Webb, 'You did great, Jeff, simply great, and I'm proud of you. Keep the faith.'
The same year, 2002, Jeffrey Webb went into business with 'Captain' Burrell. The Jamaican operated a chain of 'Captain's Bakery and Grill' restaurants and wanted to expand into Cayman. It was a marriage of two football bosses on Cayman's famous seven-mile beach.
Then they went off to the FIFA Congress in Seoul where Jeff postured in the Blatter chorus line.
'My tiny country is not known for football but is known for finances,' he announced. 'The Cayman Islands have over US$600 billion on deposit. We are ranked as the fifth financial centre in the world.'
It was hard to see the relevance to football and Webb seemed to be the only person in the hall unaware that a large chunk of the money was dirty or dodging tax.
There had to be a delay in announcing the new Concacaf line-up, following the departure of Warner and The Belly. In the punishments handed out by FIFA's ethics committee after the Trinidad cash bribes the 'Captain' was suspended for six months for lack of co-operation with outside investigators.
Burrell said the punishment was 'harsh and painful for me personally, but I will not appeal the decision.'
Unfortunately, Burrell had to give up his position on FIFA's disciplinary committee that he had retained despite the scandalous action of putting his Jamaican girlfriend in Haiti's empty seat at the 1998 FIFA congress. He was allowed back after three months and his suspension was instantly forgotten.
Three weeks later, in February 2012, Blatter appointed Burrell to FIFA's committee organising Olympic soccer tournaments; more luxury hotels, more per diems, more tickets.
In June 2012 the new-look Concacaf set up an Integrity Committee to investigate the depredations of Warner and Blazer. It was chaired by former Chief Justice of Barbados, Sir David Simmons. He was joined by American judge Ricardo Urbina and a retired partner from Price Waterhouse, Ernesto Hempe.
They hired a New York law firm to conduct investigations and interrogate witnesses. Warner and Blazer refused to co-operate. Warner claimed he destroyed all his paperwork the day he quit FIFA.   The 144-page report was revealed at the Concacaf conference in Panama City on April 18, 2013.
One paragraph summarises the findings: 'It is apparent that Warner and Blazer each was aware of the risk of potential misconduct posed by the other and was most capable of holding the other accountable; but neither did so . . . to preserve the unfettered freedom to act in his own self-interest.' Warner had committed fraud against FIFA and Concacaf in the funding of the Centre of Excellence.
He had stolen nearly US$30 million. He had committed fraud and misappropriated the money the Australians had donated to 'upgrade' the CoE stadium.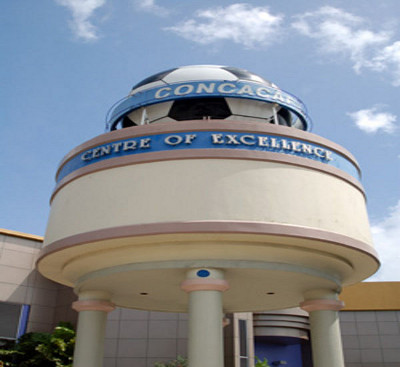 Warner and Blazer had violated FIFA's Ethics Code. Blazer had misappropriated Concacaf funds to finance his lifestyle and failed to manage the confederation's resources.
He had failed to file tax returns in America and Concacaf faced civil or even criminal, penalties. Simmons hinted that Blazer had avoided contact with the American tax authorities to stay off their radar and avoid being required to pay income tax. In the same way he had not tried to renegotiate his contract with Concacaf because once members discovered how much was going to his offshore accounts, his 10% would have been slashed.
Year after year Blazer had claimed Concacaf's accounts were 'audited' by Kenny Rampersad of Trinidad. The Simmons investigators soon discovered this was a lie. There was no testing or sampling of transactions, no collection of contracts, no review of bank reconciliations or wire transfer records and no risk assessment procedures.
Rampersad was not a trained or chartered auditor. He was an imposter. Rampersad was far from independent – as auditors must be. He was Warner's accountant and involved in his acquisitions of land for Warner that became the CoE. Then he signed off Warner and Blazer claims that it belonged to Concacaf.
He had hopeless conflicts of interest as 'auditor' of Concacaf, the CFU, the CoE and Warner's private companies in Trinidad. He also acted as Blazer's accountant when he was purchasing – with Concacaf money – apartments at The Reef on Paradise Island.
Blazer's claims at the Concacaf congress in Germany on the eve of the 2006 World Cup were exceptionally nauseous. He reported on his blog . . . 'Our Confederation now boasts an almost perfect record in completing its audit requirements to FIFA . . . this demonstrated the commitment by Warner to the standard of transparency and compliance in responsibly handling the funds granted to it by FIFA.'
SO FAR SO BAD. Missing from the Simmons report is any finger pointing at Concacaf itself. You might think that over the years some elected officials at the top of the organisation, with responsibility for protecting the members and the finances, would ask questions like, who was getting the vast Commissions?
Jeffrey Webb was and is a manager at a big Cayman bank. Could he not have spotted the questions that had to be asked?
His partner in the restaurant business, 'Captain' Burrell, claims to be a clever businessman. Did he not see anything wrong?
Then there is Sunil Gulati, an economics teacher at Columbia University in New York. Why didn't he ask about the Commissions?
The same week that Simmons published his report Sunil claimed that 'at the highest level [in FIFA] there is a sincere effort to try to reform and change the organization.'
I emailed Webb and Gulati asking how a banker and an economics lecturer didn't spot the commissions?
Did they ever wonder what The Belly was paid? How could he afford Trump Tower, the Hummer, the grotesque feasting? They have never replied.
Blatter turned up in Panama City in April 2013 for the Concacaf congress and did his best to divert attention from FIFA's failure to notice the vast amounts of money being stolen over a 20-year period. If the Finance department had done a quick land registry check in Trinidad they would have discovered that the CoE belonged to Warner, not football. Perhaps they did.
Both Jeff and Sunil are on the FIFA gravy train now, elevated to the ExCo and pocketing at least US$250,000 a year – plus access to World Cup tickets. Sunil is going to fight for more transparency – perhaps. He says he is willing to disclose what payments and expense money he receives from FIFA – as long as he isn't bound by any confidentiality agreement.
On the day the Simmons report was published Blatter tweeted, 'Opened CFU Congress today. Said it is a new Era for CFU & Concacaf with a charismatic leader. They can play a key role in world football.' They next day he tweeted, 'Great leadership and vision shown today by Jeffrey Webb shows bright future for Concacaf.'
Webb was so struck with this praise that he now describes himself on the Concacaf website, as 'a natural and charismatic leader.' Tame reporters repeat this, unquestioningly.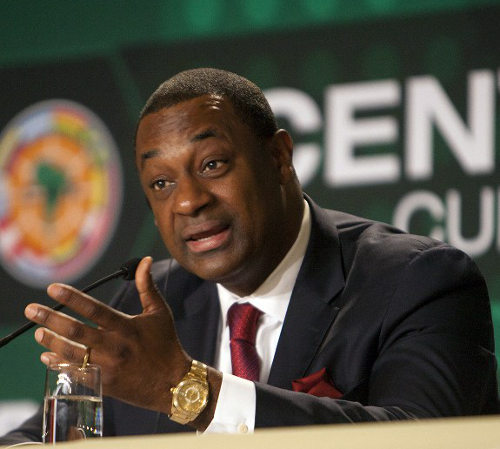 Photo: CONCACAF president Jeffrey Webb. (Copyright AFP 2014/Alexia Fodere)
A month later, in August 2013, a whining sound was heard from Trinidad. It was Warner's lawyer, 'My client's good name and reputation has been and continues to be damaged' and with that, he filed an official notice of intention to sue Simmons.
This silliness was perhaps because publication of the Simmons report had forced Warner to resign from the Trinidad government and he was fighting a by-election to get back into parliament.
In the previous two years, the UNC had given him two cabinet positions. The first had the whole of the Caribbean laughing in disbelief. Warner was made Minister of Works with the power to allocate contracts.
The second had Trinidad groaning. Warner was appointed Minister of National Security, in charge of the police and army. The Trinidad police have never convincingly investigated how Mohamed Bin Hammam smuggled US$1 million in cash through the national airport from his private jet.
They show no interest in probing Kenny Rampersad's role in Warner's CoE frauds. On the evidence of Simmons, FIFA should be suing Warner – and The Belly – for the return of the millions they stole. The problem is, the Deadly Duo have a perfect defence: 'You always knew – you never interfered.
This was not thieving, it was Sepp Blatter buying loyalty.' It was a typical mafia structure. Blatter and Havelange took money from the profits of the World Cup to give to Warner who delivered the votes that kept them in power to take more.
Further down the feeding chain, Warner looked after the little men from the islands, nominating them to FIFA committees which meant long-distance travel, good hotels, US$200 a day cash per diems – all paid for by Blatter — and a fistful of World Cup tickets to sell to the Black Market.
We begin to understand why Blatter has always been re-elected. He is a great President!
Editor's Note: Wired868 has been authorised to publish excerpts from Omertà for readers. We urge you to purchase an online version of the book for just £8 at: http://www.transparencybooks.com/