Liverpool striker Mario Balotelli saw something that tickled him during Manchester United's controversial 5-3 loss to newly promoted Leicester City yesterday and tweeted: "Man Utd… LOL."
Naturally, it was met with an explosive response from sad, little "fans" who saw it as an excuse to abuse the 24-year-old Italian football star.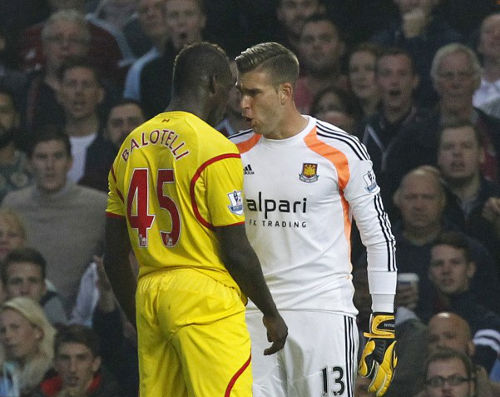 The moment of Zen was provided by @CraigSainsbury who responded: "Got eat some bananas and get ebola you dirty monkey." It was, arguably, racist abuse and bizarre and misguided health warning in equal measure.
Even the dreaded Ebola disease might have felt violated after being exploited in that way.
Mr Live Wire thinks if doctors are still agonising over testing possible ebola vaccines, they should skip the chimpanzees and go straight to this clever twit.
Merseyside Police is investigating the abuse, which is better than Balotelli might have expected in Italy. After the selection of Carlo "Drive-out-banana-eaters" Tavecchio as Italy FA president, Serie A clubs might have at least made @CraigSainsbury an honorary FA director.
Speaking about dodgy officials, can someone ask UEFA president Michel Platini what time it is?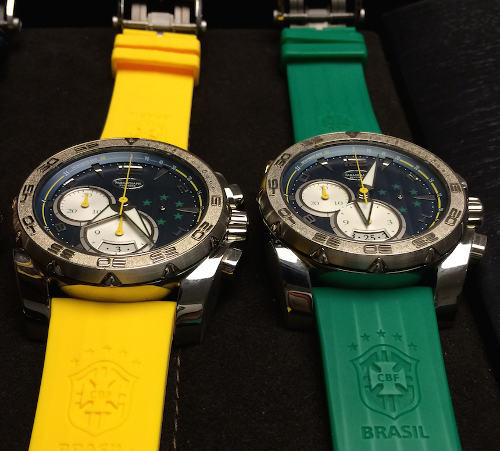 Platini, a former France and Juventus football hero, is either the first millionaire who can't tell the difference between a watch of symbolic and trivial value—as permitted by FIFA's rules for gifts—and a £16,000 Parmigiani watch. Either that or Platini felt a watch that cost as much as most Trinbagonians' cars was just another piece of crap that he tossed in his socks' drawer.
Regardless, the FIFA Ethics Committee declared that Platini and his fellow gift loving FIFA executive committee members would have to give the watches back.
And Platini, a man who openly supported the controversial Qatar 2022 World Cup bid, declared that FIFA president Sepp Blatter could try prising the watch from his cold, twisted corpse. We paraphrased slightly.
"I'm a well-educated person," said Platini. "I don't return gifts."
Considering that ex-FIFA VP Jack Warner was a former school teacher, can there be any doubt about where Platini got his education?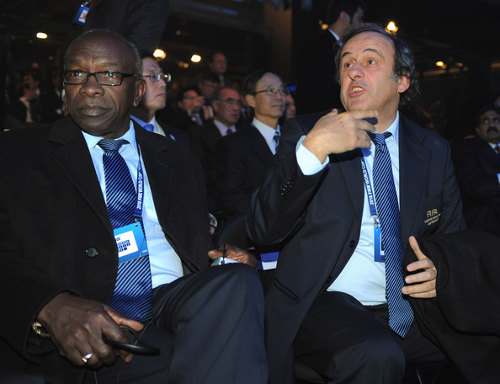 Like the Chaguanas West MP, Platini is a man of principle. And his main principle is not to have principles.
There was not a lot of class in Manchester either on Sunday afternoon as City manager Manuel Pellegrini again accused Chelsea boss José Mourinho of essentially not being him.
Pellegrini, who has attacking talents like Sergio Aguero, David Silva, Yaya Toure and Sami Nasri at his disposal, likes a good old fashioned shoot-out and prefers opponents to play to City's strengths. Mourinho, who can afford to leave the world's best goalkeeper Petr Cech on the bench, is more inclined to put his faith in defence.
And Pellegrini thinks "Football Fair Play" means teams are obliged to play in a manner that suits him.
"We played during 90 minutes against a small team (Chelsea) trying to defend, trying to keep 10 players in front of their goal," said Pellegrini. "It was very similar to the Stoke team, with a big team playing against a small team with very good players, trying to defend, trying to keep the score (nil-nil)…
"I repeat that I think they had no intention to win the game. They came just to draw and they scored on the counterattack against 10 players."
In a decade as a coach in Europe, Pellegrini managed two trophies—the England Premier League and League Cup. In that same period, Mourinho won two Champions League, two Premier League, two Serie A, two Primeira Liga (Portugal league) and two England League Cup trophies as well as one La Liga, a UEFA Cup, Coppa Italia, Spanish Copa Del Rey and an English FA Cup title.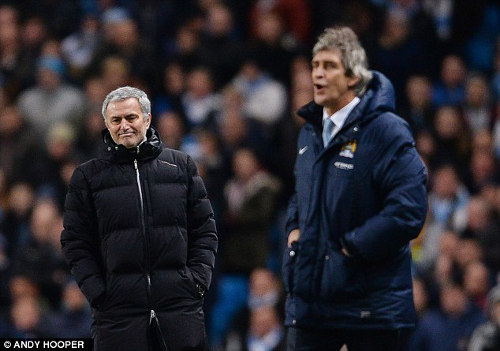 If Pellegrini wants to be considered a bigger coach than Mourinho, he had better save his ideological superiority for on the field; not in press conferences.
Of course, Mourinho has a glittering career in the name-calling business as well. He once mocked Pellegrini's second placed finish with Real Madrid by commenting that: "Second place is just the first loser."
And, yesterday, Mourinho referred to the City manager as "Mr Pellegrino"; as if to suggest he did not know the name of a man he repeatedly crossed verbal swords with over the past four years.
Mr Live Wire has seen more dignified fights in school yards. So why is it that we cannot wait until next weekend?!