It was billed as a SSFL Premier Division match but it closer resembled wrestling in the vicinity of a football. And, as it turned out, St Anthony's College is not too bad at that game either.
There were two score summaries at the final whistle: Two St Anthony's ejections to one from Trinity East College; and, more importantly, four goals to the "Westmooring Tigers" and two for the "Trinity Blue Hawks" at the Trinity school ground in Trincity.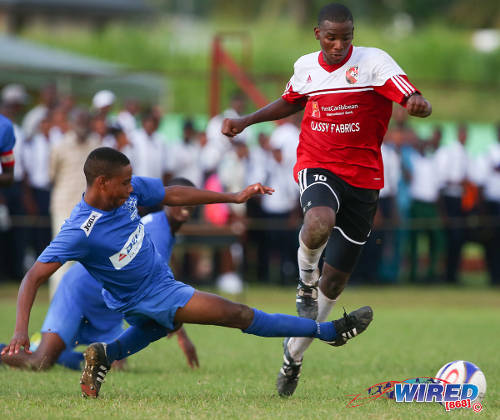 There were elements of today's affair to please both coaches as grit, athleticism and defiance were not in short supply. Not much football though.
The Tigers stormed ahead within seconds of the kick off as Trinity goalkeeper Emmanuel John failed to gather a ball from the first move of the game and St Anthony's midfielder Jules Lee hit into an empty net.
A stroll through the park for the northern visitors? Not quite.

On an uneven playing surface that made slick football difficult—if not impossible—Trinity took control and pegged the visitors back for much of the remainder of the first half. As much as anyone could claim control in a fixture that was never far from a shoving match.
Trinity essentially sought to get the ball into the final third of the field as quickly as possibly where the creativity and direct running style of captain Akil Modeste and attacker Sean Bonval caused problems initially. At the end of whatever Modeste and Bonval could muster was, hopefully, Trinity and Trinidad and Tobago national under-17 striker Dereem Daniel.
In the 14th minute, Daniel brought the host team level with a precise lunging finish from a low Modeste cross in the area. Daniel's second item, 12 minutes later, was arguably the move of the match as he cushioned a lofted Modeste pass before hammering past St Anthony's goalkeeper Carlton Alfonso to send his schoolmates into rapture.
"Why are we getting nervous?" asked St Anthony's coach Nigel Grosvenor, from the sidelines. "Relax it fellahs. Relax allyuh selves…" Grosvenor sounded as if he was about to start an aromatherapy session. But it seemed to work.
In the 35th minute, St Anthony's were level again as the pacy Darius Ollivierra found space in Trinity's penalty area and lashed past John. And both teams were still on even footing when referee Keilon Bacchus blew for halftime.
Already, the physical side of the game was threatening to bubble over though. There were two cards in the first half and both went to St Anthony's players Shakeem Patrick and Adriel Kerr although the Trinity boys were no saints themselves.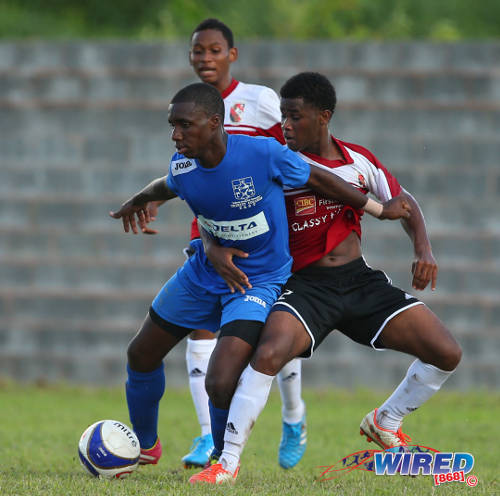 Daniel, in particular, was fortunate not to be cautioned after he was the aggressor in a shoving match with St Anthony's defender Nicholas Moyou.
Remarkably, as the game resumed, Trinity conceded straight after the touch for a second time.
On this occasion, defender Kendall Charles was the culprit as he deflected an Ollivera pass into the path of striker Kwesi Allen; and then fell over instead of challenging to regain possession. Allen did not pass up his gift as he banged home to regain the Tigers' advantage.
There was another telling slip-up in the 66th minute, which might have been a bad omen. Patrick was muscled off the ball near the centre circle and responded with a trip on his assailant and Trinity substitute Thomas O'Neil.
Bacchus flashed yellow at the St Anthony's player. But the referee failed to connect the dots.
"Ref that is his second card," said Trinity coach Adrian Romain. "You have to be on top of things man!"
Bacchus checked his book, realised the error and sent Patrick off. Whether the foul merited a second booking in such a fiercely contested match and if the referee would have shown it if he knew the full implications was another story.
By then, the St Anthony's defence had wised up to Daniel's threat and, collectively, were smothering the striker and his supply chain. Sometimes, the Tigers did so by fair means; sometimes not.
And, despite a lively cameo from Trinity substitute Kristian Meloney, Trinity was caught in gridlock.
Then came another big decision for Bacchus. Ollivera lunged at Meloney from behind and took him down with a scissors motion in the 76th minute. It was the crudest challenge of the game. Bacchus reached for yellow rather than his red card.
Two minutes later, Ollivera rubbed salt in Trinity's wounds as he spanked home his second goal and St Anthony's fourth from a left side Kerr delivery. And as the game veered into stoppage time, Daniel, Trinity's blunted focal point, let his frustration boil over.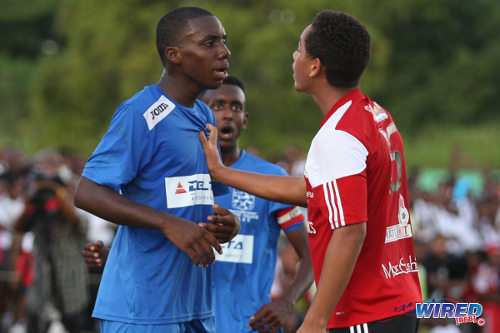 Bacchus had already whistled for a St Anthony's foul on Daniel; but the young "Soca Warrior" took his own revenge with a cheeky clip at the side of Moyou's head in full view of the referee. St Anthony's right back Jared Flament raced in to confront Daniel only to be shoved in the face.
It was as if Daniel had not even heard of the concept of match officials or violent conduct.
When the dust settled from the inevitable skirmish, Bacchus showed red cards to Daniel and Flament; although the Tigers defender had not started the romp and, judging by the lump near his left eye, did not end it either.
Trincity will not be an easy ground for visitors this season. The St Anthony's players will surely be glad to have that ticked that trip off their bucket list.
(Teams)
St Anthony's College (4-2-3-1): 1.Carlton Alfonso (GK); 2.Jared Flament [Red card], 23.Mawasi Charles (captain), 15.Nicholas Moyou, 18.Simon Joseph; 6.Leon Whyle (12.Mattheus Granger 46), 8.Jules Lee (17.Raheem Borde 81); 11.Adriel Kerr, 9.Darius Ollivera (19.Isaiah McIntyre 81), 25.Shakeem Patrick [Red card]; 10.Kwesi Allen.
Unused substitutes: 22.Oba Augustin, 5.Keston Herrera, 3.Shaquille Sandy, 13.Shem Clauzel.
Coach: Nigel Grosvenor
Trinity College East (4-2-3-1): 22.Emmanuel John (GK); 3.Lloyd Pierre, 4.Josh Romain, 21.Kendall Charles, 6.Daniel Sandy; 15.Jade Commissiong, 8.Adrian Charles (2.Thomas O'Neil 52); 17.Deyshawn Edwards (7.Kristian Meloney 52), 10.Sean Bonval, 11.Akil Modeste (captain); 19.Dereem Daniel [Red card].
Unused substitutes: 1.Myron Mark, 14.Darnell Sookoo, 25.Kishion Hackshaw, 20.Atiba Lucas, 24.Nickel Orr.
Coach: Adrian Romain
Referee: Keilon Bacchus
SSFL Premier Division results
(Thu Sep 4)
St Anthony's College 4 (Jules Lee 1, Darius Ollivierra 35, Kwesi Allen 46, 78), Trinity College East 2 (Dareem Daniel 14, 26) at Trincity;
*Red Cards: Dereem Daniel (Trinity); Shakeem Patrick, Jared Flement (both St Anthony's);
Naparima College 2 (Shane Sandy 37, Akinola Gregory 77), San Juan North 1 (Jacey David 14)at San Juan;
Arima North 3 (Mitchell Mulick 1, Josiah George 25, Aftan Molino 32), Presentation (S/F'do) 1 (Levon Bass 62) at Guaracara Park;
Fatima College 2 (Dillon Abraham 14, Marquise Hoyte 83), Shiva Boys 1 (Quinn Rodney 28)at Guaracara Park;
*Red Cards: Kyle Sylvester (Shiva Boys); Marquise Hoyte (Fatima).
Carapichaima East 0, Chaguanas North 0, Carapichima.
(Wed Sep 3)
St Benedict's College 2 (Mariba Des Cartes 31, Shaquille Williams 60), East Mucurapo Secondary 0 at Hasely Crawford;
St Mary's College 3 (Chinua Bernard 4, Aaron Noel 15, Ethan Shim 59), St Augustine 0 at Hasely Crawford
Upcoming fixtures
(Sat Sep 6)
St Benedict's vs St Anthony's, 3.45 pm, La Romaine;
Carapichaima East vs Trinity College East, 3.45 pm, Carapichaima;
Arima North vs East Mucurapo, 3.45 pm, Arima;
Shiva Boys HC vs Chaguanas North, 3.45 pm, Guaracara Park;
St Augustine vs Presentation (San F'do), 3.45 pm, St Augustine;
San Juan North vs Fatima College, 3.45 pm, San Juan;
Naparima College vs St Mary's College, 3.45 pm, Lewis Street, San Fernando.