St Mary's College was in a "razza tazza" mood tonight as the boys in stripes kicked off their 2014 SSFL Premier Division season with an emphatic 3-0 win over St Augustine Secondary at the Hasely Crawford Stadium in Port of Spain.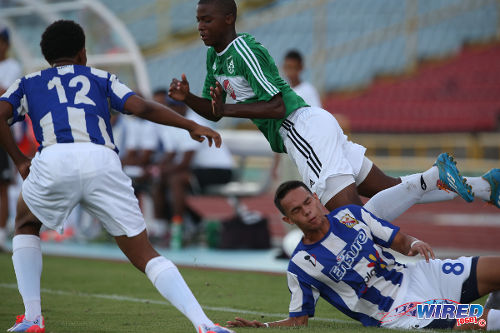 To say the "Green Machine" never got out of first gear would be an understatement. More like St Augustine captain Joshua Marshall could not even locate the ignition.
At the other end, St Mary's midfielder Ethan Shim had on his dancing boots as his fluorescent orange tugs twisted and twirled around a bamboozled St Augustine backline. If this is what "tiki tazza" looks like, the Saints will be a handful this season.
In the earlier match of a Hasely Crawford double header, St Benedict's College downed East Mucurapo Secondary 2-0 in a largely forgettable affair apart from a sizzling Shaquille Williams strike on the hour mark. Neither team ever got into its flow although Mucurapo midfielder Travell Edwards looked a decent prospect when in possession.
Some good flank work from Benedict's midfielder Stephen Ashby created a simple opener for Mariba Des Cartes in the 31st minute. And Williams produced a touch of quality in the 60th minute with a sizzling left footer into the far corner from 22 yards.

There was plenty to appreciate in the second match, though, as St Mary's easily saw off a tentative St Augustine outfit. Chinua Bernard got on the end of an Aaron Noel through pass to put the Saints ahead with a cool finish in the fourth minute. And things fell apart for the Green Machine after that.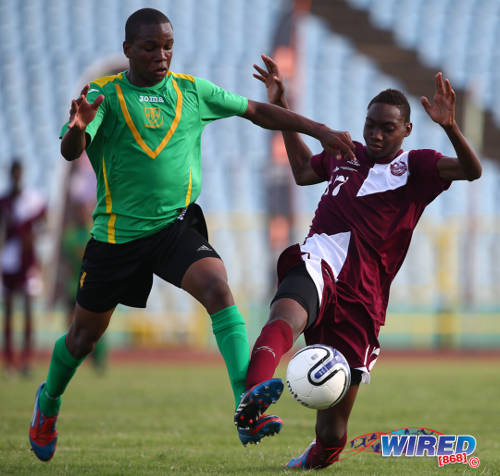 Shim first caught the eye with a fierce, lunging tackle in the ninth minute that seemed to have started at City Gate. St Augustine striker Anthony Samuel was nimble enough to avoid full contact. But he might have counted his legs after just in case.
St Mary's doubled its advantage in the 15th minute as Noel and Bernard successfully switched roles. This time, Jamiel Williams crossed low from the right flank and Bernard relayed the ball to Noel at his left. There was still some work to do but Noel breezed past his marker with a step over before planting the ball low in the far corner for the second item.
It was slick, attractive stuff from St Mary's. But then the St Augustine players never seemed to consider inconveniencing their opponents by, for one thing, tackling. And, midfielder Jesse Joseph excepted, the eastern team was woefully short on offensive ideas; and only threatened on corner kicks.
Shim liked the look of this unfolding story. And when he hit his stride, midway through the second half, there was never going to be a comeback for the one-paced Green Machine.
To call Shim a box-to-box midfielder would sell him short, he wanted to be wherever the ball was—although he seemed suspiciously keener on drifting towards whichever flank held the most supporters. Apart from an eye for the audience, Shim had a flair for the dramatics; and he was fortunate not to have been booked after repeatedly embellishing minimal contact from his opponents with choreographed somersaults to the ground.
That apart, Shim showed cleverness and charisma in midfield and was the wind in the sails of a promising St Mary's team. He got the final goal too in the 59th minute as he drove through the legs of St Augustine goalkeeper Michael Logie after some intricate interplay that included Sebastien Cabral and Noel.
By then, St Augustine coach Michael Grayson had surely summoned a tow truck.
(Teams)
St Mary's College (4-1-4-1): 1.Kristopher Donaldson (GK); 5.Rickel Dixon; 12.Siddiq Manzano, 15.Jerome Dempster-Babb, 2.Marcus Mottley, 21.Nathan Harte, 8.Ethan Shim (80.Howard Sabga, 85), 10.Aaron Noel, 7.Jamiel Williams (16.Jonathan Bharat 62), 11.Sebastien Cabral (14.Tyler Kirton 85),  9.Chinua Bernard.
Unused substitutes: 24.Nicholas Ramdin, 19.Jean Marc De Souza, 18.Bryant Van Low, 6.Joshua Da Silva.
Coach: Jason Edwards
St Augustine Secondary (4-1-4-1): 1.Michael Logie (GK); 2.Zion Phillips (12.Brandon Reyes 61), 4.Ainsworth Grant, 17.Zion Holder, 13.Romario Villafana; 5.Joshua Marshall (captain); 7.Keishawn Marcellin, 8.Jesse Joseph (11.Keno Samuel 80), 14.Tyriq Alexander, 9.Anthony Samuel, 10.Shakun Hanley (18.Dike Wilson 72).
Unused substitutes: 22.Kurt Maloney, 16.Kendall Borneo, 15.Nyamekye Martin.
Coach: Michael Grayson
2014 SSFL Premier Division
(Wed Sep 3)
St Benedict's College 2 (Mariba Des Cartes 31, Shaquille Williams 60), East Mucurapo Secondary 0 at Hasely Crawford
St Mary's College 3 (Chinua Bernard 4, Aaron Noel 15, Ethan Shim 59), St Augustine 0 at Hasely Crawford
Upcoming fixtures
(Thu Sep 4)
Trinity College East vs St Anthony's College, 3.45 pm, Trincity;
San Juan North vs Naparima College, 3.45 pm, San Juan;
Presentation (S/F'do) vs Arima North, 3 pm, Guaracara Park; Shiva Boys vs Fatima College, 5 pm, Guaracara Park.