Am I my World Cup brother's (goal)keeper? Earl Best tackles a delicate subject with all the tact and finesse of an elephant in the Serengeti…or a police raid Behind the Bridge:
There is a very real resemblance between Paul Pogba and Blaise Matuidi, the tall, handsome, articulate, intelligent, talented, black, francophone pair of World Cup 2014 footballers, and me. Well, perhaps I exaggerate a little; I maybe don't qualify as tall.
But that resemblance is not the reason I watched all five of the matches Les Bleus played in Brazil, starting with the convincing June 20 2-0 defeat of Honduras. I followed them closely all the way to their eventual quarter-final 0-1 elimination at the feet of Joachim Löw's ruthless Germans.
No. My interest in French football dates back to the days of Michel Hidalgo's inspirational 1982 squad which showcased that magnificent midfield trio of Michel Platini, Alain Giresse and Bernard Genghini.
The other day, however, watching Didier Deschamps' side get the better of Stephen Keshi's Nigeria, I found myself  wondering  whether I would have loved Platini's unit less had the line-up not also included Jean Tigana and Marius Trésor….
And we're not talking merely football skills and/or uniform colour; we're talking—shades of Franz Fanon—black skins, blue kits.
Race and ethnicity in sport is an area I have scarcely begun to plumb. But I remember the subject rearing its insistent head during the 2012 London Olympics. In the September issue of the Trinidad and Tobago Review, I revealed that "race was already a huge part of the programme for me even before the report of the starter's pistol sent the runners off in the opening track event."
And I referred to the 1968 Mexico Olympics and John Carlos and Tommie Smith and the gloved Black Power salute. And my schooling and my education in the sixties. And The Autobiography of Malcolm X and the Black Panthers and Angela Davis and Elridge Cleaver's Soul on Ice.
And I discussed my reaction to the rivalry between the USA's Carmelita Jeter and Jamaica's Shelly-Anne Pryce.
And teenaged gymnast Gabby Douglas. Remember her?
The moment I became acutely aware that I had a problem was when America, white and black, began criticising the impressive teenager for her hairstyle almost at the same time as they were hailing Michael Phelps as the greatest Olympian. Most successful, yes, but greatest? And Gabby's hair? Who the ass noticed? Who the ass cares?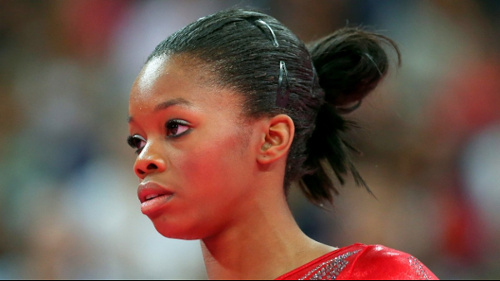 What I saw—and heard and read—was an extraordinary child with an extraordinary dream and an extraordinary desire to beat the odds. She didn't take the time to style her hair properly? She is letting the side down, embarrassing black women? Embarrassing?
For Heaven's sake, she won a gold medal in an event where people of our colour rarely compete, far less win. And you talk to me about her hairstyle? Gimme a break!
But when the commentators everywhere, on the television and in the newspapers, began to praise Phelps to the skies, with nary a reminder about the ways in which he had fallen from grace, the possible racial contours of the issue began slowly to emerge.
And further on, of course, there was Usain Bolt.
But for me, it wasn't a Caribbean flag that Bolt was flying or even a Jamaican flag; no. For me, inexplicably, it was the flag of blackness that he held high. The list of black 100m winners stretched from Germany in 1936 to Beijing in 2008, with the only aberration Alan Wells' 1980 victory in Moscow. But Bolt's unprecedented double double completed in London last month was still a triumph for his race.
And then last Monday, June 30, as the camera zoomed in on the faces of the players against the backdrop of the unmistakeable strains of the Marseillaise filling Brasilia's Estadio Nacional, there it was again. Nagging, insistent, demanding, dictatorial even. Refusing to take no for an answer.
Sure there are Pogba and Matuidi. And Patrice Evra and Mamadou Sakho and Loic Rémy. And Bacary Sagna and Moussa Sissoko and others of their hue in the squad.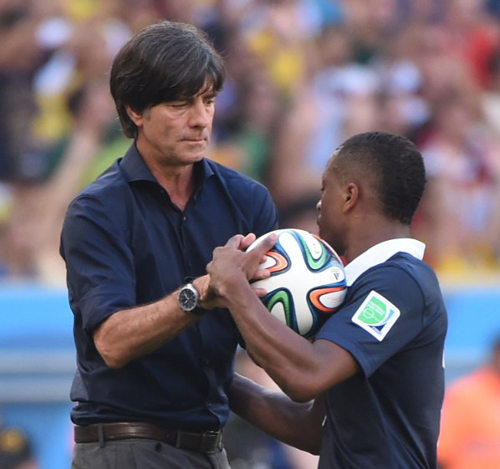 But tell me again, why are you backing this side? Didn't you see? Weren't you looking while the National Anthem of Nigeria was being played?
Did you see any face that wasn't the same colour as yours?
And once more, in my mind's eye, I saw the film of the infamous Hand of God 1986 World Cup: England vs Argentina quarter-final. Coach Bobby Robson overlooked John Barnes until the eleventh hour. But, desperate for a goal to reduce the 0-2 deficit, he gave him his chance with just a quarter of an hour of regulation time left. The Liverpool winger with the wicked left foot provided one on a platter for Gary Lineker and delivered a near perfect cross to set up a second.
A kn. That was all that separated Lineker from the cross… and England from the equaliser.
To my knowledge, Robson has never satisfactorily explained publicly why the impressive Barnes' chance had not come earlier in the tournament. How could he have? And start a race riot?
Anyway, added to the Geoff Hurst 'tief' goal of 1966, that match reinforced my status as a footballing Anglophobe, who always wants to see HMS QEXI quickly torpedoed World Cup after World Cup.
So how could I be a France supporter? How could I, so anti-Red, White and Blue after 1970, so deliberately unsupportive of the Red, White and Black after November 1989, be rooting for the Bleu, Blanc, Rouge in this encounter? What? Was black beautiful only in small helpings?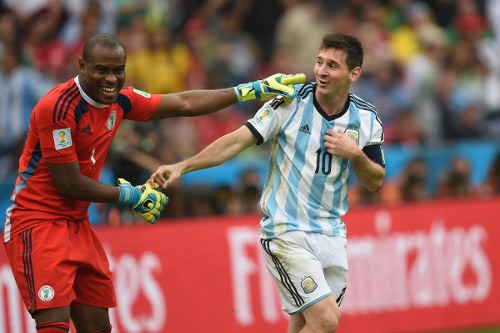 It made no sense. Except that resident in my head were Voltaire and Jean-Jacques Rousseau, Édouard Manet and Claude Monet, Jean-Paul Sartre and Albert Camus, Gilbert Bécaud and Charles Aznavour. And two flies in the milk and, therefore, in the ointment, Aimé Césaire and Léopold Sedar Senghor.
With only 15 regulation minutes left, the wimp in me, like the cleric in Jean Genet's play who suggested painting the host white and black on alternate sides, kept hoping foolishly for a draw. In a knockout match.
Fortunately, Pogba's 79th minute header settled it. At least in my heart. "Pristine loyalties," in my late brother's words, won out. I didn't celebrate; I commiserated.
So, I think I'm okay now, comfortable in the castle of my skin.
But what about my head? Might the reality be, for instance, that Pélé is not quite so good as Maradona and Messi?
Moscow 2018. Make a believer of me…