One man hitting a post has not provoked so much interest since Minister Two Pull tried to roll himself a smoke.
The "Samba Boys" go through; but it was a survival story as Mauricio Pinilla and Gonzalo Jaro both hit the frame of the goalmouth. There was no "joga bonito" here; just a gutsy, defiant football team that refused to be ejected from its own party.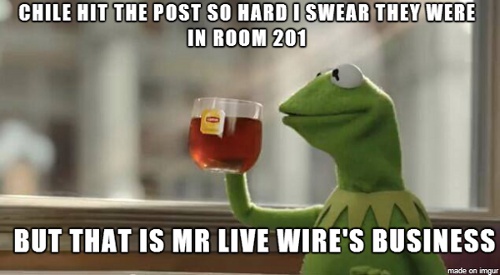 It says much that Brazil's best player was also its worse. Hulk looked to have the squad on his broad shoulders sometimes as he drove single-handedly at the Chilean backline and smashed shots on target from all angles. But it was Hulk's careless error that allowed Chile star Alexis Sanchez to equalise after David Luiz's opener; and the Brazilian was denied in the subsequent penalty shoot-out.
The first 20 minutes apart, Brazil rarely looked superior to its South American opponent. Dogged Chile defender Gary "The Pitbull" Medel made Neymar feel as welcome as a mailman. And Sanchez ensured that Brazil captain and central defender Thiago Silva had his sternest examination of the tournament.
In extra time, Brazil was the more positive team with Jo upfront in place of the anonymous Fred. But it rarely looked like enough to undo Chile. And Pinilla could have finished the business in the closing seconds.
Instead, like a fun-loving tourist, he stopped at the bar. And then Jaro lit up the post.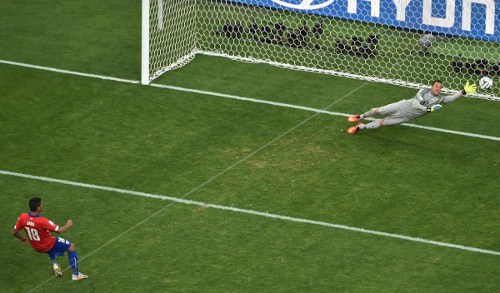 It was the signal for the house DJ to put on another tune; and Brazil's World Cup party continues.
Still, it is the Colombian fans who really have their dancing shoes on. And why not if James Rodriguez keeps playing like that?
Colombia has not sent such an entertaining player to the World Cup since Carlos Valderrama; well, unless you count pop star Shakira of course.
Today, he maintained his remarkable record of scoring in each match with a double against Uruguay. And Rodriguez's first item—a splendid volley on the turn from outside the penalty box—was every bit as dazzling as Shakira's waistline.
And did Mr Live Wire mention that Shakira is pretty awesome?
Well, whisper it, Rodriguez might be even better.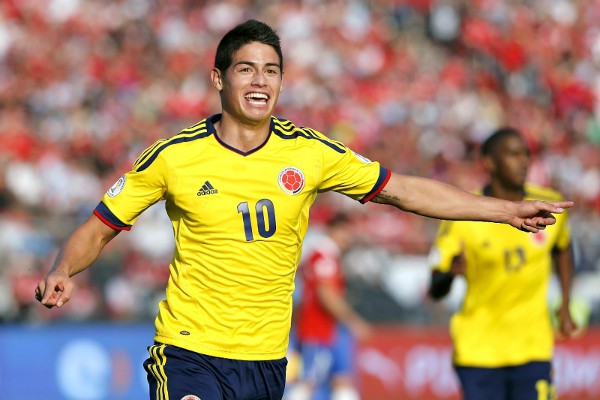 Today's World Cup action
Round of 16
Brazil 1 (David Luiz), Chile 1 (Alexis Sanchez)
*–Brazil won 3-2 on penalties
Colombia 2 (James Rodriguez 28, 50), Uruguay 0
Star of the Day
Much of the build-up to the 2014 World Cup centred on Argentina captain Lionel Messi and Brazil talisman Neymar; but make room for Colombia playmaker James Rodriguez.
His technique, vision and passing range are impeccable. But, today, it is all about that goal, which deserves comparisons with other famous volleys like strikes from Marco Van Basten and Zinedine Zidane.
Rodriguez's dance moves weren't bad either. Brazil better beware the tango.
Villain of the Day
Brazil coach Luis "Big Phil" Scolari's obsession with Fred Flinstone re-runs might end up being as costly as Luis Suarez taste for defenders.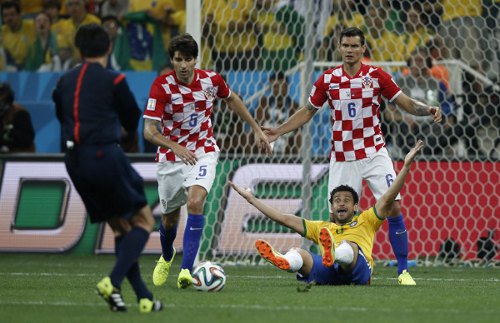 Atletico Madrid star Diego Costa said Scolari never invited him to play for the Selecao until he had already decided to represent Spain. Costa's decision meant he was on the first flight out of Brazil since Spain's title defence lasted about as long as the Red House fire.
But surely Brazil can only get so far with the Shaggy-lookalike sporting the number 9 jersey once worn by 2002 World Cup winner, Ronaldo.