Mr Live Wire has not seen so many disappointed faces in yellow jerseys since the 2015 General Elections.
For the fourth straight tournament, perennial World Cup favourites, Brazil, failed to navigate their way to the final, as the five-time champions tumbled out in the quarters after a 2-1 loss to Belgium in Kazan.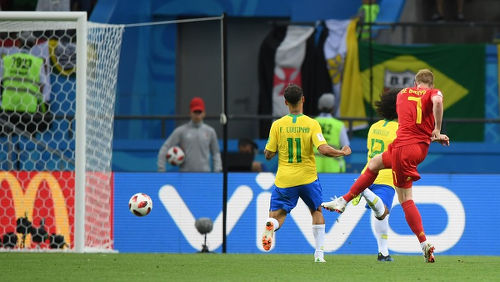 The "Samba Boys" join Uruguay in the departure lounge, after their South American colleagues were kayoed 2-0 by France this morning. All six nations still involved in the Russia 2018 World Cup are from Europe.
It is only the second time in 30 years that a South America nation failed to advance to the semifinals of a World Cup—after a similar dismal showing by the continent in Germany 2006.
Uruguay, arguably, had one foot in the grave from the kickoff, once it became clear that Edinson Cavani would not start upfront alongside star forward Luis Suarez.
Uruguay without Cavani and Suarez is like crix without cheese, chicken without chips, doubles without a red Solo, Colm Imbert without… Well, eh…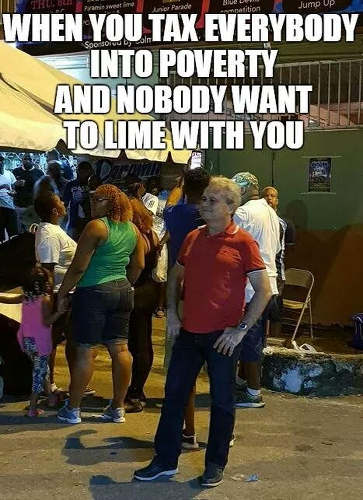 Anyhow, Uruguay played positively but were as blunt as a plastic knife without half of their one-two offensive punch. And, for the first time ever in a World Cup match he was involved in, Suarez failed to touch the ball in the opposing penalty box while he did not register a single attempt at goal.
The South Americans were always going to be in trouble then, when Raphael Varane put France ahead with a thumping header off an Antoine Griezmann free kick in the 40th minute.
Thirty-two year old Uruguay custodian Fernando Muslera would not want to remember France's second item, though, which he gifted to Griezmann.
Let's just say that there are drunk, middle aged men who produced better blocks in their first attempt at beach volleyball.
The fresh-faced France team were supposedly too raw and inexperienced to be considered serious contenders beforehand. How ridiculous those pessimistic forecasts seem now with Kylian Mbappé delivering cut and thrust upfront, backed admirably by  Paul Pogba in midfielder and Varane and Samuel Utiti in central defence—all 25 years young and less.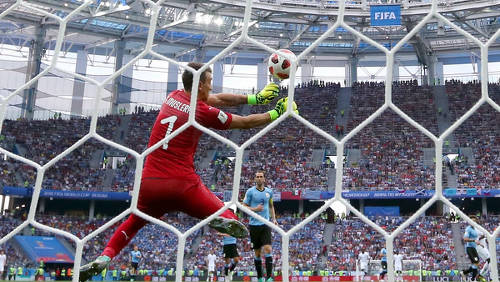 Not to forget, of course, their little energiser bunny N'Golo Kanté, who might be the only footballer with his own teleport machine.
France coach Didier Deschamps's team still has not moved into fourth gear. If "Les Bleus" put pedal to the floor before 15 July, though, woe to the team that is facing them at the time.
Belgium would be forgiven for feeling that they have already faced the best team in the competition and lived to tell the tale. That is debatable, particularly after today.
Brazil played well and dominated large periods of the second half. But the way the men in yellow snatched at shots and kicked into defensive blocks hinted at an internal insecurity, as—for the first time this tournament—the Samba Boys faced an opponent that could look them square in the eyes.
While Uruguay were hobbled by a rejig of their starting team, it might have been the opposite for Belgium, as Manchester City maestro Kevin De Bruyne received an advanced role for the first time under coach Roberto Martinez.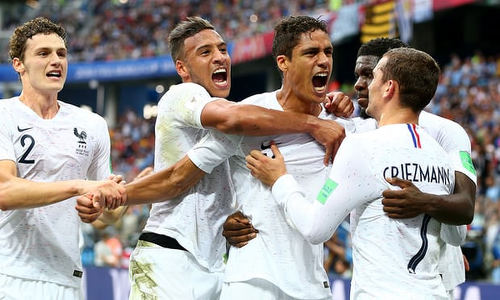 Thus far, Martinez has been like kryptonite to the talented Belgian. De Bruyne scored 12 times in his first three years as an international. But, since Martinez took over in 2016, he scored just twice before today—both in friendlies against Switzerland and Saudi Arabia respectively.
Within 90 seconds, the pale playmaker was almost celebrating the opener, as he held off opposing midfielder, Fernandino—his club teammate at City—before fizzing a shot inches wide. Both men would eventually be instrumental to the final result.
In the 13th minute, Fernandinho inadvertently diverted a corner kick past his own custodian, Alisson, after being distracted by the movement of giant Belgium captain Vincent Kompany.
Brazil could just as easily have been ahead by that stage. Defender Thiago Silva hit the Belgium upright off a Neymar corner kick while Paulinho miskicked off a Willian set piece.
Luck and character are key factors in tournament football. This was the first time that Brazil trailed in a match under current coach, Tite, in over a year—and they lost that game 1-0 to Argentina. Could the yellow men recover?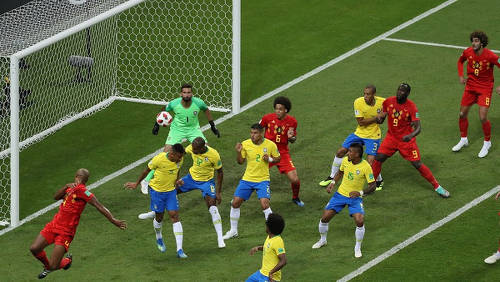 The gap widened instead in the 31st minute, as Belgium countered from a Neymar corner with Lukaku storming through the centre of the Brazil midfield before laying up De Bruyne for an exquisite second item.
The last time Brazil recovered from a two-goal deficit in a World Cup match was in 1938; and somehow you didn't get the feeling that Tite's boys quite had it in them.
To their credit, they gave it a good go, though. Belgium custodian Thibaut Courtois was in fine form at the back while midfield ace Philippe Coutinho and substitute Renato Augusto both missed presentable chances.
Coutinho and Renato did combine for Brazil's only goal, which came in the 76th minute with the latter producing a clinical headed finish off a cross from the former player. But it was not enough.
And what of attackers Neymar and Gabriel Jesus—the men expected to deliver the goals in Brazil's march to a sixth title?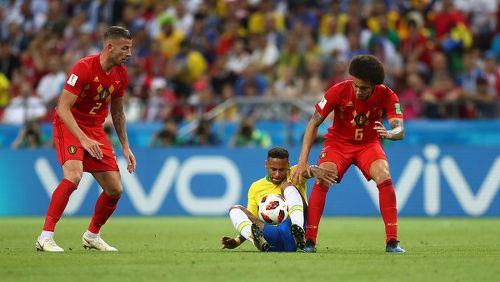 Neymar was always involved and did not shirk his responsibility; but he never quite stretched the opposing backline either. And he and Jesus were caught out by theatrical tumbles in the opposing area, after initiating contact themselves.
For Jesus, who failed to score in five starts at the Russia World Cup, his hopeful flop to the ground might sum up his tournament. Let's just say that the last time Brazil lifted the trophy, a certain Ronaldo was wearing the number nine shirt.
Neymar's own moment of reckoning came in the 90th minute, as he tried to get on the end of a Fagner cross but fell to the ground instead; screaming, as always, for the intervention of VAR.
Neymar had tried to trick Serbian referee Milorad Mazic before. And, since the Brazilian was cautioned earlier in the competition, he would have been suspended if Mazic booked him then for simulation.
So, in the 90th minute, Mazic might have remembered that Neymar dive, along with a catalogue of his absurd overacting throughout the competition. Could he be sure that the Brazilian was being honest at this crucial stage of the match?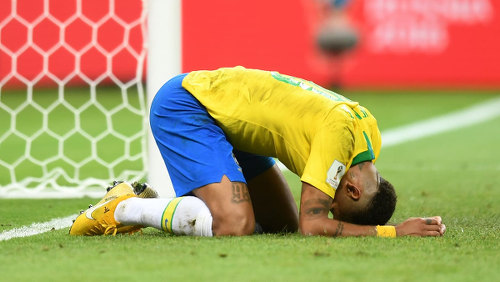 F*** that! Mazic decided to leave it up to VAR.
Italian Daniele Orsato was the main man in the studio today, entrusted with reviewing the penalty shout. However, the VAR does not intervene unless there is a strong suggestion that the referee got it wrong.
Belgium right wing back Thomas Meunier did give Neymar a little push as the two shaped to go after the ball. Was it enough to overrule Mazic?
Orsato decided, like Mazic, to stray on the side of caution. Like the boy who cried wolf, Neymar could not find a sympathetic ear when he and his country needed it most.
And, with that, it was Bye Bye Brazil. Cue a stampede of 'O Brasil' supporters to the French bandwagon.
As Melville Foster would sagely put it, a bunch of blasted Neymarkarams!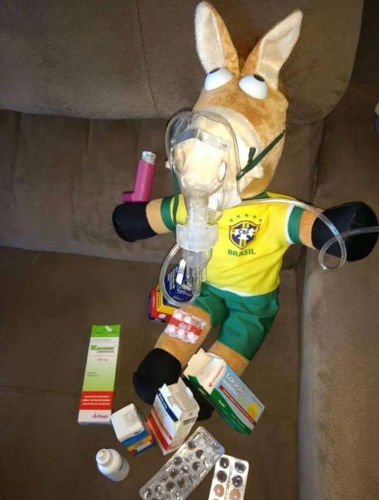 World Cup 2018
Quarterfinals
(Friday 6 July)
France 2 (Raphael Varane 40, Antoine Griezmann 61), Uruguay 0, Nizhny Novgorod;
Brazil 1 (Renato Augusto 76), Belgium 2 (Fernandinho OG 13, Kevin De Bruyne 31), Kazan;
(Saturday 7 July)
Sweden v England, 10am, Samara;
Russia v Croatia, 2pm, Sochi.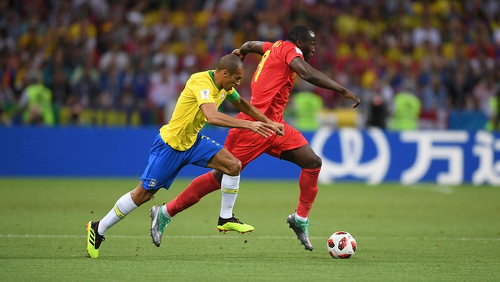 Semifinals
(Tuesday 10 July)
France v Belgium, 2pm, Saint Petersburg;
(Wednesday 11 July)
Sweden/England v Russia/Croatia, 2pm, Moscow.