The Ghana football team spent the last 24 hours before yesterday's crucial World Cup group match scouring the skies for signs of their $3 million dollar plane, cussing out its coach and slapping team officials.
It was just enough to get noticed by the international media on a day when FIFA told Uruguay striker and compulsive snacker Luis Suarez that he was not fit to go near to a football field for four months. God knows what the penalty might have been if he was found trying to fix matches or pocket bribes.
Oh, that's right. The FIFA's moral code applies to players only; unless you're trying to take Sepp Blatter's job.
In any case, the Ghanaian camp made some headlines of its own as midfielder Kevin Prince-Boateng, who did not play for 90 minutes in either of Ghana's opening games, was dropped for his team's final match after a cuss-out with coach Kwesi Appiah while star Sulari Muntari was similarly dismissed for allegedly slapping a team official.
There was not much fight left when Ghana eventually took the field as the "Black Stars" fell 2-1 to Portugal in a match that sealed both of their exits. Portugal star Cristiano Ronaldo finally got on the score sheet; but it was too little too late.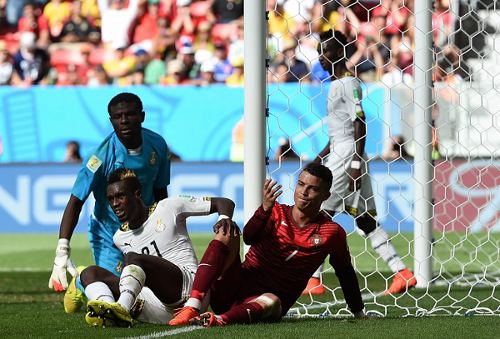 Ghana now follows Cameroon and Côte d'Ivoire home.
Algeria was up for the fight though. And so were the fans of the North African team.
In the 60th minute, spectators shone several lasers into the eyes of Russian goalkeeper Igor Akinfeev as he prepared to defend a corner kick. And Algeria promptly took advantage as towering striker Islam Slimani headed home the equaliser from the set piece, which ensured that Algeria qualified at Russia's expense.
"He was blinded by the laser beam," said furious Russia coach Fabio Capello, after the match. "This is not an excuse, it is a fact… I have never come up with excuses to get by in my entire life."
Mr Live Wire is distraught by the miscarriage of justice too. Or at least he will be once he stops laughing at the idea of Russia complaining about Algeria's use of technological aids in warfare.
Russian president Vladimir Putin can take a joke right?
Algeria now joins Nigeria as the only African nations in the knockout stages.
There was so more wizardry from Argentina captain Lionel Messi as he helped himself to a double in a 3-2 win over Nigeria on Wednesday before coming off for a breather in the 63rd minute. Messi has now scored four of Argentina's six goals in the tournament while one of the other two items came off his corner kick.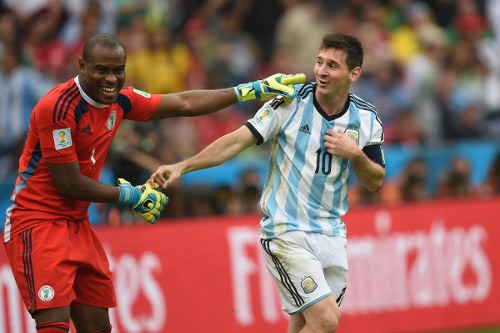 His substitution prompted an interesting philosophical question from one observer:
"Soooo wait," said blogger Rhoda Bharath, on her Facebook page. "When Messi leave the field, who plays as Argentina?"
Cheeky bugger.
Star of the Day
Germany attacker Thomas Müller who scored his fourth 2014 World Cup goal today and his ninth career goal in the competition, which puts him level with the likes of late Portugal legend Eusebio and retired stars like Italy's Roberto Baggio and Brazil's Jairzinho.
Müller has such a knack for goals too that you suspect he would have banged in as many items even he was playing at left back.
Villain of the Day
The FIFA: Sure, ban Luis Suarez from the rest of the World Cup. Four months without a game at any recognised level? Well, that is a bit stiff; but I suppose it gives him plenty time to reflect and seek psychological help.
But you mean to say that one of the greatest footballers on the planet cannot even get in to a stadium to watch a game while the German fans with the Nazi tattoos and blackened face are okay?!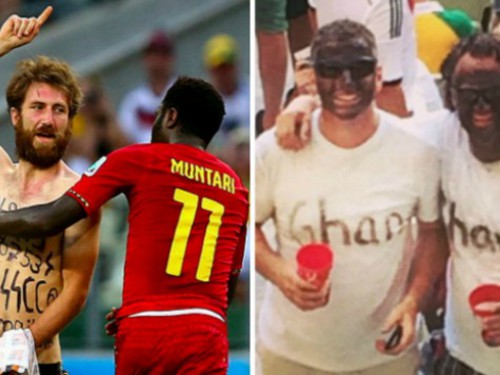 Well, can Suarez at least watch a game at the Centre of Excellence then?
Round of 16 Match-ups
(Teams grouped according to draw for quarterfinal and semifinal rounds)
Saturday: Brazil versus Chile; Colombia versus Uruguay;
Monday: France versus Nigeria; Germany versus Algeria;
Sunday: Netherlands versus Mexico; Costa Rica versus Greece;
Tuesday: Argentina versus Switzerland; Belgium versus USA.