Trinidad and Tobago international midfielder Ataullah Guerra came off the bench to fire home the winner today as Central FC overcame a two goal deficit to edge defending Pro League champion Defence Force 3-2 in stoppage time at the Larry Gomes Stadium, Malabar.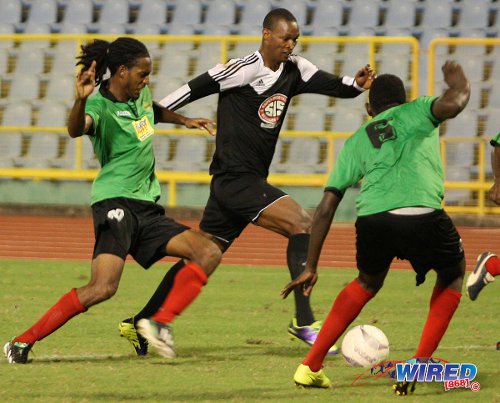 The result saw Central leapfrog Point Fortin Civic into second place by goal difference although the latter team has played one game less.
For Defence Force, it probably meant curtains for any realistic chance of defending its crown.
If the army/coast guard combination wins its games in hand, it can join Central and Civic on 29 points. But the forced January break for supposed crime fighting duties has robbed the "Teteron Boys" of momentum and a marathon schedule awaits with two games per week plus CONCACAF Champions League qualifying action.
Vice-captain Kevon Carter's sudden and tragic death surely meant a lot more to the team than just the loss of a talented and prolific winger.

Put those factors together and it would be a minor miracle if the Defence Force finishes in the top two teams this season.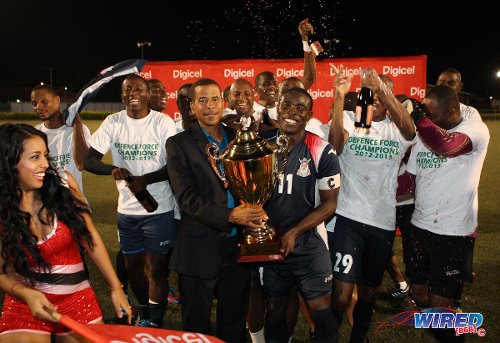 It would probably suit Trinidad and Tobago's football best, at this point, if Defence Force prioritises its CONCACAF duties as one of the Pro League's two representatives alongside Caledonia AIA.
At present, Caledonia is fifth in the nine team table and Defence Force is seventh. The Caribbean Football Union's (CFU) qualifying phase will certainly not be a leisurely stroll this year.
It was local honours at stake today though and, after a minute's silence in Carter's honour, Defence Force started as if keen to make a point.
After defensive blunders from either team, Central defender Elton John inexplicably handled in his own area in the 17th minute and Devorn Jorsling's penalty was flawless.
Jorsling doubled Defence Force's advantage in the 24th minute as he got on the end of a fantastic right side Jerwyn Bathazar cross to tuck the ball past Central goalkeeper Jan-Michael Williams.
But something was missing.
This is a team that puts the 'c' in choreography and Jorsling's strikes usually end with gems like his teammates mimicking pins in a bowling alley waiting to be knocked over. But Jorsling, who was a close personal friend of Carter, merely completed a few obligatory high-fives and trotted back to the centre circle.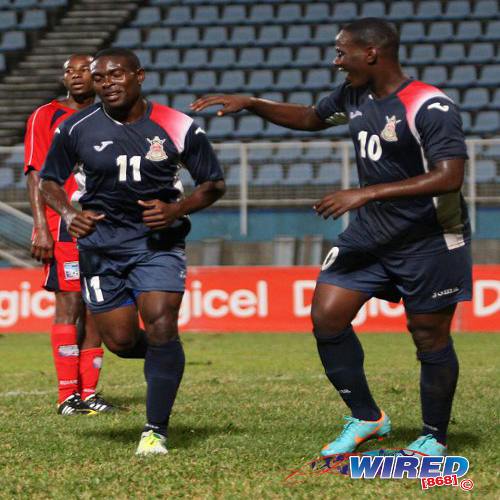 However the Defence Force players aimed to honour their former teammate, it was not with smiles.
The scoreline did flatter Defence Force though. And, two minutes into the second half, Central halved the deficit as midfielder Darren Mitchell ran on to a Willis Plaza pass and rounded Defence Force custodian Sheldon Clarke to score.
Coach Ross Russell's men could have restored the two goal lead in the 57th minute as right back Marvin Jones ran on to a brilliant return pass from Jorsling but, alone in the penalty area, lost his nerve and was foiled by Williams.
The Central goalkeeper barely saw the ball for the remaining 37 minutes. And, in the 72nd minute, it was hardly a surprise when the "Couva Sharks" equalised after Marcano successfully re-diverted a driven cross from the lively Mitchell.
By then, the soldiers had lost shape.
Jorsling was booked in the 61st minute for an uncharacteristic lunge at John that almost cut the defender in two. Curtis Gonzales, one of the league's most dominant midfielders, was anonymous and he got booked too in the 84th minute after catching Marcano in the face with a flailing hand.
Two minutes later, Rodell Elcock was ejected after picking up a second yellow card during a scrimmage between the two teams.
And, four minutes into extra time, Central was rewarded for keeping its head as Guerra blasted into the corner after being teed up by Marcano inside the opposing box.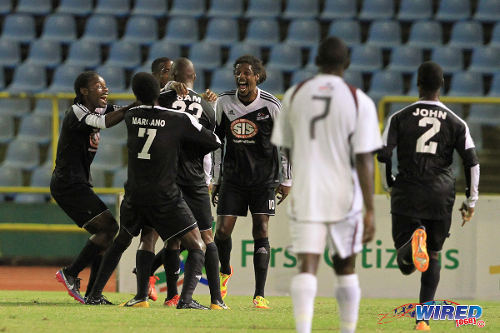 At the final whistle, Jorsling angrily booted the ball towards the stands and Russell made a point of putting an arm around the striker's shoulder as he headed to the dressing room.
The Defence Force players had the desire today; but not the composure. Who can blame them after what they have been through this year?
For Central, it looks like the worst is past. The Sharks' play was still patchy but the togetherness and heart of the squad, brought to order by chief whip Oliver, was unmistakable.
And, of course, their number 45, Guerra, has opened his scoring account. The talented playmaker is not up to full fitness yet after a recent shoulder injury but he claimed to be a week away from being himself again.
Central's upcoming Pro League opponents have good reason to be concerned about that.
(Teams)
Defence Force (4-2-3-1): 25.Sheldon Clarke (GK); 13.Marvin Jones, 5.Devin Jordan (2.Glynn Franklyn 58), 6.Rodell Elcock, 21.Aklie Edwards (captain); 8.Curtis Gonzales, 4.Dave Long (10.Josimar Belgrave 78); 12.Jemel Sebro (23.Kerry Joseph 70), 15.Jerwyn Balthazar, 17.Ross Russell Jr; 9.Devorn Jorsling,
Unused substitutes: 1.Kevin Graham (GK), 7.Balondemu Julius, 18.Sean Narcis, 26.Richard Roy.
Coach: Ross Russell
Central FC (4-1-4-1): 21.Jan-Michael Williams (GK); 12.Jamal Jack, 2.Elton John, 50.Yohance Marshall, 3.Keion Goodridge, 6.Leston Paul (45.Ataullah Guerra 46); 7.Jason Marcano, 10.Marvin Oliver (captain), 11.Darren Mitchell, 27.Samuel Delice, 1.Willis Plaza (22.Keon Trim 89).
Unused substitutes: 25.Javon Sample (GK), 4.Sean De Silva, 9.Dwight Quintero, 17.Rundell Winchester, 24.Akeem Benjamin.
Coach: Terry Fenwick
Referee: Cecile Hinds
Pro League result
(Sun Mar 9)
Central FC 3 (Darren Mitchell 47, Jason Marcano 72, Ataullah Guerra 90+), Defence Force 2 (Devorn Jorsling 17 pen, 24) at Malabar
[standings league_id=2 template=extend logo=true]