AC Port of Spain were made to settle for a point at the Hasely Crawford Stadium tonight, as they closed their maiden Concacaf Caribbean Cup campaign with a 1-1 draw against fellow TT Premier Football League (TTPFL) outfit Defence Force.
After three successive defeats, AC had no chance of advancing to the semi-final stage and, potentially, the Concacaf Champions Cup. However, they had a chance to end on a high note tonight against their local rivals.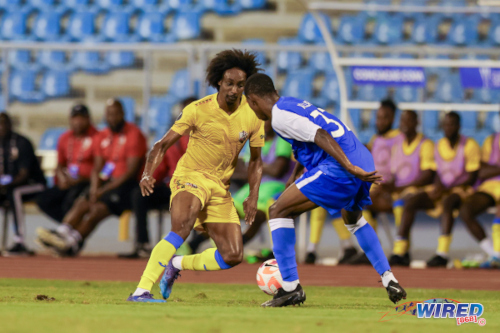 Midfielder Michel Poon-Angeron put AC ahead in the 77th minute after he stole the ball from an opposing midfielder and worked a one-two with captain Duane Muckette.
They could not hold on though.
Defence Force, who outshot AC POS 13 to two, kept throwing bodies forward and eventually fashioned an equaliser through a speculative effort from Brent Sam that sneaked past opposing goalkeeper Jadel Poon-Lewis in second half stoppage time.
AC are guaranteed to finish bottom of Group A now. However, the "Teteron Boys", who are third at present, can still get to the next stage with a win over Dominican Republic team Moca FC in Port of Spain on 4 October.
Defence Force have five points, while Moca have six and Jamaican leaders Cavalier FC have seven. The top two teams advance from the group.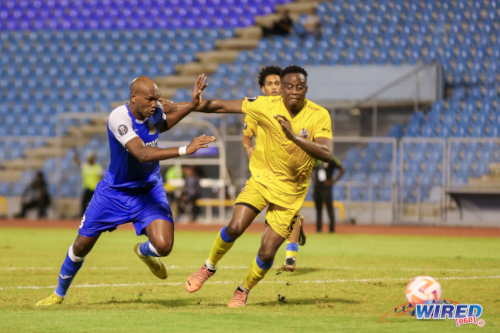 Cavalier, who are already guaranteed a spot in the knockout stage, play their final group match away to Golden Lion on 4 October.
(Teams)
AC Port of Spain: 88.Jadel Poon-Lewis (GK); 3.Maurice Ford, 6.Radanfah Abu Bakr, 12.Robert Primus, 16.Liam Burns; 8.Michel Poon-Angeron, 10.Duane Muckette (captain); 15.John-Paul Rochford (18.Anthony Charles 84), 7.Sedale McLean (19.Mark Ramdeen 73), 22.Jameel Neptune; 9.Tyrone Charles.
Unused substitutes: 1.Marvin Phillip (GK), 99.Justin Dos Santos (GK), 4.Malik Mieres, 5.Kerron St Cyr, 13.Brandon Semper, 14.Haile Beckles, 17.Kareem Eastman, 20.Che Benny, 29.Jean-Heim McFee, 30.Brian Armstrong.
Coach: Walter Noriega
Defence Force: 31.Christopher Biggette (GK); 37.Cassim Kellar, 23.Jamali Garcia (captain), 26.Justin Garcia, 7.Jelani Felix; 21.Justin Sadoo (10.Hashim Arcia 84), 66.Kevon Goddard (16.Lashawn Roberts 88); 15.Shaquille Bertrand, 28.Nathaniel Garcia (13.Rivaldo Coryat 70), 18.Reon Moore; 32.Jameel Cooper (8.Brent Sam 46).
Unused substitutes: 80.Jabari St Hillaire (GK), 3.Isaiah Garcia, 6.Rodell Elcock, 14.Kendell Hitlal, 17.Curtis Gonzales, 22.Darius Ollivierra, 24.Shaquille Holder, 25.Darnell Hospedales.
Coach: Lloyd Andrews