Club Sando goalkeeper Andre Marchan was an unlikely hero last night with a decisive penalty save as the Super League club continued its fairytale run in the Toyota Classic competition with a shoot-out triumph over Pro League outfit and 2012 Caribbean Club champions, Caledonia AIA, after a 2-2 tie in regulation time.
After a marathon contest that involved 26 penalties in total, Marchan dived to his left to deny Caledonia AIA captain Stephan David and send just over 300 supporters of the San Fernando club into raptures.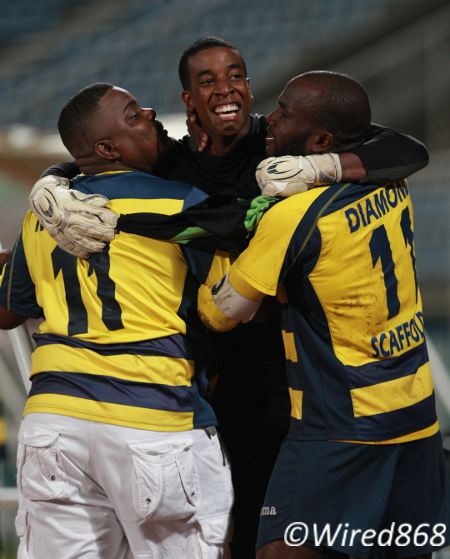 Sando, who whipped another Pro League opponent, Police FC, 3-1 in the opening round, will now face the winner between Central FC and Defence Force in the Classic semifinals next week.
Coach Anthony Streete cannot get enough of the high profile challenges.
"At the start of the season, I told my players we are preparing for the Pro League," said Streete, "because I come from the Pro League and I don't want to stay down here (in the Super League) too long. So we are testing ourselves and seeing how far along we are."

Judging from last night's affair, the Pro League better get ready for Sando.
Caledonia coach Jamaal Shabazz gave special mention to Sando's 12th man, its fanatical supporters.
"I didn't think we played with enough passion to come out on top," said Shabazz. "These Super League teams are bringing the passion back into the game with their supporters and it adds a new dimension in terms of players having to show more commitment in their performances.
"The fans are demanding that accountability (from players) that we have not seen in the League for some time."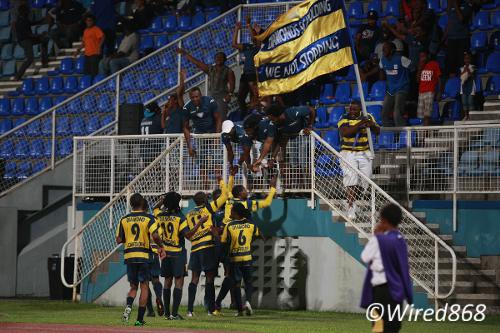 It took the lottery of the shoot-out to separate the two teams in the end. But it was probably Sando who deserved it more over the 90 minutes of regulation time anyway.
Caledonia opened the scoring in the 10th minute as Noel Williams knocked over the goal line after a build-up that involved striker Jamal Gay and right wing back Kareem "Tiny" Joseph.
But Sando pulled level, three minutes before halftime, as Caledonia defender Akeem Thomas failed to cut out a Kern Cupid cross and Sando captain Teba McKnight lashed home from inside the penalty area.
The first half could have been even better for the Super League team as Caledonia goalkeeper Shemel Louison failed to gather a swerving Devon Modeste corner kick and, in the subsequent melee, Sando playmaker Ryan Fredericks almost uprooted the bar with a powerful drive.
Nine minutes into the second half, Sando struck the goal frame again as Modeste glided past Nuru Muhammad and hit a stinging drive off the near post.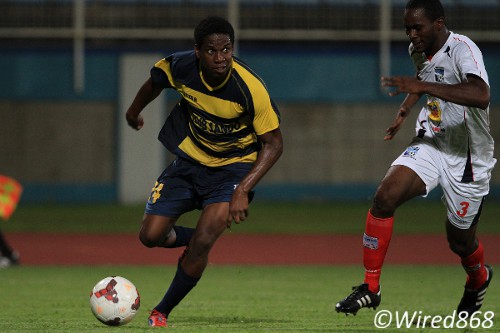 Sando finally got the go-ahead goal in the 87th minute and it was worth the wait; as the Super League carved open the Caledonia midfield with a series of tidy first time passes before Anthony Parris released Fredericks inside the opposing box.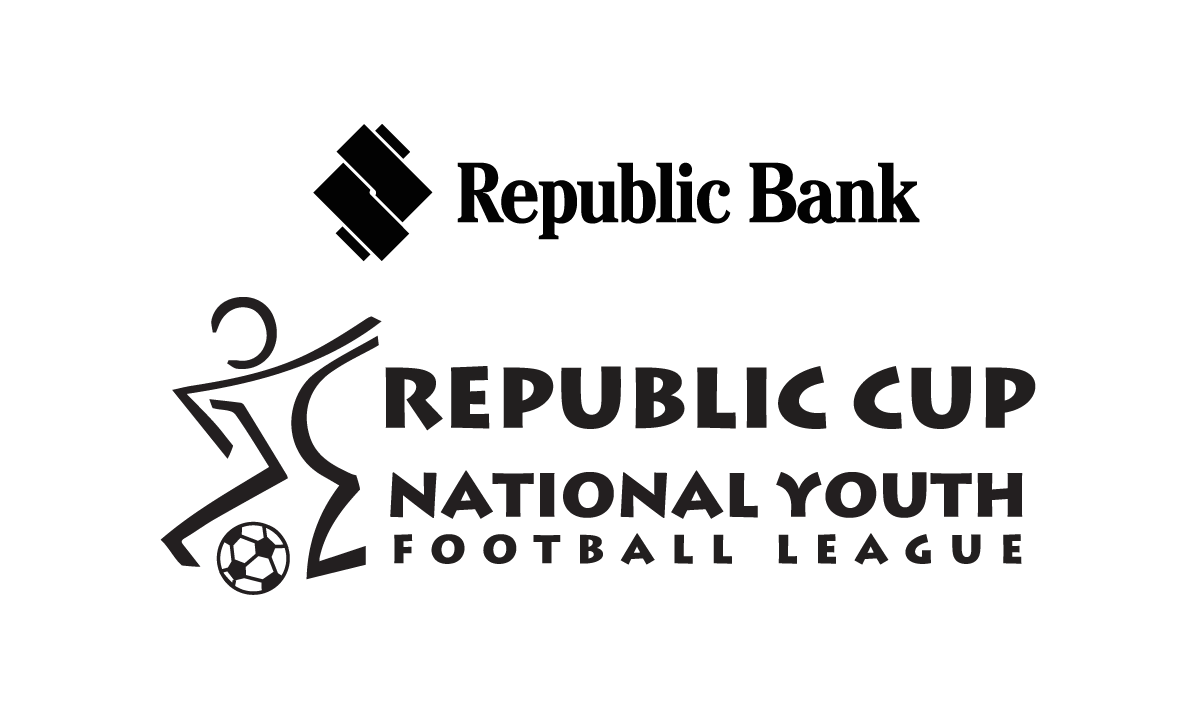 And Fredericks neatly clipped the ball over Louison, a Grenada international custodian, to give his team a late lead.
"We had too many players behind the ball and we were trying to go forward too quickly," said Shabazz, as he moaned the sub-par performance of his midfield.  "We didn't have the desire to keep the ball with Densill Theobald not on the pitch."
Streete preferred to credit to his own midfield star, the 22-year-old Parris, who was arguably the best player on the field yesterday.
"He is the balance in my midfield," said Streete. "He is just 22 and imagine he has never been called up by the national team. (But) I told him don't panic about that.
"Once we're doing well in the football, they most call on Club Sando eventually."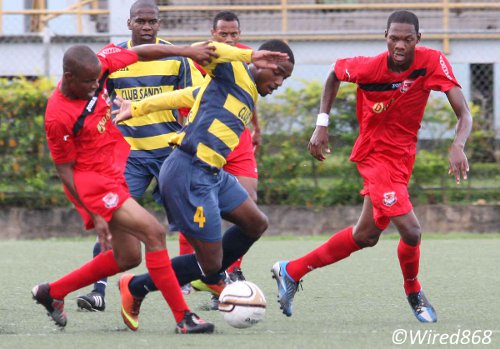 But Sando had not done enough to book a semifinal spot yet. Within seconds, Caledonia stunned the spectators by drawing level.
Nathan Lewis whipped in a cross from the left flank and fellow substitute Julian Wade hung in the air before dispatching a precise header to the right of Marchan.
Wade, a Montserrat international, has spent much of the season on the injured list but the composure with which he took his two goals so far suggests that he is worth remembering.
Passions boiled over on the touchline as Shabazz and unused substitute Abdallah Phillips got into an angry confrontation with a Sando supporter.
Shabazz urged the Pro League to improve on its security to ensure the safety of players and technical staff members, even as he credited the impact of the fan base for teams like Point Fortin Civic, Sando and Guaya United.
"I think (Guaya coach) Ron La Forest put it the right way," said Shabazz. "The fans are what is equalising the football between the Super League and the Pro League teams.
"Men can't pull out of tackles when there are fans like that waiting to cuss you after the game."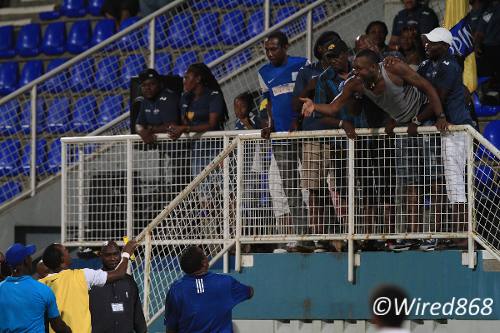 Sando had a last chance to decide the game in stoppage time after another fluent move.
McKnight chested down a right side cross for Parris who flicked the ball into Modeste's path. And the former St Ann's Rangers hitman ghosted past Thomas again but, once more, could not get his shot beyond the upright.
In the subsequent shoot-out, Caledonia stormed into a 3-1 lead as Louison denied McKnight and Parris from the spot. Muhammad could have made it 4-2 to Caledonia but went for a cheeky dink and saw his effort sail comfortably over the bar.
Cupid dragged Sando level at 3-3 but Caledonia had the final kick and could advance if Williams scored.
Marchan guessed right by diving left and Sando was back in the game.
The next 15 penalties were all successful as even goalkeepers Louison and Marchan hit the target; so the 11 players on each team were ordered to kick again.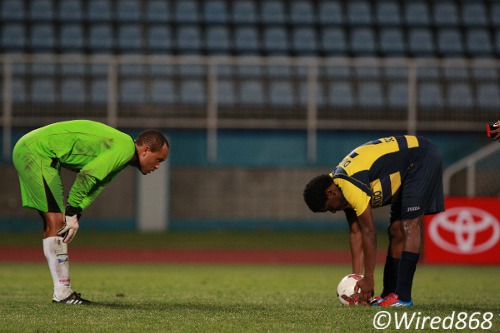 McKnight and Parris atoned for their early misses while Joseph was successful for a second time.
And then, with the score at 11-1o, David stepped up, hesitated in mid-run up and went to his right. Marchan was already there waiting for him.
And, after his decisive stop, the former national under-23 goalkeeper tore off his team jersey and sprinted towards Sando's thrilled supporters.
Club Sando is not finished with the Toyota Classic just yet.
(Teams)
Caledonia AIA (3-5-2): 1.Shemel Louison (GK); 5.Akeem Thomas, 14.Jamaal Smith, 3.Nuru Muhammad; 12.Kareem Joseph, 7.Stephan David (captain), 9.Keyon Edwards, 20.Noel Williams, 6.Marcus Ambrose (27.Nathan Lewis 46); 10.Kithson Bain (17.Akim Armstrong 67), 23.Jamal Gay (13.Julian Wade 81).
Unused substitutes: 11.Abdallah Phillips, 16.Tyrone Charles, 24.Kevaughn Connell, 25.Keron Bethelmy.
Coach: Jamaal Shabazz
Club Sando (4-3-3): 1.Andre Marchan (GK); 13.Kern Cupid, 20.Dwayne Charles, 22.Coneal Thomas, 6.Kemuel Rivers; 4.Anthony Parris, 9.Jesse Downing, 19.Ryan Fredericks; 24.Devon Modeste, 11.Teba McKnight (captain), 8.Kerron Smith (5.Devon Drayton 75).
Unused substitutes: 33.Alexei Julien (GK), 10.Andy London, 12.Nigel Daniel, 14.Randy Britto, 18.Andre Phillip, 26.Ryan Dipsingh.
Coach: Anthony Streete
Toyota Classic quarterfinals
(Fri Nov 15)
Caledonia AIA 2 (Noel Williams 10, Julian Wade 88), Club Sando 2 (Teba McKnight 52, Ryan Fredericks 87) at Couva
*–Club Sando won 11-10 on penalty kicks
(Sat Nov 16)
W Connection 4 (Joao Ananais 8 pen, Jerrel Britto 17, 19, Gerard Williams 74), Malabar FC 1 (Kevon Woodley 65) at Couva
Defence Force 5 (Richard Roy 9, Devorn Jorsling 73, 86, Kevon Carter 82, 90), Central FC 1 (Keon Trim 60) at Couva
(Sun Nov 17)
Point Fortin Civic vs Guaya United at Mahaica Oval