I don't know about you, Dwayne, but I got a bit of a surprise when I read the WICB's media release announcing the squad for the upcoming One-day Internationals against Pakistan.
The first thing that struck me was not the absence of Denesh Ramdin's name. Nor was it the omission of the injured Ravi Rampaul. To me it makes sense to give Ravi more time to recover and Denesh more time to reflect on what he wants to do with his immediate future.
I admit that I was also surprised to see Devon Smith's name among those selected because, well, let's just say I saw his 3-ball and 14-ball ducks against India and Sri Lanka respectively and I really didn't expect to see him out in the middle again anytime soon after those. But his selection was not the biggest surprise.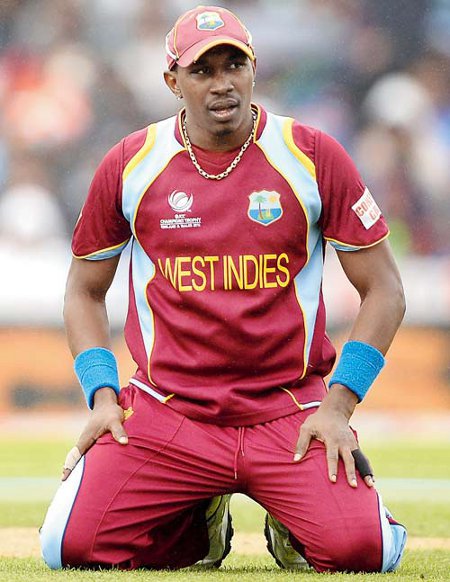 What surprised me most was the length of the section of the release that immediately followed the names of the 13 players. It was headed "Team Management Unit" and contained no fewer than eight names.
At the top was, not unexpectedly, Ottis Gibson, (Head Coach) and at the bottom was "Virgil Brown (Massage Therapist). Of course, Richie Richardson (Team Manager) was there as was Toby Radford (Assistant Coach) and "C.J. Clark (Physiotherapist);" no international team is complete without these officials nowadays. For me, Dwayne, the surprise was the sixth name. "Richard Berridge," it read, "(Video & Statistical Analyst)."
But it wasn't the name that surprised me; it was the job title.
Now I don't know, Dwayne, whether you trouble to read the local newspapers and, if you do, whether you manage to get any farther forward than the start of the Sports pages. But the Letters pages of Thursday's Express featured a very interesting letter, written by Noel Kalicharan. Headlined "WI must learn the mathematics of cricket," it discussed almost exclusively the importance of the net run rate in modern limited-overs cricket. It ended with a pertinent comment about the composition of the West Indies support staff.
"It's time the WICB (…) hires someone familiar with mathematics and cricket to give our team every possible advantage," ran the last paragraph. "Heaven knows we need it."
Berridge's existence – or his job spec – was unknown, Dwayne, to Kalicharan; despite his well-known interest in WI cricket, he quite clearly had the impression that the team was without a statistician. Without, more precisely, a competent statistician.
What could possibly have caused him to be labouring under such a misapprehension?
Now, I am sure you have not forgotten the Champions Trophy group game against South Africa which we would have won had Kieron Pollard not got out when he did. Not long after that match, I wrote a piece in these pages blaming Coach Gibson for the defeat and enquiring whether the team had the benefit of a statistical analyst.
I genuinely did not know, Dwayne. And, on the evidence of that June 14 match, (which, incidentally but interestingly, Kalicharan chooses to completely ignore) I would have concluded that it did not.
Do you get my drift, Dwayne? Well, let me put it into words: Assuming that he has not just been appointed for the first time and that he has been with the team since the Champions Trophy, do you have the impression that we are getting our money's worth from Mr Berridge?
I'd also like to remind you of an adage with which I am pretty sure you are familiar. "Performance," it says, "beats old talk anytime." Now why would I think it necessary to bring that up? Because, Dwayne, I heard both you and your deputy explaining – or attempting to explain – why, playing on our home turf and having won the first two matches, we still contrived to be eliminated from the final of the Tri-Nation Series Cup.
My advice, Dwayne, is to stuff it. You're, of course, too young to remember but in the good old days when we were beating the world, we didn't hear much talk from Clive Lloyd and Vivian Richards. They performed, letting their bats and the ball do the talking. You would do well to do likewise – outside of the team meetings obviously!
Frankly, there's quite a bit of talking to be done to the individual batsmen. Hear the Guardian on Friday as it editorialized, under the foolish headline "WI players weak in mind games," on the subject: "All of (Chris) Gayle, (Marlon) Samuels, Pollard, Dwayne Bravo, Smith, (Darren) Sammy and Ramdin consistently gave away their wickets to thoughtless and suicidal shots."
It may be too late for Denesh and Devon but it certainly is not for Sammy and Pollard. These last two can, I feel, usefully be encouraged to watch the Tri-Nation Series Cup tapes, paying particular attention to Kumar Sangakkara and MS Dhoni.
India claimed yet another international trophy and once more it was Dhoni who pulled the cashew nuts out of the fire for them at the end. What I would like you to point out to Pollard and Sammy is how Dhoni went about the business of getting the last 30 or so runs. He ended up with 45 off 52 balls; with three overs to go, he had scored only 18 off 28 balls. Did he panic? Did he try to launch everything that he could reach into orbit? I don't think so. He calculated what was possible and backed himself to get what was required off the last over if need be so long as he was still there.
Those last seven words, Dwayne, should be carved in stone and personal copies of the plaque presented to your finishers, Messrs Pollard and Sammy. That pair succeeds in bringing the match home only as often as Dhoni fails, which is not often at all!
So, yeah, Dwayne, talk nah, as Denesh might say.  But not so much to the media as to the team. Advise them to peruse Garth Wattley's "West Indies remain consistently inconsistent" in cricinfo.
Tell them to read Siddhartha Vaidyanathan's "Dhoni keeps his end-over promise" in the same place, no to study it. To commit it to memory.
Remind them of "Moderate successes, devastating failures," the legacy of the last Trinidadian to captain the West Indies, that incredibly gifted enigma that was Brian Charles Lara.
Because if you don't, despite the abundant talent of your team and the commercial success that attends the efforts of so many of its members, the good old days for your children will be characterized not by the thrilling taste of victory but by the bitter – arrrrrrgh! – agony of defeat after defeat.
Starting, alas, with another painful loss to the equally consistently inconsistent Pakistanis in the five ODIs and the two T20 matches over the next two weeks.
West Indies Full Squad:
Dwayne Bravo (captain), Tino Best, Darren Bravo, Johnson Charles, Chris Gayle, Jason Holder, Sunil Narine, Kieron Pollard, Kemar Roach, Darren Sammy, Marlon Samuels, Lendl Simmons, Devon Smith.
Team management unit:
Ottis Gibson (Head Coach), Richie Richardson (Team Manager), Toby Radford (Assistant Coach), C.J. Clark (Physiotherapist), Hector Martinez Charles (Strength & Conditioning Coach), Richard Berridge (Video & Statistical Analyst), Philip Spooner (Media Manager), Virgil Browne (Massage Therapist).
Match Schedule:
Guyana National Stadium, Guyana
Sunday July 14 – First ODI
Tuesday July 16 – Second ODI
Beausejour Cricket Ground, St Lucia
Friday July 19 – Third ODI
Sunday July 21 – Fourth ODI
Wednesday July 24 – Fifth ODI
Arnos Vale Cricket Ground, St Vincent
Saturday July 27 – First T20 International
Sunday July 28 – Second T20 International