The Trinidad and Tobago national football team closed its mini-European tour today with a 1-0 friendly loss away to Estonia.
Twenty two year old striker Henri Anier grabbed Estonia's winner in the 13th minute for his fourth goal from eight internationals while neither striker Jamal Gay nor substitutes Shahdon Winchester and Cornell Glen could break Trinidad and Tobago's scoring drought.
Unlike Tuesday's 4-0 loss to Romania, there was no readily available live feed of today's contest and no judgment can be made on the performance of the "Soca Warriors."
Estonia coach Tarmo Ruttlin was complimentary about his guests.
"It was a good result which is very important but it was a very difficult game for us," Ruttlin told TTFF Media. "… Trinidad and Tobago have unbelievably strong guys. It's not every time in Europe you can play against guys like this. They are tall, strong, technically sound and fast as well.
"It was a very different type of opposition for us and it was a very beneficial. I think there was some luck for us in the game also and we had to work very hard to end up with the victory."
Trinidad and Tobago joint head coach Jamaal Shabazz urged supporters to view the team's recent outings as preparation for the 2013 CONCACAF Gold Cup and not focus solely on the results.
"I thought they team did very well today," said Shabazz. "They worked hard and they played like Warriors. It has started to smell a little bit of what we want…
"We've also got to be patient with results. We must recognize that is just the preparation phase. These are matches to show us what we've got to work on.
"What is to come is near and we will see in the end what the outcome of this team will be."
The results, admittedly, paint a less than flattering picture. The Warriors have now gone six games without scoring and five of those games were losses. Along the way, the Trinidad and Tobago team has conceded 11 goals.
Joint head coaches Hutson "Barber" Charles and Shabazz might feel a tad more insecure too by news that Trinidad and Tobago Football Federation (TTFF) President Raymond Tim Kee has begun talks with ex-World Cup 2006 coach Leo Beenhakker towards reintegrating him into the local game.
Beenhakker was supposedly approached to assist on a technical developmental level but neither party has ruled out the possibility of the former Real Madrid and Netherlands international coach appearing on the bench for next month's CONCACAF Gold Cup.
So is this the time for panic or patience?
Last year, Charles and Shabazz overcame near financial paralysis and a rift between the TTFF and the Ministry of Sport to steer Trinidad and Tobago to its first Gold Cup competition in six years. They want to chance to finish the job at the confederation's showpiece tournament.
The new TTFF executive, understandably, is wary about the possibility of undoing its recent good work in settling the 2006 World Cup bonus dispute and returning the football body back to its former moorings as the Trinidad and Tobago Football Association (TTFA). The name change should be finalised next week while a new kit sponsorship and constitution are expected shortly.
So are Charles and Shabazz heading for boom or bust?
Recent statistics might not be conclusive as one might think.
Trinidad and Tobago has played in seven Gold Cups with six different coaches: Edgar Vidale, Zoran Vranes (Montenegro), Bertille St Clair (twice), Rene Simoes (Brazil), Beenhakker (Netherlands) and Wim Rijsbergen (Netherlands). Remarkably, the only coaches to ever win a match in the CONCACAF showpiece tournament were the two locals.
Vidale pulled off a victory over Costa Rica in 1991—after a Leonson Lewis equaliser and a stunning Alvin Thomas winner—while St Clair managed wins on both trips as his team whipped Honduras 3-1 in 1998 and then beat Guatemala (4-2) and Costa Rica (2-1) en route to a semi-final finish in 2000. Incidentally, St Clair was sacked immediately after taking Trinidad and Tobago to its best ever Gold Cup finish.
So, foreign expertise was traditionally of little value to the two-island republic in this competition. Beenhakker oversaw draws to Honduras and Panama and a loss to Colombia in 2005 while Simoes' team was eliminated after a  draw with Costa Rica and a 1-0 loss to Martinique in 2002.
In both of St Clair's trips to the Gold Cup finals, his outfit looked to be in horrendous pre-tournament form only to click at the right time.
Before the 1998 Gold Cup, St Clair's men won one from five games with four goals scored and 11 conceded against opposition that was much less intimidating than Romania.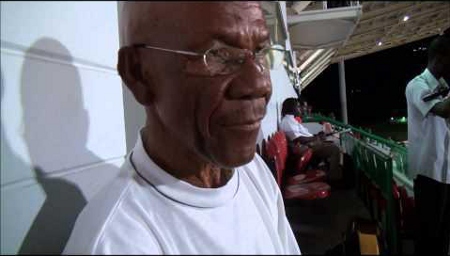 The results were: Martinique (0-3 and 2-3), Barbados (1-0), El Salvador (0-2), Guatemala (1-3) and Costa Rica (0-4). After conceding seven goals within a fortnight of its Gold Cup opener, Trinidad and Tobago promptly thumped a talented Honduran team 3-1 thanks to a Jerren Nixon opener and a Stern John double.
Two years later, St Clair savoured a 4-3 friendly international win over Colombia but failed to win any of five subsequent friendlies with returns of: Panama (2-2), Honduras (2-3), Canada (0-0), Morocco (0-1) and Costa Rica (1-2). Trinidad and Tobago was then hammered 4-0 in its Gold Cup group opener against Mexico before rebounding to finish as the second-best team in CONCACAF since the other semi-final featured guest teams Peru and Colombia.
Even in 2006, the Warriors followed up a friendly 2-0 win over Iceland with a 1-1 home draw against Peru and international defeats against Wales (1-2), Slovenia (1-3) and the Czech Republic (0-3) before a creditable showing in Germany.
The real question for Charles and Shabazz then is whether the Warriors are learning from the present humbling results.
Arguably, the biggest problems have been off the field. The trickle of withdrawals for March's trip to Belize became a stream in June and it gives the impression that the staff has not yet come to grips with the country's overseas talent.
The repeated pull-outs by the Belgium-based duo of Khaleem Hyland and Sheldon Bateau and Kazakhastan-based defender Robert Primus are particularly worrying. The 22-year-old Bateau, for instance, seems to want an awful lot of rest for a young man while Argentina and Barcelona sensation Lionel Messi will ignore a niggling injury to represent his country tonight, despite playing in twice as many games as the Trinidadian defender this year.
The Warriors recent penchant for travelling to international assignments with less than 18 players is embarrassing too. However, it is worth noting that team manager William Wallace has the unenviable role of having to negotiate directly with the Ministry of Sport over the team's travel budget, which was a result of Anil Roberts' feud with former TTFF General Secretary Richard Groden last year.
Tim Kee promised to solve the impasse when he became president last November but the awkward situation has persisted.
Shabazz's own problems with the United States' immigration, due to his Jamaat-al-Muslimeen ties and role with the 1990 attempted coup, might be relevant too. The Neal & Massy Caledonia AIA coach communicated with his club team via Skype for a CONCACAF Champions League fixture in Seattle last year. However, he insisted that he can still travel to the US, albeit through a special arrangement with that nation's lawmen.
The case for Tim Kee to support his present staff or return to Trinidad and Tobago's most successful previous coach is not clear cut and technical director Anton Corneal's evaluation could be crucial. Corneal worked as an assistant to Beenhakker in Germany and, once his own job is not at risk, is in a good position to offer advice for Tim Kee's next step.
Perhaps, as with the injection of Shabazz into the previous technical group of Charles and assistant coach Derek King, the TTFF President might again look for a middle ground.
In eight friendlies under the present technical staff, Trinidad and Tobago managed just one win over Antigua and Barbuda, one draw with Belize and six losses to Finland, Canada, Peru (twice), Romania and Estonia.
In competitive action, though, the Warriors have seven wins (Martinique, Dominican Republic, Cuba, Suriname, Anguilla, St Kitts and Nevis and French Guiana), two draws (Haiti and St Vincent and the Grenadines) and two losses (Cuba and Antigua and Barbuda). So, Charles, Shabazz and King are certainly not hopeless when it comes to slugging it out at wartime.
One way or the other, next week's decision will say a lot about the new man at the helm of the local game.
(Team against Estonia)
Trinidad and Tobago (4-1-4-1): Jan-Michael Williams; Justin Hoyte (Kareem Moses 72), Radanfah Abu Bakr, Daneil Cyrus, Aubrey David; Densill Theobald; Darryl Roberts (Shahdon Winchester 60), Andre Boucaud, Ataullah Guerra (Kevin Molino 60), Joevin Jones (Kevon Carter 70); Jamal Gay (Cornell Glen 70).
Unused substitutes: Marvin Phillip, Devorn Jorsling.
Co-head coaches: Hutson Charles and Jamaal Shabazz
Europe tour
7 June 2013
Estonia 1 ( Henri Anier 13), Trinidad and Tobago o in Tallin
4 June 2013
Romania 4 (Ciprian Marica 31, 33, 81, Daneil Cyrus 50 OG), Trinidad and Tobago 0 in Bucharest
Editor's Note: Should we give Hutson Charles, Jamaal Shabazz and Derek King a chance to finish the job? Or is the chance to reunite with Leo Beenhakker too good to pass up?
Answer the simple "Captcha" question and share your thoughts with us.