The Jack Warner Road Show hit Sea Lots yesterday as the former FIFA vice-president showed up with media in tow and pretended to be as influential as ever despite losing nine football and political posts within the last two years.
His comic routine has lost none of its shine. Warner told Sea Lots residents, who are awaiting a promised walkover, that his word was his bond.
Let's just say that Warner's bond is not the best adhesive on the market by some distance.
But Warner also made a slight departure from his usual fare with a token attempt at transparency, which might have startled anyone with passing knowledge of his CV.
In his past life as a football official, Warner often claimed to be personally bankrolling Trinidad and Tobago's football even as million-dollar sponsors like TSTT and NLCB were in the room.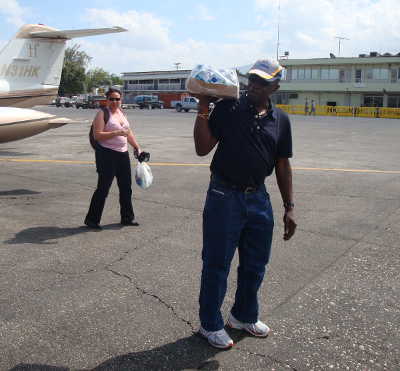 Yesterday, though, Warner claimed that Helen Bhagwansingh and Norman Sabga were donating at least $1.1 million of the $1.6 million needed for the proposed Sea Lots bridge.
Perhaps the ex-Chaguanas West MP, in the grip of some newfound humility, was moved to share the spotlight with Bhagwansingh and Sabga for their alleged humanitarian promises.
Either that or Warner is worried that Trinidad and Tobago's business leaders might have become unresponsive to his advances—now that he has been cut adrift by the People's Partnership—and hopes to persuade them through public pressure.
Did Sea Lots just witness another accident? Or was it another clever Warner scheme in which he gambles other people's money for his own political image?
It is like a twist on a familiar narrative.
Getting the press to cover a Sea Lots walkabout? Free.
Persuading others to use their money to fund your schemes? Free.
Convincing doubtful voters that, despite evidence to the contrary, you remain a man of influence and all without dipping into your own pocket? Priceless.