Legal representatives for the 2006 World Cup players and the Trinidad and Tobago Football Federation (TTFF) are anxiously awaiting word from High Court Judge Devindra Rampersad as to whether he can recuse himself from a contempt charge against TTFF general secretary Richard Groden and former president Oliver Camps.
Yesterday at the Port of Spain High Court, Rampersad agreed to step aside from the players' application for contempt proceedings against the past and present football administrators. The relevant judicial committee would select a new judge for the contempt case while Rampersad would continue to rule on the original bonus dispute.
However, Rampersad subsequently called both parties back to the court on Monday evening and informed them that there was some dispute as to whether the rules provide for his proposed manoeuvre.
A final decision was promised to both legal teams by this evening but, at the time of publication, no update had been received.
The 13 footballers involved are: Kenwyne Jones, Cornell Glen, Anthony Wolfe, Collin Samuel, David Atiba Charles, Shaka Hislop, Stern John, Brent Sancho, Evans Wise, Kelvin Jack, Aurtis Whitley, Cyd Gray and Avery John.
The World Cup players were promised half of all 2006 World Cup revenue by National Security Minister and then TTFF special advisor Jack Warner on behalf of the football body.
However, six years later, the "Soca Warriors" remain ignorant about the sum they are owed as Warner refuses to make the relevant accounting information available to the High Court and the TTFF repeatedly ignored Rampersad's instructions to sue its former employee for the documents.
The players responded by filing a contempt of court application against Camps and Groden on 3 May 2012 while Groden subsequently accused Rampersad of bias and fired back with his own application, filed by attorney Derek Ali, that asked the judge to recuse himself.
And the TTFF arguably signalled its intention to throw everything it had into this court matter yesterday by turning up with a British Queen's Counsel, Nicholas Stewart QC, to fight its case.
The football body is, ostensibly, bankrupt after losing out on funding from FIFA and the Sport Ministry.
FIFA suspended its annual subvention to the TTFF last year due to the latter's inability to account for $1.6 million (US$250,000) that should have been relayed to the Federation of Haitian Football (FHF) as relief aid, two years ago, after the Port-au-Prince earthquake.
National Security Minister and ex-FIFA Vice-President Jack Warner, who controlled the aforementioned account, insisted the aid money was used for Haiti although FIFA is yet to confirm this and the suspension remains intact.
Meanwhile, the Sport Ministry, according to TTFF marketing manager Anthony Harford, reneged on an agreement to pay $3.4 million to the TTFF in May to cover costs associated with its participation in women's under-17 and men's under-23 CONCACAF tournaments.
On 20 April 2012, Warner wrote to Sport Minister Anil Roberts and asked him to stop funding the TTFF due its reluctance to support his friend and former employee, Harold Taylor, in an ultimately unsuccessful attempt to win the Caribbean Football Union (CFU) presidency.
As a result, the TTFF has been unable to pay its coaches and several debtors including hotels, school teachers, caterers and maxi-taxi drivers.
But, while the TTFF's relationship with Warner has publicly appeared strained, Groden is refusing to force his former special advisor to produce accounting statements relevant to the 2006 World Cup. And Stewart's appearance at the High Court yesterday arguably suggests that the football body does not have to pinch pennies when it came to legal representation.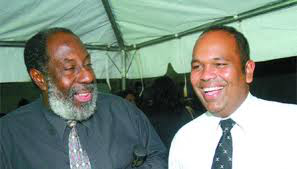 Wired868 asked TTFF officials whether the football body was paying its own legal fees or had a wealthy benefactor. No one would answer on the record while Groden could not be reached for comment.
The "Soca Warriors", who are represented by British attorney Michael Townley and the local team of Dave De Peiza, Phillip Lamont and George Hislop, were initially expected to resist the TTFF's application for Rampersad to recuse himself.
The TTFF allegedly claimed Rampersad had pre-judged the case by, among other points, informing Groden that he was in contempt during a sitting earlier this year.
The players' attorneys countered that, in the same sitting, Rampersad informed Groden and Camps that their behavior was "taking (the case) into a detailed contempt application" and accused Stewart of taking his earlier declaration out of context.
However, Rampersad backed down and agreed to recuse himself from the contempt charge and retain the substantive matter.
A source informed Wired868 that the players' attorneys were concerned the TTFF might appeal an unfavourable decision all the way to the Privy Council and thereby force further delays to the case and costs for the Warriors.
As such, the respective attorneys agreed to Rampersad's offer to step down with no loss of costs to either side.
They await word from the High Court as to whether a new judge will be assigned.