The following is the second of a two-part series on then chief executive officer of the Football Company of Trinidad and Tobago (FCoTT), Peter Miller, and was written by Lasana Liburd and first published in the Trinidad Express on 17 March 2002:
Three years can seem a particularly long time in the world of football.
Ask Trinidad and Tobago's Dwight Yorke, who went from English Premier League giant Manchester United's hotshot to surplus product, or Brazilian superstar Ronaldo, who slipped from global enigma to cameo appearances through a persistent knee injury.
Or maybe you can speak to Football Company of Trinidad and Tobago (FCoTT) chief executive officer Peter Miller.
In 1999, Vibe CT 105FM W Connection president David John-Williams sacked the Englishman in the inaugural season of the local Professional Football League (PFL). But, in 2002, it was Miller who looked set to play an important role in keeping the competition on track after the pull-out of chief PFL financier, Fifa vice-president and Joe Public club owner Jack Warner.
Miller indicated to the PFL teams his willingness to officially market the league and agreed to present a marketing plan within a two-week time frame. That promise was made more than a month ago and, up to Friday evening, the PFL clubs still waited.
Williams, who now occupies the role of interim PFL chairman, told the Sunday Express the PFL was now considering putting out an advertisement inviting an independent marketing firm to do the job.
He did not say whether his appreciation of the 42-year-old Miller's marketing and organisational talents had risen or fallen. Regardless, the Englishman is busier than ever before.
In mid-February, he was granted his third work permit by the Ministry of National Security, which is mandated to ensure the foreign worker is suitably qualified and providing a service that could not be adequately done by a local.
By his own admission, Miller has never studied marketing and did not hold a similar position in England, where his alleged job titles ranged from co-restaurant owner to small-time football agent.
National Security Minister Howard Chin Lee claimed ignorance of the case and said he merely acted on the recommendations of the Work Permit Advisory Committee.
That committee includes Permanent Secretary Trevor Percival and Allison Yorke (Work Permit Division). Yorke told the Express she was unwilling to speak about the case without the approval of Percival. And Percival, according to Yorke, said only he 'would think about it'.
His high-profile job at FCoTT is not Miller's only noteworthy position, as he is also linked with advertising firm Collier Morrison Belgrave (CMB) Limited, PFL club CL Financial San Juan Jabloteh, the University of the West Indies—as a guest lecturer—and sports promotion company Pro Sports Caribbean Limited.
His role with the respective corporations, though, depends on whose opinion one chooses to believe.
In a February 28 interview, Miller said he was a paid consultant for CMB, although he declined to give financial details. Efforts to contact CMB founding partner Clive Belgrave for further clarification did not bear fruit.
Miller admitted one of his first acts as FCoTT CEO was to hire CMB to handle the football advertising campaigns—with the Englishman being paid by both parties.
"The standard of advertising for the T&TFF (Trinidad and Tobago Football Federation) was pretty sub-standard," said Miller. "[…] It's like a coach who comes into a new team and brings players he knows. There is nothing untoward [about this]."
The move did generate some success as CMB won an award at the Advertising Association of Trinidad and Tobago's annual gala function for their television and radio commercials done for the T&TFF.
Jabloteh and Pro Sports are much trickier issues, though.
"I work with them in the [same] sense that I work with all the clubs," said Miller, when asked about his position with the San Juan outfit.
Does he receive a salary from Jabloteh?
"No, I don't."
The same question was posed to FCoTT marketing manager Paula Chester, who also denied being paid by Jabloteh.
Jabloteh chairman Jerry Hospedales and manager Kirk De Freitas said otherwise. Both men told the Express that the FCoTT pair were paid members of the Jabloteh staff.
"Miller does the brain-thrusting, planning and organisation," said Hospedales. "[…] Paula Chester is also trying to implement things to help us. She's just started. I don't have an employed [marketing] staff, just them."
Some within the PFL argue that if Miller indeed held dual roles, it presented a potential conflict of interest.
The man responsible for soliciting sponsors for local football—in its entirety—could, in the opinion of more than one source, easily persuade a potential client to do business with the club.
Hospedales agreed, but did not think it was an issue at present.
"The potential is always there for a conflict of interest," said Hospedales. "But so far he has been managing all right… I think the larger doors he has opened will help all clubs."
Miller admitted during the course of the interview that he held a soft spot for Jabloteh. It was the Bourg Mulatresse outfit who helped the Englishman to stay in the game after he was dumped by Connection.
According to another PFL source who requested anonymity, Miller showed up at Jabloteh's doorstep claiming to have many football contacts and the ability to make the club lots of money.
In return, he requested a monthly salary in the range of $20,000, as well as a cellular phone, vehicle and other perks.
The Englishman promised two massive undertakings at Jabloteh. The first was a proposal to bring English Premier League team Newcastle United and Division One outfit Sheffield United to Trinidad and Tobago for a mini-tour.
"He said we should make $2 million from the matches," said the PFL source. "Instead we ended up about $500,000 in debt… He then said, don't worry about that [financial] loss as Newcastle would sponsor a football academy at Jabloteh to the value of close to $2 million.
"Again it never happened."
His second big deal came after he had begun working with FCoTT. It was the introduction of former England international and Portsmouth manager Terry Fenwick.
Fenwick was a young manager whose first and only notable job in England ended quickly, as he and Portsmouth director of football, Terry Venables, were sacked in their second year at the club in the 1997/1998 season.
Fenwick replaced Ron La Forest at Jabloteh's coaching helm for the 2001 PFL season and cost the club almost 20 times as much as the former Trinidad and Tobago international.
In terms of statistics, Fenwick was not immediately as successful as La Forest, failing to defend back-to-back First Citizens Bank cups won under his predecessor and ending outside the top-four PFL teams for the first time—19 points adrift of champions, W Connection.
(Editor's Note: Fenwick went on to lead Jabloteh to Pro League titles in 2002, 2007 and 2008.)
But Jabloteh's on-field fortunes were not Fenwick's sole consideration. In late 2001—as Trinidad and Tobago prepared to host the FIFA Under-17 World Championship—Fenwick and Miller combined to form Pro Sports in Anguilla.
"It has been a thought of mine since I've been here," said Miller. "I've been appalled by the treatment of players in this country and in the region generally […] from administrators and agents."
Miller hesitated—for the first time during the interview—when asked about the choice of Anguilla as their company's headquarters.
"No particular reason," he said finally, with a smile.
Miller admitted he had never visited Anguilla before forming the company but he knew the Caribbean island was famous for its offshore banking and was often used as a tax haven and for protection from lawsuits and prying eyes.
Did Miller value the privacy of the company that highly?
"No, not at all," he said. "If it is good for offshore banking, I am sure it's got its advantages. I think you would need to speak to Terry [Fenwick] about it. If I remember rightly, he recommended it."
Fenwick refused to answer any questions over the telephone, insisting on a face-to-face interview. He then explained he was too busy to make time for such an interview.
Pro Sports Ltd was responsible for arranging trials for young national footballers Nkosi Blackman, Jerol Forbes and Kenwyne Jones with Manchester United, earlier this year. But, again, it raised the eyebrows of a few local football authorities, concerned with the many hats being worn by Miller and Fenwick.
Using his post at the helm of the Trinidad and Tobago Football Federation's financial arm, couldn't Miller escape with promoting only players signed by the company? What is to stop Fenwick from using Pro Sport as a recruiting incentive?
Their respective employers did not seem overly concerned by their different involvements, though.
"I am happy with Miller's work," said T&TFF president Oliver Camps. "I have no problem with any [possible] conflict of interest."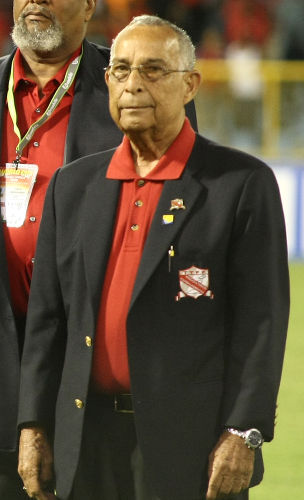 Camps was also unperturbed by Miller's apparent lack of formal education or experience.
"We have had enough to evaluate him from his jobs in the Caribbean," said Camps.
Hospedales also insisted he would not be left with the short end of the stick.
"As long as it don't conflict with my business," he said. "[…] As long as my team is being promoted."
Warner's retirement has left local football struggling to retain its balance and in need of leaders willing to step forward and direct or redirect its path.
Miller has stepped up as one such leader. The direction in which he has chosen to lead, though, is a contentious issue—depending on who you speak to.
Editor's Note: Click HERE for Part One of Peter Miller Unplugged. Between the first and second article, UWI cut ties with Peter Miller—who worked as a part-time lecturer in sport marketing. Then TTFF special advisor Jack Warner shut down FCoTT next, while San Juan Jabloteh fired Miller in that same year and he did not get his work permit renewed to stay in Trinidad.
Terry Fenwick went on to become one of the Pro League's most successful coaches, though. And, in 2019, Fenwick paved the way for Miller's secret return to local football. Miller created the marketing plans used by William Wallace in his successful campaign for the presidency of the Trinidad and Tobago Football Association (TTFA), and negotiated Fenwick's salary as Men's National Senior Team head coach.
In the process, the English salesman had Wallace agree to pay him US$25,000 per month over an initial two year period. Click HERE to read more on Miller's influence within Wallace's United TTFA slate.