Prominent COP member Nalini Dial's assertion, via Facebook, that San Fernando Mayor Marlene Coudray's alleged mistreatment of stray dogs was somehow responsible for the disappearance of her daughter, Michelle Coudray-Greaves, prompted outrage within Government circles and from the public at large as well as the mysterious Facebook Police Squad.
Nalini suggested a woman standing on a leatherback turtle was comparable to a dog killer which was also equivalent to the alleged violent murder of a 39-year-old mother of three.
Dogs have not had this much bad publicity since New York's "Son of Sam" slayings and Wired868 understands that canines nationwide have decided to bark today in support of the Dangerous Dog Lovers Act.
An unnamed Senior Superintendent of Police told the Trinidad Express that Dial's Facebook post has also caught the attention of the Police Service, which, for some reason, is also taking a keen interest.
"Any kind of negative remarks made against someone is something to be taken seriously," said the Superintendent. "It was in poor taste to make that kind of response when someone loses a loved one."
Wired868 wishes to extend condolences to the Coudray household, recommends that Dial gets a Ministry of Gender, Youth and Child Development-approved two week St Ann's vacation package and again urges local police to please stay off Facebook.
Tags COP cybercrime Dangerous Dogs Act Nalini Dial
Check Also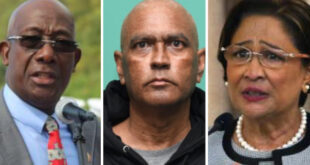 "[…] I want to suggest that the 'monkeypox' virus, which seems to have us agog …