Trinidad and Tobago were again made to rue missed opportunities as they fell 2-1 to Puerto Rico in their second outing of the 2023 Concacaf Boys' Under-15 Championship.
Forward Jonathan Mason opened his competitive goal scoring account in national colours for the young Soca Warriors. But his fine second half goal was sandwiched by two Diego Echevarria items.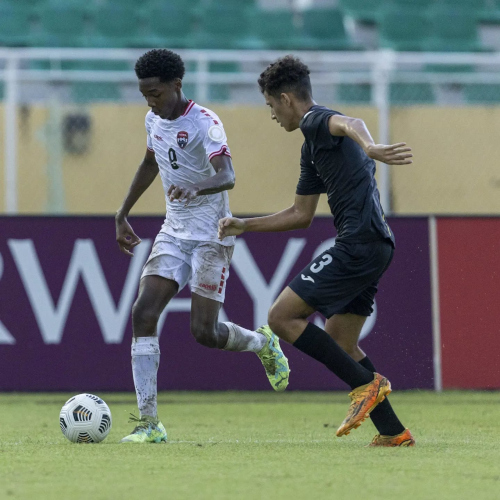 And Trinidad and Tobago, controversially reduced to 10 players by Canadian referee Isabelle Duclos, just could not get a break when they needed it.
A similar 2-1 loss to Honduras on Saturday means the two-island republic are bottom of their group. But there was plenty to appreciate from the spritely Warriors, who have been athletic and commanding though sadly—and predictably, with their lack of international exposure—naïve.
Like against Honduras, Trinidad and Tobago started on the front foot. But, again, they somehow found themselves chasing a game they appeared to be bossing.
In the tenth minute, combative Trinidad and Tobago midfielder Stephen Ollivierie went into a 50-50 challenge with an opponent and the ball inadvertently flew towards his own defence.
Captain and central defender Sheridan McNish was slow to react and Echevarria ran on to the loose ball and beat diminutive goalkeeper Mikhail Clement with a tidy finish.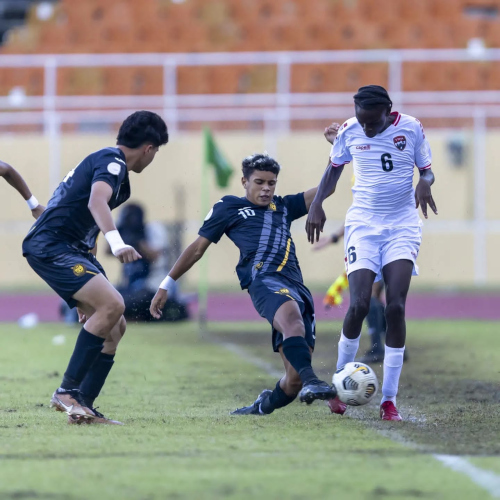 Trinidad and Tobago looked to have a way back in the 16th minute, as Mason collected a line-breaking pass from midfielder Nikosi Foncette and appeared to be tripped by opposing defender Xzavier Colon. However, Duclos gave the benefit of the doubt to the Puerto Rican.
Undeterred, the Warriors kept knocking on the door. Mason blew past Colon in the 18th minute and served up a gilt edged chance for attacker Akel Vesprey on the far post, only for Vesprey to scoff his shot.
Seconds later, Vesprey did better from 30 yards with a cracking first time shot that just cleared the bar.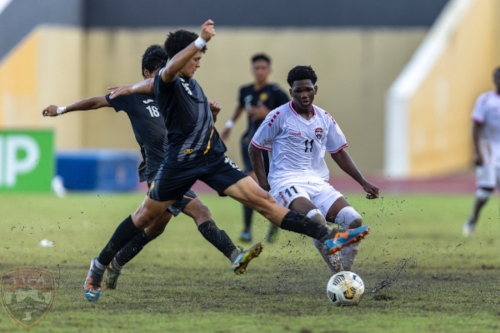 Puerto Rico did get some momentum towards the end of the first 35 minutes though, as Echevarria failed to hit the target at the far post after Clement misjudged a right side cross in the 20th minute. And left back Deijan Garcia headed wide off a corner kick by midfielder Gabriel Quiros in the 30th minute.
Trinidad and Tobago still trailed when the second half kicked off and their chances of getting something from the game took a massive blow in the 43rd minute, when Duclos waved a red card at Cox Football Academy defender Adam Pierre.
Quiros invited Puerto Rico striker Edwin Rios Jr to run behind the Trinidad and Tobago defence, but Pierre spotted the danger and got between ball and the man to allow the sphere to run back to his goalkeeper.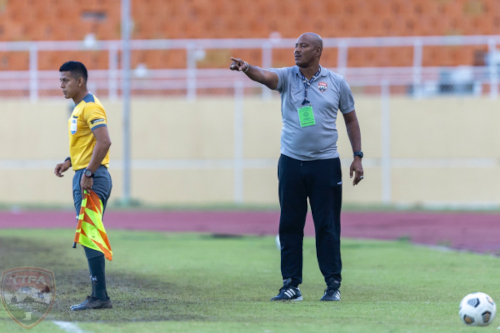 It is the type of defensive manoeuvre that is unlikely to even draw a free kick in the England Premier League. Duclos thought otherwise and produced a straight red card.
Trinidad and Tobago were temporarily rattled. But Cooper resisted the temptation to throw on an extra defender and, remarkably, they continued to create chances.
A brilliant cross by substitute Elijah Diaz found flanker Keston Richards lurking behind the Puerto Rico defence in the 48th minute. Richards' first touch was sublime but his subsequent stab at goal was too close to opposing goalkeeper Emmanuel Beltran who made the save before Vesprey wasted the rebound.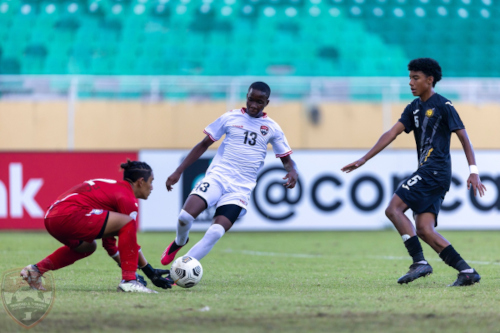 Trinidad and Tobago had more in the locker though. Left back Criston Gomez's 50-yard pass into the path of Mason was inch perfect, and the Pro Series striker and Fatima College student produced a finish to match—as he beat Beltran to his right in the 53rd minute.
That Gomez made the pass with his "weaker" foot spoke to the talent of the young FC Ginga and Arima North Secondary utility player.
But the equalising goal was as much a call to arms for Puerto Rico as it was for Trinidad and Tobago.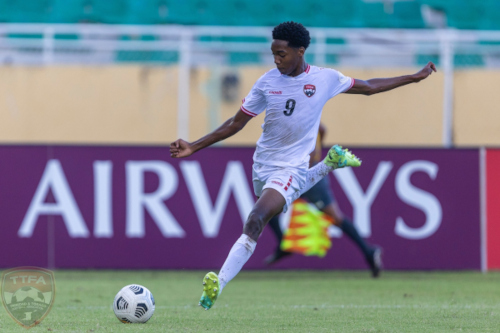 Clement was forced into a fine double save by Puerto Rico substitute forward Nicholas Burns in the 55th minute. Then Gomez forced Beltran into a flying save in the 59th minute.
In the 61st minute, Burns thought he had scored—only to be ruled offside by Panamanian assistant referee Pamela Bernal.
The match was wide open, with both teams going for the knockout blow. But it was the 11 boys of Puerto Rico who landed it.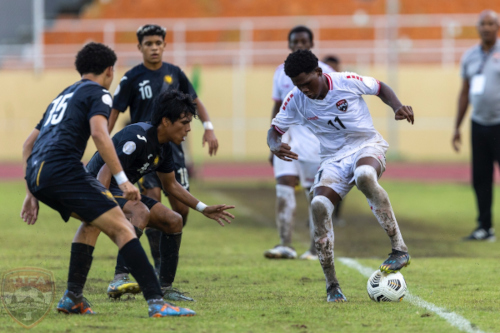 Six minutes from the end of regulation time, substitute Matthew Belgodere dipped his left shoulder and glided outside Ollivierie before angling a cross hopefully towards the far post.
Trinidad and Tobago right back Jeremiah Daniel was not alert to the danger. But Echevarria was—and he made no mistake from close range.
Even members of the Puerto Rico technical staff ran on to the field to celebrate the late strike.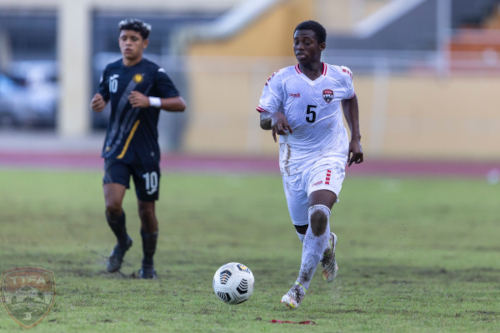 Trinidad and Tobago substitute Caden Trestrail might have had the last laugh. First, he pounced on a spilled cross by Beltran in the 69 minute, only to be denied by a retreating Puerto Rico defender.
Then, three minutes into stoppage time, Trestrail launched himself a cross from Vesprey with the far corner of the net exposed. But his diving header was agonisingly wide.
It is such narrow margins that have made the difference so far for the Trinidad and Tobago U-15s.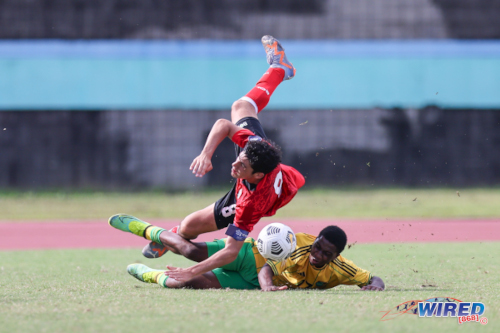 The young Warriors are in the Dominican Republic with a skeleton staff that has neither a trainer, masseuse nor goalkeeping coach.
Their uniforms are hand-me-downs from the Senior Team with their names blocked off with tape—barely weeks after the Robert Hadad-led Fifa-appointed Normalisation Committee unveiled a two-year clothing deal with Capelli Sport.
And, judging from previous horror stories by touring Trinidad and Tobago teams, it cannot be taken for granted that they would have a clean jersey to wear at the hotel for breakfast or dinner.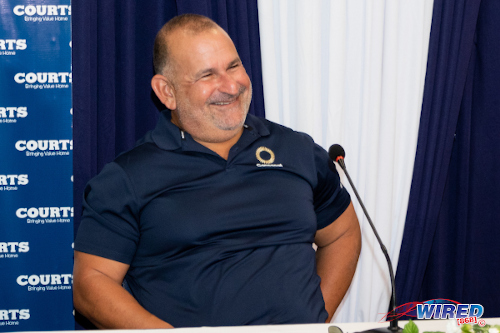 Organisation matters—even if the effect appears minor. Because, as the young national players may now appreciate, a miss by an inch might as well be a mile.
The Trinidad and Tobago U-15s have a final group match and then a play-off contest from which to get their first tangible reward for the Concacaf tournament.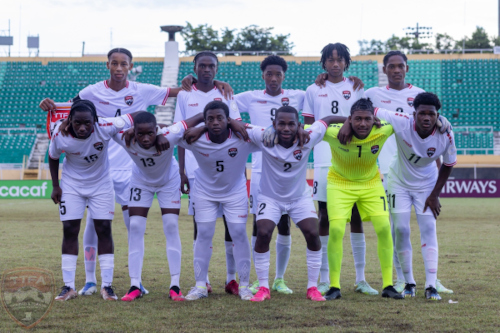 (Teams)
Trinidad and Tobago (4-2-3-1): 1.Mikhail Clement (GK); 2.Jeremiah Daniel, 4.Sheridan McNish (captain), 3.Adam Pierre, 5.Criston Gomez; 8.Nkosi Foncette, 6.Stephen Ollivierie; 13.Keston Richards (10.Caden Trestrail 54), 15.Riquelme Phillips (7.Elijah Diaz 36), 11.Akel Vesprey; 9.Jonathan Mason.
Unused substitutes: 18.Marcelo Phillip (GK), 12.Salim Soanes, 14.Josiah Simmons, 16.Isaiah David, 17.Joshua Miguel.
Coach: Shawn Cooper
Puerto Rico (4-3-3): 12.Emmanuel Beltran (GK); 15.Gabriel Vazquez, 14.Isaiah Vicentti (captain), 3.Xzavier Colon, 5.Deijan Garcia; 4.Ougir Velazquez (11.Matthew Belgodere 51), 18.Daniel Ortega, 8.Gabriel Quiros (17.Gian Girald 57); 10.Ryan Basabe (16.Mauricio Ramos 67), 9.Edwin Rios Jr (7.Nicholas Burns 51), 6.Diego Echevarria.
Unused substitutes: 1.Ruben Rosado (GK), 2.Diosvani Oliva, 13.Ernesto Polanco.
Coach: Pablo Almagro
Referee: Isabelle Duclos (Canada)