Trinidad and Tobago Boys' National Under-15 Team head coach Shawn Cooper named an 18-man squad yesterday, which departs for the 2023 Concacaf Championship in the Dominican Republic on Friday morning.
New England Revolution Academy central defender Sheridan McNish will captain the national youth team, which includes 2023 Republic Cup National Youth Football League (NYFL) U-15 champs Jonathan Mason and Joshua Miguel of Pro Series.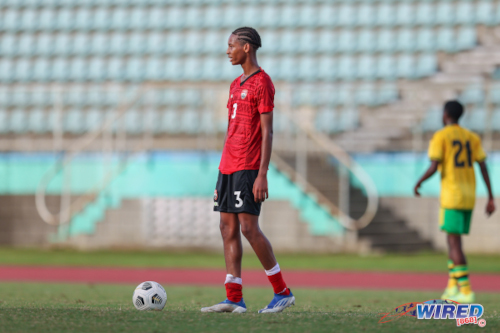 Cooper lost the services of captain and key midfielder Seth Hadeed to injury, less than two weeks before the opener, while winger Jasai Theophilus withdrew to attend a developmental camp in the United States.
However, he was pleased with their defensive organisation in two 1-1 friendly results against Jamaica, with versatile defender Adam Pierre and tireless combative midfielder Stephen Olliviere capable of playing key roles, alongside McNish.
Crown Trace FC midfielder Nikosi Foncette and QPCC playmaker Caden Trestrail are important cogs in the centre of the park for the young Soca Warriors while any one from Elijah Diaz, Akel Vesprey and Keston Richards should offer penetration down the flanks and the talented Mason is expected to lead the forward line.
Cooper has barely had a month with the team, which was previously nurtured by Trinidad and Tobago Football Association (TTFA) High Performance Programme coach Densill Theobald.
As such, he finds it difficult to set a yardstick for the boys at a competition in which they know little about the playing personnel of their opposition.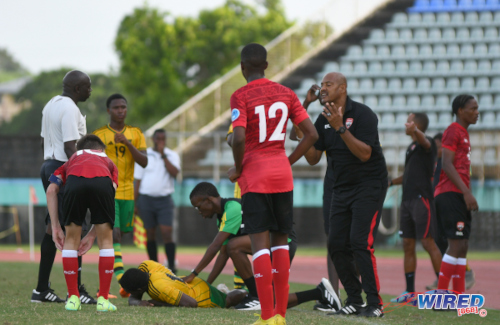 However, Cooper, who is simultaneously the Men's National Under-17 Team head coach, said he would focus on getting the boys to execute their tactical instructions and set a marker for themselves at this level.
"All I can expect is the players live up to their potential," said Cooper. "[…] You want to see how they respond to a new environment and different styles of play. So, all you are looking for them to do is execute their game plan and see how they solve problems on the field as you go along."
Despite the fact that the Concacaf Under-15 Championship is a developmental competition and not a qualifying tournament, the confederation only caters for an 18-man squad with five technical staff members.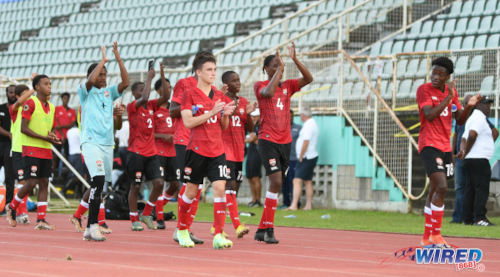 And, even more farcical, Trinidad and Tobago are scheduled to play three games in as many days—although teams are not allowed enough players to rotate their entire starting XIs.
As a result, multi-functional players like Pierre, Foncette, Olliviere, Vesprey as well as midfielder Riquelme Phillips and defenders Jeremiah Daniel and Criston Gomez could be vital to the team's overall performance over the course of the tournament.
The Under-15 Warriors will play Honduras on 6 August, Costa Rica on 7 August and then Puerto Rico on 8 August. The games are 70 minutes long.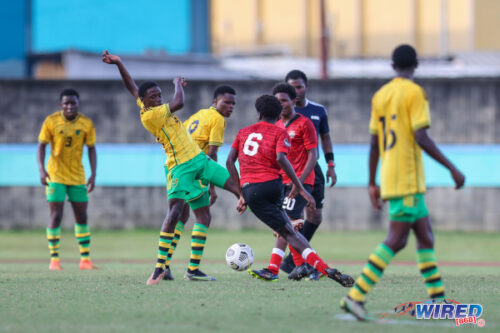 Cooper's staff includes one physiotherapist, Nicolon David, and no masseuse. There is no team doctor at present, although one is expected to travel with the squad.
Although the TTFA signed a two-year equipment deal with Capelli Sport in June, the National Under-15 Team wore Bol equipment against Jamaica last week. General secretary Amiel Mohammed did not respond to requests for clarity on the issue of team apparel.
Wired868 understands the kit shortage might stem from the lack of timely communication from the TTFA, headed by normalisation committee chairman Robert Hadad, to their apparel partner on the needs of their various teams.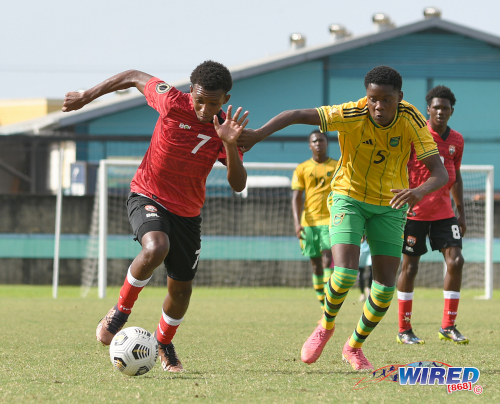 On the field of play, Trinidad and Tobago's historical record at the Concacaf Boys' Under-15 Championship is abysmal. After two tournaments and eight games, the two-island republic is yet to win a single match.
At the 2015 edition, the young Soca Warriors, then coached by Russell Latapy, lost 8-1 to Jamaica, after conceding a combined 13 goals without reply against Costa Rica, the United States and Canada.
And, in 2019, the Under-15s—then led by Stuart Charles-Fevrier and well-funded by the NLCB—mustered a 1-1 draw against Barbados along with 3-0 defeats to Costa Rica and Portugal, and a 4-2 loss to Guatemala.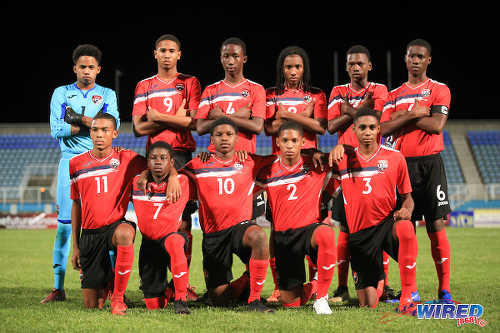 Still, Terminix La Horquetta Rangers attacker Josiah Edwards, Club Sando midfielder Ezekiel Kesar and overseas-based duo of Jaiye Sheppard and Justin Araujo-Wilson emerged from the 2015 squad, while midfielders Molik Khan and Dantaye Gilbert, forward Nathaniel James and goalkeeper Tristan Edwards are among the 2019 U-15s who remain international players to date.
The class of 2023 have the chance to write their own history over the next fortnight.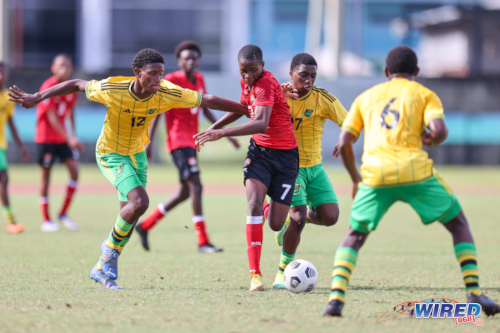 (Trinidad and Tobago Boys' National Under-15 Team)
Goalkeepers: 1.Mikhail Clement (St Benedict's College/ Cox Football Academy), 18.Marcelo Phillip (Carapichaima East Secondary/ FC Ginga);
Defenders: 2.Jeremiah Daniel (Naparima College/ Union Hall United), 12.Salim Soanes (St Benedict's College/ Union Hall United), 3.Adam Pierre (St Benedict's College/ Cox Football Academy), 4.Sheridan McNish (captain) (New England Revolution Academy—USA), 5.Criston Gomez (Arima North Secondary/ FC Ginga), 16.Isaiah David (Malick Secondary/ Unattached);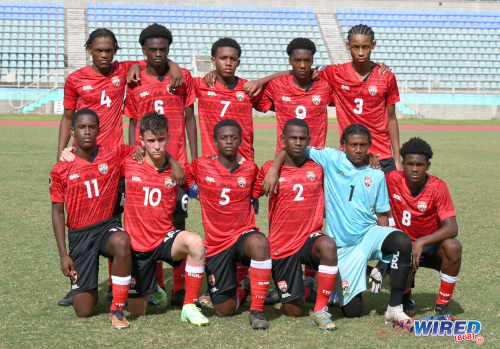 Midfielders: 6.Stephen Olliviere (Five Rivers Secondary/ Creek SCC), 8.Nikosi Foncette (Chaguanas North Secondary/ Crown Trace FC), 10.Caden Trestrail (Fatima College/ QPCC), 15.Riquelme Phillips (Goodwood Secondary/ Brother Ry's Football Academy), 17.Joshua Miguel (St Mary's College/ Pro Series);
Attackers: 7.Elijah Diaz (Five Rivers Secondary/ FC Ginga), 9.Jonathan Mason (Fatima College/ Pro Series), 11.Akel Vesprey (Siparia West Secondary/ Uprising Youths), 13.Keston Richards (Malick Secondary/ QPCC), 14.Josiah Simmons (Presentation College (San F'do)/ Unattached).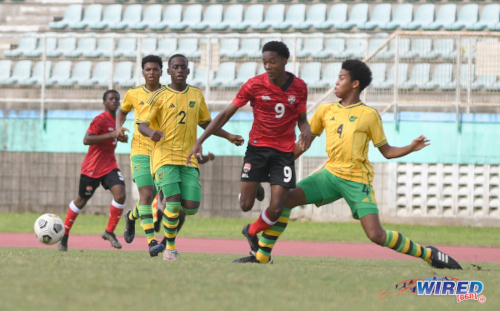 Technical staff: Shawn Cooper (head coach), Densill Theobald (assistant coach), Nigel Roberts (team manager), Nicolon David (physio), John Jerry (equipment manager).