The Trinidad and Tobago Boys National Under-15 Team failed to hold on to a one-goal lead, missed a penalty and finished with 10 players, in an eventful 1-1 draw with Jamaica in an international friendly yesterday afternoon at the Mannie Ramjohn Stadium in Marabella.
But that was nothing compared to the sinking feeling that head coach Shawn Cooper got last night, when he learned that team captain Seth Hadeed will miss next month's Concacaf Under-15 Championship due to a broken collar bone.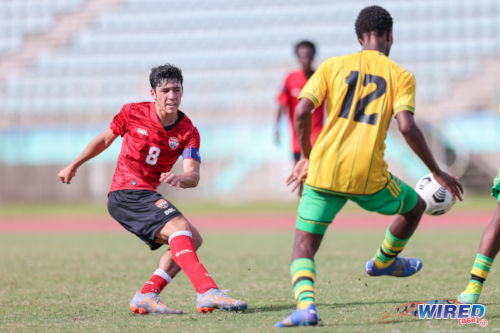 Hadeed, a QPCC midfielder and Fatima College student, was the most experienced player on Cooper's roster—having featured in an international friendly against Jamaica with the National Under-17s earlier this year.
The talented left-footed playmaker did not go on to represent his country at the Concacaf Under-17 Championship, but Cooper, who is head coach of both teams, had hoped his cameo in the higher age group was an investment that might pay off in next month's Under-15 tournament.
Fate decided otherwise, as Hadeed took an awkward tumble yesterday following a foul by Jamaica midfielder Owen Jumpp.
These things happen in sport. It might be more difficult to comprehend a decision by Jasai Theophilus' parents to withdraw their son from the competition to allegedly attend a trial in the United States instead.
Theophilus' camp waited until he played in both of the national team's only friendly games before passing word on to the coach. (Click HERE to read a response from Jasai Theophilus' father, Stefan Theophilus.)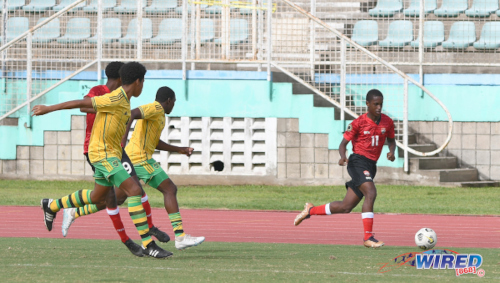 "The parents said Anthony Rougier provided them with some opportunity with a trial outside," Cooper told Wired868. "A 13-year-old? Come on. What trial is better than international exposure? He has a lot of time, he can go to that trial after—but I am not the parent, and the parent is the one responsible.
"But I think Anthony should know better, after being a senior captain of Trinidad and Tobago [and] knowing the importance of international games for a player's development.
"There is nothing better for development than international games—no trial can give you that."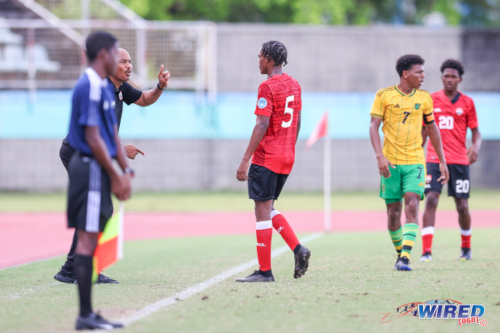 The post-match news, first relayed by team manager Nigel Roberts and then a doctor, soured an otherwise satisfying outing for both teams.
On Sunday, Trinidad and Tobago dusted off a first half deficit to hold Jamaica 1-1, thanks to an improved second half showing. Jamaica coach Andrew Peart was keen to point out the similarities yesterday.
"The intensity was the same as the last game [but] I think this one we managed to control the game a little bit better," said Peart. "Again, a freakish goal conceded by one team and then a spirited fightback by the other team."
After a cagey clash on Sunday, both teams were more adventurous yesterday. But the hosts got the early breakthrough as midfielder Riquelme Phillips pounced on some miscommunication between Jamaican goalkeeper Davill Jarrett and his defence to score the opener inside the first 15 minutes.
Phillips, who hails from the Sister Isle of Tobago, was a lively substitute on Sunday and was rewarded with his first international start. It is hard not to think he has booked his flight to the Dominican Republic for next month's Concacaf competition.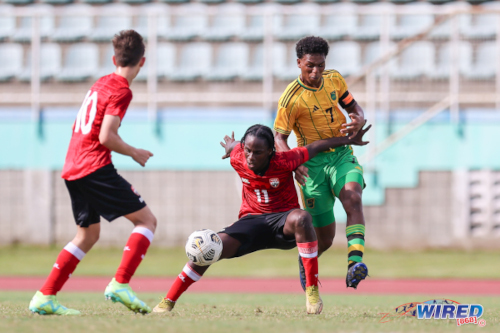 The match was far from over, though.
"The goal that they conceded, they never dropped their spirit or tempo," said Peart. "There was still the desire and urge to play on and continue with the approach to the game. Up until that point, we weren't really threatened by the Trinidad offence."
Still, the scoreline remained 1-0 at the half.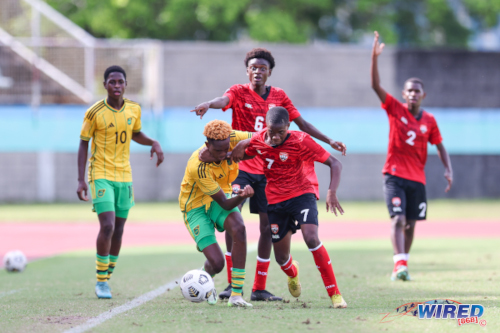 Jamaica forward Orel Miller thought he equalised in the 36th minute, only to be thwarted by an offside signal by the assistant referee. Then, three minutes later, Trinidad and Tobago forward Jonathan Mason picked off a loose pass by Jarrett and looked to have been barged over by the goalkeeper.
But referee Timothy Derry was unconvinced.
Two other incidents were less obvious at the time, but would become problematic later in the day.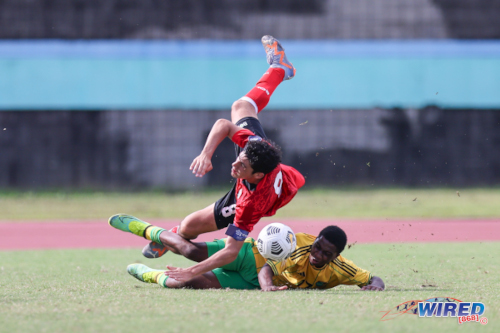 First, in the 19th minute, Jumpp chopped down Hadeed, who fell on his shoulder. Hadeed, who was rested on Sunday to aid his recovery from a strain, soldiered on—but he would not recover.
And, in the 39th minute, Trinidad and Tobago defensive midfielder Stephen Olliviere was booked for a trip on Miller.
Olliviere was imperious on Sunday, when the young Soca Warriors largely bossed proceedings. But he had an uncomfortable time yesterday, as Jamaica flooded the midfield with bodies and he often found himself trying to smother two attacking midfielders within his zone.
"[It was] a much better performance by us, controlling the rhythm and the tempo of the game," said Peart. "We tried to play with the ball a lot… [It was a] really spirited performance.
"The boys were adamant that they are not going to lose and that's a good trait."
Cooper suggested that Trinidad and Tobago were actually quite comfortable.
"I thought we should have been winners by four goals to one," said the Trinidad and Tobago coach. "We missed a penalty and then we missed two one on ones…"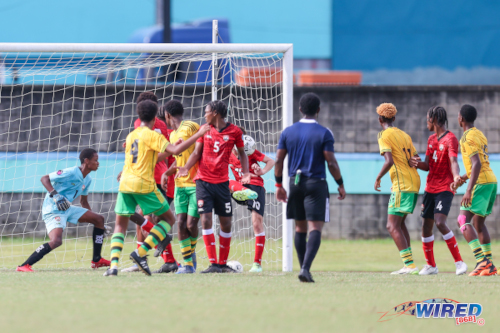 The truth probably lay in-between. Jamaica's clever tactical ploy to create an extra body in midfield allowed the visitors a good vantage point, near the halfline, to slide passes to their attackers—particularly in wide areas.
However, the visitors largely lacked the individual brilliance to make their forays in offensive territory count, while credit is also due to the solid Trinidad and Tobago backline, which was well marshalled by lanky defender Sheridan McNish.
And the hosts did have some joy in transition down, in particular, the right side of the Jamaica defence.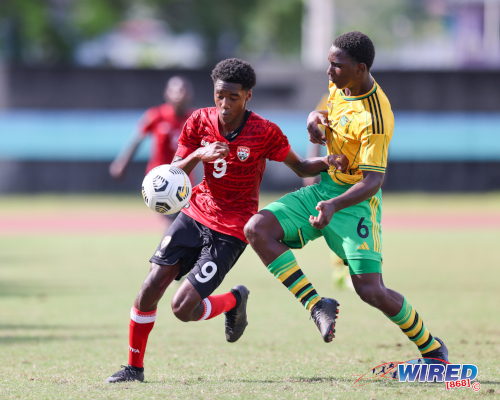 Five minutes into the second half, Trinidad and Tobago players yelped for a penalty after substitute Akel Vesprey's left side cross appeared to come off the hand of Jamaica midfielder Giovanni Taylor.
No matter. A minute later, they had their spot kick.
Jamaica were again ponderous in building up play from the back and Trinidad and Tobago midfielder Caden Trestrail stole the ball from opposing defender Earl Dennis, before suckering the player into a rash challenge with a change of pace.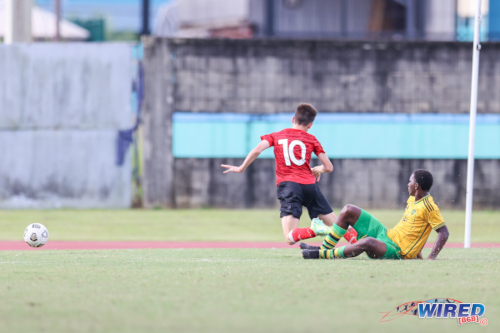 Cooper was about to replace Hadeed but he held his hand until after the spot kick, and the Trinidad and Tobago captain took the penalty himself. But a lengthy delay as Jamaica left back Jaquan Brown received medical treatment might have unnerved Hadeed.
And it was only later that the extent of his discomfort became clear.
In the end, Jarrett dived low to his left to deny Hadeed and the game was on.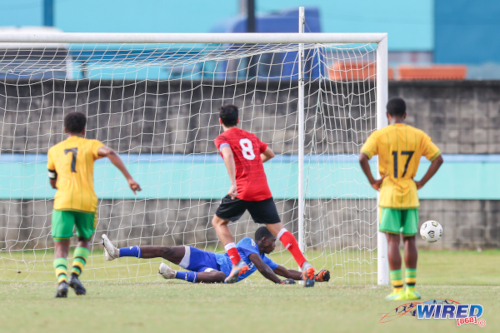 "I think the [Trinidad and Tobago] changes in the second half changed the momentum of the game," said Cooper. "It took us out of our stride and I think the Jamaicans benefited from it. After the missed penalty, the impetus went [to Jamaica].
"They had the better of the exchanges—not goal scoring opportunities—but possession-wise in the middle of the field. In the last 15 minutes, I think they were in control."
Trinidad and Tobago did have another good scoring opportunity.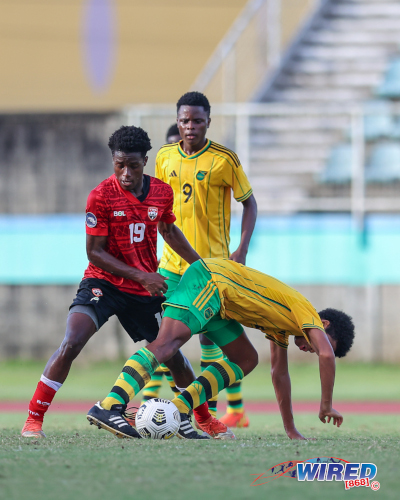 The Jamaica defence failed to cut out a lofted free kick by Adam Pierre and Theophilus was clean through, only to fire too close to opposing substitute goalkeeper Samir Doshi, who made a crucial save.
Jamaica were having things their own way in midfield, though.
"They had two sitting 6s (defensive midfielders), so […] they had a free man in the middle of the field," said Cooper. "We had a bit of disorganisation in terms of marking in the middle of the field when we made those [second half] changes and they were already in the ascendancy with the missed penalty, so they capitalised on it.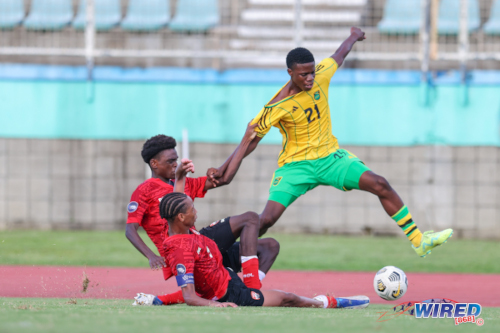 "But our keeper—you see how many shots he had? He had basically nothing to do for the second half."
In the 59th minute, Trinidad and Tobago goalkeeper Marcelo Phillip, son of veteran Soca Warriors custodian Marvin Phillip, spilled a speculative left footer by Taylor.
But he could do nothing about Jamaica's equaliser in the 74th minute, as midfielder Duwayne Burgher released captain Kai Myles down the right and his raking low cross was converted by substitute Deshawn Byfield.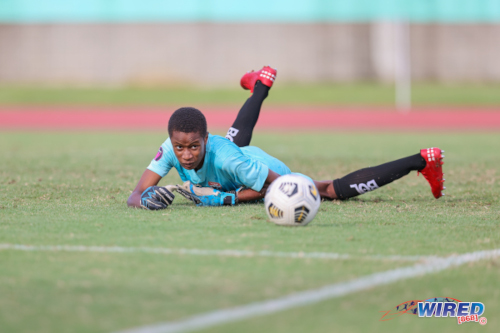 There were some nervy moments thereafter and Olliviere deservedly saw red for a second booking in stoppage time, as he tripped a streaking Taylor.
But, once more, the two teams could not be separated.
Peart was pleased with his players' performance and personality and prayed that Caricom could offer cheaper inter-island travel to facilitate more pre-tournament games like this.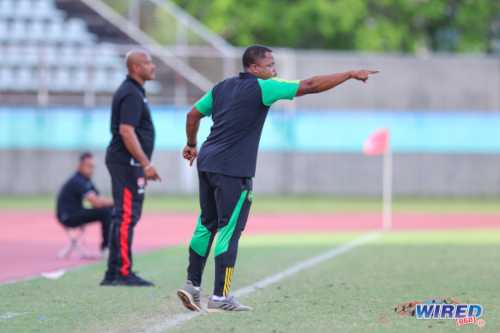 "The first game was the first international game played by all the boys, so the tension [clouded the nerves]," said the Jamaica coach. "Irrespective of the teams you play at home in practice, there is nothing that matches the feel of an international game; and the feel of a Trinidad – Jamaica game.
"[…] I think these games are very good for the development of the Caribbean players. The more games we can play inter-Caribbean before the [Concacaf] tournaments, the better for us.
"[…] The more games these boys play, when they go to play in the bigger tournaments in Concacaf they are much more exposed and better understand what that level of football is all about."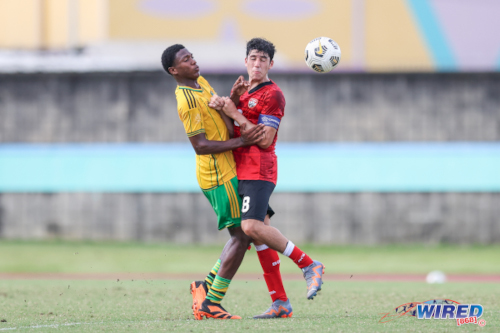 Cooper concurred.
"I am pretty pleased with both games," he said. "I think both coaches are very pleased with what they saw."
His mood was subsequently tested by news that Theophilus ruled himself out of the Concacaf Championship, while Hadeed is now unavailable through injury. A third potential starter, Five Rivers Secondary winger Elijah Diaz, is also a doubt with a strained hamstring.
"With one parent pulling out their son and now Seth Hadeed out," said Cooper, "it is a hard pill to swallow at this stage of our preparation."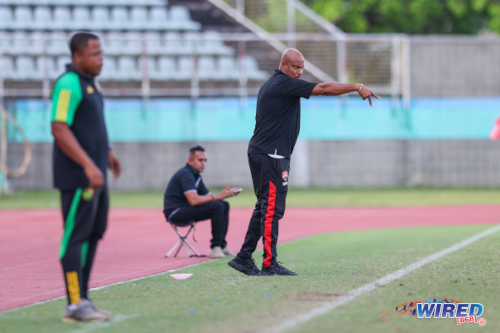 There were some positive take-aways too.
"I learned that [my team] will fight for Trinidad and Tobago," said Cooper. "They are learning as they go along. It augurs well.
"This is a developmental tournament—it is not qualifying for a World Cup."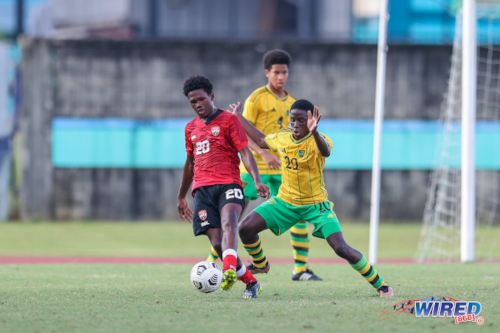 Come 6 August, the boys' football education will continue as the Concacaf Under-15 Championship kicks off in the Dominican Republic. Although Hadeed and Theophilus, for different reasons, will not be a part of it.
Editor's Note: Click HERE to read Stefan Theophilus' explanation on why he removed his son, Jasai, from Trinidad and Tobago's team for the Concacaf Under-15 Championship.
(Teams)
Trinidad and Tobago (4-1-4-1): 1.Marcelo Phillip (GK); 2.Jeremiah Daniel, 3.Sheridan McNish, 4.Salim Soanes, 5.Adam Pierre; 6.Stephen Olliviere; 7.Keston Richards (17.Elijah Diaz 49), 8.Seth Hadeed (captain) (24.Jasai Theophilus 49), 10.Caden Trestrail (19.Josiah Simmons 58), 11.Riquelme Phillips (20.Akel Vesprey 41); 9.Jonathan Mason (15.Nikosi Foncette 71).
Unused substitutes: 21.Mikhail Clement (GK), 22.Shameel O'Brian (GK), 12.Isaiah David, 13.Jahseem Pierre, 14.Joshua Miguel, 16.Antuan Louison, 18.Criston Gomez, 23.Antonio Hills, 23.Shane Telfer.
Coach: Shawn Cooper
Jamaica (3-2-4-1): 13.Davill Jarrett (GK) (1.Samir Doshi (GK) 50); 4.Cai-Anthony McLean, 6.Earl Dennis, 12.Jaquan Brown; 14.Maalick White (2.Damarley Williams 59), 8.Justin Hayles (9.Giovanni Taylor 41);  7.Kai Myles (captain), 17.Owen Jumpp (20.Duwayne Burgher 60), 10.Jahmarie Nolan (21.Javaughn Anglin), 11.Cadriano Marsh (15.Deshawn Byfield); 19.Orel Miller.
Unused substitutes: 23.Justin Murray (GK), 3.Donald Stewart, 5.Zienodean McLean, 16.Raequan Campbell-Dennis.
Coach: Andrew Peart
Referee: Timothy Derry