Youth development in Trinidad, simply put, consists of tournaments and competitions. The Secondary Schools Football League (SSFL), Youth Pro League (YPL), Republic Bank Youth League, Next Level U-19 Tournament and Commissioner's Cup are the main players in this arena. 
I will use the SSFL as the starting point of the youth football season, since it is the only one with a fixed starting date over the years.
The SSFL runs from September to early December while the last Next Level Tournament ran from mid-December to February in its first edition. The Republic Bank and YPL competitions traditionally go from March until the first week in July, with the Commissioner Cup's taking place between July and August.
Trinidad and Tobago's better under-19 players therefore face a competitive season that runs from September to August, almost none stop. Eleven months of competitive football!
For our under-13 to under-16 age groups, the only difference in the calendar is a break from mid-December to mid-March. So when are the four coachable components of the game mentioned in part one—technique, tactics, fitness and psychology—addressed?
Who has not heard the phrase 'the more games you play, the better you get' repeated ad nauseum by football pundit and supporter alike? I have always struggled to reconcile this with any other aspect in life.
If I am weak in mathematics do I get better just by doing more mathematics exams? If I finished last in a 200 metre race, do I just run more races until I suddenly begin to win? 
Or, in both examples, did the exam/race merely show me the areas in which I'm weak? Having identified these areas of weakness, is it not more sensible to spend time addressing them with the help of a tutor/coach?
For a player, the game is the exam. It shows him or her and their respective coaches the areas in which the player is good and just needs 'maintenance'; and the other areas that need more intensive work, via the coaching components.  
The game in itself does not make the player better.
In 2019, I began preparing my new school team for competition. I was excited to know that two players there were members of a club that habitually won titles in one of the better known youth tournaments. 
One, a defender, was even selected on a zonal team that went on an overseas tour. He had a good physique and was quick and strong in the tackle. He was a very nice kid who always had a smile. 
There was just one problem. He could not defend. He did not understand the concept of time and space—of using the time that the ball is travelling to an intended recipient to move closer, so as to arrive on cue to apply meaningful pressure. 
He didn't understand that stopping an attacker, who has his back to the goal, from turning is a key part of defending. 
For him, defending only meant outrunning the attacker and tackling. So he would stand off of his opponents, allow them to turn, and wait for them to try to push past him—so he could rely on his speed and aggression. 
This is a 17-year-old boy selected for his zonal team—which, in theory, meant he was one step away from being a national player. He was not immediately receptive to the message from his new coaching staff about the changes he needed to make.
Truth be told, I could understand his confusion and skepticism. Here I am, a former zonal player and multiple champion at youth level, being told that I was defending incorrectly. 
In the end, our breakthrough came in the first game of the season, when he was burnt by an opponent who was faster and stronger than him—and it lead directly to a goal against us. 
He was receptive to our information after that. The game showed the fault; and training facilitated the correction—that is development.
I have seen young centre-backs here look calm and regal on the ball, stroking 10 and 15 yard passes to teammates. But when asked to switch the point of attack via a lofted pass to the far flank or a driven pass into the feet of an attacker, they struggle. They were never taught the correct technique to do so. 
The reason for that may be their coach does not intend to have them play in that style, or just does not have the time to do it. Or maybe he or she does not know how to teach it. 
I have not given those examples to cast aspersions on any coach, club or academy but to show how specific flaws are not addressed by an endless cycle of competitions.
The more you play the better you get? I beg to differ. The more you play, the better you get at the things you already know how to do! 
You do not discover a deft touch in a game if you never had it before, or develop an accurate cross-field lofted pass under the direct pressure of an opponent if you have not spent hours working on it. 
Let's put that fallacy to bed once and for all! 
Rafael Carmona, head of coaching methodology and coordination at the Atlético Madrid Academy, once said: coaches need an abundance of time to allow guided discovery to take place.
Guided discovery basically involves the coach creating scenarios and situations which invite the players to think, and, by venturing beyond the information they are given and exploring a variety of options, they discover the correct skills to use in a given situation.
Based on their choices and non-choices, they begin to apply, analyse, evaluate, and create—all manifestations of critical thinking.
Guided discovery, as opposed to simply recall or learning by rote, was promoted as the preferred method on every coaching course I have been on.
I remembering watching coach Carlos Cuesta work with the Atlético Madrid Under-13s and seeing a holding midfielder drop into the space between his centre-backs to help his team advance from defence to offence. 
He was doing so—on some occasions but not others—based on what the situation required, and not because the coach was instructing him from the sideline. He understood the choices.
By the time their game against Rayo Vallecano Under-14 B arrived, the Atlético outfit were playing out of the back against a high pressing opponent with ease; and inviting pressure in certain areas, which allowed them to escape through another space.
I would like to add that, as I pointed out in part one, Atlético were not playing for a title. They played against other teams in and around the Madrid area, with no standings posted or points and goal difference tallied.  
The ratio of training sessions to games at Atlético Madrid was roughly six to one. At an academy I visited in the United States, it was four to one.
The best analogy I can draw is this: the teacher (coach) at Atlético had six classroom sessions to prepare the class for its trigonometry exam on Saturday. 
If the class doesn't do well at that exam, then the six classes on the following week could be directed towards fixing the issues, so that a better effort can be made on the following weekend.
And what is the training to game ratio for youth players in Trinidad and Tobago?
The SSFL 20 and under division (I will address the age grouping later), which is our country's most prestigious youth competition, has two games per week. This works out to a ratio of two training sessions to one game. 
Here is how that works in reality:
If your team plays on Wednesday, then Thursday is spent putting the players who played through a recovery session. Those who didn't get significant minutes in the match would need a compensation session, which replicates the number of sprints and recovery phases that they would have done if they had played. This ensures that the entire squad is at the same fitness level. 
Friday would be a short session of between 45-60 minutes to deal with offensive and defensive set plays and one or two things that can be addressed via discussion rather than through actual field work. 
And Saturday is the next game day. 
Have you really fixed anything? And the reality is that Saturday's game may highlight other issues too. 
Once the season starts, a SSFL coach who identifies an issue with a player or unit in his team cannot address it as thoroughly as the problem may require. Unlike a youth coach in Spain, a local school football coach has only two classes before his or her students take their exam—and, as pointed out, those are not even two full classes. 
Which group of students has a better chance of passing the exam? Which has a better chance of understanding the topic area? 
The answer should be obvious.
Even the SSFL players who pass the exam do so largely on the strength of 'cramming' or learning by rote. In the game, these players often apply something taught in practice at the wrong time because they never understood the context.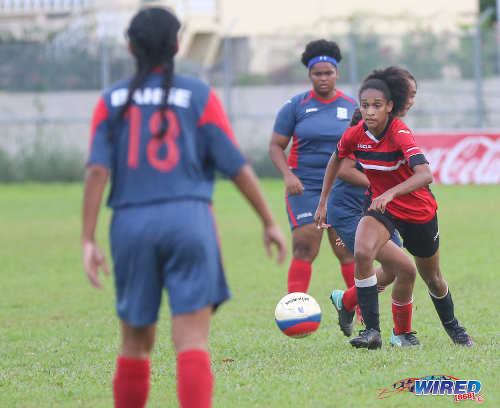 An example of this would be a midfielder dropping between his two central defenders to 'help' them keep possession, even though his opponents are defending in a low block (line 3) and his defenders should be able to easily play out. He understands the action but doesn't know when to use it.
Even the qualified SSFL coaches who understand the value of guided discovery do not have the luxury of time to implement it, as North American and European coaches do. 
Instead, he or she has to get his team up and running with a third of the time—not counting the lost opportunities while players hop from one competition to another. And the focus of the SSFL coach, if he or she wants to remain employed, is the trophy or medals at stake rather than developing quality players.
In my humble opinion, anything that leads us away from best practice is something that ultimately leads to a less than ideal product.
Locally, the coach tends to have one of two alternatives. To joystick players through training or games—constantly shouting instructions at them—or hide their weaknesses, rather than address them.
In the case of the latter, imagine a scenario where a coach inherits a striker who is very quick and a decent finisher but technically poor and unable to hold up the ball. With limited time available, the coach asks his midfielders not to play into the striker's feet but to use his speed instead.
In the game, they might do so effectively and the striker outruns opposing defences to score a hatful of goals. The trophy is secured, the coach hailed as the best, and parents get to gloat. Amen. But is this development? 
That talented young centre-forward may spend the next 11 months scoring prolifically in tournament after tournament, becoming a regular feature on the back pages and eventually earning selection on the national team.
In his first game at Concacaf level, he faces defenders who are big and quick, which totally nullifies his main asset. Now what does he do when the other facets of his game were never developed?
The real exam has come, and it exposes the fact that he was not properly prepared. A player who cannot consistently complete skills (a technique done under pressure) and identify the correct decision in game scenarios, is a player who was not properly developed.
Time and time again, I have seen young players who enjoy a size advantage over their peers in younger age groups bully and boss everyone while leading their teams to victory. 
By the time the same player gets to the under-18 division, he or she is ordinary and in some cases poor because everyone else has matured physically and the once smaller players learned their craft better. 
We have failed many players over the years by concentrating on utilising their physical advantages to win trophies, while ignoring their real developmental needs.
Before writing this piece, I checked to see what the calendar year of our Concacaf opponents looks like. I contacted Bassam Naim, who I met in Spain and is the founder and technical director of an Ontario-based academy named ANB Fútbol and holds a Uefa 'A' and CBF 'A' license (Brazil's top badge).
In Canada, there is a defined competition season that runs from May to November, followed by six weeks of rest. From the second half of January until the end of April, work is done on the four coachable components highlighted previously. This represents their pre-season. In May, the competition season begins again. 
I checked with my former Colleges League XI teammate and current Florida Gulf Coast University assistant coach Sheldon Cipriani—who holds a USSF 'A' license and is one of the United States Soccer Federation's (USSF) developmental coaches—to shed some light on the approach in the United States. 
The curriculum may differ from club to club but they also have a defined calendar that maintains a similar training to game ratio as Canada.
At the end of pre-season in North America or Europe, the average youth player would have experienced—on a ratio of 4:1 or 6:1—56 or 84 training sessions for 90 minutes each, which translates to 84 and 126 hours of contact time with their coaches respectively.
By the time their competitive seasons begin, the technical, tactical (decision-making), physical and psychological preparedness of their players would be such that the four to six sessions between games could be used mainly to recover and reinforce lessons.
Does the preparation of our players put us in a position to consistently compete?
Editor's Note: Click HERE to read Part Three of 'Barney's bible', which looks at the physical development of local players and offer a more in-depth look at the structure of the Secondary Schools Football League (SSFL).
Or click HERE to read Part One as Sheppard looked at the the best practices for player development and compares it with what exists at present in Trinidad and Tobago.