A week after copping the Under-13 title in the Republic Cup National Youth Football League (NYFL), FC Ginga added some more silverware to their trophy cabinet yesterday as they won the Next Level Consulting Ltd (NLCL) Under-15 Community Cup with a penalty shootout triumph over Trendsetter Hawks at the Diego Martin Sporting Complex.
On Saturday 10 June, coach Titre Gibson and his Ginga team were dancing along to the Champions League theme song as they celebrated a shootout win over Cox Coaching School in the NYFL Under-13 Final.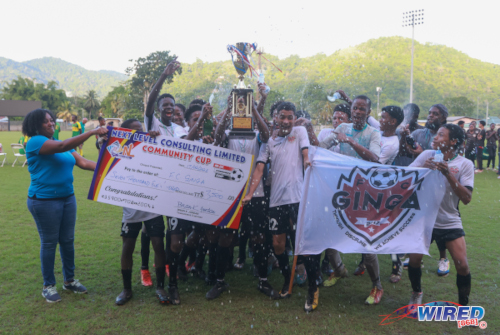 Yesterday, in wet conditions in Diego Martin, Ginga didn't quite replicate Manchester City's treble, but coach Stefon Pierre was smiling from ear-to-ear as Ginga overcame the North giants Trendsetter 5-4 on kicks from the penalty spot after an enthralling 2-2 finish in regulation time.
Trailing by two goals at the half hour mark in the 70-minute affair, Ginga mounted a spectacular comeback, with burly central defender Jordan Bullen scoring a pair of long-range bombs to force the game into the dreaded shootout.
In the penalty lottery, a fatigued Bullen came up short as his spot kick was easily wrapped up by Trendsetter goalkeeper Joshua Cumberbatch. However, Bullen's offering in regulation time was enough to open a church, and his 59th-minute equalizer rocked the Diego Martin facility to its core.
"I know that [Bullen] could shoot and he did well […] he has that [in his locker]—it's not like he just put his foot through it," an excited Pierre said, in the aftermath of his team's epic shootout win. "There are a lot of guys on the team who could strike the ball really well and it paid off. We did a lot of shooting in training."
Up 2-1 at the time and defending a right-sided Ginga corner, the Trendsetter defence seemed to be in a comfortable space as the ball rolled to Bullen. However, they were in for a shocker as, from 25 yards out, the youngster kept his head over the ball and viciously put his laces through it to dispatch a laser into the top corner.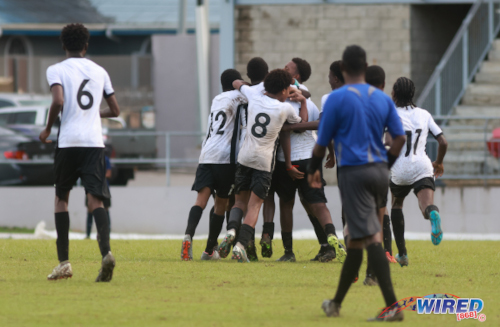 In first half stoppage time, Bullen also beat Cumberbatch with a deep, ballooning free kick from on the cricket pitch, located smack in the middle of the Diego Martin playing field. By the shootout though, the Trendsetter goalie had enough of the Bullen show and dived to his left to save Ginga's second kick.
Unlike their semifinal win over Point Fortin Youth Academy though, Trendsetter weren't perfect from the spot, and Ginga goalkeeper Marcelo Phillip made two key saves to earn his team the NLCL Under-15 crown and the TT$7,500 cash prize.
The son of longstanding Trinidad and Tobago Senior Team goalie Marvin Phillip, Marcelo certainly gave his dad some inspiration ahead of Father's Day and T&T's Concacaf Gold Cup campaign—as he skilfully repelled efforts by Hawks captain Gershom Chase and tournament MVP Obama Hospedales.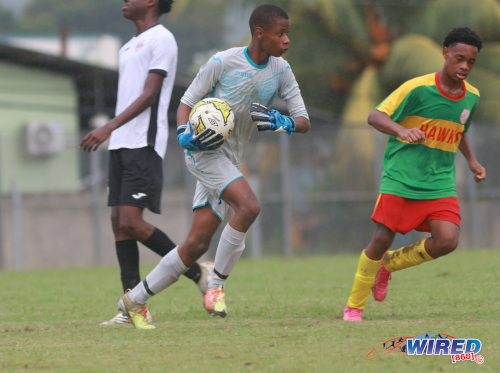 Pierre said that he and his technical staff never lost their faith.
"Thanks to the help of my coaching staff, we never believed that we were out of the game," Pierre said. "The two early goals did drop the momentum of the boys, but we held the faith. We let them know that they are the better team and they came out and gave us that fight in the second half.
"[…] They did hold their composure and they did fight to the end."
The teams were locked at 4-4 after five kicks in the shootout, with both teams having their second attempt saved. Short, and nimble with the ball at his feet, Hospedales was the first man summoned as the penalties reached the sudden-death stage.
The NLCL MVP couldn't beat Marcelo though, as the Ginga goalie flung himself to his left to keep out Hospedales' kick. And with the weight of the Diego Martin crowd on his shoulder, Ginga's Ky-Mani Hazel—who was subbed in mere seconds before referee David Scarlett's final whistle—calmly dispatched the winning item past Cumberbatch.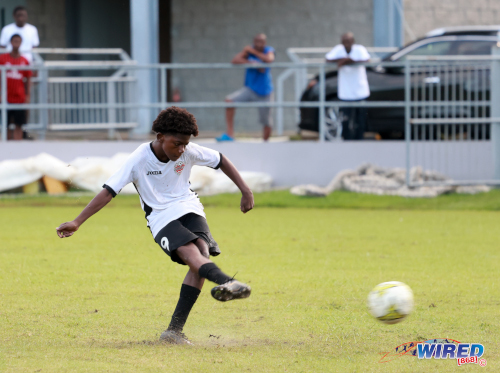 Trendsetter, who took their spot in the semifinals after the withdrawal of Tobago winners Jaric Titans, would feel that they were oh so close, but yet so far.
"It's a lesson for some of them to learn but the game all-round was a pretty good game," said Trendsetter's coach and founder Anthony "Dada" Wickham. "It was really competitive. It was just unfortunate that we came out on the losing end on penalties.
"The tournament was pretty well-organized in terms of the venues and playing all over the country and whatnot. Unlike the Republic Cup, we got to play everyone twice before we got into the knockout stage so I think the players and they had ideal opportunities to showcase their ability."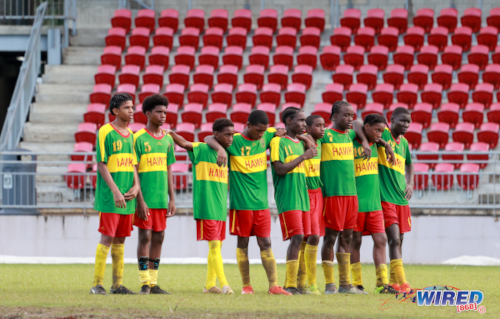 After emerging from a tense shootout win in the semis, Dada his team shot themselves in the foot.
"After every training, we have a penalty shootout and we keep on telling the players that they need to do exactly what they have been doing," said Dada, whose team walked away with a TT$5,000 purse. "Do not change your mind and see if you could perfect your penalty, even in training. Players went out and changed what they were supposed to do. And that's what happens when you change [from what you practice].
"Whatever is working for you, you have to continue to do it."
For what it's worth, the first half was certainly going to plan for Trendsetter, as they jumped out to a 2-0 lead inside 30 minutes after eye-catching items by flanker Makai Simmons and defender Jaquan Phillip.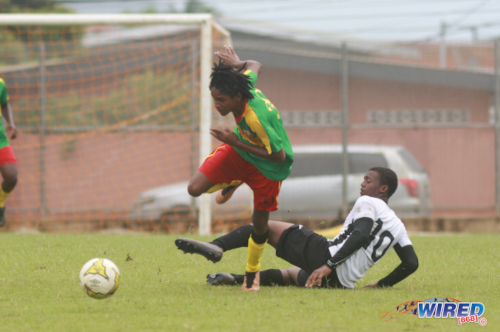 On the periphery of the game for much of the 70 minutes, Simmons gave Trendsetter the lead in the 16th minute as he snuck in behind Ginga standout and National Under-15 prospect Criston "CJ" Gomez, before lobbing Marcelo with a cross-cum-shot from a tight angle on the left, as time seemed to stand still.
On the half-hour mark, there was no mistaking Phillip's hit though, as the Hawks defender, who sported the number 10 jersey, uncorked a wicked left-footed free kick that arrowed into the top corner from some distance.
Phillip (J), who often used his dribbling skills to get out of jail at the back, confirmed his attacking prowess with his brute of a free kick and had a celebratory flip to match.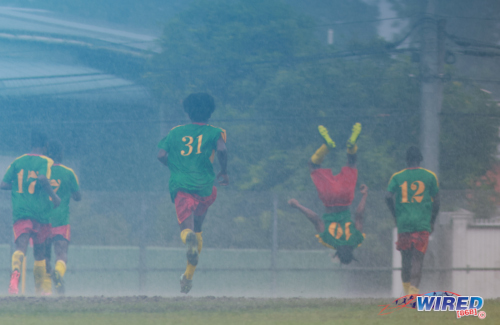 "We had a pretty good game, especially in the first half—we came out and we ran them," Dada said. "Ginga is a team that's not going to give up, and we just made some lapses that contributed to the first goal.
"We were two goals up, and with about a minute and a half left [in the first half], one of our players committed a foul. And it's something I have been telling them over and over. If a player isn't threatening the goalpost, you don't need to foul."
Ginga central midfielder Darren De Four was facing his own goal and trying to effect a turn on the soaked cricket strip when he was upended near the half line.  With the seconds of first half stoppage time ebbing away, Trendsetter could not have conceded at a worse time as Bullen caught Cumberbatch napping with his floated set piece.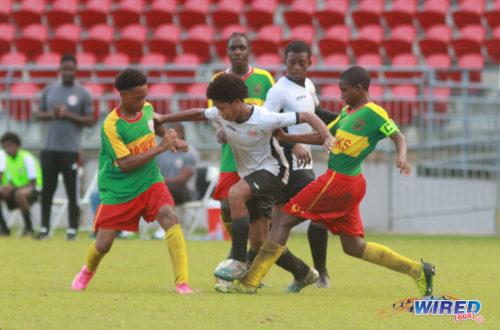 Both teams took a while to hit their straps in a second half that started in a scrappy manner.
Phillip and Trendsetter's centre back pairing of Keysan Haynes and Kewenis Saunders seemed to be negating the threats of Ginga captain Elijah Diaz and Gomez, who was moved from right back to the left wing in the second half. And Ginga were having difficulties exploiting Trendsetter's high backline.
But it turned out that Bullen knew a way through the Hawks defence.
After his equalizer just before the hour mark, Bullen almost had a hat-trick on 62 minutes as Cumberbatch only just tipped away another deep free kick, which skidded off the wet Diego Martin turf.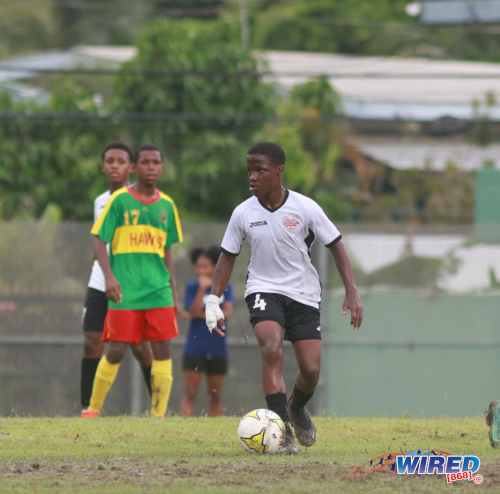 Ginga were banging on the door near the end of regulation time. Gomez had a near post effort kept out by Cumberbatch in the 68th minute after latching on to a long punt from the back.
"CJ has a lot of energy [and] he likes to hold the ball a lot," Pierre said of the Arima North Secondary student. "He wasn't [doing] too well in the right back position, but he can play anywhere on the field.
"CJ is a utility player and his experience and enthusiasm for the sport will drive him through and will see him giving that effort you need anywhere on the pitch."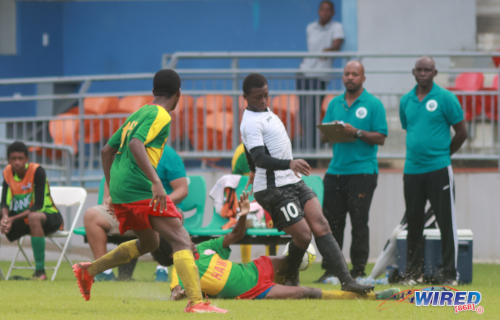 Gomez confidently dispatched his team's first penalty before waving to Cumberbatch and the cameras, but Marcelo would be the hero for Ginga between the sticks.
"[Winning the NYFL Under-13 and NLCL Under-15 titles] says we are putting in the work—that says we have the talent and that says we can go further," Pierre said. "That means we will keep doing the work with the guys and that means that we will keep striving for them to do better. It's up to them to keep on the straight part."
As Marvin Phillip and the Soca Warriors look ahead to the Gold Cup group stages, Marcelo came up clutch from the spot for Ginga in the NLCL Under-15 Final and gave his dad an early Father's Day gift as well.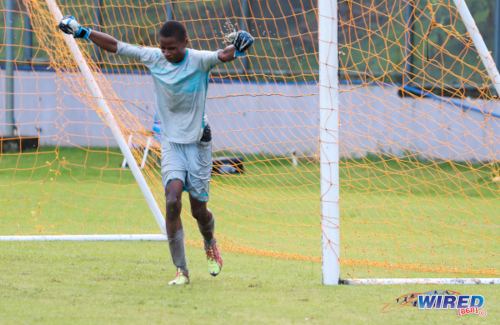 (Teams)
Trendsetter Hawks (4-2-3-1): 13.Joshua Cumberbatch (GK); 17.Joshua Jackson, 12.Keysan Haynes, 7.Kewenis Saunders, 10.Jaquan Phillip; 8.Gershom Chase (captain), 19.Eran McLeod; 11.Kadeem Morrison, 31.Obama Hospedales, 30.Makai Simmons (32.Kymani Thomas 66).; 29.Jahseem Pierre (5.Jordan Grant 56).
Unused substitutes: 1.Jevonte DeFour (GK), 2.Jerrell Dyett, 4.Malcolm Young, 8.Aiden Archibald, 28.Agyei Jones.
Coach: Anthony Wickham
FC Ginga (4-3-3): 1.Marcelo Phillip (GK); 10.Criston Gomez, 6.Elijah Edwards, 5.Jordan Bullen, 12.Aaden Maharaj; 4.Jamari Barker (9.Ky-Mani Hazel 70), 16.Antwun Louison, 8.Darren De Four; 19.Mikel Murray (17.Zwade Alleyne (halftime), 11.Elisha Neils, 7.Elijah Diaz (captain).
Unused substitutes: 2.Caleb Singh, 3.Jareem Jackson, 13.Giovanni St Clair, 14.Aiden Bernard, 15.Keon Kissoon, 18.Ky-Mani Morrison, 22.Orlian Herrera.
Coach: Stefon Pierre
Referee: David Scarlett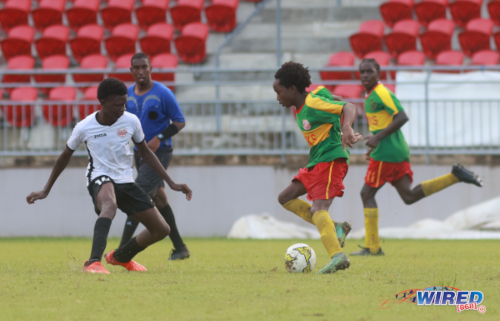 Next Level Consulting Ltd Under-15 Community Cup
(Saturday 17 June)
Final
Trendsetter Hawks 2 (Makai Simmons 16, Jaquan Phillip 30), FC Ginga 2 (Jordan Bullen 35+3, 59) at Diego Martin Sporting Complex;
*—FC Ginga won 5-4 on penalty kicks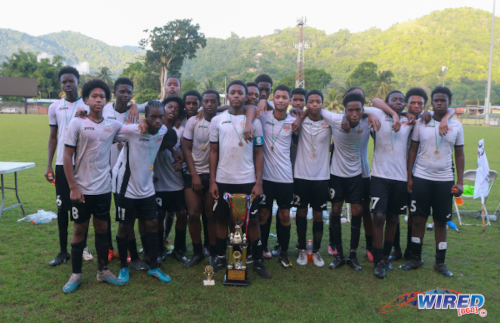 Third place playoff
Cox Football Academy 1 (Mikhail Clement), Point Fortin Youth Academy 0 at Diego Martin Sporting Complex;
MVP: Obama Hospedales (Trendsetter Hawks)